Oberammergau 2020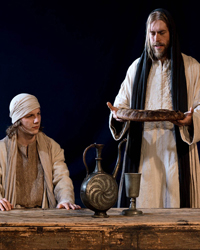 Once every 10 years, the village of Oberammergau performs the Passion Play. Combine Oberammergau with other Trafalgar European Tours for a perfect vacation and be a part of the inspiring tradition that has been taking place since 1634.
Page 1 of 1 : : 100 per page
We have at least
5

trips that match this criteria
at the lowest prices, guaranteed.
Tour
Operator
Starting At
Days

Sound Of Music With Oberammergau Summer 2020

Trafalgar
$2938
9
Details

Join the von Trapps on a lyrical adventure that will make your heart sing, from Munich's medieval splendour and the romance of Salzburg's 'Sound of Music' to Oberammergau's poignant Passion Play.

Jewels Of Italy With Oberammergau Summer 2020

Trafalgar
$2420
10
Details

Explore Italy's sophisticated capitals of Venice, Florence and Rome. The beautiful cobblestone squares, centuries' old tradition and historic highlights like the mighty Colosseum, Leaning Tower of Pisa and spectacular Duomo are must-visits on your open-air museum tour of this fascinating destination. Trafalgar has secured premium tickets for you to attend the once in a decade performance of the Passion Play in the picturesque Bavarian town of Oberammergau.

Best Of Germany With Oberammergau Summer 2020

Trafalgar
$3415
12
Details

Circle north, south, east and west to see medieval Rothenburg, and the devotion of the villagers of Oberammergau at the remarkable Passion Play.

Imperial Europe With Oberammergau Summer 2020

Trafalgar
$3350
12
Details

Central Europe's capitals put on a stately show in which the leads are played by Bohemian Prague, the beautiful Danube and the Trafalgar Highlight - a testament of God's grace in Oberammergau.

Switzerland And Austria With Oberammergau Summer 2020

Trafalgar
$4090
13
Details

Witness the unwavering faith of the Oberammergau villagers, who perform their dramatic depiction of the life and death of Jesus to thank God for sparing them from the ravages of the Plague.
Page 1 of 1 : : 100 per page