2019 Boutique River Cruises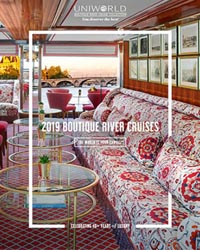 Uniworld will showcase our largest collection of extraordinary river cruise itineraries and luxurious boutique river cruise ships in Uniworld's history. Now is the time to start planning your 2018 Europe, Asia, Egypt, India, or Russia river cruise.
Page 1 of 1 : : 100 per page
We have at least
61

trips that match this criteria
at the lowest prices, guaranteed.
Tour
Operator
Starting At
Days

Authentic Danube 2019 (Nuremberg To Vienna)

Uniworld
$2774
8
Details

Go off the beaten path from Nuremberg to Vienna and uncover the scenic wonders and remarkable histories of the cities that rest along the Danube. As your adventure starts, castles, stunning architecture, natural wonders and rich history ensue. Not only that, but you'll discover Central Europe's fascinating Jewish ties as part of our Jewish Heritage program – the only itinerary of its kind offered on the rivers.

Enjoy the great outdoors and bespoke experiences along the Danube in cities that inspired fairy tales. Discover the old walled city and Nuremberg's mesmerizing castles on the Nuremberg Panoramic Highlights Tour. Confront and explore the region's complicated and devastating history as you visit infamous Nazi documentation centers and party rally grounds. Stroll through countless enchanting old towns and villages, with plenty of "Let's Go" opportunities for hiking and biking in Regensburg, Straubing, Deggendorf, Vilshofen, Passau and Engelhartszell – all teeming with magnificent architecture, age-old tradition and outstanding breweries. Explore Weissenkirchen and its devastatingly-beautiful landscapes. Participate in a "Village Day," and stroll through towns accompanied by wine, apricot treats and a vineyard hike. In the historical capital of Vienna, you'll be met with glorious food, wine, art and outdoor experiences all on your search for new inspiration along the Danube.

Authentic Danube 2019 (Vienna To Nuremberg)

Uniworld
$3199
8
Details

Go off the beaten path from Nuremberg to Vienna and uncover the scenic wonders and remarkable histories of the cities that rest along the Danube. As your adventure starts, castles, stunning architecture, natural wonders and rich history ensue. Not only that, but you'll discover Central Europe's fascinating Jewish ties as part of our Jewish Heritage program – the only itinerary of its kind offered on the rivers.

Enjoy the great outdoors and bespoke experiences along the Danube in cities that inspired fairy tales. Discover the old walled city and Nuremberg's mesmerizing castles on the Nuremberg Panoramic Highlights Tour. Confront and explore the region's complicated and devastating history as you visit infamous Nazi documentation centers and party rally grounds. Stroll through countless enchanting old towns and villages, with plenty of "Let's Go" opportunities for hiking and biking in Regensburg, Straubing, Deggendorf, Vilshofen, Passau and Engelhartszell – all teeming with magnificent architecture, age-old tradition and outstanding breweries. Explore Weissenkirchen and its devastatingly-beautiful landscapes. Participate in a "Village Day," and stroll through towns accompanied by wine, apricot treats and a vineyard hike. In the historical capital of Vienna, you'll be met with glorious food, wine, art and outdoor experiences all on your search for new inspiration along the Danube.

Brilliant Bordeaux 2019 (Round Trip From Bordeaux)

Uniworld
$2799
8
Details

Uncover the proud legacy and heritage of Southwest France. Set sail along three stunning rivers, the Garonne, Dordogne and Gironde, on one fascinatingly historical and invigorating journey. Explore the country's breathtaking backdrops, wines and cultural treasures across the region in Bordeaux, Fort Médoc, Cadillac, Blaye, Libourne and more. Wander through archaeological marvels, historic landmarks and magnificent vineyards where you'll be treated to a sampling of quintessentially French experiences. Enjoy an exquisite wine tasting in Fort Médoc before discovering World War II in France from the enemy's point of view with a visit to a defensive army camp and portions of the Atlantic Wall.

Embark on a scenic drive from Blaye to Bourg along the Route de la Corniche Fleurie and marvel at the sights of Blaye Fortress and Lansac Windmill along the way. Or, choose to experience that same impressive scenery from the seat of a bike. Slow things down in Libourne and on your return to Bordeaux with multiple wine tastings, village tours, a farmers' market visit and Bordeaux Heritage walking tour. Join us on a showcase of the best Southwest France has to offer.

Burgundy & Provence 2019 (Avignon To Lyon)

Uniworld
$2999
8
Details

A journey of exquisite pleasures.

Follow in the footsteps of Van Gogh, Cézanne and Gauguin on this exquisite journey through southern France; the same beautiful countryside and culture that inspired the masters will now inspire you.

Cruise the Rhône and Saône rivers, enjoying the region's incomparable wine and cuisine and discovering its many treasures—from the medieval wonders of UNESCO-designated Avignon to Lyon's lively river banks. Stroll the very streets of Arles made famous by Van Gogh. Visit Avignon's majestic Palace of the Popes. Experience "Village Day" in enchanting Viviers, including a recital of music composed by Bach and Handel. And for those who wish for a more active exploration of the area, you can kayak on the tranquil Gardon River under the UNESCO-designated Pont du Gard; hike the steepest vineyards on the Rhône; and pedal through the city designed with bike riders in mind while in Lyon. Explore unforgettable "Burgundy & Provence" where tradition is as deeply rooted as the historic grapevines on the hills.

Who will enjoy this cruise:
Travelers wishing to walk through the lands that inspired Van Gogh, Cézanne and Gauguin. History buffs, gastronomes and wine connoisseurs.

Connoisseur Collection (select sailings):
Lyon is France's culinary capital and home to former Chef Paul Bocuse, considered an ambassador of modern French cuisine. Experience some of the Bocuse magic at l'Institut Paul Bocuse. Go in search of the "black diamond" at a truffle farm, where you'll walk through the truffière with the owners and their trusted dog, learning how they cultivate the "black diamond." Celebrate the tradition of winemaking at an induction ceremony by Saint Joseph and Crozes-Hermitage Winemakers Brotherhoods. Wine, truffles and a taste of history are only a few of the highlights of your culinary journey.

Burgundy & Provence 2019 (Lyon To Avignon)

Uniworld
$3359
8
Details

A journey of exquisite pleasures.

Follow in the footsteps of Van Gogh, Cézanne and Gauguin on this exquisite journey through southern France; the same beautiful countryside and culture that inspired the masters will now inspire you.

Cruise the Rhône and Saône rivers, enjoying the region's incomparable wine and cuisine and discovering its many treasures—from the medieval wonders of UNESCO-designated Avignon to Lyon's lively river banks. Stroll the very streets of Arles made famous by Van Gogh. Visit Avignon's majestic Palace of the Popes. Experience "Village Day" in enchanting Viviers, including a recital of music composed by Bach and Handel. And for those who wish for a more active exploration of the area, you can kayak on the tranquil Gardon River under the UNESCO-designated Pont du Gard; hike the steepest vineyards on the Rhône; and pedal through the city designed with bike riders in mind while in Lyon. Explore unforgettable "Burgundy & Provence" where tradition is as deeply rooted as the historic grapevines on the hills.

Who will enjoy this cruise:
Travelers wishing to walk through the lands that inspired Van Gogh, Cézanne and Gauguin. History buffs, gastronomes and wine connoisseurs.

Connoisseur Collection (select sailings):
Lyon is France's culinary capital and home to former Chef Paul Bocuse, considered an ambassador of modern French cuisine. Experience some of the Bocuse magic at l'Institut Paul Bocuse. Go in search of the "black diamond" at a truffle farm, where you'll walk through the truffière with the owners and their trusted dog, learning how they cultivate the "black diamond." Celebrate the tradition of winemaking at an induction ceremony by Saint Joseph and Crozes-Hermitage Winemakers Brotherhoods. Wine, truffles and a taste of history are only a few of the highlights of your culinary journey.

Castles Along The Rhine 2019 (Amsterdam To Basel)

Uniworld
$2939
8
Details

Find inspiration in the romantic, soul-stirring beauty of the fabled Rhine.

Flowers tumble from baskets lining streets of half-timbered houses, and lights glint off quiet canals. A mighty river carries ships and cargo through a landscape shaped by time and history. The spires of medieval churches and castles appear around each bend in the river, and vineyards climb the verdant hillsides.

Cruise along the Rhine—Germany on one side, France on the other. Discover Alsace, whose dual French and German heritage has given it fabulous food and a winemaking tradition that goes back to the Romans. Marvel at castles that were once mighty fortresses and get an insider's look at one of the only castles on the Rhine that has never been destroyed, Marksburg Castle. Visit historic cities, including ancient Cologne and picturesque Strasbourg; stroll through the fairytale town of Rüdesheim; and taste delightful white wines in the villages where the grapes are grown. Beethoven and Byron loved the romantic landscapes of the Rhine River, and the beauty that inspired them is still yours to experience.

Who will enjoy this cruise:
Romantics who love the picturesque and the historic will find medieval castles, splendid cathedrals and scenes that have inspired great poets, painters and composers alike.

Generations Family Program (select sailings):
Share the enchantment of this region with the special young people in your life. These cruises not only feature unique, fun-filled adventures for families to enjoy together, they're also packed with culturally and historically significant experiences designed to spark creativity and lifelong learning.

Castles Along The Rhine 2019 (Basel To Amsterdam)

Uniworld
$2939
8
Details

Find inspiration in the romantic, soul-stirring beauty of the fabled Rhine.

Flowers tumble from baskets lining streets of half-timbered houses, and lights glint off quiet canals. A mighty river carries ships and cargo through a landscape shaped by time and history. The spires of medieval churches and castles appear around each bend in the river, and vineyards climb the verdant hillsides.

Cruise along the Rhine—Germany on one side, France on the other. Discover Alsace, whose dual French and German heritage has given it fabulous food and a winemaking tradition that goes back to the Romans. Marvel at castles that were once mighty fortresses and get an insider's look at one of the only castles on the Rhine that has never been destroyed, Marksburg Castle. Visit historic cities, including ancient Cologne and picturesque Strasbourg; stroll through the fairytale town of Rüdesheim; and taste delightful white wines in the villages where the grapes are grown. Beethoven and Byron loved the romantic landscapes of the Rhine River, and the beauty that inspired them is still yours to experience.

Who will enjoy this cruise:
Romantics who love the picturesque and the historic will find medieval castles, splendid cathedrals and scenes that have inspired great poets, painters and composers alike.

Generations Family Program (select sailings):
Share the enchantment of this region with the special young people in your life. These cruises not only feature unique, fun-filled adventures for families to enjoy together, they're also packed with culturally and historically significant experiences designed to spark creativity and lifelong learning.

Classic Christmas Markets 2019 (Frankfurt To Nuremberg)

Uniworld
$3499
8
Details

A journey that will make you believe in holiday magic all over again.

Once upon a time, people gathered on cobblestone squares to buy the special tools and ingredients they needed to make the treats of the season. They kept warm with hot spiced wine, music and games while they shopped and chatted with the local tradesmen. Those were the first Christmas markets, 500 years ago. Today, though the light comes from twinkling electric bulbs rather than torches, bonhomie and fun still prevail.

Discover villages with fairytale houses and a friendly, festive atmosphere. Share traditional holiday goodies with the people who made them. Watch as modern children abandon their usual electronics and discover the enchantment of hand-carved wooden toys, as scents of cinnamon and roasting nuts fill the air. Sail through Christmas country, trying Frankfurt's famous apple cider, Bamberg's specially brewed holiday beer and Nuremberg's gingerbread. Throughout, cozy up to steaming mugs of glühwein (warm spiced wine) and do as the locals do by collecting different mugs from each stall and town you visit. Embrace the holiday spirit in Germany, the land where many Christmas traditions began, and find the magic of the season in the smiles that you meet along the way.

Who will enjoy this cruise:
Those wanting to experience the quintessential magic of the holidays while shopping for one-of-a-kind treasures and discovering the legends behind some of our most popular holiday traditions.

Generations Family Program (select sailing):
Share the magic of a European holiday with the special young people in your life on this multigenerational "Classic Christmas Markets" cruise filled with lots of family holiday merrymaking.

Classic Christmas Markets 2019 (Nuremberg To Frankfurt)

Uniworld
$3499
8
Details

A journey that will make you believe in holiday magic all over again.

Once upon a time, people gathered on cobblestone squares to buy the special tools and ingredients they needed to make the treats of the season. They kept warm with hot spiced wine, music and games while they shopped and chatted with the local tradesmen. Those were the first Christmas markets, 500 years ago. Today, though the light comes from twinkling electric bulbs rather than torches, bonhomie and fun still prevail.

Discover villages with fairytale houses and a friendly, festive atmosphere. Share traditional holiday goodies with the people who made them. Watch as modern children abandon their usual electronics and discover the enchantment of hand-carved wooden toys, as scents of cinnamon and roasting nuts fill the air. Sail through Christmas country, trying Frankfurt's famous apple cider, Bamberg's specially brewed holiday beer and Nuremberg's gingerbread. Throughout, cozy up to steaming mugs of glühwein (warm spiced wine) and do as the locals do by collecting different mugs from each stall and town you visit. Embrace the holiday spirit in Germany, the land where many Christmas traditions began, and find the magic of the season in the smiles that you meet along the way.

Who will enjoy this cruise:
Those wanting to experience the quintessential magic of the holidays while shopping for one-of-a-kind treasures and discovering the legends behind some of our most popular holiday traditions.

Generations Family Program (select sailing):
Share the magic of a European holiday with the special young people in your life on this multigenerational "Classic Christmas Markets" cruise filled with lots of family holiday merrymaking.

Danube Holiday Markets 2019 (Budapest To Passau)

Uniworld
$3399
8
Details

Celebrate the season in the birthplace of many beloved holiday traditions.

Budapest has celebrated Christmas for a thousand years, since the reign of St. Stephen, the king who founded Hungary and encouraged the spread of Christianity throughout his realm. As you ramble through the Christmas Market on Vörösmarty Square, admiring the handmade porcelain, stop to watch as kürtos kalács (a pastry) is baked on rods over an open fire and then coated with sugar before it's handed to you.

In Bratislava, where a lively young art scene is revitalizing the compact city core, stalls abound with traditional Slovakian Christmas items such as medovníky (spiced ginger cookies) and šúpolie (figurines made from corn husks). Experience Uniworld's exclusive "Taste of Christmas" program in the heart of Vienna during the day. Follow the lights down the Landstrasse in Linz to the Volksgarten, where you'll find a fairytale Christmas display—large animated renditions of scenes from fairytales that will entrance the child in you. Or mail a letter from Christkindl, where children from all over the world send their Christmas wish lists.

Glorious baroque architecture, delightful concerts and ravishing scenery will make this Christmas season unforgettable as you sail through the holidays on the Danube.

Who will enjoy this cruise:
Music lovers will find many special holiday treats on this cruise, from onboard caroling and a classical concert in Vienna to an exclusive organ recital. Shoppers will delight in the chance to pick out a variety of unique gifts at enchanting Christmas markets.

Danube Holiday Markets 2019 (Passau To Budapest)

Uniworld
$3399
8
Details

Celebrate the season in the birthplace of many beloved holiday traditions.

Budapest has celebrated Christmas for a thousand years, since the reign of St. Stephen, the king who founded Hungary and encouraged the spread of Christianity throughout his realm. As you ramble through the Christmas Market on Vörösmarty Square, admiring the handmade porcelain, stop to watch as kürtos kalács (a pastry) is baked on rods over an open fire and then coated with sugar before it's handed to you.

In Bratislava, where a lively young art scene is revitalizing the compact city core, stalls abound with traditional Slovakian Christmas items such as medovníky (spiced ginger cookies) and šúpolie (figurines made from corn husks). Experience Uniworld's exclusive "Taste of Christmas" program in the heart of Vienna during the day. Follow the lights down the Landstrasse in Linz to the Volksgarten, where you'll find a fairytale Christmas display—large animated renditions of scenes from fairytales that will entrance the child in you. Or mail a letter from Christkindl, where children from all over the world send their Christmas wish lists.

Glorious baroque architecture, delightful concerts and ravishing scenery will make this Christmas season unforgettable as you sail through the holidays on the Danube.

Who will enjoy this cruise:
Music lovers will find many special holiday treats on this cruise, from onboard caroling and a classical concert in Vienna to an exclusive organ recital. Shoppers will delight in the chance to pick out a variety of unique gifts at enchanting Christmas markets.

Delightful Danube 2019 (Budapest To Nuremberg)

Uniworld
$3199
8
Details

An extraordinary journey for aficionados of European history, music and art

Experience dynamic Budapest and imperial Vienna. Marvel at ravishing scenery as your luxurious ship glides through the Wachau Valley, celebrated as one of the world's most beautiful landscapes, into Germany and past charming Bavarian villages. Exclusive treasures are plentiful on this delightful journey. Go behind the scenes at a BMW factory to get an up-close view of Germany's rich automotive heritage, and "Let's Go" with guided hiking and biking excursions along the Danube. This enchanting voyage provides a variety of ways to enjoy captivating destinations as well as plenty of time to relax onboard as you sail from Budapest to Nuremberg.

Who will enjoy this cruise/tour

Travelers who love history, music and architecture will be able to tailor their travel to their interests along the mighty Danube.

Generations Family Program (select sailings)

Share the enchantment of this region with the special young people in your life. These cruise/tours not only feature unique, fun-filled adventures for families to enjoy together, they're also packed with culturally and historically significant experiences designed to spark creativity and lifelong learning.

Delightful Danube 2019 (Nuremberg To Budapest)

Uniworld
$3359
8
Details

An extraordinary journey for aficionados of European history, music and art

Experience dynamic Budapest and imperial Vienna. Marvel at ravishing scenery as your luxurious ship glides through the Wachau Valley, celebrated as one of the world's most beautiful landscapes, into Germany and past charming Bavarian villages. Exclusive treasures are plentiful on this delightful journey. Go behind the scenes at a BMW factory to get an up-close view of Germany's rich automotive heritage, and "Let's Go" with guided hiking and biking excursions along the Danube. This enchanting voyage provides a variety of ways to enjoy captivating destinations as well as plenty of time to relax onboard as you sail from Budapest to Nuremberg.

Who will enjoy this cruise/tour

Travelers who love history, music and architecture will be able to tailor their travel to their interests along the mighty Danube.

Generations Family Program (select sailings)

Share the enchantment of this region with the special young people in your life. These cruise/tours not only feature unique, fun-filled adventures for families to enjoy together, they're also packed with culturally and historically significant experiences designed to spark creativity and lifelong learning.

Enchanting Danube 2019 (Budapest To Passau)

Uniworld
$2799
8
Details

The shimmering waters of the fabled Danube River flow for thousands of miles through the very heart of Europe, silent witness to centuries of artistic achievement and historical events. This perfectly composed journey provides an immersive cultural tasting menu of four equally beguiling countries—ideal for first-time river cruisers as well as seasoned travelers seeking to experience yet another dimension of these much-loved destinations.

Our locally-based destination experts will take you well beyond the "must-sees" of each region, offering fresh takes on classic sites, insider knowledge of delightful under-the-radar locales, and VIP access to places only a privileged few will ever experience—such as a private early-morning viewing of the acclaimed art collection of the Kunstkammer Vienna.

A veritable showcase of the best of Central Europe, this new journey is one any culturally curious world traveler will love, featuring old-world capitals and charming towns and villages.

Generations Family Program (select sailings)
Our award-winning family program for young travelers ages 4-18 features fun-filled adventures and historically significant experiences designed to spark creativity and lifelong learning

Enchanting Danube 2019 (Passau To Budapest)

Uniworld
$2799
8
Details

The shimmering waters of the fabled Danube River flow for thousands of miles through the very heart of Europe, silent witness to centuries of artistic achievement and historical events. This perfectly composed journey provides an immersive cultural tasting menu of four equally beguiling countries—ideal for first-time river cruisers as well as seasoned travelers seeking to experience yet another dimension of these much-loved destinations.

Our locally-based destination experts will take you well beyond the "must-sees" of each region, offering fresh takes on classic sites, insider knowledge of delightful under-the-radar locales, and VIP access to places only a privileged few will ever experience—such as a private early-morning viewing of the acclaimed art collection of the Kunstkammer Vienna.

A veritable showcase of the best of Central Europe, this new journey is one any culturally curious world traveler will love, featuring old-world capitals and charming towns and villages.

Generations Family Program (select sailings)
Our award-winning family program for young travelers ages 4-18 features fun-filled adventures and historically significant experiences designed to spark creativity and lifelong learning

European Holiday Markets 2019 (Nuremberg To Vienna)

Uniworld
$3399
8
Details

"Welcome, young and old, to my little community of wood and cloth." These words spoken by the Christkind open the Nuremberg Christmas Market. Though the iconic representative of the market is named for the infant Jesus, she—yes, she—is a girl dressed as a crowned angel. All over Germany, the Christkind is a symbol of the holiday's magic.

This cruise takes you to some of the most famous and delightful holiday markets in Central Europe. At each market, you'll find wooden stalls displaying traditional crafts that range from quirky little characters made of fruit and dressed in Bavarian costume to beautifully carved and painted Nativity figures. You'll also find exquisite ornaments and fine contemporary crafts, along with fairytale villages decked in holiday finery.

Sparkling lights illuminate ancient cathedral squares and the sound of children's laughter mingles with carols. Enjoy Uniworld's exclusive "Taste of Christmas" program in Vienna, where you'll see astonishing confectionary decorations in Café Demel's windows. Celebrate the season in a new way as you meander through old lands, and remember, as the Christkind says, "While this market's splendor is fleeting, the joy it brings is eternal."

Who will enjoy this cruise? Those looking to experience Europe at its most magical will enjoy the chance to discover the delightful holiday traditions and treats of Germany and Austria, and to find special gifts for loved ones back home.

European Holiday Markets 2019 (Vienna To Nuremberg)

Uniworld
$3199
8
Details

"Welcome, young and old, to my little community of wood and cloth." These words spoken by the Christkind open the Nuremberg Christmas Market. Though the iconic representative of the market is named for the infant Jesus, she—yes, she—is a girl dressed as a crowned angel. All over Germany, the Christkind is a symbol of the holiday's magic.

This cruise takes you to some of the most famous and delightful holiday markets in Central Europe. At each market, you'll find wooden stalls displaying traditional crafts that range from quirky little characters made of fruit and dressed in Bavarian costume to beautifully carved and painted Nativity figures. You'll also find exquisite ornaments and fine contemporary crafts, along with fairytale villages decked in holiday finery.

Sparkling lights illuminate ancient cathedral squares and the sound of children's laughter mingles with carols. Enjoy Uniworld's exclusive "Taste of Christmas" program in Vienna, where you'll see astonishing confectionary decorations in Café Demel's windows. Celebrate the season in a new way as you meander through old lands, and remember, as the Christkind says, "While this market's splendor is fleeting, the joy it brings is eternal."

Who will enjoy this cruise? Those looking to experience Europe at its most magical will enjoy the chance to discover the delightful holiday traditions and treats of Germany and Austria, and to find special gifts for loved ones back home.

Holland & Belgium At Tulip Time 2019 (Amsterdam To Brussels)

Uniworld
$3439
8
Details

This itinerary adds a contemporary flair to the classic tulip time experience, where you'll find an ideal mix of old and new, historic and modern, in some of Europe's liveliest cities. You'll stay overnight in Amsterdam and Maastricht, allowing you more time to discover great shopping, countless active options and mouthwatering foodie destinations. Explore Belgium's historical and contemporary capital city of Brussels, home of a rich and vibrant culinary tradition. Discover Antwerp's penchant for tasty treats, including Belgian waffles, beer, pralines and chocolate on a walking discovery tour of the diamond capital of the world. In splendid Maastricht, a city with hundreds of national heritage sites, you'll uncover why it's known as one of the most beautiful cities in all of Holland. Follow in Van Gogh's footsteps with a stroll through Nuenen, where you'll wander through the sites that inspired much of his art. Or venture into the town of Heusden and marvel at a historic working mill, learn to make bread at a local bakery, or wander through the remnants of a 13th-century fortress. Delight in a visit to Kinderdijk to see it's 19 well-preserved windmills that have stood the test of time. In colorful Amsterdam, you'll be treated to an exclusive "Morning with the Masters" visit without crowds to the Amsterdam Hermitage Museum–the perfect ending to an unforgettable journey.

Holland & Belgium At Tulip Time 2019 (Brussels To Amsterdam)

Uniworld
$3199
8
Details

This itinerary adds a contemporary flair to the classic tulip time experience, where you'll find an ideal mix of old and new, historic and modern, in some of Europe's liveliest cities. You'll stay overnight in Amsterdam and Maastricht, allowing you more time to discover great shopping, countless active options and mouthwatering foodie destinations. Explore Belgium's historical and contemporary capital city of Brussels, home of a rich and vibrant culinary tradition. Discover Antwerp's penchant for tasty treats, including Belgian waffles, beer, pralines and chocolate on a walking discovery tour of the diamond capital of the world. In splendid Maastricht, a city with hundreds of national heritage sites, you'll uncover why it's known as one of the most beautiful cities in all of Holland. Follow in Van Gogh's footsteps with a stroll through Nuenen, where you'll wander through the sites that inspired much of his art. Or venture into the town of Heusden and marvel at a historic working mill, learn to make bread at a local bakery, or wander through the remnants of a 13th-century fortress. Delight in a visit to Kinderdijk to see it's 19 well-preserved windmills that have stood the test of time. In colorful Amsterdam, you'll be treated to an exclusive "Morning with the Masters" visit without crowds to the Amsterdam Hermitage Museum–the perfect ending to an unforgettable journey.

Paris & Normandy 2019 (Round Trip From Paris)

Uniworld
$3999
8
Details

Cruise from Paris through Normandy's countryside, uncovering its many charms: Richard the Lionheart's Chateau Gaillard, the medieval capital of Rouen, Monet's beloved home in Giverny and the famed Normandy beaches.

Normandy has been the setting for many battles over the centuries, including the D-Day invasion of WWII, and the Normandy Beaches mean different things to different people, so you'll have a rare choice to visit several of its historic sites, such as Utah and Omaha beaches, Juno Beach or the famous 11th-century tapestry depicting the Battle of Hastings.

Experience a different side of Northern France's history with a choice to tour two majestic palaces, Versailles, once home to Louis XVI and Marie Antoinette, or Château de Malmaison, once home to Napoleon's first empress, Josephine.

See the best of Paris in one of three ways via the "Heart of Paris" cruise and city tour, an exclusive "Do as the Locals Do" tour or an exclusive guided "Let's Go" bike tour. There are plenty of opportunities to take part in more active experiences, such as golfing at Rouen's Mont-Saint-Aignan and at Sainte-Mère-Église in Étretat, perched on the cliff high above the sea, making playing golf here a memorable experience and visual feast.

Who will enjoy this cruise? History buffs will be fascinated by D-Day sites and Rouen where Joan of Arc was martyred.

Parisian Royal Holiday 2019 (Round Trip From Paris)

Uniworld
$3199
8
Details

Northern France and its "City of Light" sparkle even more during the holidays. The grand Christmas tree at Notre Dame, enchanting animated window displays on Boulevard Haussmann and the gloriously lit trees lining the Champs-Élysées infuse the city with magic. Combine the festivities of the holidays in Paris and surrounding towns with the world of royalty, and you'll be treated to a once-in-a-lifetime festive royal journey.

The world of French royalty will unfold before your eyes with four exclusive châteaux visits. Château La Roche Guyon perched above the Seine is a fascinating place. Here you'll discover 10 centuries of French history through your renowned hosts while enjoying a wine tasting. Hidden behind trees that are several hundred years old lies Château de Bizy, nicknamed the "Versailles of Normandy." Walk through the torch-lit gardens and past breathtaking sculptured gardens to the main reception room, where you'll attend a private chamber music concert.

While at Château de Versailles, a UNESCO World Heritage Site and one of the most beautiful achievements of 18th-century French art, you'll be taken on a private guided tour of the Hall of Mirrors, Queen and King's chambers and Marie Antoinette's Le Petit Trianon. And in Paris, you'll be treated to a rare experience with a private cocktail reception hosted by the owners of the luxurious 17th-century Château de Vaux-le-Vicomte. You'll also get a "Taste of Christmas" in the medieval city of Rouen and indulge in delicious holiday treats at La Couronne, the restaurant made famous by Julia Child. And for those sailing over New Year's, ring in 2018 against the stunning backdrop of the twinkling Parisian skyline.

Who will enjoy this cruise? Romantics will relish the chance to see Paris adorned in holiday splendor, and history buffs and followers of royalty will delight in four exclusive châteaux visits.

Rhine Holiday Markets 2019 (Basel To Cologne)

Uniworld
$3199
8
Details

Switzerland, France and Germany provide the perfect backdrop for this true connoisseur's Christmas market cruise. Discover the roots of our Christmas traditions as you explore some of Europe's most charming towns. Browse for unique ornaments in Basel's Christmas Market. Sip vin chaud as you stroll to Place Kléber to behold the enormous, brilliantly lighted tree that Strasbourg offers modern celebrants. See how the baroque town hall of Koblenz is transformed into an Advent calendar and find unexpected treasures in the red-roofed stalls clustered around Cologne's magnificent cathedral.

Savor tantalizing once-a-year treats with Uniworld's "Taste of Christmas" program, including gingerbread, crepes with cinnamon and warm spiced wine. Revel in brightly painted carousels and handmade ornaments, medieval squares illuminated by twinkling lights, life-sized Nativity figures and joyful brass choirs. Sail through castle-strewn hillsides and visit charming towns decked in holiday finery for a holiday season you will never forget.

Who will enjoy this cruise? Shoppers searching for unique gifts, and Christmas enthusiasts looking for the origins of many cherished holiday traditions. Anyone who loves seasonal treats and festive holiday decorations and lights.

Rhine Holiday Markets 2019 (Cologne To Basel)

Uniworld
$3199
8
Details

Switzerland, France and Germany provide the perfect backdrop for this true connoisseur's Christmas market cruise. Discover the roots of our Christmas traditions as you explore some of Europe's most charming towns. Browse for unique ornaments in Basel's Christmas Market. Sip vin chaud as you stroll to Place Kléber to behold the enormous, brilliantly lighted tree that Strasbourg offers modern celebrants. See how the baroque town hall of Koblenz is transformed into an Advent calendar and find unexpected treasures in the red-roofed stalls clustered around Cologne's magnificent cathedral.

Savor tantalizing once-a-year treats with Uniworld's "Taste of Christmas" program, including gingerbread, crepes with cinnamon and warm spiced wine. Revel in brightly painted carousels and handmade ornaments, medieval squares illuminated by twinkling lights, life-sized Nativity figures and joyful brass choirs. Sail through castle-strewn hillsides and visit charming towns decked in holiday finery for a holiday season you will never forget.

Who will enjoy this cruise? Shoppers searching for unique gifts, and Christmas enthusiasts looking for the origins of many cherished holiday traditions. Anyone who loves seasonal treats and festive holiday decorations and lights.

Venice & The Gems Of Northern Italy 2019 (Round Trip From Venice)

Uniworld
$2379
8
Details

Uncover the extraordinary hidden treasures of Venice and Northern Italy

Soak up the enchantment of "The City of Water" and three outer-lying Venetian islands, Burano, Mazzorbo and Torcello. Be treated to an exclusive evening opening and lighting ceremony at St. Mark's Basilica. Discover the charm of seaside Chioggia loved by fishermen and artists alike. Enjoy a multicourse lunch complete with wine pairings at a historic wine estate in Valpolicella. Explore medieval Padua, once home to Galileo and Copernicus; "bountiful" Bologna; and UNESCO-designated Ferrara. Each of these enchanting locales is yours to uncover on the "Gems of Northern Italy."

Who will enjoy this cruise/tour

Romantics, connoisseurs of food and wine and lovers of art and architecture. Experienced travelers looking to explore the hidden gems of Northern Italy.

Generations Family Program (select sailings)

Share the enchantment of this region with the special young people in your life. These cruise/tours not only feature unique, fun-filled adventures for families to enjoy together, they're also packed with culturally and historically significant experiences designed to spark creativity and lifelong learning.

Authentic Danube & Prague 2019 (Prague To Vienna)

Uniworld
$3149
10
Details

Go off the beaten path from Prague to Nuremberg to Vienna and uncover the scenic wonders and remarkable histories of the cities that rest along the Danube. As your adventure starts, castles, stunning architecture, natural wonders and rich history ensue. Not only that, but you'll discover Central Europe's fascinating Jewish ties as part of our Jewish Heritage program – the only itinerary of its kind offered on the rivers.

Enjoy the great outdoors and bespoke experiences along the Danube in cities that inspired fairy tales. Prague boasts Hradčany, the biggest, and arguably the most extraordinary, castle in the world, and an Old Jewish Quarter that's witnessed both hardships and celebrations for centuries. Discover the old walled city and Nuremberg's mesmerizing castles on the Nuremberg Panoramic Highlights Tour. Confront and explore the region's complicated and devastating history as you visit infamous Nazi documentation centers and party rally grounds. Stroll through countless enchanting old towns and villages, with plenty of "Let's Go" opportunities for hiking and biking in Regensburg, Straubing, Deggendorf, Vilshofen, Passau and Engelhartszell – all teeming with magnificent architecture, age-old tradition and outstanding breweries. Explore Weissenkirchen and its devastatingly-beautiful landscapes. Participate in a "Village Day," and stroll through towns accompanied by wine, apricot treats and a vineyard hike. In the historical capital of Vienna, you'll be met with glorious food, wine, art and outdoor experiences all on your search for new inspiration along the Danube.

Authentic Danube & Prague 2019 (Vienna To Prague)

Uniworld
$3599
10
Details

Go off the beaten path from Prague to Nuremberg to Vienna and uncover the scenic wonders and remarkable histories of the cities that rest along the Danube. As your adventure starts, castles, stunning architecture, natural wonders and rich history ensue. Not only that, but you'll discover Central Europe's fascinating Jewish ties as part of our Jewish Heritage program – the only itinerary of its kind offered on the rivers.

Enjoy the great outdoors and bespoke experiences along the Danube in cities that inspired fairy tales. Prague boasts Hradčany, the biggest, and arguably the most extraordinary, castle in the world, and an Old Jewish Quarter that's witnessed both hardships and celebrations for centuries. Discover the old walled city and Nuremberg's mesmerizing castles on the Nuremberg Panoramic Highlights Tour. Confront and explore the region's complicated and devastating history as you visit infamous Nazi documentation centers and party rally grounds. Stroll through countless enchanting old towns and villages, with plenty of "Let's Go" opportunities for hiking and biking in Regensburg, Straubing, Deggendorf, Vilshofen, Passau and Engelhartszell – all teeming with magnificent architecture, age-old tradition and outstanding breweries. Explore Weissenkirchen and its devastatingly-beautiful landscapes. Participate in a "Village Day," and stroll through towns accompanied by wine, apricot treats and a vineyard hike. In the historical capital of Vienna, you'll be met with glorious food, wine, art and outdoor experiences all on your search for new inspiration along the Danube.

Delightful Danube & Prague 2019 (Budapest To Prague)

Uniworld
$3699
10
Details

Experience dynamic Budapest, imperial Vienna and exquisitely preserved Prague. Marvel at ravishing scenery as your luxurious ship glides through the Wachau Valley, celebrated as one of the world's most beautiful landscapes, into Germany and past charming Bavarian villages. Exclusive treasures are plentiful on this delightful journey. Partake in an exclusive insider's look at Prague's historic Estates Theatre with its exquisite jewel-box theater, where operas are staged to this day, and listen to a short music concert composed by Mozart and his contemporaries in the Mozart Salon. Go behind the scenes at a BMW factory to get an up-close view of Germany's rich automotive heritage, and "Let's Go" with guided hiking and biking excursions along the Danube. This enchanting voyage provides a variety of ways to enjoy captivating destinations as well as plenty of time to relax onboard as you sail from Budapest to Nuremberg and spend two nights onshore in Prague.

Who will enjoy this cruise/tour? Travelers who love history, music and architecture will be able to tailor their travel to their interests along the mighty Danube and in spectacular Prague.

Delightful Danube & Prague 2019 (Prague To Budapest)

Uniworld
$3709
10
Details

Experience dynamic Budapest, imperial Vienna and exquisitely preserved Prague. Marvel at ravishing scenery as your luxurious ship glides through the Wachau Valley, celebrated as one of the world's most beautiful landscapes, into Germany and past charming Bavarian villages. Exclusive treasures are plentiful on this delightful journey. Partake in an exclusive insider's look at Prague's historic Estates Theatre with its exquisite jewel-box theater, where operas are staged to this day, and listen to a short music concert composed by Mozart and his contemporaries in the Mozart Salon. Go behind the scenes at a BMW factory to get an up-close view of Germany's rich automotive heritage, and "Let's Go" with guided hiking and biking excursions along the Danube. This enchanting voyage provides a variety of ways to enjoy captivating destinations as well as plenty of time to relax onboard as you sail from Budapest to Nuremberg and spend two nights onshore in Prague.

Who will enjoy this cruise/tour? Travelers who love history, music and architecture will be able to tailor their travel to their interests along the mighty Danube and in spectacular Prague.

Gems Of Northern Italy 2019 (Milan To Venice)

Uniworld
$2799
10
Details

Uncover the extraordinary hidden treasures of Venice and Northern Italy

Encounter unforgettable sights on this odyssey through Northern Italy that begins in Milan, home to Da Vinci's The Last Supper, and ends in legendary Venice, the "Queen of the Adriatic." These two iconic cities bookend an exploration of Northern Italy that rewards the curious traveler with amazing experiences in Verona, Padua, Bologna and Ferrara.

Travel from dynamic Milan to romantic Venice. Soak up the enchantment of "The City of Water" and three outer-lying Venetian islands, Burano, Mazzorbo and Torcello. Be treated to an exclusive evening opening and lighting ceremony at St. Mark's Basilica. Discover the charm of seaside Chioggia loved by fishermen and artists alike. Enjoy a multicourse lunch complete with wine pairings at a historic wine estate in Valpolicella. Explore medieval Padua, once home to Galileo and Copernicus; "bountiful" Bologna; Verona, the famed city of Romeo and Juliet; and UNESCO-designated Ferrara. Each of these enchanting locales is yours to uncover on the "Gems of Northern Italy."

Who will enjoy this cruise/tour

Romantics, connoisseurs of food and wine and lovers of art and architecture. Experienced travelers looking to explore the hidden gems of Northern Italy.

Generations Family Program (select sailings)

Share the enchantment of this region with the special young people in your life. These cruise/tours not only feature unique, fun-filled adventures for families to enjoy together, they're also packed with culturally and historically significant experiences designed to spark creativity and lifelong learning.

 

Highlights Of Eastern Europe 2019 (Bucharest To Budapest)

Uniworld
$4159
10
Details

Follow a path forged by crusaders, kings and conquerors through Hungary, Serbia, Croatia, Romania and Bulgaria. Immerse yourself in new cultures and make new friends as you travel from splendid Budapest to dynamic Bucharest, discovering the best that the revitalized nations of Eastern Europe have to offer along the way.

Gaze in wonder at the lofty spires of Hungary's Parliament Building as it rises majestically above the Danube in Budapest. Sit down for friendly, intimate meals with farmers in Croatia and artists in Romania. Uncover scores of little-known treasures, including the picturesque Bulgarian hill towns of Veliko Tarnovo and Arbanassi and the surprising rock-hewn churches of Ivanovo—a UNESCO World Heritage Site. Step back in time to investigate the history and legends along the Danube while you cruise the Iron Gates. Tour Belgrade by bicycle, marvel at the massive People's Palace in Bucharest or see Vlad the Impaler's tomb in the Romanian countryside.

From Budapest to Bucharest, Roman ruins to medieval fortresses, this journey will reveal the unstoppable resiliency of the human spirit, as well as the highlights of this spectacular region. The adventure of a lifetime awaits you.

Who will enjoy this cruise/tour? Explorers wishing to discover ancient lands and modern multicultural cities. Photographers, amateur archaeologists, connoisseurs of regional cuisines and anyone who loves beautiful and mysterious locales.

Highlights Of Eastern Europe 2019 (Budapest To Bucharest)

Uniworld
$4159
10
Details

Follow a path forged by crusaders, kings and conquerors through Hungary, Serbia, Croatia, Romania and Bulgaria. Immerse yourself in new cultures and make new friends as you travel from splendid Budapest to dynamic Bucharest, discovering the best that the revitalized nations of Eastern Europe have to offer along the way.

Gaze in wonder at the lofty spires of Hungary's Parliament Building as it rises majestically above the Danube in Budapest. Sit down for friendly, intimate meals with farmers in Croatia and artists in Romania. Uncover scores of little-known treasures, including the picturesque Bulgarian hill towns of Veliko Tarnovo and Arbanassi and the surprising rock-hewn churches of Ivanovo—a UNESCO World Heritage Site. Step back in time to investigate the history and legends along the Danube while you cruise the Iron Gates. Tour Belgrade by bicycle, marvel at the massive People's Palace in Bucharest or see Vlad the Impaler's tomb in the Romanian countryside.

From Budapest to Bucharest, Roman ruins to medieval fortresses, this journey will reveal the unstoppable resiliency of the human spirit, as well as the highlights of this spectacular region. The adventure of a lifetime awaits you.

Who will enjoy this cruise/tour? Explorers wishing to discover ancient lands and modern multicultural cities. Photographers, amateur archaeologists, connoisseurs of regional cuisines and anyone who loves beautiful and mysterious locales.

Magnificent Moselle & Rhine 2019 (Cologne To Frankfurt)

Uniworld
$3359
10
Details

Germany's spectacular backdrops and breathtaking natural wonders will reveal themselves as you cruise along the alluring Moselle and Rhine rivers. Uncover the best-kept-secret in river cruising, the Moselle, as you sail past some of Europe's most serene, village-dotted and vineyard-lined landscapes.

Discover the cities along the rivers where you'll encounter cozy German towns and villages, a myriad of bike trails, stunning wooded and mountainous areas, Germany's beguiling history and delectable cuisine. Spot timber-framed houses with flower boxes, intimate squares, and historic buildings starting in Frankfurt. Step into old-world Europe with a "Let's Go" experience that will show you Mainhattan (not to be confused with New York City's beloved borough) by bike. Wander through charming Mainz before venturing to Rüdesheim, where you can explore the Abbey Eberbach. Enjoy a Rhinegau Riesling tasting within the historic walls and explore the grounds of the popular and picturesque filming location.

Take in natural wonders and cultural treasures near and far as you cruise along the Rhine before meeting the winding Moselle. Revel in the picture-perfect wine villages of Boppard and Cochem nestled along the Moselle. Discover Germany's oldest town, Trier, and learn about its rich Roman history on a panoramic walking tour that includes Emperor Bath, Constantine Basilica, and Karl Marx's birthplace. Dive deeper into Germany's heritage in Remich, Bernkastel, Bonn and Cologne. Embark on a castle hike, a village and vineyard walk, or cycle past famous landmarks and scenic shorelines, tasting classically-German beer, wine and sausage along the way. Let the enthralling Moselle and Rhine captivate you.

Magnificent Moselle & Rhine 2019 (Frankfurt To Cologne)

Uniworld
$3359
10
Details

Germany's spectacular backdrops and breathtaking natural wonders will reveal themselves as you cruise along the alluring Moselle and Rhine rivers. Uncover the best-kept-secret in river cruising, the Moselle, as you sail past some of Europe's most serene, village-dotted and vineyard-lined landscapes.

Discover the cities along the rivers where you'll encounter cozy German towns and villages, a myriad of bike trails, stunning wooded and mountainous areas, Germany's beguiling history and delectable cuisine. Spot timber-framed houses with flower boxes, intimate squares, and historic buildings starting in Frankfurt. Step into old-world Europe with a "Let's Go" experience that will show you Mainhattan (not to be confused with New York City's beloved borough) by bike. Wander through charming Mainz before venturing to Rüdesheim, where you can explore the Abbey Eberbach. Enjoy a Rhinegau Riesling tasting within the historic walls and explore the grounds of the popular and picturesque filming location.

Take in natural wonders and cultural treasures near and far as you cruise along the Rhine before meeting the winding Moselle. Revel in the picture-perfect wine villages of Boppard and Cochem nestled along the Moselle. Discover Germany's oldest town, Trier, and learn about its rich Roman history on a panoramic walking tour that includes Emperor Bath, Constantine Basilica, and Karl Marx's birthplace. Dive deeper into Germany's heritage in Remich, Bernkastel, Bonn and Cologne. Embark on a castle hike, a village and vineyard walk, or cycle past famous landmarks and scenic shorelines, tasting classically-German beer, wine and sausage along the way. Let the enthralling Moselle and Rhine captivate you.

Tulips & Windmills 2019 (Amsterdam To Antwerp)

Uniworld
$4899
10
Details

From the canals of Amsterdam to the belfry of Bruges, you'll discover the best of the Netherlands and Belgium. Stroll through colorful acres of tulips at Keukenhof Gardens to get a sense of the Netherlands' extraordinary connection to these blooms. Then visit the 19 UNESCO-designated windmills of Kinderdijk to better understand how these mighty structures have been used to protect the Low Country from ever-rising water levels for hundreds of years.

Wander through the picture-perfect villages of Veere, Hoorn and Enkhuizen, and the enchanting outdoor Zuiderzee Museum. Uncover the rich treasures at Amsterdam's world-class museums, including the Van Gogh Museum and the Rijksmuseum. Take in the dazzling skyline of Rotterdam as you cruise through the bustling harbor and drift along the canals of Bruges. All along the way, you'll savor Dutch delights and Belgian treats as you sail the aquatic highways and byways of two amazing countries shaped by water.

Who will enjoy this cruise? Those who wish to step back in time may visit historic villages, medieval city centers and 20th-century battlefields. Art lovers will enjoy guided museum visits, while garden lovers will find a host of wonders with springtime blossoms.

Enchanting Christmas & New Year's Cruise 2019 (Passau To Budapest)

Uniworld
$5399
11
Details

Celebrate the holiday season in truly extraordinary fashion with a special Uniworld itinerary that gives you the best of four different countries at their most magical time of year. Cruise the mighty Danube, visiting classic capitals like Budapest and Vienna. Hear the largest organ in Europe on Christmas Eve in Passau, then ring in the New Year in elegant style with a gala dinner and ballroom dance in Budapest. Festive celebrations are plentiful during this cruise—what better way to create perfect holiday memories?

Commemorate a splendid musical heritage as you lift your voice and sing "Silent Night" in Oberndorf, where the beloved Christmas carol was composed. Sip a cocktail with a princess in the seven-towered Artstetten Castle, and visit Prince Eugene of Savoy's jewel-box Winter Palace in Vienna. Spend Christmas Day in Salzburg and enjoy a holiday lunch within the walls of St. Peter's Abbey. Discover the seasonal delicacies of Slovakia in Bratislava's picturesque downtown and enjoy the merriment of traditional hospitality in an Austrian wine village. Ring out the old year and ring in the new with art, wine and song as you cruise through four nations during this enchanting season.

Who will enjoy this cruise? Those who wish to celebrate a European Christmas and New Year in festive elegance. All lovers of art, music and merriment.

Portugal, Spain & The Douro 2019 (Lisbon To Porto)

Uniworld
$4399
11
Details

Your journey starts in Lisbon, the city that launched some of the world's most renowned explorers. Following the Douro River through Portugal and into Spain, you'll cruise past steeply terraced hillsides, quaint villages and acres of ripe vineyards. Dine on traditional fare in majestic Coimbra, the birthplace of six Portuguese kings; enjoy private tastings of Port; and explore Porto's historic Ribeira district, home to iconic rabelo boats, cutting-edge cuisine and a thriving art scene. Wind your way through the dramatic landscapes of the UNESCO-designated Douro Valley, heading ashore to visit charming quintas and meet the winemakers who operate them. In Salamanca, Spain, you'll see the city's famous university and take in a high-spirited flamenco show. Return to Portugal with a visit to the fortified village of Castelo Rodrigo and historic Guimarães. There's no better way to discover Europe's best-kept secret than this scenic and all-inclusive river cruise!

Portugal, Spain & The Douro 2019 (Round Trip From Porto)

Uniworld
$3799
11
Details

Your journey starts in Lisbon, the city that launched some of the world's most renowned explorers. Following the Douro River through Portugal and into Spain, you'll cruise past steeply terraced hillsides, quaint villages and acres of ripe vineyards. Dine on traditional fare in majestic Coimbra, the birthplace of six Portuguese kings; enjoy private tastings of Port; and explore Porto's historic Ribeira district, home to iconic rabelo boats, cutting-edge cuisine and a thriving art scene. Wind your way through the dramatic landscapes of the UNESCO-designated Douro Valley, heading ashore to visit charming quintas and meet the winemakers who operate them. In Salamanca, Spain, you'll see the city's famous university and take in a high-spirited flamenco show. Return to Portugal with a visit to the fortified village of Castelo Rodrigo and historic Guimarães. There's no better way to discover Europe's best-kept secret than this scenic and all-inclusive river cruise!

Remarkable Rhine & Historic Holland 2019 (Amsterdam To Basel)

Uniworld
$3569
11
Details

Explore Europe's rich history and Jewish heritage on an incredible discovery of The Netherlands, Germany, France and Switzerland. Dive deep into the region's culture, natural wonders, traditions and historical significance in a one-of-a-kind experience along the Rhine. Delve into the region's world-renowned museums in Amsterdam, Frankfurt, Cologne, Basel and Arnhem. Along the way, indulge in Central Europe's delicious cuisine—Dutch cheese and fries, Alsatian choux-croute, Swiss-style sausages, Kölsch beer, unique wine vinegar aperitifs and Germany's famous white wines.

Oh, and did we mention the scenery? Standing on the top deck of your ship, watching the ever-changing landscape turn increasingly dramatic, you'll understand why people have been raving about the Rhine River Valley for centuries - and there's definitely no cause to stop.

Remarkable Rhine & Historic Holland 2019 (Basel To Amsterdam)

Uniworld
$3439
11
Details

Explore Europe's rich history and Jewish heritage on an incredible discovery of The Netherlands, Germany, France and Switzerland. Dive deep into the region's culture, natural wonders, traditions and historical significance in a one-of-a-kind experience along the Rhine. Delve into the region's world-renowned museums in Amsterdam, Frankfurt, Cologne, Basel and Arnhem. Along the way, indulge in Central Europe's delicious cuisine—Dutch cheese and fries, Alsatian choux-croute, Swiss-style sausages, Kölsch beer, unique wine vinegar aperitifs and Germany's famous white wines.

Oh, and did we mention the scenery? Standing on the top deck of your ship, watching the ever-changing landscape turn increasingly dramatic, you'll understand why people have been raving about the Rhine River Valley for centuries - and there's definitely no cause to stop.

Imperial Waterways Of Russia 2019 (Moscow To Saint Petersburg)

Uniworld
$5599
12
Details

The imperial cities, grand artistic treasures and spectacular architecture of Russia await your arrival. From the glittering metropolises of St. Petersburg and Moscow to the timeless towns along the Golden Ring, you'll experience Russia in all its glory and splendor.

Explore the dichotomy of Moscow—rich with monuments to both 15th-century tsars and 20th-century communist leaders. Stand in awe of the massive Kremlin complex, oniondomed St. Basil's Cathedral and the extravagant Moscow metro system. See some of Russia's vast and beautiful countryside as well as its delightful small towns, where locals still engage in traditional crafts. Cruise along the Golden Ring to some of Russia's most beautiful cities, including Uglich and Yaroslavl, which are known for their white-stone churches and gorgeous monasteries. Be amazed by Kizhi Island's UNESCO-designated Transfiguration Church, a wooden structure built entirely without the use of nails. And uncover regal St. Petersburg, which boasts art-laden galleries and museums, fabled canals and elegant architecture from a wide variety of eras.

Who will enjoy this cruise? Adventurous travelers who wish to sail Russia's great rivers and lakes, seeing world-class cities and timeless towns, UNESCO World Heritage sites, stunning architecture and legendary art as they go.

Imperial Waterways Of Russia 2019 (Saint Petersburg To Moscow)

Uniworld
$5599
12
Details

The imperial cities, grand artistic treasures and spectacular architecture of Russia await your arrival. From the glittering metropolises of St. Petersburg and Moscow to the timeless towns along the Golden Ring, you'll experience Russia in all its glory and splendor.

Explore the dichotomy of Moscow—rich with monuments to both 15th-century tsars and 20th-century communist leaders. Stand in awe of the massive Kremlin complex, oniondomed St. Basil's Cathedral and the extravagant Moscow metro system. See some of Russia's vast and beautiful countryside as well as its delightful small towns, where locals still engage in traditional crafts. Cruise along the Golden Ring to some of Russia's most beautiful cities, including Uglich and Yaroslavl, which are known for their white-stone churches and gorgeous monasteries. Be amazed by Kizhi Island's UNESCO-designated Transfiguration Church, a wooden structure built entirely without the use of nails. And uncover regal St. Petersburg, which boasts art-laden galleries and museums, fabled canals and elegant architecture from a wide variety of eras.

Who will enjoy this cruise? Adventurous travelers who wish to sail Russia's great rivers and lakes, seeing world-class cities and timeless towns, UNESCO World Heritage sites, stunning architecture and legendary art as they go.

Me To We & The Sacred Ganges 2019 (New Delhi To Kolkata)

Uniworld
$5809
12
Details

Join ME to WE for a one-of-a-kind adventure in India's countryside for the first four days of our traditional India cruise/tour. ME To WE is an immersive and transformative experience where you'll explore India's vibrant and fascinating culture through unforgettable encounters. In rural Udaipur, you'll settle into the stunning Araveli Cottages and Tented Camp and prepare for your time with ME to WE with a lesson in basic Hindi phrases before venturing out to the local village to mingle with community members. You'll wake up the next day to a sunrise yoga session overlooking the pink-hued Aravalli Mountain Range prior to spending the rest of your morning with women in the community learning what life is like in rural India. After savoring traditional Indian cuisine, you'll meet a local farmer who will lead you to the project site of your sustainable development project. When your time with ME to WE ends, you'll board the lavish Ganges Voyager II and head to the site of Kalna's magnificent Hindu temples. Meander through Matiari's authentic artisan village, Murshidabad's and Baranagar's architectural monuments and Mayapur's captivating Temple of the Vedic Planetarium– the center of the international Hare Krishna movement. Discover why the French planted roots in Kolkata with a visit to the former French outpost before learning the enduring legacies of Mother Teresa. Visit her home, where she lived and worked for decades and marvel at the museum dedicated to her, where her Nobel Peace Prize sits proudly on display.

Splendors Of Egypt & The Nile 2019 (Round Trip From Cairo)

Uniworld
$4799
12
Details

For 12 adventure-filled days, experience Egypt and the Nile's most wondrous sites in style and luxury. Set sail on an eight-day voyage onboard the all-suite River Tosca. Wander amongst the towering ruins of the Temple of Karnak, the world's largest ancient religious complex, and the entrancing Temple of Luxor. Visit temples dedicated to Hathor, Horus, and other mythological figures, and pay homage to the country's first female ruler at the Temple of Hatshepsut. Follow in the footsteps of renowned scholars and explorers as you venture forth into the Valley of the Kings, the ancient burial grounds of Egyptian royalty. You will enjoy an exhilarating ride in a felucca, a traditional Nile River sailboat.

This captivating itinerary begins and ends in Cairo, where you'll visit the famous Egyptian Museum and its stupendous and unrivaled collection of pharaonic artifacts, including treasures recovered from the tomb of King Tutankhamun. Journey to Giza to gaze upon the mighty ancient Pyramids and the timeworn, enigmatic Sphinx—iconic images that continue to amaze.

An enchanting land of marvels, myths, and wonders old and new, Egypt is an extraordinary destination no culturally curious traveler will want to miss.

Grand Christmas & New Year's Cruise 2019 (Nuremberg To Budapest)

Uniworld
$6299
13
Details

If you're looking to celebrate the holidays and welcome the New Year in incredible style, this special cruise is for you. You'll sail through Germany, Austria and Hungary along the shimmering Danube and past incredible sights on this unique itinerary. Explore charming old-world villages and Gothic cathedrals, and escape the hurry and hassle of the holidays as you relax onboard a luxurious ship and cruise through the ravishing landscapes of the Danube.

On Christmas Eve, walk through the quiet medieval streets of Regensburg to the Gothic cathedral for Midnight Mass. As you pass through the magnificent doors, look up: You'll see chalk marks invoking age-old blessings for all who enter. Listen to the harness bells chime as you ride through the serene Bavarian Forest in a horse-drawn wagon. Wander through locations from The Sound of Music in beautiful Salzburg and then warm up with rum-laced coffee. Meet Habsburg royalty during a private reception in a castle overlooking the UNESCO-designated Wachau Valley.

Visit stunning churches and sample delicious wines in enchanting baroque villages. Ring in the New Year dancing in a real Viennese palace, and see how a dusting of snow adds to the glamour of Hungary's historic capital.

The mighty Danube takes you through three nations decked in all their holiday finery at this most delightful time of year.

Who will enjoy this cruise? Those who wish to just get away and relax during the busy holiday season, and anyone seeking to celebrate Christmas and welcome in the New Year in an extraordinarily memorable way.

India's Golden Triangle & The Sacred Ganges 2019 (New Delhi To Kolkata)

Uniworld
$6299
13
Details

Complex and beguiling, India is a country unlike any other. Wondrous sights rich in romance and intrigue come alive in the "Golden Triangle"—Delhi, Jaipur and Agra. Delhi's immense red sandstone marble tomb, commissioned by Emperor Humayun's grief-stricken wife, will capture your heart, while Raj Ghat, a black granite memorial to the "Father of the Nation," Mahatma Gandhi, will stir your soul. Jaipur's Pink City and Agra's Taj Mahal, a grand tribute to love, will leave you forever mesmerized.

This adventure by land and river will touch all of your senses, from Kolkata, where Mother Teresa's humble home and tomb provide a place of pilgrimage, to the Rajbari Temples devoted to the Hindu god Shiva. Your Ganges voyage delves deeply into India's fascinating historical and religious heritage, working its charm in myriad ways and leaving you with memories that will forever endure.

Jewels Of Spain, Portugal & The Douro River 2019 (Lisbon To Madrid)

Uniworld
$5949
13
Details

Before setting sail on the Douro River, experience three legendary Spanish cities: Salamanca, the lovely "Golden City"; Madrid, renowned for its museums, stately royal palace and vibrant nightlife; and Toledo, the city of El Greco and a magnificent tribute to the three great cultures that forged Spain.

Cruise through the UNESCO-designated Douro Valley, where grapes have been grown for 2,000 years, visiting picturesque quintas and meeting the winemakers who operate them, as well as tasting the wine. Get even closer to natural treasures at the Douro International Natural Park, where you can get a better understanding of the flora and fauna of the land with an intimate boat cruise, and at the Quinta Aveleda's gardens, offering an enchanting landscape that boasts a cascading waterfall, graceful swans swimming, peacocks flaunting their colors and so much more. Visit the walled village of Castelo Rodrigo, a site that dates back to the 12th century, and the pilgrimage town of Lamego to see the monumental baroque Sanctuary of Nossa Senhora dos Remédios. Travel through the verdant countryside to Óbidos, a charming hilltop town that has entranced visitors since the 13th century en route to Portugal's colorful capital of Lisbon.

Reward your inner explorer with the "Jewels of Spain, Portugal & the Douro River," blending captivating cities, picturesque villages and unparalleled scenic cruising through this less-traveled corner of Europe.

Who will enjoy this cruise/tour? Those who seek to experience the best of Spanish and Portuguese cuisine, culture, art and history, all while traversing the dramatic landscapes made famous by Don Quixote.

Jewels Of Spain, Portugal & The Douro River 2019 (Madrid To Lisbon)

Uniworld
$5949
13
Details

Before setting sail on the Douro River, experience three legendary Spanish cities: Salamanca, the lovely "Golden City"; Madrid, renowned for its museums, stately royal palace and vibrant nightlife; and Toledo, the city of El Greco and a magnificent tribute to the three great cultures that forged Spain.

Cruise through the UNESCO-designated Douro Valley, where grapes have been grown for 2,000 years, visiting picturesque quintas and meeting the winemakers who operate them, as well as tasting the wine. Get even closer to natural treasures at the Douro International Natural Park, where you can get a better understanding of the flora and fauna of the land with an intimate boat cruise, and at the Quinta Aveleda's gardens, offering an enchanting landscape that boasts a cascading waterfall, graceful swans swimming, peacocks flaunting their colors and so much more. Visit the walled village of Castelo Rodrigo, a site that dates back to the 12th century, and the pilgrimage town of Lamego to see the monumental baroque Sanctuary of Nossa Senhora dos Remédios. Travel through the verdant countryside to Óbidos, a charming hilltop town that has entranced visitors since the 13th century en route to Portugal's colorful capital of Lisbon.

Reward your inner explorer with the "Jewels of Spain, Portugal & the Douro River," blending captivating cities, picturesque villages and unparalleled scenic cruising through this less-traveled corner of Europe.

Who will enjoy this cruise/tour? Those who seek to experience the best of Spanish and Portuguese cuisine, culture, art and history, all while traversing the dramatic landscapes made famous by Don Quixote.

Timeless Wonders Of Vietnam, Cambodia & The Mekong 2019 (Ho Chi Minh City To Siem Reap)

Uniworld
$5299
13
Details

Two of the most beautiful, historic and friendly places in all of Asia, dynamic Vietnam and pastoral Cambodia are intriguing studies in contrast. Each possesses its own unique charm and social traditions, its own tragic history and complex past. In many ways, a visit here is less about the sights you see than it is about the people you meet and the experiences you have along the way.

Ho Chi Minh City offers a heady mixture of old and new while Hanoi, the capital of Vietnam, surprises visitors with its charm. As the lifeblood of Southeast Asia, the Mekong teems with colorful floating villages and mementos of its French Colonial past. Phnom Penh, Cambodia's thriving capital, is fast-forwarding to the future yet retains a provincial intimacy. And colorful Siem Reap provides the gateway to the vast UNESCO-designated jungle temple complex of Angkor Wat.

Timeless Wonders Of Vietnam, Cambodia & The Mekong 2019 (Siem Reap To Ho Chi Minh City)

Uniworld
$5299
13
Details

Two of the most beautiful, historic and friendly places in all of Asia, dynamic Vietnam and pastoral Cambodia are intriguing studies in contrast. Each possesses its own unique charm and social traditions, its own tragic history and complex past. In many ways, a visit here is less about the sights you see than it is about the people you meet and the experiences you have along the way.

Ho Chi Minh City offers a heady mixture of old and new while Hanoi, the capital of Vietnam, surprises visitors with its charm. As the lifeblood of Southeast Asia, the Mekong teems with colorful floating villages and mementos of its French Colonial past. Phnom Penh, Cambodia's thriving capital, is fast-forwarding to the future yet retains a provincial intimacy. And colorful Siem Reap provides the gateway to the vast UNESCO-designated jungle temple complex of Angkor Wat.

A Portrait Of Majestic France 2019 (Bordeaux To Paris)

Uniworld
$6999
15
Details

The quintessential voyage for gourmets, oenophiles and lovers of all things French.

This picture-perfect journey blends your passion for the good life—art, culture and gastronomy—with a broad sweep of lovely French landscapes. Experience the romance of Paris and then sail the Seine to Normandy, discovering the gems of the region. Marvel at magnificent Rouen Cathedral, and tour the former smugglers' harbor in Honfleur and follow in the footsteps of Monet at his beloved Giverny.

Travel to beautiful Bordeaux and delight in the countryside of southwest France. Explore Roman Saint-Émilion, with its astonishing Monolithic Church, and ancient Blaye, with its famous citadel. Journey through a land of noble wines, tasting the flavors of the regions as you go.

Enjoy the best France has to offer with Uniworld's plethora of exclusive excursions (including an exclusive wine tasting of famous Médoc and Sauternes wines and an extraordinary evening tour of Bordeaux) as you cruise four rivers, visit bustling cities and charming towns and sample myriad culinary delights.

Who will enjoy this cruise:
Gourmets, oenophiles and lovers of life's finer things will savor this quintessential French voyage.

A Portrait of Majestic France is a combination of Paris & Normandy and Brilliant Bordeaux.

A Portrait Of Majestic France 2019 (Paris To Bordeaux)

Uniworld
$5999
15
Details

The quintessential voyage for gourmets, oenophiles and lovers of all things French.

This picture-perfect journey blends your passion for the good life—art, culture and gastronomy—with a broad sweep of lovely French landscapes. Experience the romance of Paris and then sail the Seine to Normandy, discovering the gems of the region. Marvel at magnificent Rouen Cathedral, and tour the former smugglers' harbor in Honfleur and follow in the footsteps of Monet at his beloved Giverny.

Travel to beautiful Bordeaux and delight in the countryside of southwest France. Explore Roman Saint-Émilion, with its astonishing Monolithic Church, and ancient Blaye, with its famous citadel. Journey through a land of noble wines, tasting the flavors of the regions as you go.

Enjoy the best France has to offer with Uniworld's plethora of exclusive excursions (including an exclusive wine tasting of famous Médoc and Sauternes wines and an extraordinary evening tour of Bordeaux) as you cruise four rivers, visit bustling cities and charming towns and sample myriad culinary delights.

Who will enjoy this cruise:
Gourmets, oenophiles and lovers of life's finer things will savor this quintessential French voyage.

A Portrait of Majestic France is a combination of Paris & Normandy and Brilliant Bordeaux.

Alluring Amsterdam & Vienna 2019 (Amsterdam To Vienna)

Uniworld
$5249
15
Details

Authentic experiences and local encounters are in store on your cruise along the most scenic parts of the Main, Rhine and Danube rivers. Delight in the full spectrum of Europe's culture, history, art, architecture, cuisine and numerous UNESCO World Heritage sites resting along some of the most legendary rivers.

Explore colorful Amsterdam and its abundant canals, Dutch delights and world-famous museums. Discover Germany's splendidly quaint villages, towns, prominent landmarks, such as the Cologne Cathedral, and the region's best wine. Sail along the scenic rivers and keep count of the castles jutting out of the landscapes. Step off your ship into fairytale-like settings where you'll find countless opportunities for "Let's Go" hiking, biking and walking tours from city to city. Pay a visit to the futuristic BMW factory and satiate your need for speed in Regensburg before teeing off at Europe's number one golf resort in Bavaria. As part of an Exclusive Excursion in Dürnstein, travel to Austria's oldest wine estate and sample some of the most exquisite wines in all of Europe. By day in Vienna, tag along on an exclusive "Morning with the Masters" at the Vienna Art History Museum, go for an afternoon bike ride on Danube Island or by night, listen to the music of Mozart and Strauss at an exclusive private concert at a Viennese concert hall. You'll enjoy nothing short of a treasure trove of experiences from Amsterdam to Vienna.

Alluring Amsterdam & Vienna 2019 (Vienna To Amsterdam)

Uniworld
$5249
15
Details

Authentic experiences and local encounters are in store on your cruise along the most scenic parts of the Main, Rhine and Danube rivers. Delight in the full spectrum of Europe's culture, history, art, architecture, cuisine and numerous UNESCO World Heritage sites resting along some of the most legendary rivers.

Explore colorful Amsterdam and its abundant canals, Dutch delights and world-famous museums. Discover Germany's splendidly quaint villages, towns, prominent landmarks, such as the Cologne Cathedral, and the region's best wine. Sail along the scenic rivers and keep count of the castles jutting out of the landscapes. Step off your ship into fairytale-like settings where you'll find countless opportunities for "Let's Go" hiking, biking and walking tours from city to city. Pay a visit to the futuristic BMW factory and satiate your need for speed in Regensburg before teeing off at Europe's number one golf resort in Bavaria. As part of an Exclusive Excursion in Dürnstein, travel to Austria's oldest wine estate and sample some of the most exquisite wines in all of Europe. By day in Vienna, tag along on an exclusive "Morning with the Masters" at the Vienna Art History Museum, go for an afternoon bike ride on Danube Island or by night, listen to the music of Mozart and Strauss at an exclusive private concert at a Viennese concert hall. You'll enjoy nothing short of a treasure trove of experiences from Amsterdam to Vienna.

Grand France 2019 (Avignon To Paris)

Uniworld
$7599
15
Details

For Francophiles in love with the culture, history, cuisine and romance of France, this grand voyage is a dream come true. Soak up the joie de vivre that makes France one of the most adored countries in the world.

Experience France from north to south, sailing three rivers and embarking upon in-depth shore excursions. Walk through Monet's beloved Giverny, seeing the enchanting grounds that he made famous; kayak under the arches of the 2,000-year-old Pont du Gard outside of Avignon; enjoy a recital of baroque favorites in a 12th-century cathedral in charming Viviers; visit Lyon's famous Les Halles food market; and have a chance to golf at two historic French golf courses.

From the beaches

of Normandy and the verve and romance of Paris to the sun-drenched vistas of Burgundy and Provence, this itinerary in France is truly sans pareil!

Who will enjoy this cruise? Those who desire a taste of everything—art, architecture, history, culture, fine wine and tantalizing cuisine—all in one grand adventure.

Grand France is a combination of Paris & Normandy and Burgundy & Provence.

Grand France 2019 (Paris To Avignon)

Uniworld
$7499
15
Details

For Francophiles in love with the culture, history, cuisine and romance of France, this grand voyage is a dream come true. Soak up the joie de vivre that makes France one of the most adored countries in the world.

Experience France from north to south, sailing three rivers and embarking upon in-depth shore excursions. Walk through Monet's beloved Giverny, seeing the enchanting grounds that he made famous; kayak under the arches of the 2,000-year-old Pont du Gard outside of Avignon; enjoy a recital of baroque favorites in a 12th-century cathedral in charming Viviers; visit Lyon's famous Les Halles food market; and have a chance to golf at two historic French golf courses.

From the beaches

of Normandy and the verve and romance of Paris to the sun-drenched vistas of Burgundy and Provence, this itinerary in France is truly sans pareil!

Who will enjoy this cruise? Those who desire a taste of everything—art, architecture, history, culture, fine wine and tantalizing cuisine—all in one grand adventure.

Grand France is a combination of Paris & Normandy and Burgundy & Provence.

European Jewels 2019 (Amsterdam To Budapest)

Uniworld
$7999
16
Details

Indulge your passion for majestic art, architecture, music and history on an all-encompassing journey through four countries along three great rivers— the Danube, Main and Rhine—and to numerous UNESCO World Heritage sites.

From exotic Budapest, "Queen of the Danube," to imperial Vienna, "City of Waltzes," to the sky-high spires of Cologne's Gothic cathedral—centuries of intriguing history and culture unfold before your eyes. The Melk Abbey's great library overlooking the Danube, the Würzburg Residence's soaring ceiling fresco by Tiepolo and the Winter Palace of Prince Eugene will leave you mesmerized. And throughout your journey, tantalize your senses with exclusive wine, apricot brandy and beer tastings, along with regional culinary delicacies. Discover the grand sweep of history and the dynamic present along legendary rivers on a magnificent journey that gives you the best of Europe's great treasures as well as off-the-beaten- path gems.

Who will enjoy this cruise? Travelers wishing to discover the full spectrum of European culture, history, art and architecture; and connoisseurs of fine food and world-class wine.

European Jewels 2019 (Budapest To Amsterdam)

Uniworld
$7999
16
Details

Indulge your passion for majestic art, architecture, music and history on an all-encompassing journey through four countries along three great rivers— the Danube, Main and Rhine—and to numerous UNESCO World Heritage sites.

From exotic Budapest, "Queen of the Danube," to imperial Vienna, "City of Waltzes," to the sky-high spires of Cologne's Gothic cathedral—centuries of intriguing history and culture unfold before your eyes. The Melk Abbey's great library overlooking the Danube, the Würzburg Residence's soaring ceiling fresco by Tiepolo and the Winter Palace of Prince Eugene will leave you mesmerized. And throughout your journey, tantalize your senses with exclusive wine, apricot brandy and beer tastings, along with regional culinary delicacies. Discover the grand sweep of history and the dynamic present along legendary rivers on a magnificent journey that gives you the best of Europe's great treasures as well as off-the-beaten- path gems.

Who will enjoy this cruise? Travelers wishing to discover the full spectrum of European culture, history, art and architecture; and connoisseurs of fine food and world-class wine.

Portraits Of Eastern Europe 2019 (Bucharest To Prague)

Uniworld
$8199
19
Details

Beautifully preserved Prague has enchanted visitors for ages, but it is only a tiny part of this extraordinary voyage through nine nations. Sail past quaint villages and great cities on the glorious Danube, visiting baroque abbeys and medieval cathedrals, tasting fine wines and encountering new cultures. Along the way, you'll uncover the splendid Habsburg capitals of Vienna and Budapest, as well as the many hidden treasures of Croatia, Romania, Serbia and Bulgaria.

Who will enjoy this cruise/tour? Travelers seeking to explore famed capitals and storied lands, to meet new people and encounter diverse cultures, will relish their time on this picture-perfect journey.

Portraits of Eastern Europe is a combination of Delightful Danube & Prague and Highlights of Eastern Europe.

Ultimate France 2019 (Bordeaux To Avignon)

Uniworld
$10999
22
Details

This triumvirate of France brings you the very best of each region—Paris and the Normandy coast in the north, vineyard-rich Bordeaux in the southwest and the sun-drenched Mediterranean delights of Burgundy and Provence. You'll tour glamorous capital cities in leisure and style, explore ancient villages still unspoiled by modern life and walk in the footsteps of famous artists such as Monet and Van Gogh. With Uniworld's extraordinary exclusive excursions, you'll visit the Palace of the Popes in Avignon, taste incomparable wines in Bordeaux, stroll the charming medieval lanes of Viviers and peruse the famed farmers' market in Lyon before seeing the city spectacularly illuminated at night. All the while, savor the renowned wines and cooking traditions that have made French cuisine the most revered in the world.

Who will enjoy this cruise? Those who want to experience all that France has to offer, from decadent food and wine to breathtaking scenery and world-famous art and architecture.

Ultimate France is a combination of Paris & Normandy, Brilliant Bordeaux and Burgundy & Provence.

Ultimate European Journey 2019 (Amsterdam To Bucharest)

Uniworld
$10799
25
Details

For centuries, people have dreamed of linking the great rivers of Europe, making it possible to travel by water across the continent between the Black and North seas. Today that dream is a reality. Prepare for the cruise of a lifetime as you travel the length of Europe through nine nations, exploring wonders of the Old World and the New, the East and the West.

Sail the romantic Rhine, the serene Main and the captivating Danube, witnessing dazzling natural beauty and incomparable architectural feats. Visit no fewer than six capital cities (Amsterdam, Vienna, Bratislava, Budapest, Belgrade and Bucharest) and a dozen towns and villages, with time to explore each. Enjoy numerous UNESCO World Heritage sites, including the castle-dotted Upper Middle Rhine Valley and magnificent Cologne Cathedral.

From Amsterdam to Bucharest, you'll visit the best of Europe with its spectacular architecture and stunning history on this truly remarkable journey.

Who will enjoy this cruise/tour? Travelers wishing to discover Europe's past and present, from east to west, Amsterdam to Bucharest, on one astonishing journey.

Ultimate European Journey is a combination of Highlights of Eastern Europe and European Jewels

Ultimate European Journey 2019 (Bucharest To Amsterdam)

Uniworld
$10799
25
Details

For centuries, people have dreamed of linking the great rivers of Europe, making it possible to travel by water across the continent between the Black and North seas. Today that dream is a reality. Prepare for the cruise of a lifetime as you travel the length of Europe through nine nations, exploring wonders of the Old World and the New, the East and the West.

Sail the romantic Rhine, the serene Main and the captivating Danube, witnessing dazzling natural beauty and incomparable architectural feats. Visit no fewer than six capital cities (Amsterdam, Vienna, Bratislava, Budapest, Belgrade and Bucharest) and a dozen towns and villages, with time to explore each. Enjoy numerous UNESCO World Heritage sites, including the castle-dotted Upper Middle Rhine Valley and magnificent Cologne Cathedral.

From Amsterdam to Bucharest, you'll visit the best of Europe with its spectacular architecture and stunning history on this truly remarkable journey.

Who will enjoy this cruise/tour? Travelers wishing to discover Europe's past and present, from east to west, Amsterdam to Bucharest, on one astonishing journey.

Ultimate European Journey is a combination of Highlights of Eastern Europe and European Jewels
Page 1 of 1 : : 100 per page