Trafalgar Tours - Italy Tours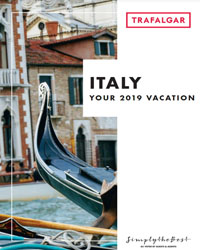 Perhaps the most selected country to visit in Europe. Fabulous Trafalgar Tour Italy do discover the history, dining, shopping and historic sights of this great country. Memories that will last for a lifetime.
Page 1 of 1 : : 100 per page
We have at least
23

trips that match this criteria
at the lowest prices, guaranteed.
Tour
Operator
Starting At
Days

Secrets Of Cambodias Angkor Summer 2019

Trafalgar
$626
5
Details

Delve into the layers of Cambodia's captivating culture, ancient lost capitals and rural villages, witnessing first-hand beautifully choreographed performances, local cooking customs and the centuries-old traditions that remain to this day

Italian Holiday Summer 2019

Trafalgar
$1796
7
Details

Visit the Vatican before the crowds, journey through striking Tuscan landscapes and cruise along the canals of Venice. You'll also encounter the Renaissance highlights of Florence and Leaning Tower of Pisa.

Best Of The Italian Lakes Summer 2019

Trafalgar
$2003
9
Details

Enjoy a stylish lakeside sojourn in Italy - explore 14th-century Marostica, sip a tasty cappuccino on Como's lakeside promenade and visit Milan, one of the world's design capitals.

Northern Italy Including Cinque Terre Summer 2019

Trafalgar
$2156
9
Details

From the northern lakes to Parma - see the layers of pastel hues that cling to Cinque Terre's dramatic sea cliffs, enjoying the flavours of prosciutto and parmigiano along the way.

Best Of Italy And Greece Summer 2019

Trafalgar
$2948
10
Details

Admire the art and architecture of Rome and the rich cultural heritage of Florence. Visit the monasteries of Meteora and see the sight of the most important oracle in the classical world.

Contrasts Of Italy Summer 2019

Trafalgar
$2966
10
Details

From the ancient capital of Rome to Venice, this journey connects two Italian masterpieces with a stop in Florence. A Trafalgar Highlight includes a private dinner in a Vatican courtyard.

Great Italian Cities Summer 2019

Trafalgar
$2350
10
Details

Explore Italy's café culture, enchanting Renaissance frescoes and incredible feats of classic architecture - all must-see highlights of this leisurely jaunt through the cities of Rome, Florence and Venice.

Italian Discovery Summer 2019

Trafalgar
$2678
10
Details

Admire Michelangelo's frescoed ceiling, the idyllic beauty of Lake Como and Shakespeare's Juliet balcony in Verona. You'll also savour the tastes of Bologna and wander through the home town of St. Francis.

Southern Italy And Sicily Summer 2019

Trafalgar
$2385
10
Details

Slow down to the languid pace of the South, a part of Italy that marches to its own tune. Ease into this leisurely exploration of the south and Sicily.

Italian Concerto Summer 2019

Trafalgar
$2966
11
Details

Take a walking tour past the ruins of the Amphitheatre, Temple of Apollo and Basilica, and hear how the eruption of Mount Vesuvius destroyed Pompeii, burying it under tons of ash.

Italy Bellissimo Summer 2019

Trafalgar
$2993
11
Details

A journey taking you from the interior of Italy to the coast. Visit the sultry, sun-kissed island of Capri and stay in an old Franciscan convent in the birthplace of St. Francis of Assisi.

Wonders Of Italy Summer 2019

Trafalgar
$2475
11
Details

Indulge in an enduring exploration of Italy's alluring art, architecture and history. See the imposing towers of San Gimignano and the seas of pastel shades that cling dramatically to Cinque Terre's cliffs.

Italys Pilgrim Trail Summer 2019

Trafalgar
$2250
12
Details

A place of pilgrimage, piety and miracles - your pilgrimage will take you to Padua, Assisi the home of St. Francis, San Giovanni Rotondo resting place of St. Pio. With your journey culminating in Papal Rome, a city of seven hills and home of the Catholic Church.

Best Of Italy Summer 2019

Trafalgar
$2950
13
Details

Experience all the mesmerising highlights of Italy, including the delectable flavours that have inspired its passionate locals to coin the phrase: "First we eat, then we do everything else..."

Italian Glory Summer 2019

Trafalgar
$3443
13
Details

Enjoy a leisurely break on the Amalfi Coast, exploring its medieval cliff-side fishing villages, café culture and flavours of local limoncello while watching the world go by.

Best Of Italy And Greece With 4 Day Aegean Cruise Moderate A Summer 2019

Trafalgar
$4142
14
Details

Admire the art and architecture of Rome and the rich cultural heritage of Florence. Visit the monasteries of Meteora and see the sight of the most important oracle in the classical world.

Best Of Italy And Greece With 4 Day Aegean Cruise Premier Summer 2019

Trafalgar
$4367
14
Details

Admire the art and architecture of Rome and the rich cultural heritage of Florence. Visit the monasteries of Meteora and see the sight of the most important oracle in the classical world.

Best Of Italy And Greece With 4 Day Aegean Cruise Premium Summer 2019

Trafalgar
$4439
14
Details

Admire the art and architecture of Rome and the rich cultural heritage of Florence. Visit the monasteries of Meteora and see the sight of the most important oracle in the classical world.

Best Of Italy And Greece With 4 Day Aegean Cruise Superior Summer 2019

Trafalgar
$4290
14
Details

Admire the art and architecture of Rome and the rich cultural heritage of Florence. Visit the monasteries of Meteora and see the sight of the most important oracle in the classical world.

Best Of Italy And Greece With 6Day Mykonos Extension Summer 2019

Trafalgar
$4230
15
Details

A sea of white, azure blue and cerise greets you in Mykonos, where the laidback lifestyle of this Aegean island paradise awaits.

Best Of Italy And Greece With 6Day Santorini Extension Summer 2019

Trafalgar
$4320
15
Details

The sunsets of Santorini will linger long after you've left the island's whitewashed villages that seem to tumble down the dramatic volcanic landscape.

Best Of Italy And Sicily Summer 2019

Trafalgar
$3825
15
Details

See the imperial monuments of Rome, the Romanesque architecture of Pisa and Venetian glassblowing on Giudecca Island. Travel through the heart of Italy to Pompeii, Naples and Sorrento before your Sicilian hop.

Grand Italian Experience Summer 2019

Trafalgar
$4046
17
Details

Journey from the Italian Lakes to the Amalfi Coast and trulli limestone houses of Alberobello, with all the highlights in Venice, Florence and Rome, and some Trafalgar surprises in between
Page 1 of 1 : : 100 per page