Oberammergau 2020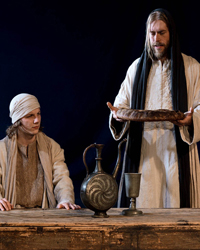 Since 1634, the most famous Passion Play in the world has taken place in Oberammergau. In 2020, the Community of Oberammergau will perform the Passion Play for the 42nd time. Experience this once in a lifetime event with a variety of exclusive itineraries including ticket and accommodation packages to the Passion Play in 2020.
Page 1 of 1 : : 100 per page
We have at least
5

trips that match this criteria
at the lowest prices, guaranteed.
Tour
Operator
Starting At
Days

Best Of Germany With Oberammergau (Preview 2020)

Insight
$3575
10
Details

Be captivated by the old world charm of Rothenburg and Nuremberg, the mountain scenery of Bavaria and the amazing re-birth of Dresden to its former Baroque splendour. Photo: Oberammergau Passion Play 2020

Country Roads Of Bavaria Switzerland And Austria With Oberammergau (Preview 2020)

Insight
$4198
11
Details

Surprisingly, the vineyards, gabled shop fronts and opulent palaces play second fiddle to the scenery. Experience the magical, unrivalled beauty of the Alpine world, on-board the enthralling Glacier Express. Photo: Oberammergau Passion Play 2020

Easy Pace Italy With Oberammergau (Preview 2020)

Insight
$4488
13
Details

Discover three of Italy's most cultural cities. Savour Rome's rich heritage, soak up the Renaissance atmosphere of Florence, and look beyond the canals and gondolas to gain a deeper understanding of Venice. Photo: Oberammergau Passion Play 2020

Road To Rome With Oberammergau (Preview 2020)

Insight
$5314
13
Details

Proverbially, all roads lead to Rome. This one includes a gourmet walk through Paris with a foodie, meeting a Swiss Mountain Ranger and the art of Renaissance Florence. Photo: Oberammergau Passion Play 2020

Italian Elegance With Oberammergau (Preview 2020)

Insight
$5005
15
Details

Experience the epitome of picture-postcard Italy's historic cities, exquisite resorts, rustic towns and idyllic fishing villages. Head behind the scenes in the Vatican as the Bramante staircase is opened just for you. Photo: Oberammergau Passion Play 2020
Page 1 of 1 : : 100 per page