Americas & Costa Rica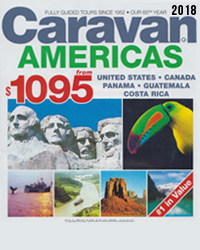 Caravan's strong buying power gives you great vacations at prices much lower than you can find anywhere. Last year many of our tours sold out quickly. Book early for the date you prefer and the best airfare.
Page 1 of 1 : : 100 per page
We have at least
6

trips that match this criteria
at the lowest prices, guaranteed.
| | Tour | Operator | Starting At | Days | |
| --- | --- | --- | --- | --- | --- |
| | Grand Canyon, Sedona, Lake Powell, Bryce & Zion | Caravan | $1395 | 8 | Details |
| | Guatemala With Tikal, Atitlan And Antigua | Caravan | $1395 | 8 | Details |
| | Mt Rushmore, Grand Tetons & Yellowstone | Caravan | $1295 | 8 | Details |
| | Panama Canal Cruise, Rainforests & Beaches | Caravan | $1295 | 8 | Details |
| | Costa Rica Natural Paradise | Caravan | $1195 | 9 | Details |
| | Nova Scotia And Prince Edward Island | Caravan | $1395 | 10 | Details |
Page 1 of 1 : : 100 per page