Globus Monograms Exotic Destinations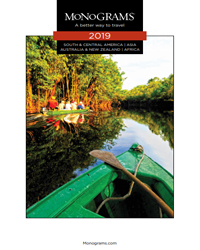 Now your vacation can be exactly what you want it to be, fun! - without all the planning and logistics hassles. With Monograms, we handle all the details, so you can feel comfortable and confident in your destination - even if its your first time there.
We have at least
175

trips that match this criteria
at the lowest prices, guaranteed.
Tour
Operator
Starting At
Days

Auckland City Getaway 2019 - 4 Days From Auckland To Auckland

Monograms
$709
4
Details

Where in the world can you be one of the first to welcome a new day? Why, New Zealand, of course! On this 4-day stay in Auckland, we have arranged hotel accommodations, daily breakfast, and sightseeing for you. We also provide you with a Monograms Local Host®, a "kiwi" who is available to help you see the beauty and experience the splendor of their native country. Your vacation begins the moment you arrive in Auckland. After a long flight, we can help you get from the airport to your chosen hotel seamlessly. Your Local Host will welcome you with suggestions and a set of materials to help you get settled. The next morning, after an included breakfast, enjoy a guided tour where you will visit Queen Street, see the city's oldest park, Auckland Domain, and take a scenic cruise around the harbor. The afternoon and following day are at your leisure to explore Auckland. Take a trip to the top of the Sky Tower to see the most beautiful views of the city, visit Chancery and High Streets for world-class shopping, or choose from a selection of optional excursions, including taking the ferry to Waiheke Island to explore beaches, olive groves, and vineyards. You can even participate as a crew member on an America's Cup yacht! Should you need suggestions about what to see or do, your Local Host will be happy to provide them for you. With Monograms, we handle all the details, saving you time and stress so that your New Zealand adventure is every bit as magical as you dreamed it would be! What are you waiting for? New Zealand awaits!

Bangkok 2019 - 4 Days From Bangkok To Bangkok

Monograms
$509
4
Details

"Thailand" translates to "land of the free" and we think it's about time that you free yourself from your day-to-day duties and take the trip of a lifetime. We aim to make your travels in Thailand as stress-free as possible. That's why we take care of your hotel reservations, take you to see the most popular sights, and provide you with a delicious breakfast every morning. And if that weren't enough, we set you up with a Local Host® who can provide suggestions about what to see and do during your stay.Your 4-day vacation begins the moment you arrive in Bangkok. Monograms can arrange your transfer from the airport to your hotel, where your Local Host will greet you and help acquaint you with the city. The next morning, after an included breakfast, discover the history and highlights of the city on a private guided tour. Your day will start with a boat ride through Bangkok's canals, or klongs, to see family homes and temples—you'll quickly see why they call this city "Venice of the East." Next, visit Wat Arun, the Temple of the Dawn, and the Grand Palace, which houses the Temple of the Emerald Buddha. Lastly, stop at the Temple of the Reclining Buddha, the oldest and largest Buddhist temple in Bangkok, featuring one of the largest Buddha statues in Thailand. The following day you are free to explore on your own. You may consider a visit to Jim Thompson's House; a dinner cruise on the Chao Phraya River; or take an excursion to colorful Damnoen Saduak floating market. Your Local Host can help you with suggestions.Between the transportation we've arranged, the sightseeing we've included, and the hotels we've booked, the only thing left for you to do is pack your bags and enjoy your experience!

Beijing 2019 - 4 Days From Beijing To Beijing

Monograms
$489
4
Details

Breaking News…Time Travel is Real! Or at least it is on this 4-day vacation to Beijing. Let Monograms take you on a journey through time, where you can walk along fortresses built by ancient dynasties in the morning, and by afternoon, stroll through this bustling city, viewing some of the most modern and innovative architecture in the world. Your Monograms adventure includes hotel accommodations, private guided sightseeing, breakfast daily, and the services of a Local Host®—someone who is there for you to answer questions, offer recommendations, and help make your vacation memorable. Your first impression of Beijing will be utter amazement. This vibrant hub was the stage for China's imperial history for a thousand years—and vestiges of its ancient culture are evident around every corner. We set you up with private guided sightseeing that shows off Tian'anmen Square, the largest public square in the world; the Forbidden City's impressive Imperial Palace, once home to China's great emperors and off limits to the public for 500 years; and, of course, the Great Wall of China. Dating back to the 7th century BC, the mighty fortification runs from east to west for more than 4,000 miles, and was built to protect China from marauding nomadic tribes. Stroll along the wall for stunning panoramic views and take what are sure to be some unforgettable photos. You'll definitely have worked up an appetite, and we've got lunch lined up at a local restaurant so you can recharge and relax over a tasty meal of traditional Chinese cuisine. With Monograms, we give you plenty of free time to explore on your own, and there are so many ways to experience Beijing like an insider. Rise early in the mornings if you like to join the locals for tai chi in a public park…take in a performance of the world-renowned Peking Opera…or enjoy a delectable Peking duck dinner. Maybe take an excursion through the city's ancient hutongs (alleyways)…visit the exquisite Temple of Heaven…or haggle for souvenirs at local markets. Your Local Host can help you make the most of your time. Between the private sightseeing we've included and the hotels we have booked, the only thing left for you to do is get out there and enjoy. With the time and hassles saved and the comfort of knowing you'll have a Local Host with you throughout the vacation, you've got yourself a once-in-a-lifetime vacation!

Buenos Aires Getaway 2019 - 4 Days From Buenos Aires To Buenos Aires

Monograms
$599
4
Details

Colorful buildings, European flair, and bustling energy... Of course we are talking about Buenos Aires! On this 4-day vacation package, we have arranged hotel reservations, private sightseeing, and breakfast each morning for you. Plus, we've included a one-of-a-kind feature – a Monograms Local Host® - who will assist you throughout your stay by providing suggestions, answering your questions, and helping you find your way around the city. Leave your guide book at home and let Monograms show you the beauty of Buenos Aires!Your adventure in Buenos Aires begins when you step off of the plane and into our hands. Monograms can pick you up at the airport and whisk you off to your hotel seamlessly. Upon your arrival, your Local Host will greet you, ready to help you make the most out of your stay. The next morning, fill up on a delicious breakfast before heading off to explore all that Buenos Aires has to offer. We take you on a private city tour down the world's widest avenue, showing you the Colon Theater, and parading by Plaza de Mayo. You'll visit the colorful neighborhood of La Boca, as well as the city's oldest district, San Telmo, which features dozens of local shops and cafes. And a Buenos Aires tour wouldn't be complete without a stop at Recoleta Cemetery, the burial site of Eva Peron, former First Lady of Argentina. Later, you may choose to enjoy dinner and a show – a traditional Tango show, that is! The following day is yours to explore, because who doesn't love free time on vacation? Learn how to make empanadas and other Argentinian specialties or cruise down the Tigre River – whatever floats your boat. You can even choose an optional excursion to a traditional Argentinian estancia (ranch) where you will experience the lifestyle of the gauchos. Regardless of what you may choose, your Local Host will be there every step of the way to provide suggestions that best fit your interests. From the guides to the sightseeing, hotels to transportation, you are guaranteed to have a hassle-free vacation. And we can't wait to help make your stay in Buenos Aires the very best that it can be!

Dubai 2019 - 4 Days From Dubai To Dubai

Monograms
$499
4
Details

Dubai's unique attractions, including the world's tallest building, largest shopping mall, and only 7-star hotel, lure millions of visitors each year. Now, it's YOUR turn to uncover this glamorous oasis! And with Monograms, it's easy. We handle your hotel accommodations, take you to see the most popular sights, and provide you with breakfast every morning. As a bonus, you have access to a Local Host® who can provide suggestions about what to see and do during your stay.Your vacation begins when you arrive in Dubai. We can arrange your transportation from the airport to your chosen hotel, where your Local Host will greet you and help familiarize you with this metropolis. The following morning, after an included breakfast, enjoy a private guided tour. You will explore the markets, or souks, including Spice Souk and Gold Souk, and stroll through the historic Bastakiya Quarter, weaving through the narrow lanes. You'll even ascend to the 124th floor at Burj Khalifa, the world's tallest building, for spectacular views.The afternoon and next day are yours to explore as you wish. You may book an optional trip to Abu Dhabi or an exciting desert safari that includes a barbecue dinner at an authentic Bedouin camp. Your Local Host will be on hand to give you suggestions on the best things to see and do in Dubai. With so much to discover, the choices are endless! To help you get the most out of your vacation, we've included all the details, from daily breakfasts and VIP tours to the services of a Local Host. With Monograms, you save time and stress, ensuring that your Dubai getaway will be a luxurious one.

Hong Kong 2019 - 4 Days From Hong Kong To Hong Kong

Monograms
$769
4
Details

In 1949-1950, romance blossomed in Hong Kong in the movie "Love Is a Many-Splendored Thing." The movie's female protagonist declared, "I'm so happy it frightens me." Monograms can't promise you romance, but we can promise you happiness on this Hong Kong vacation. Why? Because we've handled all of the details for you, so all you have to do is show up ready to have fun. On this 4-day vacation, we've arranged your hotel accommodations, daily breakfast, and private guided sightseeing. Plus, you'll have the services of a Local Host®, a local expert who will offer you suggestions, answer questions, and help make sure your vacation runs smoothly. This is a one-of-a-kind feature offered by Monograms to ensure you are comfortable and supported throughout your vacation.Your vacation begins the moment you arrive in Hong Kong, as we can whisk you from the airport to your selected hotel. Your Local Host will greet you with a warm welcome and materials to familiarize you with the city. The next morning, after included breakfast, we will pick you up at your hotel for private, guided sightseeing that includes a cable-car ride up Victoria Peak, the highest point in Hong Kong, with views of the city and the skyscrapers; a ride on the famed "Ding Ding" double-decker tram; and a visit to the Sheung Wan neighborhood, where you will explore the fascinating dried-seafood market. Along the way, stop in a local restaurant and enjoy lunch featuring dim sum, a local specialty.You'll also have a full day to explore Hong Kong on your own (with the support of your Local Host, of course). Perhaps enjoy a sunset or dinner cruise on the harbor; take an excursion to Lantau Island, Hong Kong's largest island and where you will visit the Giant Buddha Statue and Po Lin Monastery; visit one of the night markets; or take a fun and fascinating foodie walking tour and sample some of Hong Kong's favorite foods! Between the sightseeing we've included, the hotel we've booked, and the guide we've arranged, the only thing you have to do is pack, get out there, and have fun. With the time and hassles saved by letting us handle the details, as well as the comfort of knowing your Local Host will be on hand to assist you, you'll be a delighted traveler. You may even declare, "I'm so happy it frightens me!"

Machu Picchu Getaway 2019 - 4 Days From Cusco To Cusco

Monograms
$1069
4
Details

Your Monograms Machu Picchu vacation package delivers everything you need to experience this ancient site and the age-old culture of the Sacred Valley. You'll be greeted by your Local Host as you arrive in Cusco, and enjoy lunch and a private tour through Urubamba Valley and the Sacred Valley of the Incas. Browse the exquisite, hand-woven textiles, rugs, alpaca sweaters, and handmade Peruvian jewelry found at Pisac Market before visiting Ollantaytambo to see fine examples of Incan building and masonry.Board the Vistadome Train for Aguas Calientes—at the foot of the mountain where Machu Picchu remains as the "Lost City of the Incas." You'll ascend to the ruins high above the steep valley and tropical jungle for a guided tour of this fascinating site. See the temple ruins, holy houses, and mile-long aqueduct along with your expert Local Guide to bring the mysteries of pre-Columbian Machu Picchu to life. Return to Cusco for a day of leisure to explore sites of Incan and Spanish history. Your Peru trip to Machu Picchu is a once-in-a-lifetime experience shared with the expertise and ease as only Monograms can!

Rio De Janeiro Getaway 2019 - 4 Days From Rio De Janeiro To Rio De Janeiro

Monograms
$759
4
Details

Say "Bem Vindo" to the Marvelous City! Overlooked by Christ the Redeemer, Rio is famed for its vibrant music, dance, and Carnival celebrations. Monograms has made it easy for you to experience the splendor of the city with this 4-day vacation getaway. We've included your hotel reservations, private sightseeing, and daily breakfast, so that you can relax and make the most out of your experience. And to ensure that your vacation runs as smoothly as the Samba, we provide you with a Local Host® – someone to help show you just how marvelous Rio really is.Your vacation begins as soon as you step off of the plane. Monograms can pick you up at the airport and get you to your hotel effortlessly. Your Local Host will meet you to help direct you to the best of Brazil's most bustling city. The next morning, indulge in your included breakfast before you head off on your private tour of the Cosme Velho district. Climb to the top of the Corcovado Mountain aboard a cog-wheel train to see the famous statue, Christ the Redeemer. You will learn about this omnipresent peak, how it is considered one of the Seven Wonders of the World, and stand in awe at the sweeping views of the city below. In your free time, discover Tijuca National Park by way of a Jeep tour. Discover historic Petropolis, home to the former summer Palace of Dom Pedro II, or choose to take an excursion to the top of Sugar Loaf Mountain. With so many captivating sights and historical treasures, there is something for everyone to enjoy!Our goal is to make your Rio de Janeiro vacation as simple as possible. "Adeus" to the hassle of planning your vacation. When Monograms coordinates the details, you save time and money, so that your only focus is creating unforgettable memories!

Santiago Getaway 2019 - 4 Days From Santiago To Santiago

Monograms
$619
4
Details

Santiago – lively, cultured, and full of surprises. Sitting between the Andes and the Chilean coastline, the city serves as a perfect sampler of all that Chile has to offer. Monograms makes it easy to fill your craving for Chilean flavor. We've got you covered – from hotel reservations, to catching all the best sights, to an included breakfast each morning. We even set you up with a Local Host® - someone who knows the sights to see and the restaurants to try and will help ensure that your experience is as fulfilling as possible. Your vacation starts the moment you arrive in Santiago, as we can pick you up at the airport and whisk you off to your hotel. Your Local Host will greet you and share materials and insight about Santiago. The next day, after included breakfast, you will venture off on a private tour that traces the city's history, starting at the Government Palace, La Moneda, and ending at the main square, Plaza de Armas. Enjoy day 3 at your leisure. Choose to venture into Chilean wine country, sampling some of the world's finest wines, or maybe take a day trip to Viña del Mar and Valparaiso, beautiful coastal cities west of Santiago. All the while, your Local Host is there should you have any questions or seek suggestions about the best way to spend your day in Santiago! So say "Adios" to the tedious task of planning your vacation. We take care of the details so you can leave your stress at home and simply focus on having a splendid stay in Santiago!

Singapore 2019 - 4 Days From Singapore To Singapore

Monograms
$819
4
Details

What's the best way to see one of the world's great melting pots? A Monograms vacation, of course! With Monograms, seeing Singapore is simple, not stressful. We coordinate hotel accommodations, daily breakfast, and private guided sightseeing for you so that your 4-day escape gives you the best bang for your buck. Plus, we provide you with a Local Host®—someone to ensure that you don't miss Singapore's must-see sights.Your vacation begins when you arrive in Singapore. We can arrange transportation for you from the airport to your hotel, where your Local Host will greet you and help familiarize you with the city. The next day, enjoy an included breakfast before embarking on a private guided tour. Your guide will show you all of the highlights, taking you to visit the Peranakan Museum for a look into the history of the Peranakan people, on a walking tour of Chinatown, and finally, to Marina Bay, where you ascend to Sands Skypark to admire beautiful views of the city and its surroundings. The following day you are free to continue exploring Singapore on your own. Check with your Local Host for recommendations on all the best things to see and do.So, forget the stress that comes with planning your own vacation. Between the sightseeing and guides we have arranged, the breakfasts we have included, and the hotel we've booked, your only job is to take it all in and enjoy an exciting stay in Singapore!

Sydney City Getaway 2019 - 4 Days From Sydney To Sydney

Monograms
$749
4
Details

Let Monograms show you how to live like a Sydneysider when we take you down under to see several of the world's most iconic sites, including the Sydney Opera House and the Harbour Bridge. On this 4-day getaway, we have coordinated hotel reservations, sightseeing, transportation and daily breakfast for you. But the best part? We give you a buddy – a Local Host® who is in the know on Sydney's best spots so that your vacation is stress free. Your Australian adventure begins the moment you arrive in Sydney. We can pick you up from the airport and help get you to your hotel, where your Local Host will greet you with suggestions and materials to help you get settled. The next morning, enjoy an included breakfast before heading off to explore Sydney's world-famous sites. You'll stop to capture the perfect picture at the Sydney Opera House and Harbour Bridge. Then stick your toes in the sand at the beautiful Bondi Beach. The afternoon and the following day are at your leisure to discover the city. Visit the Taronga Zoo where you can see the unique animals of Australia such as koalas, kangaroos, and platypuses. Take the ferry to one of the surrounding cities like Watson's Bay or Manly, or check out the historic area, The Rocks. You may also choose from a variety of optional activities. Climb to the top of the Sydney Harbour Bridge for the very best views, join a guided backstage tour of the Opera House, or spend your day sampling fine wines in nearby Hunter Valley.With so much to do, your Sydney stay will fly by! And when you travel with Monograms, you'll truly have no worries, mate.

Tokyo 2019 - 4 Days From Tokyo To Tokyo

Monograms
$1259
4
Details

An unusual mix of striking modern skyscrapers and ornate ancient temples, it's safe to say that Tokyo is a one-of-a-kind metropolis! Monograms has made it easy for you to explore Tokyo with this 4-day getaway. We've included your hotel accommodations, private guided sightseeing, and daily breakfast, so that you can take in all that Tokyo has to offer. We also give you access to a Local Host®, who will be there to help meet your needs during your stay and make sure that your trip is unforgettable.Your getaway begins the moment you arrive in Tokyo! Monograms can pick you up at the airport and get you to your hotel effortlessly. Your Local Host will greet you to provide you with materials to help familiarize you with the culture and traditions of the city. The next morning, after an included breakfast, hop onto the subway for a private guided tour of the city. You will see the Meiji Shrine, a 20th-century Shinto monument built within a man-made forest; the Samurai Museum, where you can learn about Japanese history and see authentic swords and armor; stop at Shinjuku Gyoen Garden, dating back to the 1600s; visit the bustling Nakamise Shopping Arcade; and one of the city's most colorful temples, the Asakusa Kannon Temple. Enjoy the evening and the following day at your leisure. Don't forget to ask your Local Host for suggestions about what to see and do during your stay. Perhaps take an excursion out of the city to Mount Fuji, a UNESCO World Heritage Site and one of the country's most iconic landmarks. Here, you will cruise on Lake Ashi and take a cable-car ride for spectacular views of the Owakudani volcanic valley and majestic Mount Fuji. Between the transportation we've arranged, the sightseeing we've included, and the hotels we've booked, the only thing left for you to do is pack your bags and enjoy your experience!

Machu Picchu Getaway With Post-Stay In Lima 2019 - 5 Days From Cusco To Lima

Monograms
$1213
5
Details

Machu Picchu Getaway With Pre-Stay In Lima 2019 - 5 Days From Lima To Cusco

Monograms
$1259
5
Details

Beijing & Xi'an 2019 - 6 Days From Beijing To Xi'an

Monograms
$789
6
Details

Best Of Panama 2019 - 6 Days From Panama City To Panama City

Monograms
$1269
6
Details

This is Jeopardy! Answer: This country is home to the engineering marvel that provides passage for nearly 14,000 ocean-going vessels per year. Question: What is Panama? Answer: This company makes it easy for you to travel to Panama by handling all the details for you. Answer: What is Monograms? That's right, Monograms handles the details, so all you have to do is show up for this 6-day vacation. We've arranged your hotel reservations, sightseeing, daily breakfast, two lunches, and transportation between destinations. Plus, you'll have the services of a Local Host®, someone who can let you in on little-known secrets, answer questions, offer suggestions, and help you personalize your trip. All you have to do is have fun!Your vacation begins in Panama City, where we can seamlessly pick you up at the airport for a transfer to your selected hotel. At your hotel, your Local Host will welcome you with a warm greeting and present you with the materials you need for your vacation. The next morning, after an included breakfast, we will pick you up at your hotel for your exclusive sightseeing tour with a local expert. You'll hear the inside stories and fascinating history of Casco Antiguo, founded in 1673 and a UNESCO World Heritage Site. Be sure to ask your Local Guide for the best place to capture photos of the colonial buildings and historical monuments. Of course, you can't visit Panama and not see the Panama Canal, an engineering marvel like no other. That's why we'll take you to the Miraflores Locks Visitor Center, where you'll learn about the canal's construction and see vessels transiting through this engineering marvel. And that's not all…we have included a partial transit of the canal, where your ship will sail go through two locks and be lowered 90 feet to the Pacific Ocean! Then it's time to relax. We'll take you via private transfer to Gamboa Rainforest Resort in the heart of Soberania National Park. Take a cruise up the Chagres River in a dugout canoe to visit an Emberá Indian Village, where you'll witness ancient Emberá cultural dances and learn about their mystical rituals and knowledge of medicinal plants. You'll even get lunch in the village! In Gamboa, you'll have plenty of free time to take advantage of the many activities, like an aerial tram tour, kayaking, fishing, birding or monkey tour, or just relaxing by the pool or at the spa. Monograms includes all of this in your vacation package. Between the sightseeing we've arranged, the hotels we have booked, and the transportation we've included, we have saved you the cost of your time and the stress to put it together on your own! We do the work so you can just grab your swimsuit and camera, and head to Panama!

Brazil Highlights 2019 - 6 Days From Rio De Janeiro To Iguassu Falls

Monograms
$1269
6
Details

Flying Down to Rio...it's the classic where Fred Astaire and Ginger Rogers first appeared together. And now you can create your own classic and fly to Rio—Monograms makes it easy! On this 6-day vacation to Rio de Janeiro & Iguassu Falls, we've arranged your hotel reservations, daily breakfast, and sightseeing. Plus, in both cities, you'll have a Monograms Local Host®, someone who will answer questions, offer suggestions, help arrange your activities, translate if you need it, and help make sure your vacation is what you want it to be. When you arrive in Rio, Monograms can pick you up at the airport, so you don't have to deal with hassles after the flight to Brazil. Your Local Host will meet you at your selected hotel with materials to help familiarize you with the city. The next day, after an included breakfast, we'll pick you up at your hotel for a private, guided tour of the city with a local expert. We'll take you to the Cosme Velho district for a cog-wheel train through the Tijuca Forest to the top of Corcovado Mountain, home to the 130-foot Christ the Redeemer statue, one of the New 7 Modern Wonders of the World. We've scouted out the best place to capture photos of the city and beaches below, so be sure to bring your camera. You'll also have plenty of leisure time to explore Rio. Perhaps take an excursion to Petropolis, the summer palace of former Emperor Dom Pedro II of Brazil; take a cable car up Sugar Loaf Mountain; or stroll along one of the many beaches to people-watch. Your Local Host can point you in the right direction and help you tailor your free time to fit your interests. Then you're off to Iguassu Falls, one of the Earth's most spectacular waterfalls, where you'll have a private tour of the Brazilian side of the falls, encompassing 275 separate falls! Enjoy the thunderous roar, clouds of spray, and rainbows that form in the mist and sun. The next day, your private tour focuses on the Argentine side of the falls. Your Local Host will take you on the Ecological Jungle Train and along numerous walkways above and under the water.Monograms has included all of this in your package: hotels, guides, sightseeing, transportation! Add the time you save and the comfort of knowing you'll have a local thee to assist you throughout your vacation and your one happy traveler!

Buenos Aires Getaway With Iguassu Falls 2019 - 6 Days From Buenos Aires To Iguassu Falls

Monograms
$1169
6
Details

Machu Picchu Getaway With Pre & Post-Stays In Lima 2019 - 6 Days From Lima To Lima

Monograms
$1403
6
Details

Bangkok & Chiang Mai 2019 - 7 Days From Bangkok To Chiang Mai

Monograms
$879
7
Details

Bangkok & Phuket 2019 - 7 Days From Bangkok To Phuket

Monograms
$799
7
Details

Beijing & Hong Kong 2019 - 7 Days From Beijing To Hong Kong

Monograms
$1319
7
Details

Beijing & Shanghai 2019 - 7 Days From Beijing To Shanghai

Monograms
$979
7
Details

Best Of Japan 2019 - 7 Days From Tokyo To Kyoto

Monograms
$2579
7
Details

You Only Live Twice...at least, that's the title of the James Bond movie filmed in Japan. What if that's true? What if you only live twice—or even just once? Well, then you shouldn't waste your time dealing with the hassles of planning your vacation. Instead, let Monograms handle the details and logistics, so your time is spent planning what to pack, bragging to your friends about your vacation, and enjoying yourself! On this 7-day vacation, we've arranged hotel accommodations for three nights each in Tokyo and Kyoto, as well as private guided sightseeing in each city, breakfast daily, and a bullet train ride from Tokyo to Kyoto. Plus, in each city, an expert Local Host® is on hand and at your service to ensure your trip runs smoothly, to answer your questions, and to help you put your own personal stamp on your vacation. Upon arrival, check into your hotel and say, "Konnichiwa" to your Local Host, who will greet you and provide valuable tools to help introduce you to Tokyo. A "prefecture" and capital of Japan, this is the world's most populous metro area and home to unlimited choices—shopping, dining, entertainment, historic temples and sites, peaceful gardens, and excellent museums. After a restful night, rise and shine over a hearty breakfast. Afterward, embark on a private guided sightseeing tour using Tokyo's famous subway system. You will see the Meiji Shrine, a 20th-century Shinto monument built within a man-made forest; the Samurai Museum, where you can learn about Japanese history and see authentic swords and armor; stop at Shinjuku Gyoen Garden, dating back to the 1600s; visit the bustling Nakamise Shopping Arcade; and one of the city's most colorful temples, the Asakusa Kannon Temple. Enjoy the evening and the following day at your leisure. Your Local Host will have suggestions about what to see and do during your stay. Perhaps take an excursion out of the city to Mount Fuji, a UNESCO World Heritage Site and one of the country's most iconic landmarks. Here, you will cruise on Lake Ashi and take a cable-car ride for spectacular views of the Owakudani volcanic valley and majestic Mount Fuji. Or maybe do a bit of exploring on your own. For an unforgettable view, ascend the 2,080-foot-tall Tokyo Skytree tower and if you're a tech enthusiast, spend some time in the Akihabara electronics district. A highlight of the vacation is the Shinkansen (bullet train) ride from Tokyo to Kyoto. Between the nearly 200-mile-per-hour speeds and niceties like heated toilet seats, this is, by far, the most entertaining way to travel between cities. The "cradle" of Japan's cultural heritage, Kyoto, the "City of Ten-Thousand Shrines," was the country's capital and residence of the emperor from the 8th until the 19th centuries. Monograms take you on a guided sightseeing tour that includes visits to Sanjusangendo Temple and the beautiful Temple of the Gold Pavilion. Built on a lake and surrounded by a thick forest, the image of the temple's reflection in the water is a must-take photo. You'll also walk through Gion and explore the thousands of Torii Gates at Fushimi Inari Shrine. In your free time, hop aboard a rickshaw for a ride through the Old Town, visit nearby Nara, join a Japanese cooking class, attend a sake tasting, or indulge in some of the country's finest Japanese cuisine.Between the transportation we've arranged, sightseeing we've included, and the hotels we've booked, the only thing left for you to do is pack your bags and enjoy! With all the time and hassles saved and the comfort of knowing you'll have a Local Host to help you during your vacation, you've got one fantastic vacation!

Best Of Panama With San Blas Islands 2019 - 7 Days From Panama City To Panama City

Monograms
$1529
7
Details

Costa Rica Wonders 2019 - 7 Days From San José To San José

Monograms
$1059
7
Details

Pura Vida—"pure life." It sounds like a popular song, but it's actually one of Costa Rica's most popular greetings, and you're sure to hear it on this vacation. And while Monograms can't give you "the pure life" back home, we can promise you pura vida on this 7-day vacation, because we've taken care of all the details for you. Your package includes hotel reservations, sightseeing, daily breakfast (plus one lunch and one dinner), and transportation between cities. We've also arranged for you to have the services of a Local Host®—someone who is there for you to answer questions, offer suggestions, let you in on little-known secrets, and help your vacation run smoothly. When you arrive, Monograms can whisk you from the airport to your selected hotel, allowing you to start your vacation immediately. At your hotel, your Local Host will give you helpful materials for your vacation, so you won't waste time trying to figure out where to go and what to see. The next day, after your included breakfast, your journey will take you to the town of La Fortuna. Here is the Arenal region, you'll stay two nights, and witness Arenal Volcano, considered one of the most active volcanoes in the world. Enjoy a guided walk through the lava trails; visit Tabacón Hot Springs, where you can relax in the natural thermal springs surrounded by waterfalls and lush, tropical forest; and take a boat ride across Arenal Lake. You'll surely think you're living the pura vida! We'll then transfer you to Monteverde Cloud Forest, home to over 3,000 plant species, roughly 120 mammal species, 400 bird species, and 1,200 species of amphibians and reptiles. Here, you'll stay two nights and join an expert for a guided evening walk to search out the jungle's nocturnal creatures. In both Arenal and Monteverde, you'll have a free day to explore on your own. In Arenal, perhaps enjoy a horseback ride, go river rafting, or visit the Arenal Hanging Bridges, a network of suspension bridges. In Monteverde, visit Santa Elena Cloud Forest Reserve, home to forest fauna such as jaguars, resplendent quetzals, monkeys, ocelots, and many species of birds—not to mention the large diversity of plant species. Finally, we'll transfer you to San José, where you'll have time to explore on your own. Perhaps visit one of the many museums or discover the Central Market. Be sure to ask your Local Host for the best place to eat a typical Costa Rican meal with gallo pinto, or black beans and rice. And did we mention that in addition to the services of a Local Host, we've included your sightseeing, breakfasts, and transportation between towns? Think of the headaches and hassles involved with planning, organizing and getting to each destination on your own! So what are you waiting for…now's your chance to experience Pura Vida!

Cruising The Galápagos On The Galápagos Legend 2019 - 7 Days From Quito To Guayaquil

Monograms
$3079
7
Details

Did you know Ecuador's constitution recognizes the "Rights of Nature?" The country takes protecting and respecting nature, including the Galápagos Islands, very seriously. And Monograms takes your Galápagos Islands vacation seriously, because we know an amazing experience is waiting for you! That's why on this 7-day vacation package, we've arranged your hotel and cruise accommodations (including porterage), most of your meals, private airport transfers to/from your intra-vacation flights, and sightseeing. Plus, a one-of-a-kind feature is the Monograms Local Host® in Quito, a local expert who is your friend in the city and available to answer questions, offer suggestions, and help ensure your vacation runs smoothly.Your vacation begins as soon as you arrive in Quito. We can pick you up at the airport and transfer you seamlessly to your selected hotel. To help you get settled, your Local Host will answer questions you may already have and give you a set of materials to acquaint you with the city. The next morning, after your included breakfast, we'll pick you up at your hotel for a private sightseeing tour of Quito. With a local expert—someone who knows the city's inside secrets and fascinating stories—visit the must-see sights, such as Independence Square and the San Francisco Plaza Church. You'll also have time in Quito to explore on your own. Perhaps you will choose to visit the Middle of the World, where you can stand with one foot in each hemisphere and cross the equator!Next: fly to Baltra to embark your 3-night cruise to the Galápagos Islands, including Bartolomé, South Plaza, North Seymour, and San Cristobal Islands. On board the Galápagos Legend, all of your meals are included, and you'll be accompanied by a Naturalist, an expert who will point out the flora and fauna, share his/her knowledge, and answer questions you may have. With its abundant sea life and clear waters, Bartolomé Island offers you some of the best snorkeling in the archipelago. Additionally, you'll hike to its summit to witness spectacular views of the surrounding islands. At South Plaza, see the hybrid iguana as well as Nazca and blue-footed boobies along with other tropicbirds. Next, on North Seymour Island you'll observe blue-footed boobies, magnificent and great frigatebirds, sea lions, land iguanas, and swallow-tailed gulls. And on San Cristobal Island, you have the chance to see all three booby species: Blue, Red and Nazca boobies! This is also a great island to enjoy the amazing snorkeling to admire the colorful marine world. Your final stop is at the Giant Tortoise Reserve to learn about the tortoise population in the archipelago and what is being done to protect these endangered species. Your vacation ends in Guayaquil, where you'll have time to explore the city on your own. And did we mention we've included private transportation between the Guayaquil airport and your hotel? Add the sightseeing and guides we've arranged, the accommodations we've booked, and the meals we've included, and you are all set for an amazing vacation experience!

Siem Reap & Bangkok 2019 - 7 Days From Siem Reap To Bangkok

Monograms
$969
7
Details

Singapore & Bangkok 2019 - 7 Days From Singapore To Bangkok

Monograms
$1359
7
Details

Galápagos Highlights 2019 - 8 Days From Quito To Guayaquil

Monograms
$3599
8
Details

Want a mind-blowing experience? The Galápagos Islands—with the help of Charles Darwin—revolutionized scientific thinking and changed the world's view on long-held beliefs. If they could do that to the world, just imagine what they can do to you! And to help you have that mind-blowing experience, Monograms will handle the details and make it easy for you! On this 8-day vacation, we've arranged your hotel reservations, sightseeing, and meals (daily breakfast, four lunches, and four dinners). You'll also have the services of a Monograms Local Host®, a local who is there for you in Quito to ensure your vacation runs smoothly and is everything you want it to be. Plus, on this vacation, a special feature is your stay at the award-winning Finch Bay Eco Hotel on Santa Cruz Island in the Galápagos, offering a private, seaside location, kayaking, snorkeling, bicycling, and boat excursions to the various Galápagos Islands. Your vacation begins in Quito, where your Local Host will welcome you and provide a set of materials to help you get settled. The next morning, after an included breakfast, we'll pick you up at your selected hotel for a private sightseeing tour with a local expert, someone who will share insider stories and make sure you see the must-see attractions, including Independence Square and the Basilica of San Francisco Plaza Church. Then you're off to the Galápagos Islands, where sea lions, marine iguanas, blue-footed boobies, frigate birds, tortoises, and more await you. Visit North Seymour Island, with the largest nesting site of the "magnificent frigate birds" in the Galápagos; the highlands of Santa Cruz, where tortoises can be seen grazing in the wild and where you'll visit a local coffee, sugar cane, and cocoa bean farm; Santa Fé Island, where you'll see California sea lions and a large species of land iguanas; Divine Bay on Santa Cruz, where we'll keep an eye out for sea turtles, reef sharks, rays, blue-footed boobies, marine iguanas, and more; the Charles Darwin Research Station, established to conserve the natural habitats and protect the famous giant tortoises; and the Twin Pit Craters, geological depressions of volcanic material where Scalesia trees, ferns, orchids, and mosses can be seen. And don't forget, throughout your stay you'll be accompanied by Naturalists, experts who know the native flora and fauna and who help make the experience magical. Don't forget your Monograms vacation includes arranged sightseeing and transfers! Think about all the time you save and the headaches you avoid and you've got yourself the perfect vacation!

India's Golden Triangle 2019 - 8 Days From Delhi To Delhi

Monograms
$1109
8
Details

Eclectic temples and imposing forts. Pristine wildlife refuges and lively metropolises. Pink cities and golden triangles. Fairytale monuments and tantalizing cuisine. This is India, a land of color and contrast—and this is Monograms, the very best way to discover this incredible subcontinent. There's no better introduction to India's famed "Golden Triangle" than this incredible 8-day vacation. Your adventure includes hotel accommodations, private guided sightseeing in each city, breakfast daily, four lunches, and private transportation throughout. Plus, in each city, a Local Host® is at your service—a friendly face and expert on the local scene who is there for you to answer questions, give recommendations, and to help make your vacation all you want it to be. From the moment you arrive, Monograms is there to pave your way for an amazing journey. Your Local Host will greet you with a warm welcome and plenty of tools to help acquaint you with the wonders of Delhi. Relax over a hearty breakfast, then enjoy a rickshaw ride through the famed Chandni Chowk bazaar—a market that's been around for more than three centuries. Spend time here shopping for exotic spices, gold, fabrics, and a host of trinkets and souvenirs. Feeling hungry? We treat you to a scrumptious lunch of traditional Indian fare, so dive right in! With Monograms, you'll have free time to explore on your own. Perhaps take an excursion to visit some of the grand area temples.The following day, your private tour with a Local Guide stops at Qutub Minar and Ghandi Smirti; visits Gurudwara Bangla Sahib, the largest Sikh house of worship in Delhi; and explores the lavish, 16th-century garden-tomb of Mughal Emperor Humayun (a precursor to the Taj Mahal). Southeast in Agra, be sure your camera's fully charged for your private guided sightseeing tour. that begins with a truly unforgettable sunrise visit to the incomparable Taj Mahal. Then, travel via tonga (horse-drawn carriage) to the ancient red sandstone Agra Fort, which guarded the imperial city of the Moghul rulers. Explore more on your own later or you could join the optional excursion to Itmad-ud-Daula, the city's beautiful "Baby Taj."Head southwest, stopping to visit the UNESCO World Heritage Site of Fatehpur Sikri, home to one of the largest mosques in India. Then, explore the splendid Keoladeo Ghana Bird Sanctuary, one of the finest bird parks in the world, where cormorants, storks, eagles, and more than 370 other migratory bird species have been recorded. During the nesting season, bird calls can become so loud that it drowns out human conversation! Also keep your eyes open for wild boars, mongoose, jackals, hyenas, civets, and porcupines, too! In the "Pink City" of Jaipur, your private sightseeing takes you to the amazing Amber Fort with the glittering walls and ceilings in the Sheesh Mahal (Mirror Palace), the City Palace, and the stunning Hawa Mahal (Palace of the Winds). Join a walking tour through the local market to pick up mementos, and check out the fascinating bigger-than-life Jantar Mantar astronomical observatories. India's Golden Triangle is truly a feast for the senses—and your Local Hosts is there to help you make the most of every moment! Monograms takes care of all the planning, arranging, and logistics, so all you have to do is sit back and enjoy.

Kenya Private Safari 2019 - 8 Days From Nairobi To Nairobi

Monograms
$3199
8
Details

Lion King fans…what does Hakuna Matata mean? Yep, it's Swahili for "no worries," and with Monograms, you'll be singing Hakuna Matata full force. Why? Because Monograms handles all the details of your Africa vacation for you, so you will have "no worries." On this 8-day private safari (how cool is that?), we've arranged your choice of accommodations, almost all of your meals, game drives, and ground transportation between destinations. We've also arranged for you to have a professional Driver/Guide throughout your vacation, a local who is knowledgeable about the wildlife, and will help spot game. Plus, the vehicles we use feature a pop-up roof for easy game viewing and photography.Your vacation begins the moment you arrive in Nairobi, as we can pick you up at the airport, so you don't have to deal with the hassles of getting to your hotel. The next day, after your included breakfast, we'll drive you to Ole Pejeta Conservancy, where you'll see amazing views of Mount Kenya, Kenya's highest mountain. In Ol Pejeta, we've arranged for you to have four game drives. Watch out for Cape buffalo, zebra, wild dog, giraffe, and more. You'll also visit a chimp sanctuary where orphaned and abused chimpanzees have found a home. And Ol Pejeta is not the only place where you will enjoy game drives. We have also arranged for you to have two game drives in Lake Nakuru National Park, where you have a chance to pink flamingo, white rhino, waterbuck, giraffe, and impala. Finally, we'll take you to Maasai Mara National Reserve, Kenya's most famous game area, where we'll be on the lookout for elephant, rhino, Cape buffalo, gazelle, and many others on your three game drives here.And did we mention we have secured a day room for you at a local hotel in Nairobi at the end of your vacation, so you can be comfortable before transferring to the airport for your late-evening flight? Between the game drives we've included, the accommodations we've booked, and the private safari vehicle with professional Driver/Guide we've arranged, the only thing left for you to do is sit back, enjoy, and capture photos of the amazing wildlife you'll see on this vacation. With the time saved, the hassles gone, and the comfort of knowing you'll have a knowledgeable local who can spot game and share stories about day-to-day life in Kenya, you've got yourself one amazing vacation!

Magical Colombia 2019 - 8 Days From Bogotá To Cartagena

Monograms
$1499
8
Details

According to the 2014 WIN/Gallup International Association's End of Year Survey of 65 countries, Colombia is the second-happiest country in the world. Monograms wants to bring you happiness, which is why we've handled all of your Colombia travel details, so you can experience this fascinating country and remain happy throughout your vacation. On this 8-day vacation package, we've arranged your hotel accommodations (including porterage), daily breakfast and a couple of lunches, private airport transfers to/from your intra-vacation flights, and sightseeing. Plus, we want you to feel comfortable and know you have a friend in each city to help you. That's why we've arranged the one-of-a-kind feature of a Monograms Local Host® in Bogota, Pereira, and Cartagena. This local expert will greet you with a warm welcome, present you with materials to familiarize you with each city, and help ensure your vacation runs smoothly by answering questions, arranging optional excursions, and offering suggestions for restaurants, shops, and more.Your vacation begins the moment you arrive in Bogota, where your Local Host will greet you and help you get settled. The next day, we'll pick you up at your hotel for private sightseeing with a local expert, someone who will share the city's inside stories and interesting history as you walk through the colonial part of the city and visit a colorful market. You'll visit the Gold Museum, with one of the largest collections of Pre-Hispanic gold, and the Botero Museum, with paintings from well-known artist Fernando Botero. You'll top your day off with a funicular ride to 10,000-foot Mount Monserrate, where expansive views of Bogota await you. A full day in Bogota on your own will give you the opportunity to explore one of the roughly 50 museums, browse the markets and shops, or take an optional excursion to the Zipaquirá's underground salt cathedral, a popular pilgrimage site.The following day, we'll pick you up at your hotel and take you to the airport for a flight to Pereira, where you'll be greeted by your Local Host, who will help you get settled and ready to explore this area in the heart of the Coffee Triangle. This area is the third-largest producer of coffee in the world, and we'll take you to a coffee farm so you can learn about the process and walk through the plantations. You'll also enjoy an excursion to Cocora Valley, where you can take part in a ritual to plant one of Colombia's national trees; Salento, where you'll explore this typical village; and Filandia, a traditional Colombian village.We'll once again escort you via private transportation from your hotel to the airport, where you'll board a flight for Cartagena on the Caribbean Coast. In Cartagena, a UNESCO World Heritage Site founded in 1533, you'll be greeted by your Local Host, who will escort you on a tour of the must-see sights: the Monastery of La Popa, built on a hillside at the beginning of the 17th century and offering beautiful views of the city, its beaches, and the Caribbean Sea; San Felipe Fort, built to protect the city; Old Cartagena, with its colorful streets and plazas; and San Pedro Claver Convent, home to impressive pre-Colombian artifacts. You'll also have a full day to explore Cartagena on your own. Be sure to ask your Local Host for suggestions.As we've mentioned, Colombia equals happiness. Add the sightseeing and guides we've arranged, the hotels we've reserved, the daily breakfast we've included, and the services of a Local Host in each city, and you've got a vacation sure to make you happy—just like the Colombians!

Peru Highlights 2019 - 8 Days From Lima To Lima

Monograms
$1729
8
Details

Abundance…yep, we all want it. While Monograms can't help you win the lottery, we can help you find "the land of abundance," which is how the Quechua Indians refer to Peru. And let's be honest, when it comes to archaeological treasures, few places compare to Peru! So let Monograms make it easy for you to travel to Peru on this 8-day vacation. We've arranged hotel reservations for you, buffet breakfast daily plus a few other meals, sightseeing, and transportation between cities. Plus, to help you feel comfortable in this foreign land, you'll have access to a Local Host® in each city, a "friend" who will answer your questions, offer suggestions, and help your vacation run smoothly. On your first day in Lima, your first Local Host will meet you at your hotel and give you materials to familiarize you with the city. The next morning, after an included breakfast, your guided sightseeing with a local expert features the historic city center and San Francisco Monastery with its underground catacombs—not to mention insider stories to make the experience really come alive. Then you're off to Cusco, high in the Andes. In Cusco, among many sights, your included sightseeing tour features the Santo Domingo Monastery, an important temple devoted to the sun, and the Temple of Sacsayhuaman, built in the early 12th century with some stones weighing more than 350 tons—built without the use of modern technology and machinery! Cusco offers some fantastic gastronomic delights, so be sure to ask your Cusco Local Host for recommendations. In the Sacred Valley, visit the market town of Pisac, where you can find local wares at bargain prices, and Ollantaytambo, a great example of Inca town planning and with some of the finest examples of Inca masonry. No trip to Peru is complete without a visit to Machu Picchu, built in 1450 at the height of the Inca Empire and without a doubt one of the most magnificent settings in South America. You'll take a train to Machu Picchu, receive an included tour, and if you desire, you'll have the opportunity to see the sunrise over Machu Picchu and hike to the Sun Gate, the ancient entrance used by the Incas, with your second included entrance to the ruins. Plus, you'll have access to a Local Host in Machu Picchu—someone who can tell you the history and the culture like no one else. You'd think the opportunity to have three Local Hosts to assist you would be enough for Monograms. But we've taken it one step further by including transportation, sightseeing, and breakfasts. With Monograms, you'll get to experience the "land of abundance" as it was meant to be experienced!

Tanzania Private Safari 2019 - 8 Days From Arusha To Arusha

Monograms
$4249
8
Details

"Lions, and tigers, and bears! Oh, my!" Oh, wait…in Africa you won't see bears and tigers. But you will see lions, and elephants, and hippos, and giraffes, and rhinos, and gazelles, and much more! And no one brings you Africa like Monograms! On this 8-day private safari, we've arranged your choice of accommodations, almost all of your meals, game drives, and ground transportation between destinations. Plus, Monograms has arranged for you to have private 4-wheel drive safari vehicle with a professional Driver/Guide throughout your vacation. That's right—private, ensuring this is your safari…your way! Along the way, your Driver/Guide will share insider knowledge about the wildlife and local culture in Tanzania. The safari vehicles feature a pop-up roof for easy game viewing and photography. Your vacation begins the moment you arrive in Arusha, Tanzania, where we can pick you up at the airport and escort you to your hotel. From there, we've arranged transportation for you to Tarangire National Park, where you will have three game drives to see elephant, wildebeest, eland, zebra, and Cape buffalo that congregate around the water holes. We'll then take you to Lake Manyara National Park, where you may see elephant, giraffe, and Cape buffalo in the groundwater forests, grassy plains, and alkaline Lake Manyara itself. Ngorongoro Conservation Area is home to Ngorongoro Crater, the world's largest unflooded caldera. On your full-day game drive here, you may see lion, Cape buffalo, hippo, elephant, flamingo, and maybe even the rare black rhinoceros. From Ngorongoro, we'll transfer you to Serengeti National Park, Tanzania's largest and most famous park and home to the annual wildebeest migration. In your three game drives here, we'll be on the lookout for the "Big 5"—lion, leopard, Cape buffalo, elephant, and rhino. Have your camera ready because there's also an abundance of other animals, including cheetah, giraffe, gazelle, and eland. And did we mention that in addition to all of these game drives, we've made your life easier by securing a day room for you at a hotel in Arusha at the end of your trip? Even when it's time to say goodbye, we've handled all the details, so you'll be able to wait in comfort before transferring to the airport for your late-evening flight. Between game drives we've arranged, the private 4-wheel drive safari vehicle we've included, the accommodations we've booked, and the Driver/Guide we've arranged, the only thing for you to do is to grab your camera and enjoy this spectacular experience. With the time and stress saved by not having to figure out for yourself where to go and how to get from one park to the next, you've got yourself a vacation of a lifetime!

Argentina Highlights 2019 - 9 Days From Buenos Aires To Buenos Aires

Monograms
$1919
9
Details

Mother's Day? Father's Day? These are not unique. But Friend's Day? Only Argentina has a celebrated day for friends (July 20). And in the same vein, only Monograms offers you a friend in the city—your Monograms Local Host®—someone who knows the area intimately and who will answer your questions, offer you suggestions, and be there to help make your vacation memorable. On this 9-day vacation, we've arranged for you to have a Local Host in Buenos Aires, Bariloche, and El Calafate. We've also coordinated your hotel reservations, sightseeing, and daily breakfast. Your vacation starts the moment you arrive in Argentina. We can pick you up at the airport and seamlessly whisk you from baggage claim to your selected hotel. Here, your Local Host will greet you with a warm smile and a packet of materials to help you get settled. The next morning, after an included breakfast, we'll pick you up at your hotel for a private, guided sightseeing tour with a local expert. You'll hear why the city is called the "Paris of South America," visit the famous neighborhoods, and see the must-see attractions, including the Cemetery of the Recoleta, burial site of Eva Peron. You'll have plenty of leisure time giving you the opportunity to see a Tango show, visit a traditional estancia (ranch), or explore the various markets. Then it's time for the awe-inspiring portion of your vacation. First is Bariloche in the Patagonian Andes, which boasts some of Argentina's most glorious scenery. Enjoy a chairlift ride to the summit of Cerro Campanario, rated one of the top 10 viewing spots by National Geographic. Experience breathtaking panoramic views and breathe fresh mountain air. During your leisure time, be sure to sample some of Bariloche's famous chocolate and local beer. Just ask your Local Host for the best place to find these local specialties. After three nights in Bariloche, you'll travel to El Calafate, in the southern region of Patagonia, where you'll journey into Los Glaciares National Park, a UNESCO World Heritage Site. Here, we'll take you to see one of the world's natural wonders, Perito Moreno Glacier, one of the few glaciers in the world that is still advancing. Your senses will come alive as you see and hear the continuous calves of its frozen ice walls. It is nothing short of spectacular! Monograms has included all of this in your package: hotels, guides, sightseeing, transportation! That doesn't include the time and hassles saved as well as the intangibles: seeing a glacier that is advancing...priceless. Capturing a perfect photo of the Andes...priceless. Knowing you have someone there for you in each city to make sure your vacation is what you want it to be...priceless!

Best Of Japan With Hiroshima 2019 - 9 Days From Tokyo To Hiroshima

Monograms
$3779
9
Details

Best Of Japan With Osaka 2019 - 9 Days From Tokyo To Osaka

Monograms
$3569
9
Details

Best Of Panama With Pacific Coast 2019 - 9 Days From Panama City To Panama City

Monograms
$2029
9
Details

Brazil Highlights With Brazil's Amazon 2019 - 9 Days From Manaus To Iguassu Falls

Monograms
$2369
9
Details

Buenos Aires Getaway With Iguassu Falls And Rio De Janeiro 2019 - 9 Days From Buenos Aires To Rio De Janeiro

Monograms
$1829
9
Details

Costa Rica Wonders With Guanacaste 2019 - 9 Days From San José To Guanacaste

Monograms
$1294
9
Details

Costa Rica Wonders With Tortuguero 2019 - 9 Days From San José To San José

Monograms
$1549
9
Details

Ecuador Discovery 2019 - 9 Days From Quito To Guayaquil

Monograms
$2889
9
Details

"You put your left foot in; you put your left foot out; you put your left foot in; and you shake it all about..." How about doing the hokey pokey in Ecuador, and when you put your left foot in, you can put it in the Northern Hemisphere while your right foot stays in the Southern Hemisphere? How many of your friends can say they've straddled the middle of the world? Now you can, and Monograms makes it easy! On this 9-day vacation, we've arranged your hotel reservations, daily buffet breakfast (plus 4 lunches and 3 dinners), sightseeing, and transportation between cities. Plus, your Local Host® will travel with you throughout the vacation to help ensure your vacation is everything you want it to be.When you arrive in Quito, your Local Host will greet you with a warm welcome and present you with materials to help you get settled. The next day, after your included breakfast, Monograms will pick you up at your hotel for your private, guided sightseeing with a local expert—someone who knows the inside stories and fascinating history of this city. Your sightseeing will include San Francisco Square, the Virgen de Quito angel statue in Panecillo, and a visit to a bustling Ecuadorian market. The next day, your Local Host will take you to Otavalo and its famous Indian Market, where locals sell their handicrafts. You'll also visit with Ecuadorian children at a school in the tranquil town of Peguche. Then you're off to Baños, passing first through Cotopaxi National Park, with one of the highest active volcanoes in the world, and visiting a Rose Plantation. In Baños, surrounded by majestic mountains, you'll have the opportunity to relax in some of the hot springs, which are heated by the nearby volcanoes, and visit the striking waterfalls. In Riobamba, enjoy the peace and beauty at the base of Ecuador's highest volcano, Chimborazo. Here, you'll experience a vacation highlight: an unforgettable train journey over the Devil's Nose, passing through small mountain villages and zigzagging as it ascends and descends a steep mountain. The views are spectacular! Speaking of spectacular, we will also take you to the Ingapirca Ruins, the largest Incan ruins in Ecuador, where you'll see the sun temple (1450-1480) and learn about the Incas' beliefs and culture.In Cuenca, we'll pick you up at your hotel for guided sightseeing that includes the must-see sights: the historical buildings, the main square, and the flower market. Plus, we've arranged for you to visit a Panama hat factory and pottery studio, so you can learn more about the local people. Finally, escorted by your Local Host, you'll visit a Cacao Plantation and travel to the coastal town of Guayaquil, Ecuador's largest city. Be sure to ask your Local Host for suggestions on where to get local specialties. And did we mention we've included the train journey to Devil's Nose in your package? Between the sightseeing we've included, hotels we have booked, and the private transportation and guide we've arranged, the only thing left for you to do is sit back and enjoy. Add the time and hassles saved and the comfort of knowing you'll have a Local Host with you throughout the vacation, and you've got yourself a once-in-a-lifetime vacation opportunity!

Essential China 2019 - 9 Days From Beijing To Shanghai

Monograms
$1319
9
Details

According to a Chinese proverb, "It is better to travel ten-thousand miles than to read ten-thousand books." At Monograms, we couldn't agree more! That's why we've made it easy for you to travel to China. In fact, we've handled all of the details, so you won't have to sweat the details! On this 9-day vacation, we've arranged your choice of hotel accommodations, daily breakfast (plus 3 lunches), private guided sightseeing, and transfers from/to your hotels to/from the airports for your intra-vacation flights. Plus, we have arranged for you to have a Local Host®—someone who will answer questions, offer suggestions, and help ensure your vacation runs smoothly—in Beijing, Xi'an, and Shanghai.Your vacation begins the moment you arrive in Beijing, where we can escort you from the airport to your selected hotel. Your Local Host will greet you with a warm welcome and help you personalize your stay. The next morning, after an included breakfast, we will pick you up at your hotel for a private guided excursion with a local expert to the Great Wall of China. You'll have the opportunity to walk along the wall and see amazing views, as well as capture some fantastic photos. The next day, we will pick you up at your hotel for half-day private guided sightseeing in the city, including Tian'anmen Square, the largest public square in the world, and the Forbidden City's Imperial Palace, once the home of China's great emperors. Hear the inside stories and little-known facts only a local can share.Then, you're off to Xi'an. You'll probably think that nothing can beat seeing the Great Wall of China, but wait until you see the Terracotta Warriors in Xi'an! Discovered accidentally in 1974, construction on the roughly 8,000 soldiers, chariots, and horses started in 210 BC—all to help China's first emperor in the afterlife. Your private guided tour with a local expert in Xi'an includes the Terracotta Warriors as well as the Dayan Pagoda, built in 652 AD.Finally, you will travel to Shanghai, where we have arranged two half-day private guided tours with a local expert. The first tour includes a visit to Yu Yuan Gardens, classical Chinese gardens dating back to the Ming Dynasty, followed by a traditional xiaolongbao (soup dumpling) feast. The second tour includes the Shanghai Museum and a walking tour of the former French Concession, where remnants of a bygone era remain, including the famous Art Deco Cathay Theatre. The inside visits on your Monograms vacation include VIP access, which means you get to skip the lines! Why wait in line with all the other tourists when you can be up close and personal with the attractions? And did we mention we've included a noodle-making demonstration by a master chef in Xi'an? You'll have the opportunity to learn how to make Chinese noodles by hand. Between the sightseeing and guides we've arranged, the hotels we've booked, and the transfers we've included, all you have to do is get out there and enjoy yourself! Add the time and hassles saved by not having to figure out what to do, where to go, and how to get from place to place—not to mention the comfort of having local experts with you throughout your vacation—and you have a perfect vacation!

Great Barrier Reef & Sydney 2019 - 9 Days From Port Douglas To Sydney

Monograms
$1759
9
Details

Pack your swimsuit and sunscreen before heading down under for this dream vacation! Come see the colorful and diverse marine life that lives within the world-famous Great Barrier Reef and experience Sydney's iconic sites. On this 9-day vacation, we have arranged your choice of hotel accommodations, daily breakfast, and sightseeing to make your vacation as turn-key as can be. Plus, we provide you with a Monograms Local Host®, someone who knows the cities you'll visit like the back of their hand, so they can help you get an authentic Australian experience. Your vacation beings when you arrive in Cairns and are transported to the town of Port Douglas. You will have three days to discover the beautiful beaches, boutiques and coral reefs that make this town a bucket-list destination. Enjoy the experience of a lifetime when you cruise to the Outer Great Barrier Reef for a day of snorkeling, a semi-submersible watercraft tour, or a presentation by a marine biologist. And Port Douglas isn't just known for its aquatic life! You can also choose to hike, ride ATVs, or learn about the Aboriginal people who inhabited the nearby Mossman Gorge. Then, you'll head south to spend a few days in Sydney. Take a guided sightseeing tour where you will stop to capture the perfect shot at the Opera House and the Harbour Bridge and put your toes in the sand at the beautiful Bondi Beach. You will have two full days at your leisure. Explore independently or choose from a selection of optional activities, including a climb to the top of the Sydney Harbour Bridge, spending the day in nearby Hunter Valley where you will sample Australia's finest wines, or joining a guided backstage tour of the Opera House. Save time and avoid the hassles of travel by letting Monograms handle the details. All you have to do is grab your snorkel and GO!

Kenya Private Safari With Nairobi 2019 - 9 Days From Nairobi To Nairobi

Monograms
$3549
9
Details

South African Sojourn 2019 - 9 Days From Cape Town To Johannesburg

Monograms
$2539
9
Details

Lions and rhinos and cheetahs—oh, my. Oh, yeah…and elephants and giraffes and impala and even penguins! Step out of the ordinary and into Africa for a vacation that will leave you in awe! This 9-day Monograms vacation to South Africa is as fantastic as they come, introducing you to everything that makes this country so unique. Your Monograms adventure includes a choice of accommodations, private guided sightseeing, shared game drives, breakfast daily, and two lunches. Plus, in Cape Town and Johannesburg a Local Host® is at your service—a friendly face and expert on the local scene who ensures your vacation runs smoothly, answers your questions, and helps you personalize your experience. And on safari, you'll have experienced Rangers and game trackers with you on all game drives.From the moment you take your first step, the Monograms difference becomes apparent. Your vacation begins in Cape Town, where we can pick you up at the airport and escort you to your hotel. Dig into a delicious included breakfast the next morning before a private guided tour with your Local Host featuring a cable-car ride to the top of Table Mountain for spectacular views of Cape Town. Next, descend from the mountain to the ocean as you visit Boulders Beach with its delightful colony of African penguins. Lastly, explore beautiful Cape Point Nature Reserve—home to Cape Point, the southwesternmost point on the continent. The following day is free to explore on your own or you can join an optional excursion. Consider a visit to the beautiful Cape winelands for a magical day winery visits and tastings. From June to December you can also choose to go whale-watching in Hermanus, the self-proclaimed whale-watching capital of the world.Next, travel to the Kruger National Park area, where we transfer you to your lodge in a private game reserve. From here, head out multiple times with a professional Ranger in search of Africa's "Big 5"—lion, leopard, elephant, rhino, and Cape buffalo. You're sure to encounter many other species as well. Cap off each day with refreshing included sundowner drinks, the perfect way to relax and reflect as the sun sets over the beautiful South Africa landscape. Finally, embark a quick flight to Johannesburg, where your Local Host will welcome and acquaint you with the world's largest city not situated on a river, lake, or coastline. Private sightseeing takes you inside the fascinating Apartheid Museum, SOWETO, and the former home of Nelson Mandela—and features lunch at a local "Joburg" restaurant.From start to finish, Monograms' South African Sojourn is an incredible journey, with accommodations, guides, sightseeing, and transportation already included! With the time saved and the comfort of knowing you have a local there to assist you throughout your vacation, you'll be one happy traveler!

South American Selection 2019 - 9 Days From Rio De Janeiro To Buenos Aires

Monograms
$1799
9
Details

"At the Copa (Copa) Copacabana (Copacabana)…Music and passion were always the fashion…At the Copa...." That's right music fans, Copacabana—and other exciting places in Rio de Janeiro—is waiting for you. But not just Rio…on this 9-day vacation, you'll also visit Iguassu Falls & Buenos Aires. And Monograms has made it easy for you. We've arranged hotels reservations in each city, guided sightseeing, and daily breakfast. Plus, a one-of-a-kind feature is the Monograms Local Host®, a friend in each city who will answer your questions, offer suggestions, and generally ensure your vacation runs smoothly.Your vacation begins the moment you arrive in Rio. We can pick you up at the airport, so you don't have to deal with the hassles of getting to your hotel after the flight to South America. At your selected hotel, your Local Host will greet you with a warm welcome and a packet of materials to help familiarize you with the city. The next day, after an included breakfast, we will pick you up at your hotel for private, guided sightseeing of this vibrant city. With an expert local guide, you'll hear the inside stories of the must-see attractions and ride a cog-wheel train to the top of Corcovado Mountain, home to Christ the Redeemer. We've scouted out the best picture spot, so you'll be sure to capture the views of the beaches and city below. You'll also have plenty of free time to explore Rio. Perhaps take a Jeep tour in Tijuaca National Park in the center of Rio or discover historic Petropolis, site of the former summer palace of Emperor Dom Pedro II. And it's not just South America's most exciting cities we've included in this vacation. Your package also includes visits to both the Argentine and Brazilian sides of Iguassu Falls. Enjoy private tours as you stand mesmerized by one of the most spectacular sights on Earth, with its 275 falls, brilliant rainbows created by clouds of spray, and deafening roar. Then you're on your way to beautiful Buenos Aires! Your Local Host will be on hand to help you become acquainted with the "Paris of South America." The next day, your private, guided sightseeing features the must-see sights, including the burial site of Eva Peron, the Cemetery of the Recoleta. On your free time in Buenos Aries, you can savor the cities atmosphere, enjoy one of the many outdoor cafes, watch a Tango performance or journey to the Argentine country and visit a ranch and experience the lifestyle of the gauchos. Don't forget your Local Hosts are available for suggestions to help you truly experience South America.Did we mention that with Monograms you get VIP access– that means you get to skip the lines! After all, wouldn't you rather be exploring the attractions than waiting in line? What are you waiting for? Copacabana, along with Rio, Iguassu Falls & Buenos Aires—is waiting for you!

Amazonia Voyage With Rio & Iguassu 2019 - 10 Days From Rio De Janeiro To Manaus

Monograms
$3139
10
Details

The Amazon Jungle… do you know anyone who's been lucky enough to say they've explored the Amazon? Now you do, and it's you! And Monograms makes it easy for you. Plus, we know if you're traveling all the way to Brazil, you'll also want to see Rio de Janeiro & Iguassu Falls. That's why on this 10-day vacation, we've arranged your hotel and cruise accommodations, daily buffet breakfast (plus 2 lunches and three dinners), sightseeing, and transportation within the cities. Plus, we want you to feel comfortable in Brazil so we've arranged a one-of-a-kind feature for you: a Local Host® in each city—Rio de Janeiro, Iguassu Falls, & Manaus. Your Local Hosts will help make sure your vacation runs smoothly by answering questions, helping you personalize your trip, offering suggestions, and letting you in on little-known local secrets.Your vacation begins the moment you arrive, as we can whisk you from the airport to your selected hotel in Rio de Janeiro. There, your Local Host will present you with a set of materials to help familiarize you with the city and get you settled. The next day, after an included breakfast, we'll pick you up at your hotel for a private tour with an expert Local Guide that features Rio's famous beaches as well as Corcovado Mountain to see the Christ the Redeemer statue. Be sure to have your camera ready, as there are breathtaking, 360-degree, panoramic views of Rio and its beaches. During your free day in Rio, perhaps enjoy a samba show or visit Sugar Loaf Mountain via cable car to see amazing views.The next day, after included breakfast, we'll take you to the airport for your flight to Iguassu Falls, where you'll have private guided tours of these magnificent waterfalls from the Brazilian and Argentine sides. Meaning "Mighty Waters" in the local language, these falls span almost three miles and contain 275 individual cataracts. Hear the deafening roar, see the rainbows forming in the mist, and stand in awe as you witness one of the world's most beautiful waterfalls. Then your journey continues to Manaus, gateway to Brazil's Amazon, where we'll pick you up at the airport and take you on a private, guided sightseeing tour with a local expert. You'll hear the insider stories and see the opulent sights from the rubber boom days, like the Opera House, built from materials brought over from Europe. In Manaus, you'll embark your 3-night cruise up the Amazon. Your cruise includes excursions to explore the Amazon jungle and its vegetation, indigenous animals, and even local river communities. You'll enjoy Naturalist-guided walks through the rainforest to learn how the native people live off the land; hear lectures on the region; have the opportunity to try piranha fishing; take a cruise at night along the waterways to spot caiman; enjoy a birdwatching Safari in search of the many endemic birds; visit a local home for a personal experience with the native communities; and cruise the Amazon tributaries looking for wildlife, such as capuchin and howler monkeys. Before your vacation ends, you'll also cruise the Meeting of the Waters, where the chocolate-colored Rio Negro meets with the yellow-gray Rio Solimões to form the impressive Amazon River. And did we mention that we've included not only the cruise, but also sightseeing of both sides of Iguassu Falls including the Ecological Jungle Train in your package? In fact, between the sightseeing we've included, hotels we have booked, and the transportation we've arranged, Monograms has handled all the details for you. And, just think of the comfort you'll get from having a Local Host in each city, especially if you do not speak Portuguese. So grab your camera and get ready for a trip of a lifetime!

Australian Explorer 2019 - 10 Days From Sydney To Melbourne

Monograms
$2149
10
Details

Upon visiting Australia, Oprah Winfrey proclaimed to the locals in Sydney, "You're so darned friendly, you must go to friendly class!" If Oprah says it, it must be true! And now Monograms makes it easy for you to experience this friendliness yourself! On this 10-day Australia vacation, we've arranged your hotel reservations, daily breakfast, sightseeing, and private transfers to/from the airports from/to your hotels for your intra-vacation flights. Plus, a one-of-a-kind feature: the Monograms Local Host®, someone who is there throughout your stay (in Sydney, Port Douglas, and Melbourne) to ensure your vacation runs smoothly and to help you make the most of your vacation.Your vacation begins the moment you arrive. Monograms can pick you up at the airport and whisk you seamlessly to your selected hotel. Your Local Host will greet you with a smile and materials to help you get settled. The next day, after your included breakfast, we'll pick you up at your hotel for a guided sightseeing tour with a local expert. You'll hear inside stories behind the must-see sights, like the Opera House and Bondi Beach. And never fear...we've scouted the city for the best place to capture a photo of Sydney's famous Harbour Bridge. In Melbourne, your guided sightseeing with an expert Local Guide includes the Royal Botanic Gardens and Queen Victoria Market. On the third day in each city, you have a free day to explore on your own (with your Local Host support, of course). You may want to follow in Oprah's footsteps and climb to the top of Sydney Harbour Bridge; explore the cobblestone streets of the Rocks, the harborside area where the first convicts settled; or participate in a game of lawn bowling. In Melbourne, visit one of Australia's leading opal companies or take an excursion to see the little penguins emerge from the sea and waddle across the beach in the world-famous Penguin Parade. It's not just the cities you'll experience on this Australia vacation. In Port Douglas, we'll take you to the Outer Great Barrier, where you can snorkel, take a semi-submersible watercraft tour, or attend a presentation by a marine biologist. You'll be amazed by the clarity of the water and the variety of fish that will swim all around you. You may even see a green sea turtle glide by! You will also have a day at leisure so perhaps take an excursion via the Kuranda Scenic Railway to the quiet mountain village of Kuranda, or explore one of the markets to try locally grown mangoes and bananas.With the time and hassles you save by letting us take care of the details, you've got yourself a vacation of a lifetime!

Bangkok, Chiang Mai & Phuket 2019 - 10 Days From Bangkok To Phuket

Monograms
$1149
10
Details

Beijing, Shanghai & Hong Kong 2019 - 10 Days From Beijing To Hong Kong

Monograms
$1839
10
Details

Best Of Panama With Bocas Del Toro 2019 - 10 Days From Panama City To Panama City

Monograms
$1669
10
Details

Best Of Panama With Boquete 2019 - 10 Days From Panama City To Panama City

Monograms
$1979
10
Details

Best Of Thailand 2019 - 10 Days From Bangkok To Chiang Mai

Monograms
$1599
10
Details

"Et cetera, et cetera, et cetera." Who said this? That's right…the King of Siam (now Thailand) in "The King and I." We're not sure, but we think he was referring to all the benefits you get from traveling with Monograms: included meals, sightseeing, expert guides, et cetera, et cetera, et cetera. In fact, on this 10-day vacation, we've arranged your hotel accommodations, private guided sightseeing, daily breakfast (plus three lunches and one dinner), transportation, and transfers from/to your hotels to/from the airports for all intra-vacation flights. Plus, we have arranged for you to have a Local Host®—someone who will help make sure your trip is all you want it to be—in each city: Bangkok, Chiang Rai, Ban Thaton, and Chiang Mai.Your vacation begins the moment you arrive in Bangkok, as we can pick you up at the airport and take you to your selected hotel. Your Local Host will greet you with a warm welcome and help you get settled. The next morning, after included breakfast, we've arranged for a private guided tour of Bangkok. Visit the Temple of the Dawn, whose 260-foot-tall spire has become identified with Bangkok; the Grand Palace; the Temple of the Emerald Buddha, painstakingly carved from a single block of jade; and the Temple of the Reclining Buddha, the oldest and largest Buddhist temple in Bangkok. Wait until you see the 49-foot-high and 151-foot-long massive Reclining Buddha! We've also included a boat ride through the klongs, Bangkok's canals, where you will see family homes, temples, and the local way of life.After a full day at leisure in Bangkok, you will fly to Chiang Rai, where your Local Host will be waiting for you at the airport. In Chiang Rai, we've arranged private guided sightseeing that includes a trishaw ride, the favorite local mode of transportation; a visit to the local market; and a visit to Wat Phra Kaew, which once housed the Emerald Buddha. We have then arranged transportation for you to Ban Thaton, where you will have two private guided tours. We will take you to an Akha village, a hill tribe known for gorgeous headdresses decorated with silver coins, and to a Karen village, home to the Padaung long-necked women, who have brass rings placed on their necks and legs as little girls, creating the visual illusion of stretching their necks.From Ban Thaton, we will transport you to Chiang Mai, where you will visit Wat Phra Singh with its famous Buddha image, and Wat Doi Suthep, a temple tucked away in the mountains, where you will enjoy spectacular views of Chiang Mai. You will have a full day at your leisure to enjoy independent exploration or perhaps book an optional Thai cooking class or attend a Khantoke dinner show featuring a local dance performance. And did we mention we've included a boat ride on the Kok River in Ban Thaton? It's just another one of the details we've included. We want to make sure you enjoy many forms of transportation: boat rides, a trishaw ride, et cetera, et cetera, et cetera. In fact, between the sightseeing we've arranged, the transportation and attractions we've included, the hotels we've booked, the meals we've included, and the guides we've arranged, all you have to do is sit back and enjoy. We've taken away the stress and hassles of having to figure out where to go and what to do, so what are you waiting for? Thailand awaits!

Costa Rica Wonders With Manuel Antonio 2019 - 10 Days From San José To San José

Monograms
$1529
10
Details

India's Golden Triangle With Kathmandu 2019 - 10 Days From Delhi To Kathmandu

Monograms
$1469
10
Details

Kenya Private Safari With Amboseli National Park Area 2019 - 10 Days From Nairobi To Nairobi

Monograms
$4069
10
Details

Kenya Private Safari With Maasai Mara Extended Stay 2019 - 10 Days From Nairobi To Nairobi

Monograms
$3979
10
Details

Magical Colombia With Medellin 2019 - 10 Days From Bogotá To Medellin

Monograms
$1879
10
Details

Peru Highlights With Lake Titicaca 2019 - 10 Days From Lima To Lima

Monograms
$2093
10
Details

Peru Highlights With Nazca Lines 2019 - 10 Days From Lima To Lima

Monograms
$2523
10
Details

Siem Reap, Bangkok & Chiang Mai 2019 - 10 Days From Siem Reap To Chiang Mai

Monograms
$1349
10
Details

Siem Reap, Bangkok & Phuket 2019 - 10 Days From Siem Reap To Phuket

Monograms
$1269
10
Details

Singapore, Bangkok & Chiang Mai 2019 - 10 Days From Singapore To Chiang Mai

Monograms
$1729
10
Details

Singapore, Bangkok & Siem Reap 2019 - 10 Days From Singapore To Siem Reap

Monograms
$1819
10
Details

Tanzania Private Safari With Serengeti Extended Stay 2019 - 10 Days From Arusha To Arusha

Monograms
$5339
10
Details

Wilds Of Botswana & Victoria Falls 2019 - 10 Days From Johannesburg To Johannesburg

Monograms
$4649
10
Details

Smoking…we all know it's bad for you. But what about "the smoke that thunders" or "Mosi-oa-Tunya," which is what the locals call Victoria Falls? Seeing them will delight you and will most assuredly be good for you. And no one brings you Victoria Falls like Monograms! Victoria Falls is not the only place you'll visit on this 10-day vacation. You'll also go on safari in some of Botswana's most famous game reserves and national parks. We've made it easy for you by arranging your choice of accommodations, most of your meals, game drives, and more. And on safari, you'll have experienced Rangers and game trackers with you on all game viewing activities. Plus, a one-of-a-kind feature is the Monograms Local Host®—someone who is there to help make sure your vacation runs smoothly—in both Johannesburg & Victoria Falls. Your vacation begins the moment you arrive in Johannesburg, where we can pick you up at the airport and escort you to your hotel. The next day, after an included breakfast, you'll fly to Botswana and the Central Kalahari Game Reserve, the largest game reserve in southern Africa. Here, you will have two game drives in a 4-wheel-drive safari vehicle. Be on the lookout for cheetah, leopard, springbok, gemsbok, the rare brown hyena, and the famed black-maned Kalahari lion. We've also arranged for you to have a guided walk with San Bushmen to learn about their intriguing culture, survival and hunting skills, and extensive knowledge of desert animal and plant life.Then, it's off to the famed Okavango Delta. This area features various ecosystems—wetlands, mopane forest, flood plains, and dry savannah woodland—making it ideal for your three game activities here. Have your camera ready for cheetah, hyena, impala, Cape buffalo, and more. We'll also take you to Chobe National Park, which features some of the greatest concentrations of wildlife in Africa. You'll have three game activities here consisting of game drives and boat excursions. You may see giraffe, lion, and huge herds of elephant, which are said to be the largest elephants on Earth.Finally, a private transfer brings you to Zimbabwe and Victoria Falls, the largest waterfall in the world. Your Local Host in Victoria Falls will help you get settled and feel right at home. We've arranged for you to have a private, guided walk of Victoria Falls, so you can learn the history of the falls and hear about the surrounding flora and fauna. Photos do not do justice to these awe-inspiring falls; you must experience them in person! And did we mention we've included a cruise on the Zambezi River, where you'll have an opportunity to take photographs of the wildlife—such as hippos, crocodiles, and elephants—and a stunning Africa sunset? Between the game drives we've included, the hotels and lodges we've booked, and the guides and transportation we've arranged, all you have to do is make sure you remember your camera! We've taken care of the rest. Between the time saved, the hassles taken care of regarding where to go and how to get from one destination to the next, and even having locals there to help you spot the game, you've got yourself an unbeatable vacation!

Best Of Japan With Osaka & Hiroshima 2019 - 11 Days From Tokyo To Hiroshima

Monograms
$4679
11
Details

Best Of Panama With Boquete & San Blas Islands 2019 - 11 Days From Panama City To Panama City

Monograms
$2239
11
Details

Brazil Highlights With Brazil's Amazon & Salvador 2019 - 11 Days From Manaus To Salvador

Monograms
$3011
11
Details

Costa Rica Wonders With Tortuguero & Guanacaste 2019 - 11 Days From San José To Guanacaste

Monograms
$1784
11
Details

Cruising The Galápagos On Board The Coral - 7 Night Cruise 2019 - 11 Days From Quito To Guayaquil

Monograms
$5329
11
Details

Iguanas, and sea lions, and turtles, oh my! Where on earth can you find more rare species of plants and animals than people? The Galápagos Islands, of course! And when you cruise to this unique group of islands with Monograms, there is no stress, just fun! We take care of the hassles for you, from your hotel and cruise accommodations, to sightseeing and most meals. We even set you up with a Local Host® to help meet your needs during your stay, so that all you have to do is remember to pack your swimsuit!Your vacation begins in Quito, where your Local Host will greet you and help acquaint you with the city. The next morning, after an included breakfast, you will head out on a private tour to explore the city, rich with history and marked by the legacy that the Incas and Spaniards left behind. See Independence Square, the cathedral, and San Francisco Plaza Church. Enjoy an afternoon of leisure before packing your bags and heading off to the Galápagos the next morning. You will embark on a 7-night cruise around the gorgeous and one-of-a-kind Galápagos Islands. For this leg of your adventure, all of your meals are included. Begin your adventure at the Charles Darwin Research Station to see and learn about the Giant Tortoises native to these islands. You'll also visit Bartolomé, where you can see a fascinating moonscape and take a hike to see the striking view of the surrounding islands; Rábida Island, where you will discover a rare red sand beach, home to colonies of marine iguanas, sea lions and several species of Darwin's finches; Santa Cruz, where the clear, calm waters of Black Turtle cove offer the perfect place to see a colorful array of fish, rays and reef sharks; Isabela and Fernandia Islands where you can watch for flightless cormorants, penguins, and whales, and finally, Santiago Island, where you can explore tidal pools populated by fur seals and Sally Lightfoot Crabs. Throughout your cruise there will be multiple opportunities to snorkel in search of the diverse and colorful marine life found in the archipelago. So grab your camera and say "Sayonara" to the stresses of planning your own vacation. With Monograms, your vacation package to the Galápagos Islands is as stress free and fabulous as you dreamed it would be!

East Africa Private Safari 2019 - 11 Days From Nairobi To Arusha

Monograms
$5279
11
Details

IQH Leave the ordinary at home and get ready for the extraordinary! An African safari is truly a once-in-a-lifetime vacation and Monograms is here to ensure that the only wild part of your vacation is an encounter with the endangered species. We arrange your choice of accommodations, transportation between destinations, game drives, and most meals for you. You will have a professional Driver/Guide throughout your safari to help you spot game and to teach you all about Africa's wildlife. And for your convenience, the vehicles we use feature a pop-up roof to help make your experience as up-close and personal as it can be! Your 11-day private safari begins in Nairobi. We can pick you up at the airport and help you manage the hassle of getting to your hotel. The next day, after an included breakfast, grab your gear and head off on your safari! Throughout the next ten days, you will visit some of the world's most famous game areas. Highlights include Maasai Mara National Reserve and Serengeti National Park, part of the Serengeti ecosystem, home to the annual wildebeest migration. We've arranged for you to have three game drives in the "Mara" and three in the Serengeti where you'll have the chance to see the "Big 5"—lion, leopard, Cape buffalo, elephant, and rhino. Be on the lookout for an abundance of other animals, including cheetah, giraffe, gazelle, elephant, hyena, and more. You'll also explore several other areas including Amboseli National Park, for stunning views of the highest mountain in Africa, Mount Kilimanjaro; Lake Manyara National Park, where the diverse terrain attracts everything from elephants and giraffes, to Cape buffalo and the world's largest concentration of baboon; and Ngorongoro Crater, which is unique in that it serves as a year-round home for many animals, including lion, hippo, and the rare black rhino. On the last day of your stay, we have reserved a day room for you to relax and reflect on this unforgettable vacation! From the game drives to the accommodations, transportation to a private vehicle and professional guide, the only thing that is left for you to do is click away on that camera of yours! We guarantee you'll leave Africa with photos and stories to last a lifetime. So if you want to plan a safari, do it the right way and don't plan it at all – let Monograms plan it for you.

Enchanting Vietnam 2019 - 11 Days From Hanoi To Ho Chi Minh City

Monograms
$1689
11
Details

Breathtaking landscapes, rich culture, and culinary delights make Vietnam a country that is not to be missed! Let us show you on this 11-day vacation. Monograms makes it easy for you to venture through Vietnam, because we have taken care of your hotel accommodations, transportation, private guided sightseeing, and daily breakfast. You'll also have access to a Local Host®, who can provide suggestions about what to see and do during your stay.Your vacation in Vietnam begins when you arrive in Hanoi. Monograms can pick you up at the airport and get you to your hotel effortlessly. Your Local Host will greet you and help familiarize you with the culture and traditions of the city. The next morning, indulge in an included breakfast before heading off on a private guided tour of the city, where you'll wander the ancient streets of the Old Quarter, visit the Mausoleum, One Pillar Pagoda, Presidential Palace, and Hanoi's first university, the Temple of Literature. The next day, take a private transfer through the countryside to Ha Long Bay, a breathtaking UNESCO World Heritage Site that is dotted with more than 3,000 limestone islands. Upon your arrival, you will board an overnight cruise that will take you to explore the beaches, caves, and floating villages scattered throughout the bay. You may also choose to enjoy a traditional Vietnamese cooking demonstration while on board. You will disembark the following day to catch a quick flight from Hanoi to Danang, near Hoi An.You'll have two days to explore Hoi An. The first day, enjoy a private guided tour of the Central Market, where you can buy local goods, from fresh fish and spices to silk; the Hoi An Museum; and a Chinese assembly hall. On your second day, you'll take a cruise on the Thu Bon River and take a fishing lesson from local fisherman. You will also meet a local farmer to learn about his daily life. On both days, enjoy the afternoon at your leisure to explore further or relax at the beach! Then, you'll visit the Cham Museum before driving north over Hai Van Pass, considered one of the most scenic spots in Vietnam. You will spend the duration of your day in Hue, where you will visit the Imperial Citadel and the Thien Mu Pagoda. You'll also get to visit the Tombs of the Nguyen Emperors, and the Royal Tomb of Tu Duc. Finally, you will spend two days in Ho Chi Minh City. Take a private guided walking tour along Dong Khoi Street, where you will see some of the city's historic landmarks, including Ho Chi Minh Square and the Municipal Theatre. Visit the moving War Remnants Museum and the city's oldest and largest market, Ben Thanh Market. On your second day, you will visit the Cu Chi Tunnels, more than 120 miles of underground tunnels, formerly used as a hideout for the Viet Cong. There's plenty of free time in the afternoons to do as you please. You may like to shop for souvenirs or sample pho (noodle soup) or che (local dessert) at one of the many open-air restaurants. Your Local Host can make suggestions and help you make the most of your stay.Make your vacation to Vietnam one to enjoy, not stress about! We handle the hotels, transportation, private guided sightseeing, and activities for you, so that your only worry is which local specialty to try next!

India's Golden Triangle With Dubai 2019 - 11 Days From Dubai To Delhi

Monograms
$1549
11
Details

India's Golden Triangle With Varanasi 2019 - 11 Days From Delhi To Delhi

Monograms
$1509
11
Details

Jewels Of Africa 2019 - 11 Days From Nairobi To Cape Town

Monograms
$3249
11
Details

IQB Africa is home to some of the world's most marvelous sites, most endangered species, and most incredible people. And it's time for YOU to experience it all! We coordinate the details for you—from hotels and transportation, to sightseeing and most meals, Monograms makes it easy to help you hit Africa's biggest highlights.Your African safari starts when you arrive in Nairobi. We can pick you up at the airport and help you manage the hassle of getting to your hotel. The next day, after an included breakfast, adventure off on your first game drive at Maasai Mara National Reserve – the most famous game area in Kenya. This reserve has a strong permanent population of wildlife, so stay on the lookout for the "Big 5" – lion, leopard, elephant, rhino, and Cape buffalo. You will spend two full days at this reserve. Next, fly south Zimbabwe. A trip to Africa wouldn't be complete without experiencing Victoria Falls. We've arranged for you to have a private, guided walk of the mighty falls and a sunset cruise on the Zambezi River, where you'll have an opportunity to take photographs of the wildlife and sip on a drink as you watch a spectacular African sunset—the perfect ending to a day of discovery! Finally, fly into beautiful Cape Town where your Local Host® will take you on a private tour of the city's highlights. Ascend to the top of Table Mountain, visit the penguins at Boulders Beach, and stop at the Cape of Good Hope – the southernmost point on the African continent. The following day is free to explore on your own or you can join an optional excursion. Consider a visit to the beautiful Cape winelands for a magical day winery visits and tastings. From June to December you can also choose to go whale-watching in Hermanus, the self-proclaimed whale-watching capital of the world.With Monograms, your dream vacation to Africa doesn't feel so far out of reach. With all of the details arranged for you, all you have to do is pack your bags and prepare for this once-in-a-lifetime experience!

Kenya Private Safari With Nairobi & Amboseli National Park Area 2019 - 11 Days From Nairobi To Nairobi

Monograms
$4399
11
Details

Kenya Private Safari With Nairobi & Maasai Mara Extended Stay 2019 - 11 Days From Nairobi To Nairobi

Monograms
$4309
11
Details

Peru Highlights With Chiclayo & Trujillo 2019 - 11 Days From Lima To Lima

Monograms
$2553
11
Details

South African Sojourn With Victoria Falls 2019 - 11 Days From Cape Town To Johannesburg

Monograms
$3219
11
Details

South American Selection With Bariloche 2019 - 11 Days From Rio De Janeiro To Buenos Aires

Monograms
$2569
11
Details

South American Selection With El Calafate 2019 - 11 Days From Rio De Janeiro To Buenos Aires

Monograms
$2469
11
Details

Sun & Fun Down Under 2019 - 11 Days From Sydney To Port Douglas

Monograms
$2149
11
Details

Sun and fun down under…sounds like bliss, doesn't it? And no one brings you sun and fun like Monograms! On this 11-day vacation, we've arranged your hotel reservations, sightseeing, daily breakfast, and transfers from/to your hotels to/from the airports for your intra-vacation flights. Plus, you'll have a Monograms Local Host ®—someone who knows the ins and outs and is there to ensure your vacation goes smoothly—to answer your questions, arrange optional activities, and offer suggestions for shopping and dining.Your vacation begins the moment you arrive in Sydney, where we can seamlessly whisk you from the airport to your selected hotel. Your guided sightseeing in Sydney with a local expert includes photo stops at the world-famous Opera House and Sydney Harbour Bridge. You'll also have a full day to explore Sydney on your own (with the support of your Local Host of course). You may want to climb to the top of Sydney Harbour Bridge for amazing views; explore the cobblestone streets at the Rocks, the harborside area where the first convicts settled; or visit Hunter Valley to sample Australia wines.Then, we'll take you to the airport so you can fly to the Gold Coast, a tropical paradise known for its white-sand beaches. From the Gold Coast, you'll take an included excursion to Mount Tamborine National Park, where a guided rainforest walk takes you to a tropical waterfall. Keep your eyes open for native wildlife. Monograms has also arranged a local wine tasting and a visit to the Gallery Walk, where local artists showcase their works. In your free time at the Gold Coast, you may want to soak in the sun on the white-sand beach, visit Currumbin Wildlife Sanctuary to feed a kangaroo or cuddle a koala, or enjoy the Gold Coast's thriving food scene. Finally, you'll fly to Cairns and be transported to Port Douglas, a beachside town surrounded by rainforest and the Coral Sea. Here, you'll have the experience of a lifetime when you board a catamaran and cruise to the Great Barrier Reef, one of the Seven Natural Wonders of the World. You can choose to snorkel, take a semi-submersible watercraft tour, or attend a presentation by a marine biologist. This underwater world, with its brilliant colors and fish swimming around you, is nothing short of spectacular! With your two full days of leisure in Port Douglas, you may want to stroll on Four Mile Beach, browse the shops in downtown Port Douglas, or visit the Daintree Forest, the world's oldest living rainforest. With the time and hassles you save by letting Monograms take care of the details, all you have to do is enjoy this Australia vacation filled with fun and sun!

Brazil, Argentina & Chile 2019 - 12 Days From Rio De Janeiro To Santiago

Monograms
$2329
12
Details

According to Chile's famous poet, Pablo Neruda, "Laughter is the language of the soul." Well, you'll be laughing in Chile on this vacation, because Monograms has handled all the details for you, allowing you to just relax, enjoy…and laugh! And it's not just Chile you'll visit; you'll also visit Brazil & Argentina. On this 12-day vacation, we've arranged your hotel reservations, daily buffet breakfast, and sightseeing. Plus, a one-of-a-kind feature is the Monograms Local Host®, a "friend" who will answer your questions, offer suggestions, and help ensure your vacation runs smoothly in each city. Your vacation begins the moment you arrive. Monograms can pick you up at the airport, so you don't have to deal with hassles or logistical issues of getting to your hotel after your flight to Rio de Janeiro. At your selected hotel, your Local Host will help you get settled, present you with materials to familiarize you with the city, and help personalize your trip. The next morning, after your included breakfast, we'll pick you up at your hotel for a private sightseeing tour with a local expert. Your tour includes a cog-wheel train through Tijuca Forest to the top of Corcovado Mountain, home to the iconic Christ the Redeemer statue, one of the new Seven Modern Wonders of the World. In Buenos Aires, your private sightseeing features the must-see attractions, including the La Boca district and the Cemetery of the Recoleta, where Eva Peron is buried. From a local expert, hear why Buenos Aires is called the "Paris of South America" and learn insider secrets. In Santiago, your private sightseeing with an expert local guide includes the Plaza de Armas and an inside visit to the 18th-century Cathedral. Throughout the vacation, the inside visits include VIP access, so you can skip the lines. Why be like all the other tourists standing in line when you can be up close and personal with the tango dancers in the La Boca district or capturing the perfect shot from atop Corcovado Mountain?In each city, you'll have a full day to explore on your own (with the support of your Local Hosts of course). Perhaps enjoy a samba show in Rio and a Tango show in Buenos Aires. Take an excursion to Chile's wine country or explore the markets offered in each city. And it's not just the cities you'll experience on this vacation…we'll also take you to Iguassu Falls, where we'll give you a private tour on both the Argentine and Brazilian sides of the falls. Hear the thundering roar of the water, see the surrounding luxuriant growth, and be awed by the rainbows formed in the mist. It is nothing short of spectacular! Between the sightseeing, guides, hotels, and transportation we've arranged, plus the time saved and the reassurance of having Local Hosts in each city, you've got yourself a wonderful vacation!

Costa Rica Wonders With Tortuguero & Manuel Antonio 2019 - 12 Days From San José To San José

Monograms
$2019
12
Details

East Africa Private Safari With Nairobi 2019 - 12 Days From Nairobi To Arusha

Monograms
$5629
12
Details

Essential China With Hong Kong 2019 - 12 Days From Beijing To Hong Kong

Monograms
$2189
12
Details

Great Barrier Reef & Sydney With Fiji 2019 - 12 Days From Port Douglas To Nadi

Monograms
$2449
12
Details

Great Barrier Reef & Sydney With Melbourne 2019 - 12 Days From Port Douglas To Melbourne

Monograms
$2459
12
Details

Great Barrier Reef & Sydney With Queenstown 2019 - 12 Days From Port Douglas To Queenstown

Monograms
$2519
12
Details

India's Golden Triangle With Southern India 2019 - 12 Days From Mumbai To Delhi

Monograms
$1869
12
Details

Jewels Of Africa With Nairobi 2019 - 12 Days From Nairobi To Cape Town

Monograms
$3599
12
Details

Journey Through The Andes 2019 - 12 Days From Lima To Lima

Monograms
$2903
12
Details

Did you know Peru has a national quidditch team—at least according to Harry Potter fans? Monograms has not included a fantasy quidditch game on this vacation, but we have included the must-see attractions you'd expect to see in Peru...and we've made it easy for you by handling all the details! On this 12-day vacation, we've arranged your hotel reservations, sightseeing, daily breakfast (plus three lunches and one dinner), and transportation. You'll also have the services of a one-of-a-kind feature, the Monograms Local Host®, who is there for you in each city to give you insider knowledge, answer questions, translate for you if needed, and help make sure your vacation runs smoothly. Your vacation begins the moment you arrive, as we can whisk from the airport to your selected hotel. Your Local Host will greet you with a warm welcome and materials to help you get settled and personalize your vacation. The next morning, after your included breakfast, we'll pick you up from your hotel for guided sightseeing with a local expert. Hear insider stories and see the must-see attractions, such as San Francisco Monastery and Plaza de Armas. Peru has become renowned as a gastronomic destination so be sure to ask your Local Host for the best place to grab some local specialties. The next day, we've arranged your transportation to Ica, where you'll enjoy a flight over the Nazca Lines. Here, you'll wonder why the ancient Nazca people, who thrived here from 200 BC to 500 AD, created illustrations that could only be seen from the air. It's a puzzle that has kept archaeologists speculating ever since they were discovered. Next, you'll cruise to the Ballestas Islands, inhabited by a wide variety of sea mammals and exotic birds, including Humbolt penguins. We've also arranged your sightseeing of ancient Inca ruins. In the Sacred Valley, visit the Inca fortress of Ollantaytambo, where you'll see some of the finest examples of Inca masonry and town planning. In Cusco, visit the semi-circular Kenko Amphitheater and the Temple of Sacsayhuaman, built in the early 12th century with some stones weighing more than 350 tons. Of course, no trip to Peru is complete without a visit to Machu Picchu, the most famous Inca fortress set in a majestic setting. You'll take the train to Machu Picchu, have a guided tour with a local expert, and stay overnight. In the morning, you'll have the chance to wake up early and see the sunrise over Machu Picchu—a spectacular sight indeed!Next, you are on your way to the town of Puno, on the shores of Lake Titicaca, South America's largest lake. You'll enjoy a cruise to Taquile Island, known for its handcrafted textiles, and Uros Islands, made completely of reeds, which are continually added to by the Uros Indians who live there.On this vacation, you'll be taking buses, trains, planes, and automobiles. You'll be visiting many ancient sights, small towns, and markets. But don't worry...we've arranged it all for you and handled all the details. Add the time savings and organization hassles, and you've got yourself a vacation of a lifetime!

Kenya Private Safari With Amboseli National Park & Maasai Mara Extended Stay 2019 - 12 Days From Nairobi To Nairobi

Monograms
$4829
12
Details

Peru Highlights With Arequipa & Colca Canyon 2019 - 12 Days From Lima To Lima

Monograms
$2353
12
Details

Peru Highlights With Nazca Lines & Lake Titicaca 2019 - 12 Days From Lima To Lima

Monograms
$2913
12
Details

South American Selection With Brazil's Amazon 2019 - 12 Days From Manaus To Buenos Aires

Monograms
$2919
12
Details