Cuba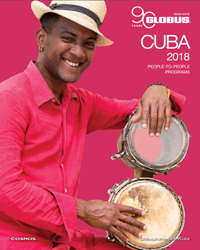 Shrouded in mystery for more than 50 years, the island nation of Cuba is waiting to be rediscovered. Be the first American travelers in five decades to visit Cuba with Globus.
Page 1 of 1 : : 100 per page
We have at least
1

trips that match this criteria
at the lowest prices, guaranteed.
Tour
Operator
Starting At
Days

Cuba's Charming Colonial Cities & Havana 2019 - 8 Days From Camagüey To Havana

Globus
$2629
8
Details

A once-in-a-lifetime experience awaits on this Cuba travel program! Join Globus and be among the first American travelers in five decades to visit Cuba and its most fascinating cities. This special people-to-people program allows Americans and Cubans to share meaningful interactions while enjoying the rich history and culture of this amazing country. Every day of your travel program is filled with compelling educational activities and conversations, where both Cubans and Americans can openly share their ideas and opinions. Participate in discussions about Cuba's history, agriculture, music, religion, and art. You can embrace Cuban culture when you meet and join in a discussion with the dancers of the world-renowned Camagüey Ballet Company; interact with local artists and exchange views on the importance of art to a community; engage with musicians who will introduce you to son, Cuba's popular music; discuss private enterprise in Cuba with local owners and staff; and meet Cuban baseball players to discuss this favorite pastime in both Cuba and the U.S. All people-to-people interactions weave seamlessly into the daily visits around the country, serving to enrich and enlighten. On this Cuba tour program, you'll also have a chance to explore some of Cuba's colonial cities with their cobblestone streets and historic architecture. In fact, the city centers of Camagüey, Trinidad, and Havana have all been named UNESCO World Heritage Sites. Fascinating, informative, and insightful discoveries await you on this rare opportunity to visit the "Pearl of the Antilles." It's an experience like no other!Updated June 27, 2018 - Group Voyagers, Inc.* is an organization licensed by the United States Department of the Treasury, Office of Foreign Assets Control (OFAC), CFR 515.565(b) and authorized to provide those who register as participants in our programs to visit Cuba legally for educational people-to-people interactions. Our itineraries provided a full-time schedule of people-to-people educational exchange activities designed to result in meaningful interactions between our travelers and individuals in Cuba. United States law requires that all participants in our programs adhere to the full-time schedule of people-to-people activities.*Group Voyagers, Inc. is the company that markets and sells the Globus family of brands.
Page 1 of 1 : : 100 per page