2018 World Travelers Dream Book - Private Journeys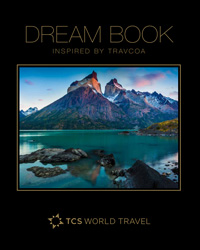 How would you like to experience the world? And what would you like to see? Each of these Private Journeys is yours alone - to share with the person you most care about, your family, a special group of friends. Tell us your own special destination, or let us know how you'd like to change any of the Private Journeys suggested here, and we'll create a completely customized, would-class experience all your own. Enjoy. You have no boundaries.
Page 1 of 1 : : 100 per page
We have at least
64

trips that match this criteria
at the lowest prices, guaranteed.
Tour
Operator
Starting At
Days

Aphrodite's Cyprus

Travcoa
$6295
7
Details

Destinations: Limassol | Paphos | Lefkara | Nicosia | Kykkos | Troodos | Omodos

Hotels: Four Seasons Hotel Limassol

Discover the hidden treasures of the Mediterranean island of Cyprus. See Byzantine-era churches with fabulous mosaic floors, impregnable medieval castles, UNESCO World Heritage Neolithic settlements, ancient mountain monasteries, and the beach where the Greek goddess Aphrodite is said to have been born. In addition to its glorious past, Cyprus boasts a vibrant contemporary spirit. Immerse yourself in modern Cypriot culture, as you delve into the winemaking scene in the village of Omodos, sample the local cafés in the capital of Nicosia, and stroll the spectacular seaside promenade in Limassol.

Journey Pace: Active

Beyond The Gobi Desert: Mongolia

Travcoa
$4545
7
Details

Destinations: Ulaanbaatar | Gobi Desert | Khongoryn Els

Hotels: Shangri-La Hotel Ulaanbaatar, Dream Gobi Lodge, Gobi Erdene Deluxe Ger Camp

Mongolia is the land of Genghis Khan, where ancient warriors mastered feats of horsemanship and archery, a place where people live today as their ancestors did hundreds of years ago. Nomadic felt tents, ancient temples and modern high-rises stand side by side across the desert landscape, where some of the most significant paleontological finds in human history have been discovered. In the great Gobi Desert, visit the Bayanzag Flaming Cliffs, see herds of rare and endangered Saiga antelope, and visit a camel breeder for a riding lesson. Visit with a nomadic Mongolian family and stay in a traditional felt ger. Along the way, your expert local guide will impart Mongolian history and culture as you visit museums, monasteries, monuments and temples.

Journey Pace: Active & Challenging

Chile's Atacama Desert

Travcoa
$5895
7
Details

Destinations: Santiago | Casablanca Valley | San Pedro de Atacama

Hotels: The Singular, Awasi Atacama

Atacama is nestled along the coast of Chile and is one of the greatest deserts on Earth. Isolated and beautiful, it offers extreme shifts in terrain—from lunar landscapes to lush river canyons. Here you will find parched regions that have not been touched by rain for three centuries, and hidden arroyos that flood from brilliant summer rainstorms. Beauty resides in the texture of the land, the starkness of the sky and in the ways of life that have managed to thrive in the harsh desert environment. The Atacama Desert chronicles this struggle for survival, and travelers here can witness the miracle of adaptation amid striking landscapes.

Journey Pace: Active & Challenging

Crossroads Of The World: Panama

Travcoa
$5045
7
Details

Destinations: Panama City | Chiriqui Highlands

Hotels: American Trade Hotel, Panamonte Inn & Spa

Journey through a country of natural and cultural wonders. View the Panama Canal—a modern marvel—from both land and sea, to appreciate its monumental creation. Tour beautiful, historic Panama City, including the cherished churches, convents and colonial palaces of Casco Viejo, a UNESCO World Heritage site. Enjoy an excursion on the waters of Gatun Lake, surrounded by untouched rain forest. Explore Soberania National Park and observe a diverse array of wildlife from its observation tower. Take an eco-adventure in the lush mangroves and the Volcan Baru cloud forest, then enjoy a private coffee tasting while taking in spectacular views of the Chiriqui Highlands.

Journey Pace: Active & Challenging

Exotic Easter Island: Chile

Travcoa
$5015
7
Details

Destinations: Santiago | Easter Island | Valparaiso | Maipo Valley

Hotels: The Singular, Explora Rapa Nui or Hangaroa Eco Village & Spa

Experience an extraordinary adventure to one of the most isolated and remote places on Earth—Easter Island. Uncover the mysterious history of this breathtaking locale and enjoy small-group exploration of the culture of the island and its Rapa Nui people under the guidance of resident archaeologists. Stand within feet of the iconic moai statues as you hypothesize about their unknown origins and purpose, which mystify researchers to this day. The captivating story that surrounds this astounding UNESCO World Heritage site will stay with you for years to come. Following your visit, admire the colonial architecture of Valparaiso and indulge in century-old vintages among the vineyards of the Maipo Valley

Journey Pace: Active & Challenging 

Jewel Of The Indian Ocean: Sri Lanka

Travcoa
$4595
7
Details

Destinations: Negombo | Sigiriya | Kandy | Hatton | Colombo

Hotels: Horathapola Estate, Jetwing Vil Uyana, Kings Pavilion, Ceylon Tea Trails

From its ancient ruined cities to its storied colonial plantations, the island nation of Sri Lanka, formerly known as Ceylon, holds a fascinating allure for travelers. Learn about this secluded nation's history and culture at the spectacular cave temple of Dambulla, looming rock fortress of Sigiriya and monumental ruins of Polonnaruwa. Uncover myths and legends as you witness a puja ceremony at Kandy's richly carved Sacred Temple of the Tooth Relic. Meet the people of the rural villages, and watch orphan elephants in their jungle habitat. Then, relax and sample the country's colonial history with a visit to a tea plantation home, and learn about modern daily life in Sri Lanka.

Journey Pace: Active

Jordan's Desert Kingdom

Travcoa
$4645
7
Details

Destinations: Amman | Jerash | Madaba | Petra | Dead Sea

Hotels: Four Seasons Hotel Amman, Movenpick Resort Petra, Kempinski Ishtar

Jordan's tradition of hospitality has remained unchanged across the generations, making your time here exceptionally enlightening. Discover the mysteries of past cultures and immerse yourself in the rich history of the region. Travel the 5,000-year-old King's Highway to view the mosaic map in Madaba and Moses' burial site on Mt. Nebo. Wind your way through a sandstone chasm that reveals the ancient city of Petra, carved out of towering rose-red cliffs. Take a Jeep safari through the striking landscapes of the Wadi Rum Desert, also known as the "Valley of the Moon," then enjoy a buoyant swim in the Dead Sea at your luxury resort.

Journey Pace: Active & Challenging

Majestic Malta

Travcoa
$3945
7
Details

Destinations:  Valletta | Gozo

Hotels: Excelsior Grand Hotel

This hidden gem of the Mediterranean beckoned the Phoenicians, the Greeks and the Romans. From the fortified city of Valletta with its impressive St. John's Cathedral to the quiet streets of the Mdina complex, explore the tiny island of Malta and learn of the country's dramatic history as a crossroads of many cultures. Visit the nearby island of Gozo, taking in a picturesque landscape of rugged cliffs and wide, blue bays. Discover ancient temples and UNESCO World Heritage sites that tell of Malta's storied past, and indulge in the local wines, oils and cheeses that have refreshed visitors to the island for centuries.

Journey Pace: Active

Peruvian Amazon Cruise

Travcoa
$6845
7
Details

Destinations: Lima | Iquitos | Peruvian Amazon | Pacaya National Reserve

Hotels: Miraflores Park Hotel, M/V Aria

Enjoy a gastronomical journey through Peru while cruising the mighty Amazon aboard the M/V Aria. In Lima, in addition to touring the highlights of this colonial landmark city, enjoy lunch at the renowned Astrid y Gaston Restaurante, followed by a privately guided tour of the Larco Herrera Museum. Next, spend four nights exploring one of the world's last unspoiled rain forest habitats, the Pacaya Samiria Reserve. View an incredible variety of exotic wildlife species, including the pink Amazon River dolphin, herons, caimans and monkeys, while you cruise in luxury and style aboard the M/V Aria. Enjoy the delicious and unique cuisine of Executive Chef Pedro Miguel Schiaffino while on board.

Journey Pace: Active

Sacred Waters Of Lake Titicaca

Travcoa
$3795
7
Details

Explore Southern Perú – a scenic region surrounded by volcanoes and rich in Spanish and Mestizo culture. Tour Arequipa, the 'White City,' whose pale sillar stone buildings are striking against the towering El Misti volcano. Explore the city's medieval monastery, baroque-style church and impressive Arequipa Cathedral. Travel through the indigenous craft communities around Lake Titicaca and visit Taquile and Uros, ancient islands where the proud residents still communicate in the Quechua language of the Inca. In Lima, examine pre-Hispanic treasures of gold, clay and cloth at the Gold Museum, and indulge in Peruvian fruit flavors at local markets and specialty juice bars.

Tasmania, Authentic By Nature

Travcoa
$11140
7
Details

Destinations: Launceston | Cradle Mountain | Freycinet National Park | Tasman Peninsula | Hobart

Hotels: Cradle Mountain Lodge, Saffire, MACq01 Hotel

In Tasmania, encounter breathtaking scenery at every turn. Explore the glacial peaks and lakes at Cradle Mountain, and wander the cliff top trails at Freycinet National Park. Get up close and personal with the legendary Tasmanian devil at a beautiful reserve, and meet other indigenous animals at Bonorong Wildlife Park, including kangaroos, koalas and echidnas. Uncover the island's rich tapestry of history with visits to colonial homesteads, Coal River Valley vineyards and the convict settlements at Sarah Island and Port Arthur.

Journey Pace: Active & Challenging

Venice & Lake Como: Italy

Travcoa
$9445
7
Details

Destinations: Venice | Lake Como | Lugano | Lake Maggiore

Hotels: Sina Centurion Palace, CastaDiva Resort & Spa, Hotel Villa e Palazzo Aminta

Visit exquisite Venice and explore quaint alleyways and historic bridges as you listen to the echoes of its exotic history. Enjoy a full-day walking tour of this Renaissance city, learning the fascinating tales behind its architectural icons and great works of art, such as the Doge's Palace, Rialto Bridge and Saint Mark's Basilica. Next, immerse yourself in the la dolce vita, and spend four days exploring the stunning gardens, estates and scenery of the famous Lake District. This captivating setting features royal hideaways, gardens and stunning vistas. Savor four nights on the shores of beautiful Lake Como and Lake Maggiore.

Journey Pace: Active

Divine Bhutan

Travcoa
$7195
8
Details

Destinations: Thimphu | Phobjikha Valley | Punakha | Paro

Hotels: Zhiwa Ling Ascent, Gangtey Goenpa Lodge, Uma by COMO, Zhiwa Ling Hotel

Visit the kingdom of Bhutan to discover the unique, spiritual atmosphere that sets this country and its people apart. Travel through mystical, mountainous terrain that reveals breathtaking views, enchanting architecture and incredible cliffside dwellings. Hike to the "Tiger's Nest" monastery 3,000 feet above Paro. Gain deep insight into the country's Buddhist philosophy. Meet the gracious Bhutanese people on visits to a local school and ancient temples. On this eight day private journey, experience the culture and heritage of a people whose traditional lifestyle has remained unchanged for decades.

Journey Pace: Active & Challenging

Iconic England & Wales

Travcoa
$9595
8
Details

Destinations: London | Bath | The Cotswolds | Snowdonia National Park | Chester | Chatsworth | Manchester

Hotels: The Stafford, The Royal Crescent, Lake Vyrnwy Hotel, Bodysgallen Hotel, The Cavendish Hotel

From the iconic sites of London to tranquil mountain tops, discover the culture and charm of England and Wales. Enjoy an enriching day of history at Westminster Abbey, the Tower of London and other historic landmarks. Relish the beauty of the Cotswolds and Wye Valley as you drive through lush, verdant hillsides dotted with jewel-like lakes, stopping to explore ancient ruins, medieval castles and Georgian homes. Admire the surprising scenery of Northern Wales, with its steep valleys, colorful terraced gardens and rocky spurs that soar above sand dunes. Travel back in time, exploring hidden caves, Iron Age forts and delightful Tudor villages in the Peak District of central England.

Journey Pace: Active

Passionate Portugal

Travcoa
$9345
8
Details

Destinations: Porto | Obidos | Lisbon | Sintra | Cascais |Evora

Hotels: Yeatman Hotel, Olissippo Lapa Palace

Portugal delivers a variety of unique cultural encounters within a single journey. Marvel at Lisbon's 16th-century medieval city center and monuments, and enjoy visits to grand palaces, towering cathedrals and iconic churches. Relish in the cultural and culinary delights unique to the country. Tour gothic Porto, cruise the Douro River and taste the region's delicious port wine. Explore historic landmarks and UNESCO World Heritage sites, and immerse yourself in the charming villages of Obidos and Evora. Classical cities mingle with age-old vineyards and a sparkling coastline on this magical eight-day adventure.

Journey Pace: Active

Red Sands Of Namibia

Travcoa
$9390
8
Details

Destinations: Windhoek | NamibRand Nature Reserve | Sossusvlei | Damaraland

Hotels: Wolwedans Dunes Lodge, Sossusvlei Desert Lodge, Mowani Mountain Camp, The Olive Exclusive Boutique Hotel

Namibia is a land of open spaces, stunning vistas and unbridled wonder. Watch the sun rise dramatically over the desert dunes and set gently over canyons. Explore the NamibRand Nature Reserve, set in the oldest desert in the world. Tour its breathtaking scenery of shifting sands, towering dunes and stony outcrops on guided walks and quad-bike safaris. Spot herds of antelopes and gazelles and a variety of bird species. In the wilderness of wind-eroded Damaraland, search for elephants, gemsboks, springboks, lions, cheetahs and rare black rhinos. View the mile-long Sesriem Canyon and see the fascinating ancient Twyfelfontein rock engravings, Namibia's first UNESCO World Heritage site.

Journey Pace: Active & Challenging

Transcendent Nepal

Travcoa
$4070
8
Details

Destinations: Kathmandu | Patan | Pokhara | Chitwan National Park | Bhadgaon

Hotels: Dwarika's Hotel, Mala Lodge, Taj Meghauli Serai

Celebrate the beauty and resilience of Nepal, a country filled with centuries-old temples and lush, vibrant jungles. In Kathmandu, view an array of ornate temples, then travel outside the city to discover primitive Newari villages that exist very much as they did in the 7th century. Embark on a flightseeing journey above the mighty Himalayan peaks, and enjoy an incredible glimpse of Mt. Everest from the air (weather permitting). Explore the Pokhara Valley to visit ancient villages, canoe down the peaceful Rapti River and hike amid spectacular Himalayan views. Visit Tharu villages and relish two days of jeep and walking safaris to track leopards, tigers, monkeys and more.

Journey Pace: Active & Challenging

Antiquities Of The Dead Sea: Israel And Jordan

Travcoa
$6845
9
Details

Destinations: Tel Aviv | Jerusalem | Eliat | Wadi Rum | Petra | Amman | Dead Sea

Hotels: Dan Hotel Tel Aviv, Movenpick Petra Resort, Four Seasons Hotel Amman, Kempinski Ishtar

Discover the natural beauty, extraordinary treasures and sacred sites of Israel and Jordan. Visit the moving Holocaust History Museum, then travel back in time to examine the revered riches of ancient Jerusalem. Wind through a sandstone chasm into the ancient city of Petra, carved out of towering rose-red cliffs. Explore remote Bedouin encampments, see the ancient temples and palaces in Amman, and the wonderfully preserved Greco-Roman city of Jerash. Travel the 5,000-year-old King's Highway to view the mosaic map in Madaba, and Moses' burial site on Mt. Nebo. End your journey relaxing in the buoyant waters of the Dead Sea.

Journey Pace: Active & Challenging

Colonial Mexico

Travcoa
$7695
9
Details

Destinations: Mexico City | Tetotihuacán | San Miguel de Allende | Guanajuato | Morelia | Pátzcuaro

Hotels: Las Alcobas, Rosewood, Hotel Villa Maria Cristina, Casa de La Real Aduana

Discover the architectural delights and rich artisan culture of Mexico City and the Aztec archaeological site of Teotihuacan, the largest city in pre-Columbian America. Travel to the revolution-era city of San Miguel de Allende to see Frida Khalo's lost etchings, and enjoy a hands-on class at the renowned Sazon Cooking School. Explore the colonial gems of Guanajuato and Morelia—both UNESCO World Heritage sites. Visit villages at Lake Patzcuaro, famous for its artisan culture, and Santa Clara del Cobre, known for its elaborate silver work. On this nine-day journey through the traditions and architecture of Mexico's past, you'll visit ancient ruins, elegant cathedrals, traditional casas and museums with expert local guides who bring the country's fascinating colonial history to life.

Journey Pace: Active

Highlands, Isles & Lochs: Scotland

Travcoa
$12990
9
Details

Destinations: Edinburgh | Stirling | Loch Lomond National Park | Isle of Eriska | Glen Coe | Fort William | Isle of Skye | Loch Ness | Inverness

Hotels: Balmoral Hotel, Isle of Eriska Hotel & Spa, Kinloch Lodge Hotel, Boath House Hotel

Scotland holds the ghosts of ancient kings, the shadows of hidden sea creatures, the haunting strains of a bag pipe, and the broad, lyrical brogue of the Highlands. Explore the woolen shops and tea houses along the cobbled walks of Edinburgh's Royal Mile, and try to resist the hypnotic swirl of the Isle of Eriska's enormous Corryvreckan whirlpool. Make the delightful discovery that Scottish cuisine is much more than porridge and haggis—and let that rich, smoky Scottish whisky warm your throat and your spirit as you travel the Whisky Trail.

Journey Pace: Active & Challenging

Highlights Of Iceland

Travcoa
$10540
9
Details

Destinations: Reykjavik | Vik | Höfn | Myvatn | Akureyri

Hotels: Hotel Borg, Icelandair Hotel, Fosshótel Vatnajökull, Fosshótel Myvatn, Hotel Kea

Discover the "land of ice and fire," formed by erupting volcanoes and land-carving glaciers. In Iceland, enigmas like the geothermal region of the Golden Circle and the falls of Seljalandsfoss will leave you awestruck by their beauty. View spectacular waterfalls and explore the mud flats, volcanic craters and lava fields surrounding Lake Myvatn. Discover the magnificent nature of Skjalfandi Bay on a three-hour whale watching tour. Explore Akureyri to learn about local culinary traditions on a culinary tour, followed by a boat ride to visit the small island of Hrisey, where you can taste locally sourced cod before returning to cosmopolitan Reykjavik, the world's northernmost capital.

Journey Pace: Active & Challenging

Historical Highlights Of France

Travcoa
$10990
9
Details

Destinations:  Paris | Giverny | Honfleur | Bayeux | Normandy | Saint-Michel | Saint-Malo | Blois | Loire Valley | Chambord

Hotels: Grand Hotel du Palais Royal, Hotel Villa Lara, Le Nouveau Monde, Domaine des Hauts de Loire

Immerse yourself in French culture, beginning in Paris where you ascend the Eiffel Tower, stroll the streets of Montmartre, and marvel at the collection of masterpieces in the Louvre. Explore the village of Giverny, where Claude Monet lived and painted. In Normandy, delve into the history of the D-Day invasion. Discover the beauty of the island commune and abbey of Mont Saint-Michel. Spend two full days exploring the glorious Loire Valley—staying at a regal hunting lodge while visiting castles, chateaux and wine estates—before ending your journey back in Paris.

Journey Pace: Active

Images Of Ireland

Travcoa
$9695
9
Details

Destinations: Dublin | Glendalough and Kilkenny | Cashel | Cork and Kenmare | County Kerry | Adare | Limerick and Galway | Connemara | County Clare | New-Market-on-Fergus | Shannon

Hotels: The Hotel Merrion, Mount Juliet Hotel, The Park Hotel, Ashford Castle, Dromoland Castle

Ireland will sweep you away with its lyrical vistas, elaborate castles and spirited history. View the historic Book of Kells at Trinity College in Dublin, and kiss the legendary Blarney Stone at Blarney Castle. Cork, Ireland's little Venice, will enchant you. Spend unforgettable nights in regal splendor at Ashford and Dromoland Castles. Take in the multi-colored and dramatic 700-foot vertical drop of the Cliffs of Moher, as well as the lush, rolling green hills of the country's picturesque landscape.

Journey Pace: Active

Magical Thailand: Bangkok & Chiang Mai

Travcoa
$7620
9
Details

Destinations:  Bangkok | Chiang Mai | Chiang Rai | The Golden Triangle

Hotels: Mandarin Oriental, 137 Pillars House, Anantara Golden Triangle

Experience the best of Thailand on this unforgettable adventure. After visiting Bangkok's fabulous temples, dine at one of the world's best restaurants, browse the stalls at a floating market, and learn how to make traditional banana cake. Then it's on to Chiang Mai to tour the night market, join the local monks for evening prayers, and immerse yourself in Thai cuisine during a cooking class. Cap your journey with an incredible long-tail boat expedition on the Mekong.

Journey Pace: Active

Mythical Machu Picchu: Perú

Travcoa
$5815
9
Details

Destinations: Lima | Cusco | Urubamba Valley | Machu Picchu | Cusco

Hotels: Belmond Miraflores Park, Hotel Sol y Luna, Inkaterra Machu Picchu Pueblo Hotel, Belmond Palacio Nazarenas

From the rich culture of Lima to the ancient Incan traditions of the Urubamba Valley and the historical importance of Cusco, your journey builds until you reach the heights of these mesmerizing legends that live in the mists of Machu Picchu. Lima is home to several extensive collections of pre-Columbian art. Explore the ancient Inca capital of Cusco and the archeological ruins that lay in the nearby "Sacred Valley," alive with colorful markets and local craftsmen. Enjoy a scenic train journey to "The Lost City of the Incas," where the 15th-century ruins of Machu Picchu come to life as your guide regales you with colorful legends.

Journey Pace: Active & Challenging

Polish Odyssey

Travcoa
$6445
9
Details

Destinations: Gdansk | Warsaw | Krakow | Zakopane

Hotels: Radisson Blu, Mamaison Le Regina, Hotel Stary

In Poland, the strength and beauty of the past blends gracefully with the magnetic energy that defines this modern nation. See the towering spires and parapets of the country's breathtaking cathedrals and churches alongside great icons and monuments that persist across time, despite political upheaval and shifting societies. Discover architectural gems and explore the impressive musical ancestry of Chopin. Explore the amazing Wieliczka Salt Mines; created in the Middle Ages, these mines are a labyrinth of almost 200 miles of underground chambers and galleries with lakes, chapels and intricate salt sculptures. From Gdansk to Warsaw, and from Krakow to Auschwitz, uncover a fascinating history and an enduring Polish spirit.

Journey Pace: Active

Scandinavian Capitals

Travcoa
$11440
9
Details

Destinations: Helsinki | Stockholm | Oslo | Copenhagen

Hotels: Hotel Lilla Roberts, Lydmar Hotel, The Thief Hotel, D'Angleterre Hotel

Finland's Helsinki is a surprising blend of the neoclassical and modern—with architecture ranging from 19th-century palaces to hand-quarried stone churches and the sleek, contemporary Finlandia Hall. Immerse yourself in the local gastronomy on a private culinary experience. In Sweden, Stockholm's waterways are traversed by a web of bridges, which you will observe by land, sea and air. Explore Oslo, Norway, a captivating city showcasing a wide array of regal art. Finish the journey in Copenhagen viewing castles and take a trip to the Northern Sealan.

Journey Pace: Active

Switzerland's Alpine Delights

Travcoa
$10990
9
Details

Destinations: Zürich | Stanserhorn | Lucerne | Brienz | Zermatt | St. Moritz | Ascona

Hotels: Hotel Schweizerhof SUI, Mont Cervin Palace, Kempinski Grand Hotel des Bains, Hotel Giardino

Discover majestic Switzerland with its scenery of imposing mountains, dramatic gorges, lush valleys and dense forests. Ride the funicular up the iconic Stanserhorn Mountain and breathe the cleansing, crisp mountain air. Take cogwheel trains and funiculars to the incredible heights of Gornergrat, Muottas Muragl and the Stanserhorn. Tour the medieval castles of Bellinzona, the Renaissance churches and bridges of Lucerne and the charming village of Brienz, with its iconic wood chalets. Ride the Glacier Express over the "Roof of Europe," and cruise Lake Lugano as you explore the picturesque Verzasca Valley. Revel in the alpine beauty of Switzerland and return home rejuvenated by the country's exhilarating landscapes.

Journey Pace: Active

Timeless Tibet

Travcoa
$4735
9
Details

Destinations: Beijing, Chengdu or Shanghai | Lhasa | Gyantse | Xigatse

Hotels: Waldorf Astoria Beijing, Ritz Carlton Chengdu or Fairmont Peace Hotel Shanghai, Shangri-La Hotel, Gyantse Hotel, Qiamulangzong Hotel

Fly into China to obtain your visa before departing to discover the mysteries of the formerly forbidden kingdom of Tibet. In Lhasa, explore the fantastic Potala Palace and see the most precious sacred object in Tibet, the Sakyamuni Buddha in the Jokhang Temple. Embark on a spectacular drive through mountain passes to the cities of Gyantse and Xigatse where you will trace the story of Buddhism in Tibet at monasteries and temples. Return to Lhasa to visit the dramatic Drepung Monastery, nestled against a sheer cliff, as well as the beautiful Norbulingka, the former summer palace of the Dalai Lama.

Journey Pace: Active & Challenging

Uncharted Tanzania

Travcoa
$8795
9
Details

Destinations: Dar es Salaam | Ruaha National Park | Selous National Park | Zanzibar

Hotels: Sea Cliff Hotel, Jongomero Camp, Siwandu Camp, Baraza Resort & Spa

Travel through Tanzania's picturesque landscape and discover the hidden gems of this amazing country. Witness an incredible abundance of wildlife as you embark on a safari along the remote dry riverbeds of Ruaha National Park, including hundreds of different bird species. Track elephants, giraffes, lions and leopards in the complex eco-system of the Selous Game Reserve. Stroll the narrow streets of Zanzibar's Stone Town, and visit a spice garden, taking in aromatic spices originally introduced to Zanzibar by the Portuguese. Set off by boat for Prison Island, where you can spot native marine life as you snorkel in the crystal clear waters.

Journey Pace: Active & Challenging

Undiscovered South Korea

Travcoa
$6895
9
Details

Destinations: Seoul | Gyeongju | Busan  | Jeju | DMZ

Hotels: Four Seasons Hotel Seoul, Gyeongju Hilton, Park Hyatt Busan, The Shilla Jeju

Experience everything South Korea has to offer, from the 24-hour excitement of Seoul to the peaceful gardens of Jeju Island. Take in the sights and wonders of Gyeongbok Palace and see the Royal Guard Changing Ceremony while in Seoul, then discover the pristine majesty of the Korean countryside. In Gyeongju, explore Sugguram Grotto, one of Asia's finest Buddhist shrines, and the 8th-century Bulkuksa Temple. Delve into ancient Korean culture on Jeju Island as you experience Sunrise Peak, the Women Diver's Museum and Seongup Folk Village. Enjoy time-honored ceremonies, beautiful scenery and exciting adventures on this nine-day journey through an exquisite landscape.

Journey Pace: Active

Classical Greece

Travcoa
$11140
10
Details

Destinations: Athens | Delphi | Nafpaktos | Olympia | Mani | Mystras | Nafplio | Mycenae | Epidaurus | Piraeus |Hydra

Hotels: Electra Palace Hotel, Nafs Hotel, Kyrimai Hotel, Grande Bretagne, Cotommatae Mansion

Greece offers a captivating look into a storied civilization full of ancient wonders and extraordinary beauty. Visit the magnificent archaeological sites of the Acropolis, Delphi, Mystras and Mycenae, and admire an amazing variety of architecture—from Roman to Byzantine to Ottoman. Traverse the Peloponnesian coast, and sample the flavors of Greek olives, olive oil and wine. Explore Ancient Olympia, birthplace of the Olympic Games, and relish the sunshine, beauty and lively culture in Hydra and Athens on this ten-day journey through the birthplace of democracy.

Journey Pace: Active

Crossroads Of Israel

Travcoa
$8895
10
Details

Destinations: Tel Aviv | Haifa | Tiberias | Masada | Bethlehem | Jerusalem

Hotels: Dan Hotel Tel Aviv, Dan Carmel Haifa Hotel, Scots Hotel, King David Jerusalem

Sacred to three of the world's major religions, Israel is a fascinating crossroads of cultures. Drive along the azure Mediterranean Sea to visit the Roman ruins in Caesarea and beautiful Mount Carmel in Haifa. Explore sacred sites in Nazareth and Tiberias, and take a boat ride across the Sea of Galilee. In the south, visit the caves in Qumran where the Dead Sea Scrolls were found, and historic Masada at the edge of the Judean Desert. Enjoy four days exploring the riches of Jerusalem, including the Mount of Olives, the Western Wall and the Stations of the Cross. Finally, tour the sites of modern history at the Knesset and the moving Holocaust History Museum at Yad Vashem.

Journey Pace: Active

Flavors Of Colombia

Travcoa
$5920
10
Details

Destinations: Bogotá | Zipaquirá | Armenia | Filandia | Cartagena | Rosario Islands

Hotels: Four Seasons Bogotá, Hacienda Bambusa, Sofitel Legend Santa Clara

Colombia offers a world rich in artistry, history, natural beauty and delectable cuisine. In Bogotá, view a world-renowned collection of pre-Hispanic art, and explore Zipaquirá's fascinating underground salt cathedral. Travel to the Andean village of Armenia to experience the abundant coffee plantations, and savor the Caribbean flavors of Cartagena. Explore the Rosario archipelago, a national park featuring clear water, sandy beaches and perhaps the most beautiful coral reef in the Caribbean.

Journey Pace: Active

Imperial Vietnam

Travcoa
$6545
10
Details

Destinations:  Hanoi | Halong Bay | Danang | Hue | Hoi An | Ho Chi Minh City

Hotels: Sofitel Legend Metropole, Bhaya Legend, Four Seasons Resort The Nam Hai, La Residence Hotel and Spa, Park Hyatt Ho Chi Minh City

From the mystical karsts of Halong Bay to the buzzing roundabouts of Ho Chi Minh City, this journey travels down Vietnam's varied coast to explore the impressive history and the dynamic future of one of Southeast Asia's most vibrant countries. The nation's 54 ethnic groups, most of whom live in remote areas, follow age-old customs, including a deep-seated tradition of hospitality. Observe the plethora of craftsmen and sellers in Hanoi's Old Quarter, and visit the ancient agricultural village of Duong Lam, founded 1,200 years ago. Enjoy a private boat excursion on mystical Halong Bay and laugh alongside local children at the famed water puppet show in Hanoi. From culinary arts to musical traditions, delve deep into this fascinating culture on a ten-day journey through Vietnam.

Journey Pace: Active

Impressions Of Italy

Travcoa
$10890
10
Details

Destinations:  Venice | Florence | Tuscany | Rome

Hotels: Sina Centurion Palace, Hotel Golden Tower, Castello Banfi, Palazzo Manfredi

Discover the Italy that has enchanted generations, from the charming canals of Venice to the stunning art of Florence and the romance of the Tuscan landscape. Begin your journey in Venice, the "City of Canals," and learn the history and legends behind the city's architectural icons. In Florence, experience the creative charge of the Renaissance as you gaze at the works of artistic masters such as Botticelli and Michelangelo. Revel in "la dolce vita" lifestyle as you sample world-famous wines and relax at a lush Tuscan estate. In Rome, relive the glory of the Roman Empire and explore the ancient Coliseum, resplendent Saint Peter's Basilica and the awe-inspiring Sistine Chapel.

Journey Pace: Active

India's Rajasthan

Travcoa
$7120
10
Details

Destinations:  Delhi | Agra | Jaipur | Udaipur

Hotels: The Imperial, Oberoi Amarvilas, Taj Rambagh Palace, Oberoi Udaivilas, Oberoi Gurgaon

Journey to Rajasthan—legendary home to princes, pageantry and incredible opulence. Discover the ancient and modern sights of New and Old Delhi, including the National Museum. See the Taj Mahal from your deluxe hotel room in Agra and tour the mausoleum in the lovely late afternoon light. Visit the magnificent Amber Fort in Jaipur, India's "Pink City" and the capital of Rajasthan. In the lake city of Udaipur, savor a sunset over royal palaces on a private cruise on serene Lake Pichola. Experience the best of Rajasthan in royal fashion on this extraordinary ten-day private journey.

Journey Pace: Active

Kingdom Of Sicily

Travcoa
$12490
10
Details

Destinations: Palermo | Monreale | Cefalù | Segesta | Erice | Agrigento | Siracusa | Ragusa | Taormina | Mt. Etna

Hotels: Grand Hotel Villa Igiea, Grand Hotel Villa Athena, Eremo della Giubiliana Hotel, Belmond Grand Hotel Timeo

Throughout the centuries, Sicily has enticed explorers to its shores, resulting in an eclectic blend of North African, Arab and Mediterranean traditions. On an all-encompassing tour, discover the multifaceted heritage of this exquisite island reflected in the spirit of its towns and villages, each unique and full of character. Explore ancient temples and stunning Baroque churches, and admire the varied island topography, from terraced hillsides to salt flats to the heights of Mt. Etna. Indulge in the flavors of the Sicilian table as you savor local olives, almonds, wine, cheese and chocolate. The history, cuisine and culture of this sun-drenched island is sure to seduce those who take this unforgettable journey.

Journey Pace: Active

Legends Of The Russian Czars

Travcoa
$10690
10
Details

Destinations: Moscow | Suzdal | St. Petersburg

Hotels:  Four Seasons Hotel Moscow, Art Hotel Nikolaevsky Posad, Four Seasons Lion Palace

The colorful cathedrals and palaces of the czars await your exploration of Russia's varied history. Visit the Hermitage, created by Catherine the Great, which houses one of the world's greatest art collections, including works that few in the West have seen. Stand in Red Square and take in the grandeur of St. Basil's Cathedral, built to mimic a bonfire rising towards the sky. Experience the carefully preserved serenity of Suzdal. This medieval village is home to the Cathedral of the Nativity which houses remarkable frescoes from the 13th and 17th centuries.

Journey Pace: Active

Remarkable Japan

Travcoa
$16440
10
Details

Destinations: Tokyo | Hakone | Shibu Onsen | Kyoto | Nara

Hotels: Palace Hotel Tokyo, Hyatt Regency Resort & Spa Hakone, Kokuya Ryokan, Ritz Carlton Kyoto

Captivating history and impressive sights abound on this journey through the "Land of the Rising Sun." Explore vibrant Tokyo and pay an unforgettable visit to an owl café. Drive to Hakone, where you will visit the Open Air Museum and cruise scenic Lake Ashinoko. Spend two nights relaxing in the spa town of Shibu Onsen and visiting the convivial macaques of Jigokudani Park. Next, travel first-class aboard the famed bullet train bound for Kyoto to discover its renowned Geisha District, and enjoy an excursion to the UNESCO World Heritage site of Nara, with a visit to the enchanting Nara Park.

Journey Pace: Active

Southern Africa Explorer: Botswana & Zambia

Travcoa
$15240
10
Details

Destinations: Johannesburg  | Okavango Delta  | Moremi Wildlife Reserve | Chobe National Park | Victoria Falls

Hotels: Saxon Hotel, Belmond Eagle Island Lodge, Belmond Khwai River Lodge, Chobe Game Lodge, Victoria Falls Hotel

In Africa, the dignity of humanity and the grandeur of nature live side by side, creating dramatic contrasts and unique encounters. From Johannesburg, travel to Botswana's famed Okavango Delta, staying at a luxury tented-camp to watch wildlife along the Khwai River. Embark on a guided walking safari, or navigate the vast floodplains in a mokoro, a dugout canoe, (seasonal) before transferring to Moremi Game Reserve, known for its large concentration of mammals, including elephant, lion, leopard and cheetah. In Chobe National Park, view herds of elephants and buffalos, and watch for the elusive big cats that hunt them. Your last stop is at magnificent Victoria Falls— take a guided walk along the edges of the falls to view the thundering cascades from above.

Journey Pace: Active & Challenging

Temples Of Bali & Java: Indonesia

Travcoa
$8025
10
Details

Destinations: Ubud |  Seminyak | Yogyakarta | Borobudur

Hotels: Mandapa Ritz Carlton Reserve, The Legian Bali, Amanjiwo Resort

Experience the exotic island nation of Indonesia as you sample the pleasures of Bali and Java. In Bali, delve into one of the world's most enchanting cultures and experience the island's highly developed arts, dance, sculpture, painting and music. With more than 20,000 temples, spirituality infuses every aspect of daily life. In Java, discover the wonders of these ancient temples, and get a firsthand look at the beautiful craftsmanship of local artisans as they invite you into their own homes and workshops.

Journey Pace: Active

Villages & Vineyards Of France

Travcoa
$12140
10
Details

Destinations:  Paris | Vezelay | Beaune | Lyon | Avignon | Alpilles Villages | Luberon and Chateauneuf-du-Pape | Aix en Provence | Nice | Eze | Monaco

Hotels:  Grand Hotel du Palais Royal, Hotel Le Cep, La Mirande, Hotel La Perouse

From the intimate, sweeping beauty of Paris through the vineyards of Burgundy, this journey is designed to expand your palate and inspire your lifestyle. Explore countryside villages with cobblestone streets and quaint markets, and learn the art of wine-making at its finest in the iconic vineyard regions of Burgundy and Provence. Soak in the glamor of the French Riviera and discover the charms of the small country of Monaco. Your journey will finish in tranquil Nice, allowing you to reflect on the natural beauty and intrigue found along the way.

Journey Pace: Active

Ancient Treasures Of The Mekong: Vietnam & Cambodia

Travcoa
$8325
11
Details

Destinations: Ho Chi Minh City | Mekong River Cruise | Phnom Penh | Siem Reap | Angkor Wat

Hotels: Park Hyatt Ho Chi Minh City, M/V Aqua Mekong, Sofitel Phnom Penh Phokeethra, Sofitel Angkor Phokeethra Golf & Spa Resort

Explore the mystique, heritage and history of the Mekong River. From the busy bustle of Ho Chi Minh City to the serene stillness of the jungleentwined temples of Ta Prohm, this is a land of energy and enigma. Discover Cambodia's culture, visiting the temples, palaces and pagodas of Phnom Penh. Spend four days experiencing life on the Mekong River— explore floating markets and local villages, and meet the fascinating people who call the river home. Their simple life stands in stark contrast with the grand temples of Angkor—the most beautiful and expansive display of ornate Khmer art and architecture in the world.

Journey Pace: Active

Colors Of Morocco

Travcoa
$9245
11
Details

Destinations:  Casablanca | Rabat | Fes | Sahara Desert | Ouarzazate | High Atlas Mountains | Marrakech

Hotels: Hotel Villa Mandarine, Riad Fes, Private Desert Encampment, Dar Ahlam, Kasbah Tamadot, Villa des Orangers

Situated at the crossroads of Europe and Africa, Morocco is a land where camels roam the dunes, the call to prayer echoes across rooftops and aromatic spices invigorate the senses. From the ancient cities of Casablanca and Marrakech to the High Atlas Mountains, visit Roman ruins and tour ornate mosques and opulent palaces. Investigate intriguing marketplaces and maze-like medinas in Rabat, Meknes and Fes, where the wares of weavers, coppersmiths and other artisans serve as background for captivating jugglers, hypnotic storytellers and daring sword-swallowers. Meet the Berber people and experience the desert lifestyle, including a camel ride to witness the sun rising over the dunes of the Sahara.

Journey Pace: Active

Costa Rica Adventure

Travcoa
$6045
11
Details

Destinations: San Jose | Turrialba | Tortuguero | Arenal | Guanacaste

Hotels: Marriott Costa Rica Hotel, Casa Turire, Manatus Lodge Hotel, Tabacón Grand Spa, J. W. Marriott Guanacaste Resort & Spa

Immerse yourself in Costa Rica, a peaceful and protected land full of natural wonders on the Central American isthmus. Embark on a leisurely rafting trip and traverse hanging bridges through the rain forest as you explore this lush country from Atlantic to Pacific oceans. Discover the canals and wetlands of Tortuguero on a private guided boat tour through Ca.o Palma Wildlife Reserve, and visit Tortuguero National Park to spot local wildlife such as the ghost monkey, tapir and egrets, and the elusive ocelot, cougar and jaguar. Enjoy a coffee tasting and tour of Espirtu Santo Coffee Plantation and try your hand at making tortillas during a cooking class. Your adventure comes to a relaxing close at a tranquil beachside resort in Guanacaste. 

Journey Pace: Active & Challenging

Cradle Of Mankind: Ethiopia

Travcoa
$5745
11
Details

Destinations: Addis Ababa | Bahir Dar | Simien Mountains | Gondar | Lalibela | Axum

Hotels: Sheraton Addis, Kuriftu Resort and Spa, Simien Lodge, Mayleko Lodge, Maribela Hotel, Sabean International Hotel

Your journey through the "cradle of mankind" begins and ends in Addis Ababa, where a visit to the Ethnological Museum reveals Ethiopia's ancient history. View the fossilized remains of three million- year-old Lucy, experience the thunder of Blue Nile Falls and imagine the glory of the Queen of Sheba in the ruins of her palace. Visit the rock-hewn churches of Lalibela and the monuments of Axum, ancient capital of Ethiopia. Admire the Simien Mountains and travel through lush plateaus, rust-colored canyons, valley lakes and meadows, keeping an eye out for endemic gelada baboons. Marvel at some of mankind's earliest monuments as you travel to the very beginnings of human civilization.

Journey Pace: Active & Challenging

Darwin's Galápagos: Ecuador

Travcoa
$9345
11
Details

Destinations: Quito | Galápagos Islands | Guayaquil

Hotels: Casa Gangotena, M/Y Grace, Hotel Del Parque

Visit colorful, vibrant Quito before embarking on an extraordinary seven-day Galapagos Islands cruise aboard the beautiful M/Y Grace. Explore Darwin's "enchanted islands" accompanied by an onboard naturalist guide, and observe an amazing variety of wildlife and countless fish and bird species. Snorkel with sea lions and observe flightless cormorants, so unthreatened by predators that they have lost the ability to fly. Observe endemic birds like the blue-footed booby and other animals found nowhere else on Earth. End your journey with an exploration of the city of Guayaquil on Ecuador's mainland.

Journey Pace: Active & Challenging

Friendly Lands Of Myanmar

Travcoa
$6275
11
Details

Destinations: Yangon | Bagan | Irrawaddy River | Mandalay | Heho | Inle Lake | Indein

Hotels: The Strand Hotel, Aureum Palace Hotel & Resort Bagan, Anawrahta, Mandalay Hill Resort, Aureum Palace Hotel & Resort Inle Lake

From the gleam of the golden Shwedagon Pagoda to the temples of Bagan and its colorful markets laid in artistic precision, Myanmar offers a glimpse of a bygone era. Soar above the temple plain of Bagan on a magical hot-air balloon excursion. Experience the beautiful simplicity of Inle Lake's floating villages while you receive blessings from local priests. Gaze upon the fabled temples of ancient kingdoms and marvel at their golden stupas and mosaic artwork. Step back in time on a journey like no other—and be enchanted by the sights, sounds, tastes and, most of all, the people of Myanmar

Journey Pace: Active

Galápagos & Andes Safari: Ecuador

Travcoa
$10890
11
Details

Destinations: Quito | Mashpi | Galapagos Islands | Andes Mountains

Hotels: Casa Gangotena, Mashpi Lodge, Galápagos Safari Camp, Hacienda Zuleta

Ecuador is home to one of the planet's true natural paradises—the Galapagos Islands. After exploring the forested mountains of Mashpi with a naturalist guide, stay at a safari camp amid "Darwin's laboratory," and discover endemic birds and rare creatures found nowhere else on Earth. Snorkel with sea lions and observe flightless cormorants. Explore volcanic beaches, mangroves and lagoons by foot and by boat. Then return to the mainland and drive into the Andean mountains for a stay at a 17th-century colonial home. Visit High Andes habitats and see volcanic mountains painted with verdant forests and aquamarine crater lakes. Hike, horseback ride or mountain bike along the Condor- Huasi route to view ancient pre-Incan pyramids, and learn about the endangered Andean condor.

Journey Pace: Active & Challenging

Jungles Of Borneo

Travcoa
$6345
11
Details

Destinations: Kuala Lumpur | Kuching | Batang Ai | Sandakan | Sukau | Kota Kinabalu

Hotels: Shangri-La Kuala Lumpur, Pullman Hotel Kuching, Aiman Batang Ai Resort, My Nature Resort, Sukau Rainforest Lodge, Shangri-La Rasa Ria Resort

Located off the coast of Southeast Asia, the rugged island of Borneo is home to some of the world's most diverse rain forests and rare wildlife. Drive through the colorful Brickfields, one of the oldest Indian settlements in the country. See the diversity in Kuala Lumpur with visits to the Batu Caves and the Petronas Twin Towers. Unwind on a private sunset cruise as you get a close-up view of traditional life along the river. Hike through lush, native foliage as you search for the wild orangutans, found only in the rain forests of Sumatra and Borneo.

Journey Pace: Active & Challenging

Seductive Spain

Travcoa
$11790
11
Details

Destinations: Madrid | Cordoba | Granada | Ronda | Seville | Barcelona |Girona

Hotels:  Hotel Villa Magna, Palacio de Santa Paula, Alfonso XIII, El Palace Hotel

Explore the land of romance, tapas and flamenco on this enchanting journey through Spain. Begin with an escorted walking tour of Madrid and delve into the world-famous collection of the Prado Museum. Heading south, experience the wonders of sun-kissed Andalusia in Cordoba, with its magnificent mosque, and the white city of Ronda. Discover imperial Toledo, the Alhambra Palace in Granada, and the cobbled streets of historic Seville, where you can explore some of the best tapas spots in the city with the help of a local. End your journey by indulging in cosmopolitan Barcelona, with its vibrant art, architecture and culinary culture.

Journey Pace: Active

Ageless China

Travcoa
$6395
12
Details

Destinations: Beijing | Xi'an | Chengdu | Yangtze River Cruise | Shanghai

Hotels: Peninsula Hotel, Sofitel Legend, The St. Regis, Century Paragon or Legend, Fairmont Peace Hotel

China is home to one of the world's oldest civilizations and some of its most spectacular sights lie in its Middle Kingdom. Discover the Forbidden City in Beijing with an expert local guide. Then explore the narrow streets of "Old Town" on a special rickshaw excursion. Ascend via gondola to a less-visited section of the majestic Great Wall. In Xi'an, take a tour of the tomb of Emperor Qinshihuang and his Terracotta Warriors. Glide through the Yangtze River's Three Gorges aboard a deluxe ship. Indulge in luxurious accommodations and world-class dining in cosmopolitan Shanghai. Discover the vibrant traditions that have nurtured this vast nation for thousands of years.

Journey Pace: Active

Arabian Odyssey

Travcoa
$12190
12
Details

Destinations: Dubai | Al Maha Desert | Al Ain | Abu Dhabi | Muscat | Gulf of Oman | Doha

Hotels: One&Only Royal Mirage, Al Maha Desert Resort, St. Regis Saadiyat Island Resort, The Chedi Hotel, Four Seasons Hotel Doha

Travel into the mystical lands of the Arabian Peninsula, where sparkling cosmopolitan cities rise from golden desert dunes. Take in spectacular views from Dubai's Burj Khalifa, currently the tallest building in the world. Visit Al Ain, a UNESCO World Heritage site dating back to the 4th millennium BC. In Abu Dhabi, marvel at the opulence of the Sheikh Zayed Grand Mosque, then drive along the seaside Corniche to Emirates Palace. Explore the white-walled city of Muscat, and embark on a scenic cruise on the Arabian Sea. Admire the masterpieces at the Museum of Islamic Art in Doha, and close out your adventure with a thrilling jeep ride through desert dunes.

Journey Pace: Active & Challenging

Land Of Contrasts: Chile

Travcoa
$8570
12
Details

Destinations: Valparaiso | Casablanca Valley | Santiago | Patagonia | San Pedro de Atacama

Hotels: Casa Higueras, Lastarria Boutique Hotel, Tierra Patagonia, Tierra Atacama

From the magnificent vistas of Patagonia to the vast expanse of the Atacama, Chile is a land of extremes. Start your journey in the cultural capital of Valparaiso, then tour the vineyards of the renowned Casablanca Valley. Explore centrally located Santiago, the country's vibrant capital, before flying south to Patagonia to discover the beauty of lush Torres del Paine National Park, viewing majestic glaciers, deep turquoise lakes and turbulent waterfalls. Head north to remote San Pedro de Atacama and spend two days investigating this oasis in the high desert by vehicle, mountain bike or on foot—including the stark Valley of the Moon and the incredible rock carvings at Yerbes Buenas.

Journey Pace: Active & Challenging

Paradise Uncovered: Philippines

Travcoa
$6370
12
Details

Destinations: Manila | Taal | Corregidor Island | Bohol | Cauayan Island

Hotels: Raffles Makati, Amun Ini Beach Resort, Cauayan Beach Resort

Immerse yourself in the island paradise of the Philippines. Begin in the vibrant capital of Manila, home to ornate palaces, venerated churches and the world's oldest Chinatown. Ascend the slopes of the Taal Volcano to discover the hidden crater lake at its summit. After a day trip to Corregidor Island, where World War II history comes alive, fly to the island of Bohol to explore its rice terraces, dense forest and rolling hills. End your travels in the tropical wonderland of Cauayan Island with its breathtaking lagoons and mangrove forests.

Journey Pace: Active & Challenging

Verdant New Zealand

Travcoa
$15415
12
Details

Destinations: Auckland | Rotorua | Palliser Bay | Blenheim | Queenstown | Milford Sound

Hotels: Sofitel Auckland Viaduct Harbour, Black Swan Lakeside Boutique Hotel, Wharekauhau Lodge, The Marlborough Lodge, Eichardt's Private Hotel

Discover the spectacular natural landscapes of New Zealand. Begin in Auckland, where you can help sail an America's Cup yacht or explore the city's hidden treasures. Board a ferry for a short trip to Waiheke Island with its olive groves and vineyards. Immerse yourself in the culture of the Maori, New Zealand's indigenous people. On the South Island, cruise the islands of Queen Charlotte Sound, trace the history of aviation, and sample acclaimed wines at beautiful wineries before heading to Queenstown, where you will helicopter to Milford Sound, take a scenic gondola ride and experience a thrilling zip-line adventure.

Journey Pace: Active & Challenging

Adriatic Adventure: Croatia, Slovenia & Montenegro

Travcoa
$12690
13
Details

Destinations: Zagreb | Ljubljana | Bled | Bohinj | Bale | Istria | Plitvice Lakes | Zadar | Trogir | Split | Hvar | Pakleni Islands | Dubrovnik | Konavle | Montenegro

Hotels: Esplanade Hotel, Grand Hotel Toplice, Villa Meneghetti Hotel, Bastion Hotel, Park Hotel, Excelsior Hotel

Discover medieval towns and celebrated cities on your journey through three culturally rich Balkan countries. In Slovenia, tour historic Ljubljana, take a cruise on scenic Lake Bled, and explore the idyllic alpine valley of Bohinj. Slow down to savor the unique flavors of the Istria Peninsula, aptly named "Croatian Tuscany." Stroll through Croatia's capital city of Zagreb, discover the Roman ruins in Split, and relish the colorful charm of Dubrovnik—crown jewel of Croatia and the Adriatic coast. Explore the waterfront villages of Boka Bay and visit the walled city of Kotor in Montenegro. Uncover natural beauty and enriching histories on this fascinating adventure through old-world Europe.

Journey Pace: Active

Amazing Australia

Travcoa
$12290
13
Details

Destinations: Melbourne | Adelaide | Barossa Valley | Ayers Rock | Daintree Rainforest | Sydney

Hotels: The Langham, Mayfair Hotel, Longitude 131, Silky Oaks Lodge, Shangri-La Sydney

Traverse Australia's vast landscapes to experience the country's richly nuanced Aboriginal culture, magnificent rock formations, sparkling cities and renowned vintages. Explore the lush parkland and rich history of Adelaide, and sample local wines at the award-winning wineries in nearby Barossa Valley. In Melbourne and Sydney, take in sophisticated city sights from chic shops to cathedrals, museums and galleries. In the center of Australia's red desert, marvel at the world's largest monolith at Uluru, a spiritual monument of the Ananu. A highlight of this activity-filled journey is exploring the Daintree Rainforest and the Great Barrier Reef, a UNESCO World Heritage site.

Journey Pace: Active & Challenging

Magical Madagascar

Travcoa
$4850
13
Details

Destinations: Antananarivo | Andasibe | Fort Dauphin | Ifotaka | Nosy Be

Hotels: Maison Gallieni, Vakona Forest Lodge, Mandrare River Camp, Constance Tsarabanjina

Madagascar is home to an array of unique flora and fauna, including the captivating lemur. Watch as these playful and charming primates romp and wrestle among the trees of the Spiny Forest. Their calls mingle with the squawks of exotic birds in the rain forest of Andasibe- Mantadia National Park. Track the elusive, cat-like fossa, Coquerel's sifaka and other prolific but rarely spotted species. End your visit by relaxing in Nosy Be, and explore Tsarabanjina, an idyllic island in the Mitsio archipelago.

Journey Pace: Active & Challenging

Thaicamlao Discovery

Travcoa
$7670
13
Details

Destinations: Bangkok | Chiang Mai | Luang Prabang | Siem Reap

Hotels: Mandarin Oriental, 137 Pillars House, Belmond La Residence Phou Vao, Raffles Grand Hotel d'Angkor

Thailand, Cambodia and Laos together showcase a stunning array of art, culture and history. Observe the dramatic contrast between the modern world and the timeless splendor of the temples of Bangkok. From the heights of Doi Suthep, take in panoramic views of Chiang Mai in Northern Thailand. Laos presents extraordinary opportunities for discovery, from the National Museum to the Pha Tad Ke Botanical Gardens. Explore the spectacular ancient ruins of Angkor Wat in Cambodia, and visit several hidden pagodas around Phnom Kulen.

Journey Pace: Active

The Rhythmic Charms Of South America

Travcoa
$9640
13
Details

Destinations: Rio de Janeiro | Iguassu Falls | Buenos Aires | Montevideo | Santiago

Hotels: Hotel Belmond Copacabana Palace, Belmond Hotel Das Cataratas, Alvear Art Hotel, Sofitel Montevideo Casino Carrasco & Spa, Lastarria Boutique Hotel

Succumb to the hypnotic charms of southern Latin America as you explore the best of Brazil, Argentina, Uruguay and Chile. Discover Rio de Janeiro, from its bustling streets to the lively beach culture along the coast. Enjoy stunning views as you gaze on the city from atop Sugar Loaf Mountain. Peer down on majestic Iguassu Falls during a stroll on suspended walkways. Learn the tango in elegant Buenos Aires, and discover Montevideo, the capital city of Uruguay. Your journey comes to a close in Chile, where you can toast to new experiences while tasting renowned Chilean vintages.

Journey Pace: Active

Shanghai & Beyond: China

Travcoa
$7945
17
Details

Destinations: Shanghai | Hangzhou | Guilin | Kunming | Dali | Lijiang | Zhongdian | Sanya

Hotels: Fairmont Peace Hotel, Four Seasons Hangzhou, Shangri-la Guilin, Grand Lake Hotel, Hilton Dali Resort & Spa, Lijiang Banyan Tree, Shangri-La Hotel, Banyan Tree Sanya

Travel off the beaten track in China, through a landscape dominated by bamboo and rice terraces. Visit the beautiful and historic city of Hangzhou with your guide. Let Guilin's gorgeous terrain inspire you, as it has moved poets and painters for centuries. See the UNESCO World Heritage city of Lijiang against a backdrop of the Jade Dragon Snow Mountain. From Shanghai to Sanya, experience the region's finest cuisine and luxury accommodations. Your 17-day journey comes to a close in the beach town of Sanya, where you can reflect on your adventures over a traditional tea ceremony.

Journey Pace: Active

Vibrant India

Travcoa
$10990
17
Details

Destinations: Delhi | Varanasi | Khajuraho | Agra | Ranthambore | Jaipur | Udaipur | Mumbai

Hotels: The Imperial, Taj Gateway Ganges, Lalit Temple View, Oberoi Amarvilas, Oberoi Vanyavilas, Oberoi Rajvilas, Taj Lake Palace, The Oberoi Mumbai

Discover India's vibrant blend of cultures. Tour the Taj Mahal and view the famous mausoleum in both morning and evening light. In the temple city of Khajuraho, spend a day among elaborately carved Hindu and Jain monuments. Witness the sacred rites of Hindu pilgrims performed on the banks of the Ganges in Varanasi. Search for the elusive Bengal tiger in Ranthambore National Park during daily safari game drives. In the "Pink City" of Jaipur, enjoy a visit to the spectacular Amber Fort. Explore the colonial architecture and bustling city life of cosmopolitan Mumbai. Encounter serene temples and magnificent palaces as well as rare wildlife and striking landscapes on this allencompassing journey through India.

Journey Pace: Active
Page 1 of 1 : : 100 per page