Cosmos Lite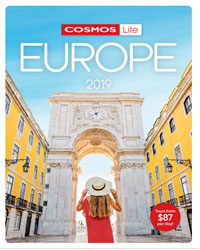 With a whole new category of touring, Cosmos Lite presents the world's first à la carte tour style. Combining the essential features of our award-winning Cosmos tours with a personalized approach to daily itineraries, Cosmos Lite offers hassle-free travel with the freedom to tailor your itinerary to your own interests, budget, and pace.
Page 1 of 1 : : 100 per page
We have at least
9

trips that match this criteria
at the lowest prices, guaranteed.
Tour
Operator
Starting At
Days

England Explorer 2019 - 7 Days From London To London

Cosmos
$899
7
Details

"This blessed plot, this earth, this realm, this England." Shakespeare might have had an adventure like this in mind when he wrote these words. On this escorted tour of England, we'll bring to life such blessed and iconic destinations, including London, Oxford, Bristol, Liverpool, and Stratford-upon-Avon. Along the way, you'll have the opportunity to discover England's legends and lore through à la carte optional excursions, ample free time, and Cosmos' guided assistance. Your Tour Director and CosmosGO app are great navigators to help you find the best eateries and sights. MyCosmos has the right optional excursions to match your favorite idea of enjoying England's hidden spots. You'll travel from London to Oxford and Cotswolds—the perfect places to experience the flavor of English real ales and fish-n-chips. You'll visit Bristol for the chance to see the street artworks of world-famous artist Banksy. Your days are free to fill with fascinating fun, such as a visit to legendary Stonehenge and Bath. Walk the humble lanes of Liverpool with two nights to explore The Beatles' beginnings and transatlantic ocean-liners history. Tread the paths of Stratford-Upon-Avon where Shakespeare was born and spent his early life. Each day of your Cosmos Lite guided tour of England is yours to create, with the free time, optional excursions, and less-traveled locales of timeless English life.

Ireland Explorer 2019 - 7 Days From Limerick To Dublin

Cosmos
$849
7
Details

Why is Ireland such a special place in the hearts and minds of travelers? Sure and begorrah, the answer is the stuff of Irish legend and lore. From Limerick to Killarney to Dublin—take plenty of free time to connect with Ireland at your own pace (with the wind at your back). Choose à la carte optional excursions on MyCosmos to help you explore the Emerald Isle, with your Tour Director's tips and your CosmosGO app keeping you on the right path to find that wee bit of Irish in us all. Your escorted vacation in Ireland with Cosmos Lite is an Irish blessing of abundant free time, optional excursions, your CosmosGO mobile app, and a hands-on Tour Director ready to assist with directions, suggestions, and local lore. Start with two nights in Limerick, known for its warm, authentic Irish personality—as well as the famed poetry of the colorful Limerick. An ideal walking city, Limerick is the perfect place to explore with your CosmosGO app to discover the sites—from castle to cathedral to museum to pub. There's an optional opportunity to visit the stunning Cliffs of Moher and the lively city of Galway. Next, set off for one of Ireland's loveliest towns, Adare, with stone buildings, thatched cottages, medieval ruins, and the real treasure—freshly baked scones. Spend two nights in Killarney—the Town in the Park—and enjoy the Irish shops, Killarney National Park, or any of your MyCosmos optional activities including the beautiful Ring of Kerry drive. Pass through the splendid scenery of the Kerry Mountains on the way to County Cork. Stop in Blarney, famous for its "Stone of Eloquence" that promises the Irish gift of gab. Share photos of your Irish adventure with your friends and family back home with your CosmosGo app so they won't think you're full of Blarney! On to the fair city of Dublin with its statue-lined O'Connell Street, Georgian squares, St. Patrick's Cathedral, and Trinity College. You'll soon discover that Dublin is as intimate as a village and friendly as your favorite pub. Walk the streets that gave us the literary works of Yeats, Beckett, and Joyce. Maybe reserve a spot on MyCosmos for a tour of the Guinness Storehouse to sample a pint of the "black stuff" or an evening of the best of Irish music, song and dance at Taylor's Irish Cabaret. Your Cosmos Lite guided tour of Ireland is packed with free time and optional excursions to make it your lucky day, every day—like a pot-o-gold to spend just as you please!

Portugal Explorer 2019 - 7 Days From Lisbon To Oporto

Cosmos
$749
7
Details

Join us for à la carte touring on your escorted vacation in Portugal—home to many of history's great explorers. With so much to see and do in this beautiful country, it's hard to imagine why anyone would leave to discover the world! From the international flair of Lisbon, to the cobblestone charm of Obidos, to the history of Coimbra, and the wine cellars of Oporto, your Tour Director will point you in the right direction to discover a new world of your own! Your escorted tour of Portugal begins in the capital city of Lisbon. Enjoy three nights in this dramatic seaside city, with lots of free time to dine, explore, and enjoy its nightlife. You can also choose an optional walking tour of the cobblestone streets, or find other excursions on MyCosmos. Travel along the Atlantic coast to stop within the medieval walls of Obidos on your way to lively Coimbra. Your CosmosGO mobile app is full of directions and recommendations for the best eateries and bars. On to the artistic city of Oporto, an artist's haven and colorful ceramic tilework to the city's famed street art and prolific graffiti. The real star of this region, of course, is its Port wine. You can reserve your space on our optional walking tour of Oporto, with lunch and wine-tasting in a local winery. Tap your CosmosGO mobile app for the best eateries and libations with optional guided tours of Portugal's colorful and culinary delights!

Scotland Explorer 2019 - 7 Days From Edinburgh To Glasgow

Cosmos
$899
7
Details

Experience the magic and mystery of the breathtaking land called Scotland as you discover its sweeping beauty from the rocky hills of Edinburgh to the Highland resort of Pitlochry, through the awe-inspiring lake country to Glasgow. Get acquainted with its rugged castles, character, and hearty cuisine to see why Scotland is the home of so many originals on your escorted tour of Scotland. Revel in the free time Cosmos Lite affords you, with a selection of à la carte optional excursions that are perfect for you. With your Tour Director and CosmosGO mobile app, you're never at a loss (or lost) when exploring each destination. You'll begin in the vibrant Scottish capital of Edinburgh. Take in an optional Scottish evening of bagpipers, Highland dancers, and the Ceremony of the Haggis. Explore Edinburgh's Old Town, New Town, and consider a visit to the castle to gaze upon the Crown Jewels. On to the Highland resort of Pitlochry, via the "home of golf" at St. Andrews. In Pitlochry, take in the ancient sites with mystical stone circles and standing stones. Called "the fairest portion of the northern kingdom" by Sir Walter Scott, Perthshire is a serene world of lush forests and rushing rivers. From here, your Scotland vacation ventures to the "Bonnie Banks of Loch Lomond," as the song goes. Next, stop in Glasgow and decide among its more than 20 museums and galleries, great shopping along the "Style Mile," and hearty food and drink as only Scotland can serve, or spend time on an optional tour of Outlander themed castles and sites!

Danube Explorer 2019 - 8 Days From Vienna To Budapest

Cosmos
$899
8
Details

The Blue Danube is both the inspiration and the guide for your escorted European tour from Vienna to Budapest. As you follow the river's path, you'll discover the elegant beauty of imperial cities along with charming hidden gems of Austria, Slovakia, and Hungary. Your Cosmos Lite independent escorted tour is the perfect way to vacation your way—with à la carte optional excursions and loads of free time. Choose the optional excursions that interest you on MyCosmos, get pointers from your Tour Director, and never lose your way with the CosmosGO app. Step back into the time of imperial splendor in Vienna and the "Pearl of the Danube"—Budapest. We make it easy to see it all with complimentary 24-hour public transport cards in both Vienna and Budapest. Linger in one of Vienna's countless museums, visit the royal stables, explore the famous Schönbrunn Palace, or spend some time at the nearby Prater amusement park. Customize your day with your activities or spend leisure time in a Viennese café. Next, stop in the Slovakian city of Bratislava on the banks of the Danube. History buffs can select an optional biking excursion to the Iron Curtain, or take in the incredible views and local libations at a traditional tavern or at Bratislava's UFO bar. On your way to Budapest, you'll have the chance to explore the Hungarian towns of Györ, Esztergom, and Szentendre—each with historic, artistic, and natural wonders to explore. Before your trip, check out MyCosmos for your optional activity selections. With your choice of excursions, you can trust the travel details to us each step of your European vacation along the Danube. MyCosmos gives you the freedom to schedule your days as you please—or explore with no schedule at all!

Northern Italy Explorer 2019 - 8 Days From Milan To Treviso

Cosmos
$899
8
Details

Spend a week traveling with us for an escorted tour of Northern Italy, and let the landscape, art, food and wine transform you into an honorary Italian. This vacation explores some of Italy's most charming and iconic destinations, including Milan, Parma, Bologna, and Verona. Cosmos Lite is the first à la carte touring approach that lets you may explore as you wish—from active excursions, to gazing upon classic masterpieces, to full foodie experiences. So do as the Italians do… at your own pace to soak up the culture like a Northern Italy Explorer.From the fashionable city of Milan to the classic cuisine of Parma and Bologna, your days are yours to spend as you please. Ask your Tour Director for recommendations, or tap your CosmosGO app for directions to the best spots to eat. Your Cosmos Lite tour continues to the World Heritage Site of Mantua's center and the Gonzaga dynasty art collection. Next, get romantic in Verona, setting of Shakespeare's tragedy, Romeo and Juliet. You'll travel to the heart of the Prosecco wine region in Treviso—the quintessential north Italian town—and just 45 minutes from Venice. You may choose to spend a leisurely day in Treviso, or take a complimentary round-trip train ride to explore the canals and classic architecture of Venezia.Your Cosmos Lite tour includes everything you love about Cosmos European guided tours—comfortable accommodations, deluxe transportation, expert Tour Director, and logistics handled. Without set itinerary schedules, you're free to choose the excursions and activities that are perfect for you. Visit MyCosmos to pre-select your favorite excursions and enjoy your Northern Italy vacation your way, every day.

Spanish Heritage Explorer 2019 - 8 Days From Madrid To Madrid

Cosmos
$699
8
Details

From the capital city of Madrid to charming towns in the Castile & Leon region, you'll discover stunning Spanish culture and history, from its plazas to the countryside. Sample local wine, jamon, and tapas—with direction from your Tour Director and CosmosGO app! Your escorted tour of Spain is yours to plan each day—with exciting à la carte optional excursions on MyCosmos. Begin by exploring Madrid—made easy with your CosmosGO app. Choose a local restaurante, an authentic tapas bar near your hotel, or visit one of Madrid's many world-class museums. Discover Segovia with its fairy tale fortress, an inspiration for Disney's Sleeping Beauty's castle. In Avila, one of the best preserved medieval bastions, take advantage of our complimentary tickets to walk the bastion wall for a bird's eye view of the city below. Reserve your spot on MyCosmos for a cooking class in a castle in Salamanca, or to attend an optional wine tasting in Valladolid. In Burgos, consider visiting the majestic gothic cathedral or walk along the Duoro River. Reserve the activities you'll love, including a visit to the fascinating archaeological site in Atapuerca. On the way to Madrid, enjoy an included stop at the scenic Castillo de Penafiel to visit its wine museum. Once you reach Madrid, the Tour Director will help you choose from the city's many restaurants and bars. You can choose to visit the Santiago Bernabéu Stadium or attend a flamenco dance performance. Cosmos Lite lets you fashion your escorted vacation in Spain in the way that fits you best. Choose from our array of optional excursions, get expert recommendations from your Tour Director, and take CosmosGO along to point you in the right direction on your guided vacation in Spain!

Veneto To Vienna Explorer 2019 - 8 Days From Treviso To Vienna

Cosmos
$899
8
Details

This escorted European vacation takes you through the Veneto wine region of Italy, through the Austrian Alps, and the Danube Valley. Find countless ways to explore these fabulous destinations of Italy and Austria with help from your CosmosGO app, and your Tour Director is happy to share expertise on each destination's highlights and out-of-the-way local spots. With the first à la carte touring approach, Cosmos Lite lets you spend each day, your way.Begin with an overnight stay in the charming Italian town of Treviso, with its medieval walls and canals. The following day is yours to choose—a complimentary round-trip train ride to Venice, or more time in Treviso's Prosecco wine region to soak in the authentic Italian countryside. Cross the Alps into the Austrian mountain town of Villach—a sight to see with picturesque shimmering lakes. The options are yours for the choosing—from bike rides to an exhibition in falconry at the lofty Landskron Castle. Then, it's off to Salzburg. You might recognize the settings where The Sound of Music was filmed in the city of Mozart's birth. Optional activities and excursions are easy to find on MyCosmos to make the day your own. Join a guided walk from Krems to Mautern a.d. Donau to experience a bit of the Wachau World Heritage Trail along the Danube River. Next, travel to the City of Music, Vienna, where you'll find a wealth of sights, sounds, and tastes by taking in the many museums, contemporary art galleries, and traditional cafes to sample Sachertorte. Your Tour Director can share lots of suggestions to truly enjoy beautiful Vienna, so you can forget about rigid itinerary schedules. We share wonderful optional excursions to suit every interest and budget on MyCosmos for the ease of having the best experiences without the hassle. Enjoy the expertise of escorted touring of Italy and Austria—your way, every day.

Spanish City Explorer 2019 - 9 Days From Barcelona To Madrid

Cosmos
$899
9
Details

Barcelona, Valencia, and Madrid are spectacular Spanish cities: Barcelona, home of great artists Gaudi, Picasso, and Miro; Valencia with its contemporary architecture matched only by its fantastic food, fun, and beach life; and Madrid, the elegant city of sophistication and lively atmosphere. Begin your escorted vacation in Spain with three nights in Barcelona with your days free to discover and enjoy. Cosmos Lite gives you à la carte options to spend your vacation the way you want. Maybe select an optional tapas walking tour or a wine tasting to sample Spanish fare and vintages. Your Tour Director is on hand to point you in the direction of the best sights, food, and attractions. On your way to Valencia, you'll see the Peñíscola coastline and castle—a filming location for Game of Thrones. Continue on while admiring the magnificent views of the Mediterranean Sea, to visit Valencia and Madrid. Lovers of art, food, and colorful history are sure to find lots to discover—with optional excursions in the heart of Spain's most fascinating locales. Your guided tour of Spain is yours to shape each day with Cosmos Lite optional excursions. With MyCosmos, you'll find the perfect way to experience Spain's legendary cities just the way you like—from museums and markets to cathedrals, coastlines, and fantastic Spanish cuisine. Explore the treasures of España your way, every day!
Page 1 of 1 : : 100 per page