Highlights of Eastern Europe 2018 (Budapest to Bucharest)

Follow a path forged by crusaders, kings and conquerors through Hungary, Serbia, Croatia, Romania and Bulgaria. Immerse yourself in new cultures and make new friends as you travel from splendid Budapest to dynamic Bucharest, discovering the best that the revitalized nations of Eastern Europe have to offer along the way.

Gaze in wonder at the lofty spires of Hungary's Parliament Building as it rises majestically above the Danube in Budapest. Sit down for friendly, intimate meals with farmers in Croatia and artists in Romania. Uncover scores of little-known treasures, including the picturesque Bulgarian hill towns of Veliko Tarnovo and Arbanassi and the surprising rock-hewn churches of Ivanovo—a UNESCO World Heritage Site. Step back in time to investigate the history and legends along the Danube while you cruise the Iron Gates. Tour Belgrade by bicycle, marvel at the massive People's Palace in Bucharest or see Vlad the Impaler's tomb in the Romanian countryside.

From Budapest to Bucharest, Roman ruins to medieval fortresses, this journey will reveal the unstoppable resiliency of the human spirit, as well as the highlights of this spectacular region. The adventure of a lifetime awaits you.

Who will enjoy this cruise/tour? Explorers wishing to discover ancient lands and modern multicultural cities. Photographers, amateur archaeologists, connoisseurs of regional cuisines and anyone who loves beautiful and mysterious locales.
Price starts at:

$4299

Tour length: 10 Days
Trip Type: River Cruise
All Brochure Prices Are Discounted.
We Guarantee Lowest Prices.
Why Pay Retail Prices? Call 1.800.528.9300.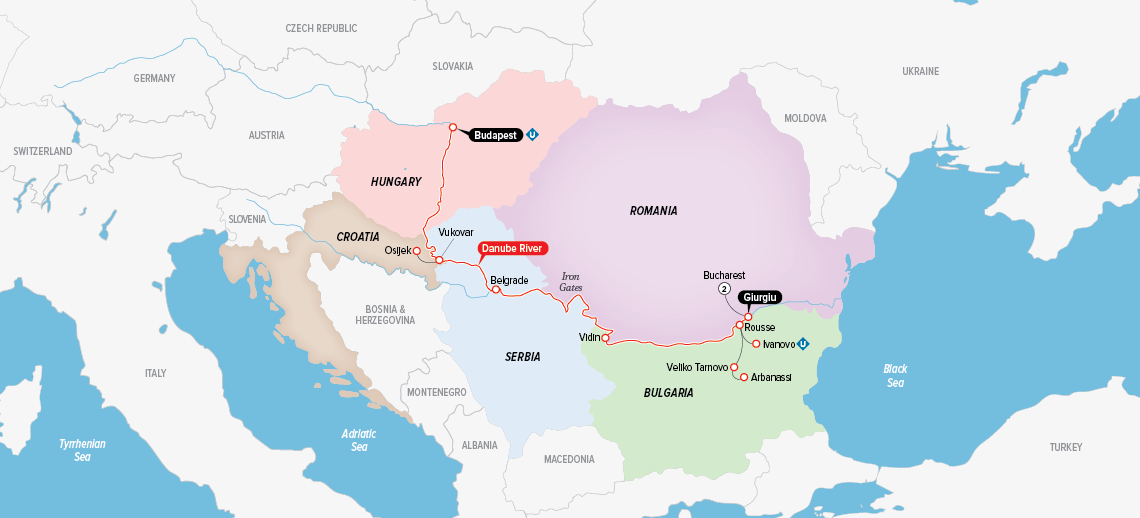 Day 1: Budapest (Embark)
Arrive at Budapest Ferenc Liszt International Airport. If your cruise/tour package includes a group arrival transfer or if you have purchased a private arrival transfer, you will be greeted by a Uniworld representative and transferred to the ship.
Day 2: Budapest, Cruising the Danube River
Located on opposite sides of the Danube, Buda and Pest each has a distinctive character and allure all its own. Explore this dynamic and multi-faceted city with your choice of excursions—you can see it from a local's perspective on our exclusive walking tour, cover more ground with a panoramic tour or "Let's Go" with a guided bike ride.
Vibrant Budapest, Hungary's capital, offers an enchanting combination of East and West, old and new. Even its geography is made up of two parts—Buda (the hills) and Pest (the flatlands)—divided by the Danube. Which part will you choose to explore today? You have three options to choose from.Featured Excursions:
Budapest city tourThis panoramic tour is a wonderful way to get an overview of the city if you have never been here before. It will carry you from Heroes' Square, created in 1896 to honor the thousand-year anniversary of Hungary's founding and its greatest historical figures, past some of the city's most striking architectural sights—Dohány Street Synagogue, the Hungarian National Museum, the state opera house, St. Stephen's Basilica and the truly stunning Parliament Building—to Castle Hill, which has been called the heart of the nation. The city of Buda began here, when King Béla built a strong keep in 1243 as a defense against Mongol invaders; a castle replaced the simple fortress, and over the centuries other castles replaced that one. The current castle is primarily 18th century; a museum dedicated to Budapest's archaeological finds is housed there, and the Castle Hill district has been designated a UNESCO World Heritage Site. You'll go inside the magnificent 700-year-old Matthias Church, named for one of Hungary's greatest kings, and then wend your way on foot to the picturesque Fisherman's Bastion, whose seven fairytale-like towers represent the seven tribes that originally settled the region. It offers a glorious view of the city and the Danube below.

Note: Visits to the interior of Matthias Church may not be possible on some weekends and Catholic holidays.

Exclusive "Do as the Locals Do" Budapest walking tourGet ready for a fun immersion in the daily life of Budapest—your local expert will show you how to use the metro (one of the oldest in Europe) to easily reach all the city has to offer. Start with a visit to one of the city's irresistible market halls. Stalls spill over with produce, sausages and meats, festoons of dried paprika, cheeses, and jars of honey, all of it authentically Hungarian. After you leave the market, stop for coffee and a sweet treat at Szamos Gourmet Palace, a combination pastry shop, café and chocolate maker in Vörösmarty Square. Marzipan is a favorite confection in Budapest, and Szamos has specialized in making it since the 1930s, so you might want to try some—but the shop's truffle selection is equally irresistible. Refreshed, you'll be ready to hop back on the tram for a visit to the gracious green spaces of Károlyi Garden, sometimes described as Budapest's most charming small park. You'll ramble along the boulevards and pass the Hungarian National Museum, truly getting the feel for this dynamic city, as you head back toward the ship.

Note: Budapest's market halls are closed on holidays. If your tour lands on a holiday, we will skip the market.

"Let's Go" Budapest by bicycleOnly the Netherlands and Denmark have a higher proportion of people who use bicycles for their daily transportation than Hungary, and you can spot the bright-green bikes that are part of the city's bike-sharing program anywhere. Join a local expert to experience the Budapest bicyclists love: Wheel along the Danube past such sights as the moving tribute to the Jews shot by the Nazis on the banks of the river, the Hungarian Parliament building, St. Stephen's Basilica and Andrassy Avenue, and swoop over the bridge to Margaret Island. It's a fun and active way to get out and see the city the way locals see it.

In the evening, a special Captain's Welcome Reception and Dinner will be prepared for you.
Day 3: Cruising the Danube River, Vukovar (Osijek)
Welcome to Croatia! This ancient country, which has made a remarkable recovery from a brutal civil war, is noted for its beautiful countryside and thriving folk traditions, as well as delicious simple, local rustic food. You'll dock in Vukovar, Croatia's biggest port, at the confluence of the Danube and Vuka rivers.Featured Excursions:
Full-day tour of Vukovar with Vucedol Museum visit and lunch at Goldschmidt wineryThe bullet-riddled water tower stands as a reminder of the bitter Croatian War of Independence, fought between 1991 and 1995, when Croatia sought to break away from Yugoslavia. Thousands died during the siege of Vukovar, which was heavily damaged. As you take a short walk through the town now, you will see lasting signs of the conflict, but you will also see a revitalized community, determined to rebuild. From Vukovar you'll head to Osijek, where you'll visit Tvrda, a military and civil complex begun in 1687 by the Habsburgs after they took the region back from the Ottomans. You'll also learn something of Osijek's long history—which dates back to Roman times—and stop by the Church of the Holy Cross, built by the Franciscans after the Ottomans left.

Enjoy an Ajvar demonstration in the courtyard of the monastery, a local specialty made from bell peppers, eggplant and tomatoes. You'll also learn how to prepare vegetables in authentic Croatian style. From there, the group will split up and head off to different nearby villages for a home-hosted lunch.

Later, you'll visit the Vucedol Museum. The basic idea behind the concept of this unique museum was integration into the terrain—the entire structure is designed to be mostly buried in the ground and only the façade is open to the landscape. Its shape, as serpentine, follows terrain, and on whose green roof you can reach the archaeological sites over the museum. Along the path, you'll encounter the various Vučedol culture archaeological findings that have been discovered to date, which showcase the daily life and customs during a turbulent time of the immigration of the first Indo-Europeans and their relationship with the natives, the blending of material cultures and religions. Following your time at the museum, enjoy lunch at the Goldschmidt winery.

Full-day tour of Osijek with exclusive home-hosted lunchVenture into a lesser-known part of Croatia today. Set off from the port of Vukovar with your local expert, who will tell you about Vukovar's calamitous experience during the Croatian War of Independence (1991-1995), when much of the city was shelled, and head to Osijek, the capital of Slavonia. Osijek is an attractive town on the banks of the Drava River that combines a long history—settlement predates the Romans, who built a fortress there that was conquered by Attila the Hun— with an easygoing charm and a readiness to embrace the future. You'll stroll through Tvrda, the baroque military and civil complex begun in 1687 by the Habsburgs after they seized the town from the Ottoman Turks, and see some of the historic highlights via a panoramic tour.

You'll follow up your tour with a stop in a village just outside the city for a traditional Croatian lunch hosted by local villagers. Translators will be on hand to help you and your hosts converse, so you can actually learn a bit about one another's lives and interests.

Full-day tour of Vukovar with organic farm visit and lunchThe bullet-riddled water of Vukovar serves as a reminder of the Croatian War of Independence, when Croatia sought to break away from Yugoslavia. As you stroll through the town today, you will see both lasting signs of this conflict and a flourishing community. From Vukovar, you'll head to Osijek, where you will visit Tvrda, a military complex built in 1693 by the Habsburgs after they reclaimed the region from the Ottomans. After, spend some time browsing through the shops in the city center before traveling to a charming farm, the only one in Croatia that meets European Union standards for organic culture, for lunch. The owners of the farm will take you on a tour of their fields, orchards and areas where they grind their flour to create their own apple brandy and produce their own vinegar. After your tour, savor a glass of that delicious brandy and enjoy a tapas-style buffet filled with local delicacies.
Day 4: Belgrade
Belgrade, the modern-day capital of Serbia, is one of Europe's oldest cities, dating back some 7,000 years. Signs of its tumultuous history are visible everywhere, juxtaposed with the city's vibrant modern-day present. See it all with a choice of excursions, either a city tour that visits the palace or a guided bike ride.
You have two very different ways to see Belgrade today—the choice is yours!Featured Excursions:
Belgrade city tour with visit to the Royal Grounds of Karadjordjevic Dynasty PalaceAs a motorcoach carries you through the city, you'll see a mix of architectural styles that reveal the city's past, ranging from Gothic, Ottoman, baroque and art nouveau to utilitarian Communist apartment blocks and modern high-rises. While Belgrade has been no stranger to political upheaval, the 19th-century Residence of Princess Ljubica and serene old residential streets speak of calmer days, as do the bustling present-day café-lined boulevards. You'll pass the tomb and memorial museum of Josip Broz Tito, which is located at the site of Tito's former residence in Belgrade's affluent Dedinje neighborhood, and visit Kalemegdan Fortress, high on a hill above the confluence of the Sava and Danube rivers.

Ancient Romans built the first fortress here, and successive conquerors and defenders—Slavs, Byzantines, Ottomans, Habsburgs—continued to build and destroy fortifications on this site for another 1,500 years. Walk along the old stone walls, passing monuments and memorials (some will surprise you—poets and composers are honored here as well as military actions), for a sense of Serbia's distant and more recent history. It's not the only intriguing historical sight you'll see today, however. You will also visit the Karadjordjevic Dynasty Palace and sip a glass of sparkling Serbian wine as you tour a compound of palaces built in the 1920s and 1930s. Serbia's royal family, which is related to most of Europe's royalty, has a strictly honorary position in modern-day democratic Serbia, but Crown Prince Alexander (who did not feel that taking the title of king was appropriate when his father died in exile in the United States in 1972) and his family still live in these palaces. A local expert will show you the public rooms of the Royal Palace, the White Palace, the adjacent chapel and the spacious grounds.

"Let's Go" "I Bike Belgrade" tourMount a bike and spend a leisurely half-day getting an up-close look at Belgrade, complete with lively commentary from your guide, who will tell you not just about the tumultuous recent past but also what it's like to live here. Ride past Branko's Bridge, Staro Sajmište (a former concentration camp), the Palace of Serbia and Hotel Jugoslavija; after a refreshing stop at a traditional fisherman's bar, you'll be ready to pedal to Kalemegdan Fortress and see a bit of Serbia's more distant past.
Meet Belgrade - people, places and little wonders
Day 5: Golubac, Cruising the Iron Gates
Today's main attraction will be the spectacular scenery along the Danube, as you cruise a stretch of gorges known as the Iron Gates. Later, head ashore to explore a Paleolithic site and an extraordinary well-preserved medieval fortress. 
All along the way, history lines the banks of the river. Keep an eye out for Trajan's Plaque, which the ancient Romans erected to commemorate the road they anchored in the steep cliffs above the water, and Golubac Fortress, built in the 14th century and attacked successively by the Serbs, Magyars and Turks. The Turks won the castle in 1458, which helped to reinforce their control of the area until 1867, when they abandoned it.Featured Excursions:
Lepenski Vir archaeological park and Golubac FortressLepenski Vir is one of the largest and most significant prehistoric archeological sites from the Stone Age, located on the Danube. It was once the epicenter of one of the most highly developed prehistoric cultures, with complex social relations and even rudimentary urban planning. The discovery of this prehistoric settlement has changed the image experts once had about the early Stone Age, expanding scientists' knowledge about human communities that walked the earth millennia ago.

Later, you'll have a chance to see Golubac Fortress, one of the best preserved medieval fortresses in Europe, a powerhouse that has loomed over the Danube for centuries.

Unwind onboard as you cruise the breathtaking Iron Gates, an 83-mile-long (134-kilometer-long) stretch of scenic gorges that were cut through the Carpathian and Balkan mountains over eons by the Danube River. These gorges, which act as a natural border between Serbia and Romania, are among the most dramatic and beautiful sights in all of Europe. This was one of the swiftest and most dangerous stretches of the river before two dams were built: Iron Gate I and Iron Gate II. Construction on the dams began in 1964 and took 20 years to complete; they have dramatically altered the area's landscape, raising the water level by 114 feet (35 meters) and drowning several islands and villages.
Day 6: Vidin, Cruising the Danube River
Vidin is a port town on the Danube the once played an important role in medieval Bulgarian politics, as the great fortress Baba Vida attests. It's your base for one of two unusual excursions today—visit to the fascinating Belogradchik rock formations or head to a riverside estate devoted to the arts.Featured Excursions:
Bulgarian red rock countryDrive through the scenic Bulgarian countryside to Belogradchik, a small town in the foothills of the Balkan Mountains, not far from the Serbian border. After some light refreshment at a local hotel, you'll be ready to explore the astonishing rock formations nearby, which are over 200 million years old—and have inspired nearly as many legends! Many of the strange wind- and weather-hewn shapes have names, such as Adam and Eve, the Bear and the Castle. The outcroppings formed a natural defense for the town that was enhanced with man-made fortifications over the centuries. Whether you choose to hike with a local expert to the top of the path or not, you'll be rewarded with spectacular views. Your return will take you past some sights that highlight Vidin's mixed heritage: the Orthodox cathedral, the Turkish mosque, the Konak (the 18th-century headquarters of the Turkish police) and the cruciform barracks (which date to the 1790s). The final stop will be Baba Vida, whose stern 10th-century stone walls were built on the site of a Roman watchtower.
Home-hosted Banitza and yogurt experience
Day 7: Rousse (Veliko Tarnovo and Arbanassi or Rousse and Ivanovo)
Bulgaria's foremost Danube port, Rousse is sometimes called "Little Vienna" for its elegant 19th-century mansions and public buildings. You may choose to see some of the town after venturing to a pair of historic monasteries or spend the day visiting two historic hill towns.Featured Excursions:
Veliko Tarnovo and Arbanassi with authentic Bulgarian lunchTwice the capital of Bulgaria—before and after the Ottomans conquered the nation—Veliko Tarnovo climbs steep hills above the Yantra River, topped by the ruins of Tsarevets, the stronghold where Bulgaria's kings ruled between 1185 and 1393. The remains of the great stone walls and towers that you see formed the historic heart of the Second Bulgarian Empire. History lives in this town, as a quick look at the wares for sale in Samovod Marketplace will show you: Handicrafts are all made by local artisans using ancient, medieval or Renaissance technologies. You'll have time to peruse the exceptional local pottery and textiles there before heading to Arbanassi, home to six amazing 17th-century stone churches, each one decorated with colorful and intricate frescoes. Learn something of the multicultural history of this fascinating town at the Ethnographic Museum and visit the UNESCO-designated Nativity Church, where murals of the Nativity, the Last Judgment and the zodiac brilliantly blend religious and humanist iconography. At another of the churches, Holy Archangels Michael and Gabriel, you'll hear the otherworldly singing of an Orthodox choir in a short concert. Your day's adventure includes a traditional three-course Bulgarian lunch, complete with live folk music.

Rousse walking discovery tour with Ivanovo and Basarbovo monasteriesWalk through the woods of Rusenski Lom, a protected region that is home to a wide variety of rare birds, among other wildlife, to Ivanovo Rock Monastery—once an enclave of more than 40 churches and chapels that the devout built inside caves above the Lom River Valley. A UNESCO World Heritage Site, it is famous for its beautiful and well-preserved 14th-century murals.

Your next destination, the Basarbovo Rock Monastery, is the only rock monastery where monks still live and worship today. Climb the narrow rock stairway to the 15th-century cloister, which is cut into the limestone cliffs high above the Lom River, and take a look at the arresting frescoes. You'll also spend some time in Rousse, a city with an easygoing, gracious feeling. Freedom Square, a huge open plaza, takes its name from the Freedom Monument, which soars from the center of the square; the stately Belle Epoque buildings surrounding the square attest to the city's prosperity in the 1890s. Stroll along wide, tree-lined Alexandrovska, the main pedestrian street that links the city's many attractive squares, encountering such landmark sights as Rousse's grand theater, the city museum and the first movie theater (it opened in 1896).

In the evening, a special Captain's Farewell Reception and Dinner will be prepared for you.
Day 8: Giurgiu (Disembark), Transfer to Bucharest
This morning, you'll disembark the ship in Giurgiu and drive through the countryside to Bucharest, Romania's capital and its cultural and economic center, where you'll enjoy a panoramic city tour.  Bucharest is a fascinating combination of Communist grandiosity, elegant French-influenced 19th-century buildings and surprising survivors dating from the 1500s. Perhaps nothing more perfectly encapsulates Romania's 20th-century experience than the mind-boggling People's Palace, which you can visit today. Another option is a walking tour that shows you this city from a local's perspective. Tonight you'll relax in the comfort of a luxury hotel located in the heart of the city.Featured Excursions:
Bucharest city tourA panoramic tour will show you that Bucharest is a fascinating combination of Communist grandiosity, elegant French-influenced 19th-century buildings and surprising survivors from the 1500s, which are acquiring new gloss in Lipscani, the restored old quarter. Bucharest began as a fortress in the 15th century, a warlike origin that set the tone for its turbulent history. It saw glory days as the summer residence of the Wallachian princes and was burned to the ground by the Ottoman Turks; then Austria-Hungary and imperial Russia fought over it for a century. After Wallachia and Moldavia united to form Romania in the mid-19th century, Bucharest enjoyed a prosperity that was reflected in its extravagant architecture, some of which miraculously survived WWII bombing and Communist building programs. You'll see Bucharest's very own Triumphal Arch, which is modeled after the Arc de Triomphe in Paris, and Victoria Boulevard, lined with chic shops and handsomely restored prewar buildings—and sites where protests brought down Ceausescu's regime in 1989. These days Bucharest enjoys a lively and eclectic cultural scene, hosting international arts festivals and concerts, and a measure of prosperity apparent in its busy cafés and thriving street life.

Exclusive "Do as the Locals Do" Bucharest walking tour"Give a penny for the Athenaeum." Back in the 1880s, this was the theme for the fundraising campaign that resulted in one of Bucharest's most beautiful and most beloved buildings: the Romanian Athenaeum. Ordinary citizens, not wealthy patrons of the arts, contributed their pennies and built a jewel-box concert hall with perfect acoustics, which they cherish to this day: It's called the spiritual and artistic heart of the nation. Start to explore the Bucharest locals love right here with a look at the stately neoclassical home of the George Enescu Romanian Philharmonic Orchestra, and continue to Revolution Square, perhaps best known for the moment when Nicolae Ceausescu climbed into a helicopter on the roof of the Central Committee building and fled Bucharest in 1989. Stroll past the elegant shops in the neighborhood, as you head to Lipscani, the restored old quarter. Just a few years ago this neighborhood was all but a shambles; now it is a lively social center. Here you'll find everything from a famous beer hall to a spectacularly renovated bookstore, as well as the city's oldest surviving church and the remnants of the Old Princely Court, where the Wallachian rulers—including Vlad the Impaler—lived in the 15th and 16th centuries. Your walking tour ends at Hanul Lui Manuc, built two centuries ago as an inn and recently restored.
Day 9: Bucharest
At the end of a quiet, tree-lined street, is one of the wealthiest districts of Bucharest. There, sits a seemingly unassuming villa hiding a unique history, one that visitors have only been able to delve into since the building opened to the public in March, 2016. Today, you will have the distinct pleasure of exploring the extravagant interior and grounds of Ceausescu's Palace for yourself, with a history lesson on its infamous former residents.Featured Excursions:
Visit the Dictator's House – Ceauscescu's PalaceThe opulent former residence of Romania's former leader, Nicolae Ceausescu, is nestled in one of Bucharest's most desirable neighborhoods, where you'll enjoy a guided tour of this impeccable mansion. It's been a quarter of a century since deposed Romanian President Ceausescu and his wife Elena were executed by a firing squad on Christmas Day in 1989, but now you have the chance to roam the breathtaking 80-room residence where the couple once lived, which had been closed to the public since that fateful day. Get a glimpse into the extravagant lifestyle that Romania's final dictator and his family enjoyed during a time when most Romanians were suffering, surviving only on food and fuel rations. The palace is said to be the third largest administrative building in the world, after the Pentagon and China's Long'ao building. Marvel at the striking interior, designed by Romanian artists with the influence of Baroque, Rococo, Rocaille, medieval Romanian, and Renaissance styles. See the precious gifts receive by Ceausescu during his reign from famous heads of states, like Charles de Gaulle and Elizabeth II, still sitting proudly on display.
Sinaia: Peles Castle and winery lunch & tasting
Day 10: Depart Bucharest
Check out of your hotel this morning. If your cruise/tour package includes a group departure transfer or if you have purchased a private departure transfer, you will be transferred to Bucharest Henri Coandă International Airport for your flight home.
---
Preparing For Your Trip

Make Sure to Bring All of Your Important Documents: Passport, Foreign visa (if applicable), Itinerary, Trip confirmation, Airline ticket, Drivers license, Credit cards, Travel documents.

Vaccinations Are Required for Entry to Some Countries. The U.S. Centers for Disease Control (CDC) and the World Health Organization (WHO) can provide you their recommendations for vaccinations and other travel health precautions for your trip abroad.

Are You Taking Any Prescriptions or Other Medications? Pack enough to last your entire trip, including some extra in case you are unexpectedly delayed.

Insurance: Purchase travel insurance to cover yourself against unexpected situations. You never know when something might happen, so always be prepared.

While Traveling

Keep an eye on your belongings. Do not leave your belongings unattended in public spaces

Always have local cash. Not every place takes credit cards.

Pavlus Travel Referral Program

How does our referral program work?

How does our referral program work?

It is simple: tell all your friends, family and anyone you meet on vacation about Pavlus Travel and Cruise and when they book their first tour / all-inclusive / cruise vacation with us, you will receive up to $150!*
Let Serena help you find the guaranteed best price on your vacation!
Call direct at 1-866-843-4830
or email at serena@pavlustravel.com
Contact our Travel Planners
800.528.9300
8:00am - 5:30pm MST M-F
9:00am - 4:00pm MST S-S