Paris & Normandy 2018 (Round Trip from paris)

Cruise from Paris through Normandy's countryside, uncovering its many charms: Richard the Lionheart's Chateau Gaillard, the medieval capital of Rouen, Monet's beloved home in Giverny and the famed Normandy beaches.

Normandy has been the setting for many battles over the centuries, including the D-Day invasion of WWII, and the Normandy Beaches mean different things to different people, so you'll have a rare choice to visit several of its historic sites, such as Utah and Omaha beaches, Juno Beach or the famous 11th-century tapestry depicting the Battle of Hastings.

Experience a different side of Northern France's history with a choice to tour two majestic palaces, Versailles, once home to Louis XVI and Marie Antoinette, or Château de Malmaison, once home to Napoleon's first empress, Josephine.

See the best of Paris in one of three ways via the "Heart of Paris" cruise and city tour, an exclusive "Do as the Locals Do" tour or an exclusive guided "Let's Go" bike tour. There are plenty of opportunities to take part in more active experiences, such as golfing at Rouen's Mont-Saint-Aignan and at Sainte-Mère-Église in Étretat, perched on the cliff high above the sea, making playing golf here a memorable experience and visual feast.

Who will enjoy this cruise? History buffs will be fascinated by D-Day sites and Rouen where Joan of Arc was martyred.
Price starts at:

$4999

Tour length: 8 Days
Trip Type: River Cruise
All Brochure Prices Are Discounted.
We Guarantee Lowest Prices.
Why Pay Retail Prices? Call 1.800.528.9300.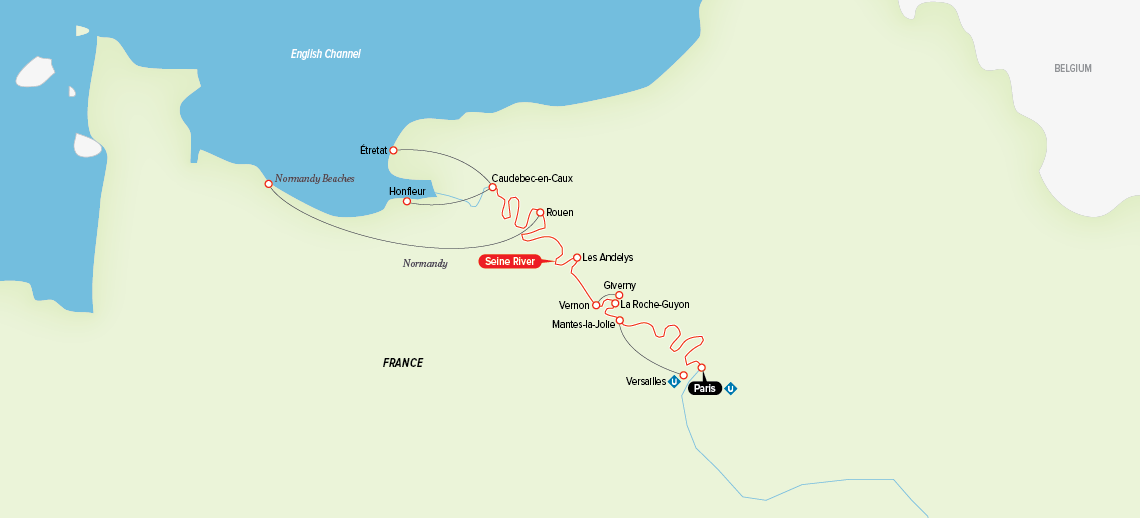 Day 1: Paris (Embark)
Arrive at Paris Charles de Gaulle Airport. If your cruise package includes a group arrival transfer or if you have purchased a private transfer, you will be greeted by a Uniworld representative and transferred to the ship.
Day 2: La Roche-Guyon, Vernon (Giverny)
Today is a celebration of Northern France's natural beauty, with an excursion to a splendid chateau and gardens situated in an equally grand setting, plus a chance to immerse yourself in the very landscapes that inspired Impressionist master Claude Monet.
 
Visit the hilltop Chateau La Roche-Guyon, surrounded by beautiful gardens and offering sweeping views over the Seine. Later, you can visit the home and gardens of Impressionist master Claude Monet—the inspiration for many of his most beloved works. Or, take in the beautiful French countryside in a more invigorating way, with a guided bike ride from Vernon to Giverny.Featured Excursions:
Château La Roche-GuyonFrom cave dwelling to fortress to castle to palace: This is the history of Château La Roche- Guyon (the Rock of Guy), which takes its name from its medieval lords (traditionally named Guy) and its location, a limestone outcropping—a rock—above the Seine. Medieval knights kept watch for marauding Vikings from the tower high atop the hill and later defended the double wall around a 13th-century manor house; successive lords added to the buildings over the centuries, so you can see not just troglodyte chapels but Renaissance rooms where kings Francis I and Henry II were entertained (and, legend says, Henry IV pursued a lovely chatelaine without success) and handsome 18th-century state apartments. Enlightenment thinkers met with the Duchess d'Enville, who owned the château before the revolution and who had the huge kitchen garden laid out according to Enlightenment principles. You might think, as you walk through the elegantly designed garden and beautifully paneled rooms (mostly without furniture these days, so you can appreciate the Gobelins tapestries without distraction) that the residence's military function was in the far distant past, but Rommel made his headquarters here during WWII, precisely because the ancient fortifications and caves were so secure.

"Let's Go" hike on the Crests trailMonet's gardens at GivernyMonet often painted the little riverside town of Vernon, so you are likely to recognize scenes the master rendered in oils on your way to his home in the village of Giverny, where he lived and worked for more than 40 years. When Monet bought the property, most of it was an orchard; he transformed it over the years into the enchanting visions immortalized in his paintings, essentially creating each work of art twice: once as a living garden and again as a painting. As you stroll through the grounds, you'll see the famed Japanese bridge and water garden shaded by weeping willows. Monet's house, which you will also visit, remains furnished as it was when the leader of the impressionist school lived here, complete with his precious collection of Japanese engravings.

 

Note: Giverny will be closed during the March and November cruise departure dates.

"Let's Go" bicycle ride to GivernyThe country roads between Vernon and Giverny offer easy—and pretty—biking. Hop aboard your bike and pedal about three miles to the village where the artist lived for decades. You'll pass the church and cemetery where Monet is buried and the Hotel Baudy, where his painter friends often stayed, and arrive at the artist's home and garden for a tour.Bike ride to Monet's GardensHop on a bike for a spin beside the Seine: The bike path is flat, so you can look at the scenery instead of pedaling hard—and the scenery is great. Your ride begins in Vernon, a little town with a big church and a peculiar mill house that stands on what's left of an old bridge. You can still see the stone piers of the bridge stepping across the river, but the span itself is gone and only the battered mill house remains. It has stood here for hundreds of years; Claude Monet painted a picture of it (the canvas is in the New Orleans Museum of Art). Of course Monet painted many sights in this region, since he lived in neighboring Giverny. You'll park your bike once you reach the artist's beloved home and explore the house and famous gardens. You'll recognize the water lily pond and Japanese bridge immediately from his paintings.This evening, a special Captain's Welcome Reception and Dinner will be prepared for you.
Day 3: Rouen
Walk in the footsteps of greatness in Normandy's medieval capital, a city with a historic quarter that remains amazingly intact. From the cathedral Monet painted dozens of times to the cross marking to spot where Joan of Arc was martyred, Rouen is a treasure trove for the culturally curious.
 
The medieval capital of Normandy, Rouen has managed to preserve much of its historic core, despite being turned into a battlefield numerous times. The roll call of famous people who lived or died in Rouen is long and varied— Richard the Lionheart, Joan of Arc, Gustave Flaubert and Claude Monet are among them.Featured Excursions:
Rouen gourmet walking discovery tourRouen's most famous landmark, the cathedral—celebrated in 30 paintings by Monet—was begun some 800 years ago, acquiring a multitude of spires and styles as it was expanded and renovated in different eras. Ramble from the cathedral square, with its ornate Renaissance clock, and begin your exploration of the Old Town. The cobblestone alleyways are lined with tall half-timbered houses, often with shops on the first floor and apartments above; it may be a historic district, but it is also a living one. Step into a couple of these shops and patisseries for tastes of regional specialties—delicious cider, for instance, and the chocolate confection unique to Rouen known as the "tears of Joan of Arc"—as you make your way toward the Old Market Square. Reminders of life and death are common here: Note the carved skulls and other symbols of death on the buildings near Saint-Maclou, a spectacular late-Flamboyant Gothic church, and the adjacent Aître Saint-Maclou, once a cemetery for plague victims and now a garden. As you enter the Old Market Square, you'll spot a bronze cross marking the most famous death in the city—the place where the English burned Joan of Arc at the stake. The Church of St. Joan, on the square, may seem incongruous in its modernity; it was built on the site of Saint-Sauveur church, which was destroyed during WWII—the stained-glass windows in the new church were salvaged from the ruins.

Venture inside a giant clockRouen's Great Clock was set into an arch over the street around 1520. On one side you can see the single hand that shows the hours (there is no minute hand); on the other side the works are designed to show phases of the moon and other astronomical phenomena. This clock face is 500 years old, but the original clock is actually a century older than the Renaissance archway. Climb the tower—four floors of it—to see the original clock mechanism (it ran without stopping, through war after war, from the 14th century until 1928, when it finally needed to be repaired): It's a floor above the clock face. The bell tower contains the first city bells allowed to ring the hours (before that, only churches were allowed to have bells in Rouen) and the rooms where the clock "governor," who was responsible for making sure the clock stayed in good working order, lived. At the top of the tower, you can get a good look at the cathedral's spectacular spires.
Mont-Saint-Michel - Wonder of the Western World
Day 4: Caudebec-en-Caux (Honfleur or Étretat)
Golfing? On a river cruise? This delightfully unexpected excursion—a Uniworld exclusive—features a dramatic links course set atop Normandy's Alabaster Coast. In a word, magnifique. Not into golf? Stroll through seaside Honfleur, captured on canvas by generations of artists.
 
Caudebec, a lovely little town on a serene loop of the Seine, is your base for one of two very different excursions. You could drive through the beautiful Calvados countryside to Honfleur, a delightful seaside harbor and city of painters, or head to the windy cliffs of Étretat for a game of golf.Featured Excursions:
Honfleur walking discovery tourA walking tour of the fishing village begins at the former smugglers' harbor of Vieux Bassin—the most frequently painted scene in Honfleur—which looks much as it did a century ago, though now the boats in the harbor are more likely to be pleasure craft than fishing vessels. Your local guide will take you down tiny lanes, where houses stand shoulder to shoulder in a jumble of styles: narrow 19th-century slate-roofed townhouses, 15th-century fishermen's cottages, and tall and elegant mansions— many adorned with figures of chimeras or saints. You'll also see St. Catherine's Church, built in the 15th century by shipwrights who gave it an oak ceiling that looks like the hull of a boat.Exclusive "Let's Go" golfing in ÉtretatIt would be hard to find a more spectacular location than Étretat's clifftop course, which is ranked as one of the best in France. Originally laid out in 1908 and substantially redesigned in the 1990s, it offers a multitude of challenges: Two nine-hole loops take players right to the cliff's edge, the wind can be a serious challenge in and of itself, and the 10th through 14th holes offer formidable tests of a golfer's skill. Spend the morning on the course, lunch on your own in charming Étretat and explore the seaside village that so many artists, including Monet, rendered in paint, or return to the ship for lunch and a leisurely afternoon onboard.

 

Note: Golf excursion is open to a limited number of golfers.
A mini rainforest & mini golfA thousand butterflies flit through the tropical air, and brightly colored lorikeets and finches dazzle among the lush vegetation in the greenhouse atmosphere of Naturospace. Would you like to hold a butterfly? Hold out your hand—one might just land on it. Feed the red and gold koi swimming in the ponds, learn about the orchids and other equatorial flora that grows in this exotic Eden. It's fun, colorful and peaceful; and if you take a little time to study the exhibits, you'll learn a lot about the rare and shrinking habitats that support these rainbow-colored creatures. Later on in the day, you can bat a golf ball through a miniature golf course laid out with diminutive Seine landmarks.
Day 5: Rouen (Normandy Beaches)
The Normandy coast will forever be associated with the Allies' D-Day invasion, a day that comes vividly to life today on an excursion to the beaches of 1944. Or travel even further into the past with an up-close look at the thousand-year-old Bayeux Tapestry, depicting the Norman conquest.
 
Immerse yourself in the tactics, desperate courage and horrendous human cost of the 1944 Allied invasion of France, the first step in the ultimately victorious land campaign against the Third Reich. It began here, on these Norman beaches, each of which was assigned a code name by the Allies as they planned their attack.Featured Excursions:
Arromanches and the American CemeteryWhichever excursion you select, you'll join your fellow passengers in a journey to the American cemetery, where almost 10,000 US soldiers are buried, most of whom lost their lives during the D-Day invasion.

Full-day Normandy Beaches with Utah and Omaha Beaches with Sainte-Mère-ÉgliseThis tour encompasses the major areas of the American assault: Utah Beach, where the first American infantry units came ashore; Sainte-Mère-Église, the first village freed from the Germans and home to a museum dedicated to the Airborne divisions that suffered 2,500 casualties in the battle; and Pointe du Hoc, a strategic high point controlled by the Germans and captured by a Ranger unit. At each location, you can see the actual equipment used for the invasion—tanks, landing craft, bombers, gliders—and get a feel for what these young men experienced.

Full-day Normandy Beaches with Juno BeachWhen the Allies prepared to invade Normandy, they assigned a six-mile stretch of beach to the 3rd Canadian Infantry Division under the command of Major-General Rodney Keller. The Canadians trained for their assault in Scotland and were generally regarded as the best-prepared of any of the invading forces. Unfortunately, preliminary bombing had failed to eliminate German battlements, so Canadian troops were met with well-prepared German resistance, and several companies suffered heavy casualties. Walk the shoreline where so many died, and visit Juno Beach Center, dedicated to the Canadian war effort. One million Canadians served during WWII, and 14,000 participated in the landing. Exhibits describe both life at home during the war and the service of—and sacrifices made by—the men who fought.

Full-day Normandy Beaches with Utah and Omaha Beaches with BayeuxBayeux, the first French town to be liberated in 1944, is home to the Bayeux Tapestry, an astonishing millennium-old textile listed on UNESCO's Memory of the World Register. The tapestry tells the story of the Norman conquest of England; it was probably embroidered by monks in the south of England in October 1066, a few months after William I's troops overwhelmed the island's Saxon defenders. Take a guided audio tour of this remarkable textile, which details the story of the conquest in 58 distinct scenes with Latin annotations.

 

Note: Because the Tapestry Museum is a popular attraction in summer, the order of events may change to accommodate scheduling issues.
WWII history comes to life + MuseumNormandy has been the setting for many battles over the centuries, including the D-Day invasion of WWII. Stand on historic Omaha Beach as history comes to life.
Day 6: Mantes-la-Jolie (Versailles)
How did France's rulers live over the centuries? Step into the private rooms of either the Palace of Versailles, the lavish palace built by the Sun King, or Marie Antoinette's hamlet to find out.Featured Excursions:
Palace gardens & Marie Antoinette EstatePalace of Versailles secret tourMantes-la-Jolie walking discovery tourVersailles Palace & gardensFor more than two centuries, royal princes and princesses lived in the Palace of Versailles—in fact, the princes had their own wing at one time, though it no longer exists. Picture yourself growing up in these lavish rooms, wearing the satins and bows you see in the portraits on the walls, sitting on the damask-covered gilt furniture, learning to dance—because dancing was an essential social skill—under the sparkling chandeliers. You might be summoned to the King's Bedchamber for an audience, or to the Queen's Bedchamber to learn how to apply a beauty patch or be told who you were going to marry (and your royal father could have chosen a spouse for you when you were only 10 years old). Outside, the vast gardens give you a chance to run around a little bit, watch the swans in the canal, or even play hide and seek among the manicured hedges of the formal parterres—just as Louis XV might have done when he became king at the age of five.

A special Captain's Farewell Reception and Dinner will be prepared for you this evening.
Day 7: Paris
Whether you're a first-time visitor to the "City of Light" or you've been here many times before, there's something for everyone today in Paris. Enjoy a panoramic overview of the city, join a local expert for a walk through two much-loved neighborhoods, or pedal your way along the Left Bank, a fresh and fun way to take in the sights.Featured Excursions:
"Let's Go" Left Bank bicycle rideThe Seine's quays may be protected by UNESCO for their cultural importance and significance in the development of Paris, but they are also the scene of a host of fun outdoor activities: games for kids and grown-ups, a climbing wall, a running track, yoga classes, even a beach in August—and an inviting bike path. Join a guide to pedal along the Left Bank, crossing the bridges that link historic Île de la Cité and Île Saint-Louis and getting a close look at the heart of the city's origins. Bike to the Esplanade des Invalides (Napoleon's tomb is one of the monuments here) and along the Quay d'Orsay to the Champs de Mars, one of Paris's largest green spaces . . . which just happens to have one of the best views of the Eiffel Tower in the city. It's a fun way to take part in the life of the city while also getting some exercise.

Exclusive "Do as the Locals Do" Île de la Cité and Latin Quarter walking tourAs a true Parisian would, take the Métro to the Île de la Cité and the great cathedral of Notre Dame. Henry IV said that Paris was worth a Mass when he converted to Catholicism—and he made that conversion official here, in the center of Paris. In fact, Notre Dame is officially the center of France; facing its main entrance is Kilometer Zero, the location from which distances in France (including those of the French national highways) are traditionally measured. An expert in the history and architecture of this magnificent cathedral is your guide as you explore both inside and out. Begun in the 12th century and finished about 200 years later, Notre Dame is one of the finest examples of French Gothic architecture in Europe.

 

After you've admired Notre Dame's stained glass, flying buttresses and idiosyncratic gargoyles, cross the Archbishop's Bridge to the Left Bank and the Latin Quarter. Wander through the narrow streets where for centuries artists, writers, philosophers and the Sorbonne's students have lived and worked, argued politics, painted, sipped absinthe and lived the bohemian lifestyle for which the district is famous. Matisse, Picasso, Rimbaud and Sartre, as well as American expatriate writers Hemingway and Fitzgerald, are just a few of the notables who made this district home. Take some time to meander through the area's little squares, perusing the shop windows and perhaps relaxing with a drink at a classic café.

Paris city tourHemingway called Paris a moveable feast: Once you've experienced it, you will take it with you wherever you go. If you are experiencing Paris for the first time, this tour will introduce you to the City of Light's most cherished landmarks. You'll head via motorcoach from the Arc de Triomphe, commissioned by Napoleon to celebrate his Grand Army's 128 victories, down the Champs-Élysées to the Place de la Concorde. These broad 19th-century avenues and stately buildings were created by Baron Haussmann in a great urban development that eliminated the cramped, crazy-quilt medieval city and gave Paris its modern form. You'll pass the magnificent Opéra Garnier, the Place Vendôme (home to designer salons), the legendary Louvre and, on the Left Bank, the Sorbonne University and the Panthéon. Stretch your legs at the Luxembourg Gardens, then take in the École Militaire before arriving at the manicured grounds of the Champs de Mars, the perfect vantage point from which to see Paris's most iconic structure—the Eiffel Tower. Cross the Seine via the most stunning single-arch bridge in Paris, Pont Alexandre III; it displays elegantly sculpted nymphs, winged horses and graceful art nouveau lamps. Once on the other side of the river, you'll be sure to spot the largest glass ceilings in France, which shelter the Grand Palais and the Petit Palais. As you continue along the Seine's banks you'll see many striking contemporary bridges too. Your city tour will finish at your ship's dock.
Treasure hunt at Louvre Museum
Day 8: Paris (Disembark)
Disembark the ship. If your cruise package includes a group departure transfer or if you have purchased a private departure transfer, you will be transferred to Paris Charles de Gaulle Airport for your flight home.
---
Preparing For Your Trip

Make Sure to Bring All of Your Important Documents: Passport, Foreign visa (if applicable), Itinerary, Trip confirmation, Airline ticket, Drivers license, Credit cards, Travel documents.

Vaccinations Are Required for Entry to Some Countries. The U.S. Centers for Disease Control (CDC) and the World Health Organization (WHO) can provide you their recommendations for vaccinations and other travel health precautions for your trip abroad.

Are You Taking Any Prescriptions or Other Medications? Pack enough to last your entire trip, including some extra in case you are unexpectedly delayed.

Insurance: Purchase travel insurance to cover yourself against unexpected situations. You never know when something might happen, so always be prepared.

While Traveling

Keep an eye on your belongings. Do not leave your belongings unattended in public spaces

Always have local cash. Not every place takes credit cards.

Pavlus Travel Referral Program

How does our referral program work?

How does our referral program work?

It is simple: tell all your friends, family and anyone you meet on vacation about Pavlus Travel and Cruise and when they book their first tour / all-inclusive / cruise vacation with us, you will receive up to $150!*
Let Donna help you find the guaranteed best price on your vacation!
Call direct at 1-866-811-1360
or email at donnad@pavlustravel.com
Contact our Travel Planners
800.528.9300
8:00am - 5:30pm MST M-F
9:00am - 4:00pm MST S-S