Red Wing (Minneapolis) to New Orleans — The Mighty Mississippi 2019 (American Queen)

AUTHENTIC AMERICA ON THE MIGHTY MISSISSIPPI - Have you ever wondered what this country looked like to its early explorers and pioneers? Traveling on the Mississippi and its tributaries aboard the elegant American Queen, you will be transported back in time to an era of leisurely and romantic travel. Storybook American towns and vibrant, bustling cities combine with the sweeping panoramas and deep blue lakes which inspired the works of Mark Twain. Authentic America is out there just waiting to be explored and after two weeks cruising amidst the Antebellum charms and gracious style of the American Queen, you will forever be changed. 

Theme:
• The Mighty Mississippi: Full-Length Mississippi River Voyage*
 
Price starts at:

$4399

Tour length: 16 Days
Trip Type: River Cruise
All Brochure Prices Are Discounted.
We Guarantee Lowest Prices.
Why Pay Retail Prices? Call 1.800.528.9300.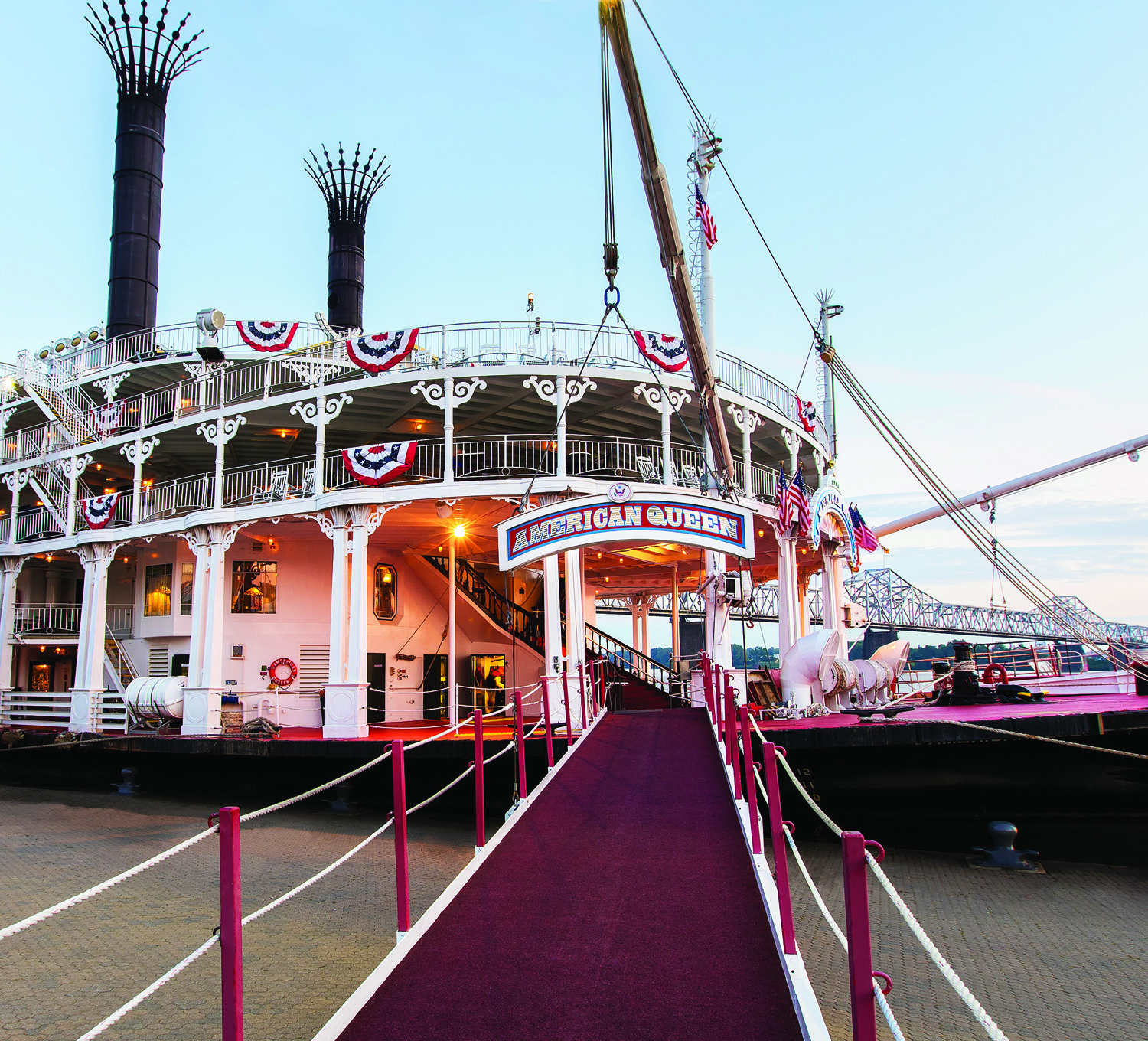 Day 1 - Hotel Stay - Minneapolis, MN
Enjoy your complimentary stay at Radisson Blu Mall of America. The evening is yours to get self-acquainted with the local attractions of Minneapolis.  Our Hospitality Desk will be located in the hotel for your convenience between 2:00 p.m. and 7:00 p.m. It is here that our friendly staff can assist with everything from general questions about your upcoming voyage to reserving Premium Shore Excursions. An American Queen Steamboat Company representative, as well as a local representative, will be readily available to provide you with dining, entertainment, and sight-seeing suggestions so that you may maximize your time in Minneapolis.
Day 2 - Red Wing, MN
Explore nearby Minneapolis at your leisure or consider a Pre-Cruise Premium Shore Excursion with afternoon transfer to the American Queen.
Day 3 - River Cruising
Relax on deck with a copy of Huckleberry Finn or another imaginative selection borrowed from our revered Mark Twain Gallery, enjoy some quiet time in the Ladies Tea Parlor, or recruit your fellow guests for an exciting board game in our Gentlemens Card Room. For a remarkable one-of-a-kind experience, take a guided tour of the American Queens Engine Room to explore the inner workings of our classic, steam-powered vessel. There is always plenty to do between dawn and dusk on the river! 
Day 4 - Dubuque, IA
One of the few large cities in Iowa with hills, Dubuque is an extremely popular tourist destination, featuring unique architecture and desirable river location. From the America's River Project in the Port of Dubuque that transformed the riverfront, to the revitalization of the historic Main Street, the ongoing evolution of the Historic Millwork District downtown, and the impressive and expansive westward growth, Dubuque remains a remarkable city along the Mississippi. Intelligent Community Forum named Dubuque as one of just five U.S. cities as a "Smart21 Community" in 2015 and the National Civic League has named Dubuque as a top All-American City three times in just six years! Guests will surely enjoy exploring this beautiful and unique city as they uncover the history and advancements held within.
Day 5 - Bettendorf, IA (Quad Cities)
Bettendorf, Iowa, is the starting point of historic exploration where you will set off to uncover the intriguing evolution of five individual, yet unified, communities known as the Quad Cities. During the Civil War, the nearby river towns of Davenport, Iowa, Rock Island, Illinois. and Moline, Illinois, thoughtful planning and strong leaders helped them to flourish while other settlements began to fail. It was during this same time period that the three towns began to refer to themselves as the "Tri-Cities." Today, despite the name "Quad Cities," the area is comprised of five towns in total with the addition of East Moline, Illinois, and Bettendorf, Iowa. Enjoy the diverse culture of this "melting-pot" city and uncover the stories of Quad Cities' past in the many museums, boutiques, and eateries!
Day 6 - Burlington, IA
Explored in 1673 by Pere Jaques Marquette and Louis Joliet, the land that is now Des Moines County changed hands from France to Spain, back to France and finally to the United States as part of the Louisiana Purchase. After Lt. Zebulon Pike's expedition landed at what is now Crapo Park in 1805, it was part of several territories – Louisiana, Indiana, Missouri, and Michigan. In 1834, residents named the land "Burlington" after trader John Gray's Vermont hometown. When Iowa was named a territory in 1838, Burlington remained the capital. Today, visitors enjoy the sights and attractions of the town as the hills and valleys, prairies, and the Mississippi River create the perfect scenic backdrop.
Day 7 - Hannibal, MO
Hannibal, Missouri has a rich history, diverse industrial economy, and truly remarkable arts. The city was founded in 1819 by Moses D. Bates and became a popular stop along the river for many steamboats traveling up the Mississippi River. Hannibal offers more parks per citizens than most towns in the Midwest and was included in the famous "50 Miles of Art." Today, the most popular draw of this quirky town is Hannibal's very own Samuel Langhorne Clemens, recognized world-wide as Mark Twain. Many of the popular characters featured in Twain's novels were based on people Clemens had known while growing up in Hannibal. Many of the characters and influences of this American icon are weaved into the streets, shops, restaurants, and museums of Hannibal waiting to be uncovered.
Day 8 - St. Louis, MO
St. Louis, Missouri, famously referred to as the "Gateway City," is known for its diverse neighborhoods and the different cultures and traditions each one brings forth. The iconic city was founded in 1764 by French explorers who settled on the east side of the Mississippi, claiming the land as their fur trading post. In 1803, the city's name began to spread as the beginning point for the famous Louis and Clark Expedition. The city is typically associated with its 630-foot stainless steel monument, the Gateway Arch, which stands proud on the banks of the Mississippi River to symbolize the westward expansion of the United States.
Day 9 - River Cruising
There is always plenty to do between dawn and dusk on the river and today is the perfect day to enjoy the many public spaces and activities that are available to you onboard. Consider booking an indulgent, stress-relieving massage in the American Queens spa. Browse The Emporium gift shop for that perfect keepsake, or take the time to mingle with fellow guests. 
Day 10 - Memphis, TN
Memphis is a city built on melody from the jazz dives and blues clubs of Beale Street to the Memphis Rock N Soul Museum, Gibson Guitar factory, Sun Studio and the famous Stax Museum of American Soul Music. In a city of contrasts, the tragic but uplifting stories of the National Civil Rights Museum are balanced by the frivolity of the twice-daily march of the ducks at the Peabody Hotel.
Day 11 - Helena, AR
Founded in 1833 as an industrious port city, Helena is now experiencing a rebirth with a blend of thriving entrepreneurship and Southern hospitality. Helena's successful marriage of old world culture and urban revival can be attributed in part to the many young professionals that now call Helena home. In the 1940s and 1950s, blues music became extremely popular and Helena was the center of it all. King Biscuit Time is the longest running blues radio show in the entire country and it has served as an inspiration for many famous musicians. The show started in 1941 and was the only radio show in the entire country to feature African American musicians. The year it began, a group of African American blues musicians were given one hour on the radio on the condition that they sign a sponsor, which King Biscuit Flour agreed to do.
Day 12 - Vicksburg, MS
Vicksburg perfectly blends Southern culture and heritage with exciting modern-day attractions. Described as the "Key to the South" by Abraham Lincoln, this southern town carries a history unlike any other Civil War city. Vicksburg was founded in 1811 and grew as a vital river port city. It was a major component to the Civil War and carries much of the history within the town. Today, Vicksburg is a popular spot for tourists to learn about the battles of the city, taste the cuisine, visit the many museums, and pick out the perfect souvenir.
Day 13 - Natchez, MS
This charming river town was first inhabited by Natchez Indians and French explorers who shared the land. It was founded in 1716, making it the oldest city on the Mississippi. The city is known for its elegance, hospitality, and impressive preservation of history – found on every street corner throughout Natchez. Guests will enjoy the unique shops, restaurants, museums, and historical houses located in Natchez, as they explore the beautiful downtown areas.
Day 14 - St. Francisville, LA
Established in 1809, St. Francisville is the oldest town in the Florida Parishes. Below where St. Francisville is located currently, was a settlement called Bayou Sara in the 1790's. When this settlement was destroyed by flooding and fires, many of the structures and artifacts were hauled up the bluff into St. Francisville, where they are still standing. The town is referred to as "two miles long and two yards wide," but that definitely doesn't mean they have nothing to offer! Stop in at one of the unique shops, historical homes, beautiful churches, or breathtaking parks and you will agree with that! Spanish moss trees grow throughout the town, lending a beautiful southern comfort to the atmosphere.
Day 15 - Nottoway Plantation, LA
Nottoway is the South's largest, most glorious remaining Antebellum mansion with a rich history dating back to 1859. In a fabulous location along the great River Road overlooking the grand Mississippi River, this "White Castle" of the South transports visitors back to an era of glory and grandeur. Set amongst a natural backdrop of vibrant gardens and two hundred-year-old oak trees, Nottoway Plantation captivates all with a brilliant blend of  true Southern hospitality, history and mystery.
Day 16 - New Orleans, LA
Thank you for cruising with us! We hope that you had a memorable experience and look forward to welcoming you aboard in the future. Enjoy New Orleans at your leisure or consider a Post-Cruise Premium Shore Excursion with airport transfer.
---
Preparing For Your Trip

Make Sure to Bring All of Your Important Documents: Passport, Foreign visa (if applicable), Itinerary, Trip confirmation, Airline ticket, Drivers license, Credit cards, Travel documents.

Vaccinations Are Required for Entry to Some Countries. The U.S. Centers for Disease Control (CDC) and the World Health Organization (WHO) can provide you their recommendations for vaccinations and other travel health precautions for your trip abroad.

Are You Taking Any Prescriptions or Other Medications? Pack enough to last your entire trip, including some extra in case you are unexpectedly delayed.

Insurance: Purchase travel insurance to cover yourself against unexpected situations. You never know when something might happen, so always be prepared.

While Traveling

Keep an eye on your belongings. Do not leave your belongings unattended in public spaces

Always have local cash. Not every place takes credit cards.

Pavlus Travel Referral Program

How does our referral program work?

How does our referral program work?

It is simple: tell all your friends, family and anyone you meet on vacation about Pavlus Travel and Cruise and when they book their first tour / all-inclusive / cruise vacation with us, you will receive up to $150!*
Let Lauren help you find the guaranteed best price on your vacation!
Call direct at 1-866-658-3934
or email at lauren@pavlustravel.com

Contact our Travel Planners

800.528.9300
8:00am - 5:30pm MST M-F
9:00am - 4:00pm MST S-S