Tulips & Windmills 2019 (Antwerpen to Amsterdam)

From the canals of Amsterdam to the belfry of Bruges, you'll discover the best of the Netherlands and Belgium. Stroll through colorful acres of tulips at Keukenhof Gardens to get a sense of the Netherlands' extraordinary connection to these blooms. Then visit the 19 UNESCO-designated windmills of Kinderdijk to better understand how these mighty structures have been used to protect the Low Country from ever-rising water levels for hundreds of years.

Wander through the picture-perfect villages of Veere, Hoorn and Enkhuizen, and the enchanting outdoor Zuiderzee Museum. Uncover the rich treasures at Amsterdam's world-class museums, including the Van Gogh Museum and the Rijksmuseum. Take in the dazzling skyline of Rotterdam as you cruise through the bustling harbor and drift along the canals of Bruges. All along the way, you'll savor Dutch delights and Belgian treats as you sail the aquatic highways and byways of two amazing countries shaped by water.

Who will enjoy this cruise? Those who wish to step back in time may visit historic villages, medieval city centers and 20th-century battlefields. Art lovers will enjoy guided museum visits, while garden lovers will find a host of wonders with springtime blossoms.
Price starts at:

$3899

Tour length: 10 Days
Trip Type: River Cruise
All Brochure Prices Are Discounted.
We Guarantee Lowest Prices.
Why Pay Retail Prices? Call 1.800.528.9300.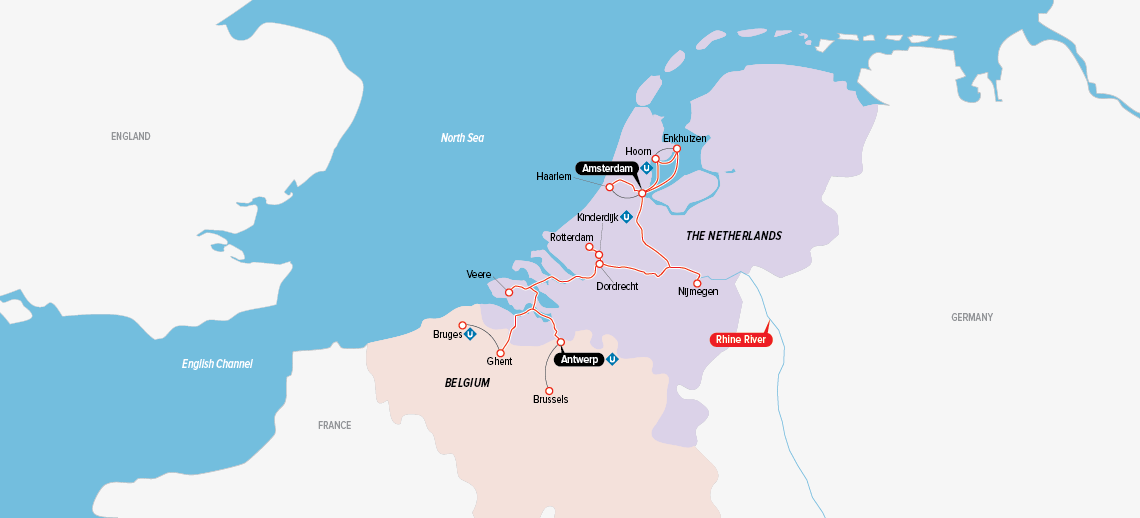 Day 1: Antwerp (Embark)
Arrive at Brussels International Airport. If your cruise package includes a group arrival transfer or if you have purchased a private arrival transfer, you will be greeted by a Uniworld representative and transferred to the ship.
Day 2: Antwerp
It may be the diamond capital of the world, but Antwerp is also known for a number of other sought-after cultural gems, including Golden Age art and Belgian beer, waffles and fries. Belgium's largest port, the city is home to trendsetting fashion designers and a mecca for chocolate lovers, Antwerp is lively and historic, lovely and legend-filled. Visit Antwerp's striking Cathedral of Our Lady, with its UNESCO-designated belfry and its historic surroundings, or, if you're feeling adventurous, hop on the metro and experience the city like a local.Featured Excursions:
"Do as the Locals Do" Antwerp walking tourResidents of Antwerp are called Antwerpenaars, and you'll feel like one during your guided tour of this bustling multicultural city. Hop on the metro for a quick ride to the beautiful Central Station, then stroll down the Meir, the main shopping street, where you'll discover a wonderful array of architectural styles. Past and present collide at the Chocolate Line, chocolatier Dominique Persoone's sinfully good sweets shop on the first floor of the 18th-century Royal Palace. In keeping with the regal setting, Persoone's wife adorned the shop with 33 million Swarovski crystals. Stand amid the sparkle and glamour and watch as master chocolatiers work their magic, then taste the results. Having met your chocolate quota for the day (if such a thing is possible!), head for Farmers' Tower, an art deco–era building that many call the first skyscraper in Europe. And no tour of the city would be complete without a stop at a stand devoted solely to french fries, which, despite the name, are a Belgian invention. Sample these double-fried delicacies with all kinds of dressings (the house-made mayonnaise is essential) and you'll understand why they're a national obsession. From there you can take a short walk back to the ship or stay in town and keep exploring.

Antwerp historic downtown highlightsWisdom and Justice await you in Antwerp's Market Square—handsome statues of these virtues overlook the triangular plaza, the historic heart of the medieval city. It's an easy walk from the ship, and you'll stop at the glorious Cathedral of Our Lady on the way. Considered one of the most beautiful structures in Belgium, the Gothic cathedral houses four masterworks by the golden age artist Peter Paul Rubens, who lived in Antwerp most of his life. Once you reach the Market Square, you'll spot the lofty Renaissance-era city hall, topped with those statues (at one time a statue of Brabo joined them, but Counter-Reformation priests replaced the putative founder of Antwerp with a statue of Mary). Next to it are ornately adorned guild houses, which testify to the enormous wealth and economic dominance of Antwerp in the 16th and 17th centuries.

At the end of the tour, you may decide Antwerp is so inviting that you want to see more. Enjoy the rest of the day at your leisure. Your local guide can provide some excellent insights: where to buy diamonds, the names of the best Belgian ales and the best places to find Belgian fries and waffles. You might check out the unusual boutiques in the pedestrian-only zone; Antwerp is a hub of avant-garde fashion, so these shops are full of unique clothing. The city was home to an astounding number of artistic geniuses in the 16th and 17th centuries, among them Brueghel, Van Dyck and Rubens. You can explore exquisite museums devoted to their work on your own.

Note: Tours cannot take place at the Cathedral of Our Lady during religious services. If a religious service prevents a tour, you may return later to see this beautiful structure on your own. Be sure to get a ticket from your guide.

A special Captain's Welcome Reception and Dinner will be prepared for you this evening.
Day 3: Ghent (Bruges or Ghent)
Your next day in Belgium offers you the chance to visit a national gem: beautiful Bruges, the capital of West Flanders and one of the best-preserved medieval cities in Europe. Bruges is a place that seems frozen in time, where boats and swans float down canals and under stone bridges that gave the city its name.Featured Excursions:
Full-day Bruges with canal cruise and walking discovery tourSee why Bruges gives Amsterdam a run for its money as the "Venice of the North" as you cruise through the UNESCO-designated city center. The town grew up around a fort built by the first Count of Flanders as a defense against Viking invaders. By the 14th century, Bruges had become the center of the international cloth trade. Merchants and traders from around the world came to Bruges for Flemish cloth, and the town's bounty of beautiful churches and mansions testify to its prosperity. The city also became a center of financial services, offering banking, money-changing and maritime insurance. Your local guide will take you past the Begijnhof and the Church of Our Lady to the canal cruise terminal, where you'll board boats for a cruise through Bruges's picturesque canals. Swans share the quiet back waters of some canals; others are lined with tall brick townhouses and open up to splendid views of historic churches. After taking a close-up look at the city, see it from above: the Belfry Tower, looming over Market Square, offers an incredible view of the city.

A canal cruise is the perfect way to experience Bruges; however, please be aware that the canal boats are neither covered nor heated.

"Do as the Locals Do" Flemish walking discovery tourSince cars are completely banned in Ghent's historic center, it's a particularly pedestrian-friendly area. Stroll with your guide from the Church of Saint James, with its two Romanesque towers, to the Friday Market square, which, as its name suggests, was the site of a huge market every Friday in the Middle Ages. You'll pass the magnificent 15th-century Great Butchers' Hall and the elegant medieval trading houses that line Graslei and Korenlei streets on your way to St. Bavo's Cathedral. It's not often that a Rubens is upstaged, but in this cathedral it takes second place to the famed Ghent Altarpiece, Adoration of the Mystic Lamb. This stunning 15th-century artwork, which consists of 24 panels, was begun by Hubert van Eyck and completed after his death by his younger brother, Jan. It's been called the most often stolen artwork in the world, coveted not only for its beauty and cultural significance but also for its seminal role in the development of oil painting (the George Clooney film The Monuments Men recounts the most recent theft and recovery, during WWII); in fact, one panel has been missing since 1934. Your last stop is the Belfort, the great bell tower that rises above the Old Town. You'll have time to explore and savor lunch on your own following your tour.

Note: Adoration of the Mystic Lamb is undergoing restoration, so not all of its panels will be on display.
Day 4: Veere
Remember the tale of the Dutch boy who saved a town by plugging a dike with his finger? Well, the reality of life in this below-sea-level country is a tad more complicated, as you'll learn today during your visit to the Delta Works. For something completely different, we'll also visit a former artists' colony.Featured Excursions:
Delta Works museumWhen Hurricane Sandy hit New York in 2012, New York officials began to take serious interest in Dutch methods of controlling flooding. After all, the Dutch have been protecting lowland from the sea for 2,000 years; back in 1953, they responded to a storm—one not unlike Sandy—that flooded the countryside and killed almost 2,000 people by implementing a series of projects called Delta Works. You'll see exhibits about this engineering marvel in nearby Neeltje Jans and visit a storm-surge barrier, a massive set of gates and piers that allow seawater to flow with the tides in and out of the estuary during normal weather. During a major storm, however, the gates can be closed to keep out the surging water. This incredible feat of engineering is a fascinating sight—but the Dutch will tell you that it is just one more front in their ongoing battle with the sea, which many coastal cities around the world may be studying.

Stroll into the artists' village of VeereA harbor village on the shores of the Western Scheldt, Veere may be a small town now, but its stately 15th-century town hall tells of a grander past. For three centuries it was the bustling center of the wool trade with Scotland; the wealth from this trade built the splendid church with its tall and ornate steeple that dominates the village, as well as the handsome mansions on its main street. Wander with the Cruise Manager through Veere's central marketplace, where you will spot the well-known Scottish Houses, so called because Scottish wool merchants built them early in the 16th century when Veere was the primary port for Scottish trade goods. The Scots maintained a community in Veere, complete with their own church and laws, until Napoleon took over the region and eliminated their privileges. In 1896 an English art collector named Albert Lionel Ochs bought one of the two Scottish Houses and welcomed an enthusiastic group of international artists who were drawn to the scenic harbor and its fishing boats. For years painters set up their easels and painted the gentle seaside views, but after a dam closed off the harbor from the sea, the fishing boats left—and so did the artists. Today, the Scottish Houses serve as a lovely museum displaying the regional antiquities, folklore and life of the Zeeland province. And, interestingly enough, artists are once again painting in Veere, so perhaps a new colony will take root and flourish.
Day 5: Rotterdam, Kinderdijk
Windmills are such an iconic symbol of Holland that it's easy to overlook their marvelous engineering and their role in changing the course of Dutch history. You may never look at a windmill in quite the same way after today's outing to historic Kinderdijk. The second-largest city in the Netherlands and the largest port in Europe, Rotterdam is thoroughly modern—much of its historic fabric was destroyed during WWII. As your ship cruises through the port, you'll soon understand why it's sometimes called "Manhattan on the Meuse": The Maas Tower, the Montevideo, the Millennium Tower and the spectacular Erasmus Bridge make for a dazzling skyline. You'll have some free time to explore this exciting modern city on your own. Take a look at the amazing cube houses, stop by Groos for unique pieces by Rotterdam designers, check out the new market hall or visit one of Rotterdam's many museums.Featured Excursions:
Dutch Culinary Stroll of Rotterdam's SuperDutch, supersized Market HallKinderdijk windmillsAt one time 10,000 windmills operated in the Netherlands, pumping water away from low-lying lands (much of the country is below sea level) and creating what are known as polders—arable land reclaimed from the water. Though the mighty windmill has been replaced by newer technology, you can see how effective the system was in Kinderdijk, where a group of 19 windmills erected in the 18th century still function. Most are ground-sail windmills (meaning their sails nearly touch the ground as they whirl) and each one was carefully situated to make sure one did not block another's wind. Each windmill moves the water a little farther, pumping it from field to canal, from canal to river. Climb the steep stairs of a mill and look out over the quiet fields that would be underwater were it not for the ingenuity of the Dutch. (Of course, you can simply admire it from the outside. But if you do that, you won't see how the mill keeper's family lived.) These mills are kept in working order partly as a backup in case modern technology fails, and they were used as recently as WWII, when there was no fuel to keep newer pumping stations working.

Note: If docking in Kinderdijk is not possible, the excursion will be arranged by motorcoach from Rotterdam.
Day 6: Nijmegen
For your choice of excursions today, you can visit the Kröller-Müller Museum, which is home to 97 works by native son Vincent Van Gogh, as well as other notable artists and sculptors. Or enjoy a bike ride in the Hoge Veluwe National Park.Featured Excursions:
Kröller-Müller Museum visitHelene Kröller-Müller bought seven Van Goghs in a single day in 1912, valuing the painter's then-little-appreciated work for his "great and novel humanity." She went on to purchase many more of his paintings, and in the process, she almost single-handedly rescued him from obscurity and established his modern-day reputation. The Kröller-Müller Museum, which she founded in the 1930s on a family estate, features some 97 works by the master, including The Bridge at Arles. But Kröller-Müller didn't stop with Van Gogh; her goal was to found the first museum in the Netherlands devoted to modern art, so the collection also boasts exceptional works by Pablo Picasso, Piet Mondrian and Auguste Rodin, among many other late-19th- and 20th-century artists. Join an expert guide for a one-hour tour, then revisit the galleries for a closer look or go out into the extensive sculpture gardens on your own. The museum has commissioned a sculpture a year for decades, so the collection is unusual, contemporary and diverse.
"Let's Go" biking in the Hoge Veluwe National Park
Day 7: Hoorn, Enkhuizen
Today offers you a chance to discover the Netherlands' maritime history, with visits to two historic towns linked to the Dutch East India Company (which dominated Europe's trade with Asia for centuries), and to learn a little about the daily lives of the seafaring Dutch in the 19th century. The tip of South America—Cape Horn—is actually a misspelling of "Hoorn," which tells you a lot about the town of Hoorn and its seafaring past. The swash-buckling derring-do of Dutch explorers comes to life today on a guided walking tour of this historic locale. Later, leave the modern world far behind during a visit to a re-created 19th-century Dutch village.Featured Excursions:
Hoorn walking discovery tourDid you ever wonder why the tip of South America is called Cape Horn? It's a misspelling of Hoorn, the home port of Dutch explorer Willem Schouten, who named it after his hometown when he arrived there in 1616. In the 17th century, Hoorn was a booming center of international trade, rivaling Amsterdam, and an important home base for the Dutch East India Company. Uncover Hoorn's rich seafaring history on a guided walking tour accompanied by a delightful boat ride past several delightful towns. Nowadays, charming shops and houses line the lanes, and pleasure boats bob in the harbor. The Hoorn fleet sailed the seven seas and returned laden with precious commodities; the town's lovely 17th-century gabled houses bear witness to the wealth brought by that trade. The ornate façade of the 17th-century Statencollege, now the Westfries Museum, is a colorful reminder of past glories: It shows the coats of arms of seven cities that were administered here. Though the harbor silted up and access to the North Sea was lost in 1932, Hoorn continues to thrive as a market town for farms and dairies in West Friesland. Back onboard, you will cruise to Enkhuizen and its remarkable re-creation of 19th-century Dutch life and culture. On the way, take note of the ship's passage through one particular lock—it's the only lock in the world that goes over a road.

Enkhuizen fishing port- Dutch maritime traditions on the ZuiderzeeCharacteristic buildings—houses, cottages, warehouses and churches—were collected from all over the region to re-create a typical 19th-century Dutch village: the Zuiderzee Outdoor Museum. It truly feels as though you have left the 21st century behind and entered an extraordinarily charming past as you walk through this village. Women in period costume (complete with traditional pointed caps and wooden shoes) do needlework, children play with hoops, and men make rope or barrels. Stop by the smoke-house to see racks of herring being preserved, or visit the cheesemaker. Given Enkhuizen's long history as a seaport (it was once a base for the East India Company) and fishing hub, it's only natural that you can spot tall wooden sailing ships docked next to meadows where sheep graze. The museum has an indoor component as well, including a section devoted to shipbuilding and maritime history, and the gift shop, stocked with unusual and well-chosen contemporary arts and crafts, is well worth a visit.
Dutch Cheese Trail
Day 8: Haarlem
Keukenhof is said to be the world's largest and most famous flower garden, a bold declaration that actually lives up to the hype. Spend all day amongst millions of brilliantly colored flowers, or mix it up a bit with a shorter garden visit plus a stroll through Haarlem.Featured Excursions:
Full-day at Keukenhof Gardens*Rivers of blue hyacinths curve through the trees, and great drifts of brilliantly hued tulips and daffodils carpet Keukenhof's 70-plus acres (32 hectares). It's probably the most spectacular flower garden in the world, and it's only open for a few weeks each spring. Gardeners plant some seven million bulbs on these grounds, making it a showcase for the Netherlands' legendary flower industry. There's more to see than just flowers, of course: There are intriguing exhibits in pavilions scattered throughout the estate, as well as concerts and activities for kids. Enjoy lunch on your own at one of the restaurants in the park; all of them have terraces overlooking beautiful plantings where you can savor the view as well as your meal. After you've seen all of the vibrant blossoms and perhaps even bought some bulbs to grow at home, you'll meet up with your guide and continue by motorcoach to the ship.

Note: If you're thinking about buying bulbs from Keukenhof or perhaps having items shipped home, make sure the vendor provides the documentation necessary for the import of bulbs or plants into your home country. Rules for importing flower bulbs and plants vary from country to country.

*Note: Lunch is not included with the full-day at Keukenhof Gardens.

Keukenhof Gardens (half-day), followed by Haarlem: art, history and dutch lifestyleDevote just half the day to the spectacular garden described above, have lunch onboard the ship and then head for Haarlem. Ten streets meet at Haarlem's Market Square, the heart of a town that once rivaled Amsterdam for leadership in the region, where you'll find stalls brimming with local produce, flowers and cheeses. St. Bavo's and the town hall, both dating to Holland's golden age, dominate the square; the church has two distinctive façades: one typically Gothic, which faces the square, the other an extravaganza of cupola-topped brick towers, which abuts a canal. As an economic force to be reckoned with, Haarlem had many prosperous citizens who endowed hofjes—residences for the sick or indigent built around courtyard gardens—that remain in the Old Town. Explore the offerings in the market square, peek into a hofje garden and saunter along busy, shop-lined streets (the town is something of a mecca for shoppers) and quiet canals. You'll also have time to pick up souvenirs and explore on your own before returning to the ship.
Day 9: Amsterdam
The laid-back, forward-thinking Dutch capital is as celebrated for its artistic masterpieces as it is for its canals, narrow houses, bicycles and vibrant nightlife. Discover the "Venice of the North" in two iconic ways today—a private visit to the Amsterdam Hermitage, plus a canal cruise or walking tour with a native of the city. The Netherlands' largest city, Amsterdam has been an international port and financial center for 400 years, endowing it with a lively cosmopolitan feeling to match its historic architecture. Here, even the simplest shop has a distinctive charm, and every street has a story to tell. Your day begins with a morning tour of a rare collection of art—an extra special perk reserved solely for Uniworld guests.Featured Excursions:
Exclusive "Morning with the Masters" at the Hermitage AmsterdamThe doors open early to give you a crowd-free viewing of an extraordinary collection of Dutch master paintings: 30 monumental group paintings from the golden age that have been called "cousins of The Night Watch." Drawn from both the Amsterdam Museum and the Rijksmuseum, these works have rarely been displayed because of their enormous size. The Amsterdam Hermitage, however, devotes an enormous gallery space to this exhibit, which reveals the connections and activities of Amsterdam's power elite in the 17th century. Meet mayors and regents, colonels of the civil guard, wealthy merchants and their wives and learn something of their lives and the lives of the artists who painted these massive portraits.

Amsterdam canal cruiseIt's called the "Venice of the North" for a reason: Canals crisscross the heart of the old city, and bridges link some 90 islands. As the principal city in a newly independent Holland, Amsterdam was a boom town in the early 17th century, rapidly outgrowing its medieval walls. The city's fathers responded by demolishing most of the old city and building all new, creating Europe's first planned city. That "new" district is now 400 years old, and as you glide along the main canals, you'll pass stately merchants' houses built centuries ago (some of them are now house museums you can visit on your own). But the canals are not merely scenic; they are essential thoroughfares— people take water buses to work and live in houseboats along the banks—so a canal cruise gives you a look at the busy modern city too.

"Do as the Locals Do" Amsterdam walking tourUncover some of Amsterdam's most charming and little-known treasures with a stroll to the city's most notable sights. Cross over the historic and richly-decorated Blauwbrug (Blue Bridge) that sits over the river Amstel. The original Blue Bridge was a wooden structure built in 1600 and painted to match the blue color from the Dutch flag. Next, board a streetcar and head to Rokin Street for a taste of a traditional Dutch delicacy, Haring (a unique raw herring dish) before pressing on towards Begijnhof–one of the oldest groups of historic buildings in Amsterdam. Next up? The Amsterdam Museum, located in the former city orphanage built in 1580, for an intimate look into the country's history. After, you'll head towards Dam Square and visit the Royal Palace of Amsterdam, the only palace in the country that is open to the public and still in use by the Dutch Monarchy. Discover its collection of artwork and furnishings before venturing to the adjacent Nieuwe Kerk, one of the most impressive churches in The Netherlands. Monarchs have been inaugurated there, royal weddings and coronations have taken place under its stained-glass windows, and on occasion exhibitions on art and history are hosted inside. Head into oldest parts of Amsterdam via Warmoesstraat, one of the oldest, shop-lined streets in the city, that is also adjacent to the city's infamous Red-Light District. Wander along charming streets and indulge in a little bit of window shopping before arriving in Oudezijds Voorburgwal, one the city's central canals flanked by quintessentially Dutch façades, where you'll see the Oude Kerk (translation: Old Church), the city's oldest building. Your tour will end in Zeedijk, Amsterdam's Chinatown, which was originally constructed as a means of protection from the sea.

A special Captain's Farewell Reception and Dinner will be prepared for you this evening.
Day 10: Amsterdam (Disembark)
Disembark the ship. If your cruise package includes a group departure transfer or if you have purchased a private departure transfer, you will be transferred to Amsterdam Schiphol Airport for your flight home.
---
Preparing For Your Trip

Make Sure to Bring All of Your Important Documents: Passport, Foreign visa (if applicable), Itinerary, Trip confirmation, Airline ticket, Drivers license, Credit cards, Travel documents.

Vaccinations Are Required for Entry to Some Countries. The U.S. Centers for Disease Control (CDC) and the World Health Organization (WHO) can provide you their recommendations for vaccinations and other travel health precautions for your trip abroad.

Are You Taking Any Prescriptions or Other Medications? Pack enough to last your entire trip, including some extra in case you are unexpectedly delayed.

Insurance: Purchase travel insurance to cover yourself against unexpected situations. You never know when something might happen, so always be prepared.

While Traveling

Keep an eye on your belongings. Do not leave your belongings unattended in public spaces

Always have local cash. Not every place takes credit cards.

Pavlus Travel Referral Program

How does our referral program work?

How does our referral program work?

It is simple: tell all your friends, family and anyone you meet on vacation about Pavlus Travel and Cruise and when they book their first tour / all-inclusive / cruise vacation with us, you will receive up to $150!*
Let Lee help you find the guaranteed best price on your vacation!
Call direct at 1-800-664-4932
or email at lee@pavlustravel.com

Contact our Travel Planners

800.528.9300
8:00am - 5:30pm MST M-F
9:00am - 4:00pm MST S-S