Delightful Danube 2019 (Nurnberg to Budapest)

An extraordinary journey for aficionados of European history, music and art

Experience dynamic Budapest and imperial Vienna. Marvel at ravishing scenery as your luxurious ship glides through the Wachau Valley, celebrated as one of the world's most beautiful landscapes, into Germany and past charming Bavarian villages. Exclusive treasures are plentiful on this delightful journey. Go behind the scenes at a BMW factory to get an up-close view of Germany's rich automotive heritage, and "Let's Go" with guided hiking and biking excursions along the Danube. This enchanting voyage provides a variety of ways to enjoy captivating destinations as well as plenty of time to relax onboard as you sail from Budapest to Nuremberg.

Who will enjoy this cruise/tour

Travelers who love history, music and architecture will be able to tailor their travel to their interests along the mighty Danube.

Generations Family Program (select sailings)

Share the enchantment of this region with the special young people in your life. These cruise/tours not only feature unique, fun-filled adventures for families to enjoy together, they're also packed with culturally and historically significant experiences designed to spark creativity and lifelong learning.
Price starts at:

$3199

Tour length: 8 Days
Trip Type: River Cruise
All Brochure Prices Are Discounted.
We Guarantee Lowest Prices.
Why Pay Retail Prices? Call 1.800.528.9300.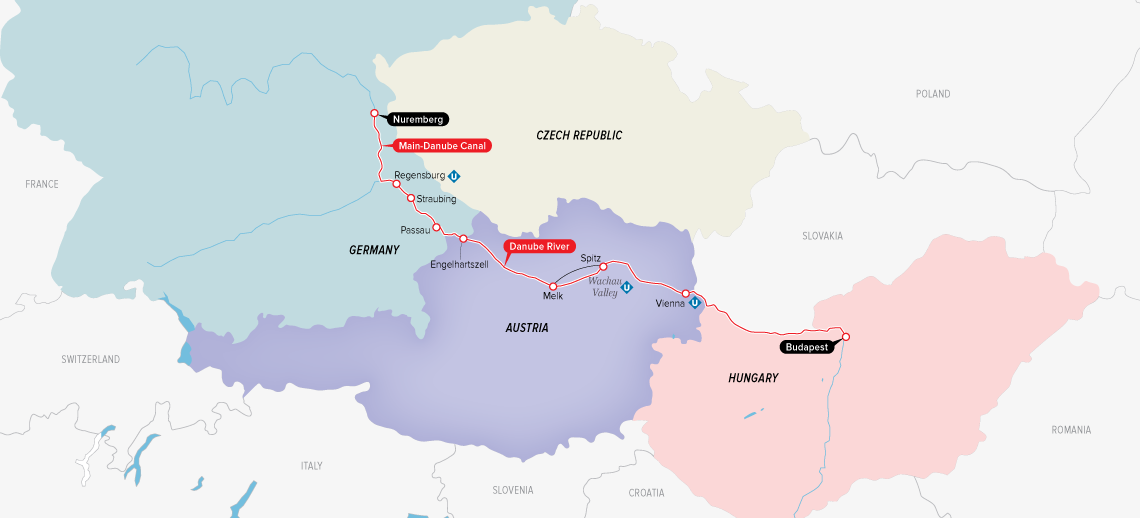 Day 1: Nuremberg (Embark)
Arrive at Nuremberg Airport. If your cruise package includes a group arrival transfer or if you have purchased a private arrival transfer, you will be transferred to the ship.
Day 2: Cruising the Main-Danube Canal, Regensburg
You have your choice of adventures in Regensburg, famous for its beautiful, UNESCO protected old city center. "Regensburg is so beautifully situated; this region had to attract a town," wrote Goethe in his Diary of an Italian Voyage. And attract a town it did, but not due to its beautiful location alone. Ambitious and farseeing locals built a bridge (Steinerne Brücke, or Stone Bridge) over the Danube back in the 12th century, making Regensburg an international trading hub. Because so many of the handsome buildings from that period remain, UNESCO declared the old city center a World Heritage Site in 2006.Featured Excursions:
BMW factory visitHere is your opportunity to see German engineering, famous the world over, in operation as you tour the state-of-the-art BMW factory on the outskirts of Regensburg. About a thousand cars a day roll off the assembly line here, many of them in the BMW 3 series. You'll see the fascinating production process from beginning to end, starting with rolls of sheet metal that are stamped out into body parts and continuing as the body is built and the various other elements are robotically assembled. You'll follow a car into the finishing department to see it painted, polished and have the final touch applied—the BMW roundel.

NOTE: If the tour lands on a day when the BMW factory is closed, we will visit the Audi factory instead. The Audi production line is closed on weekends, so if your visit is scheduled for a weekend, you will see the Audi museum instead

Fascination BMW or student strollDon your safety goggles and discover how BMW builds a thousand cars a day at their Regensburg plant. Robots and humans work together to assemble a single car—which has about 550 parts—in less than 40 hours (it used to take weeks). The place is huge, and though robots do a lot of the work, a great deal still needs to be done by the human hand. You get to see all aspects of the process, from stamping out metal parts to painting, in a tour tailored to young visitors.

If you'd rather see some of historic Regensburg, you can experience it from the viewpoint of its modern-day teenagers, who will show you where to shop, stop for a bite to eat at a thousand-year-old sausage stand and find the best ice cream. They'll also point out all the must-see sights—the cathedral, the medieval bridge and the house where Oskar Schindler lived.
"Baroque 500" Thurn and Taxis castle visit"Let's Go" Regensburg hiking experience
Day 3: Passau
Passau is a crossroads in more ways than one—three rivers meet here and three nations nearly do, making for a fascinating cultural mosaic. Get to know the town and its main claim to fame, Europe's largest pipe organ, or enjoy an invigorating riverside hike or bike ride.Featured Excursions:
Passau walking discovery tourThe skyline of Passau is dominated by two buildings that owe their existence to the prince-bishops who ruled the city until 1803: the great fortress looming on a hill above the three rivers, home to the bishops until the 17th century, and the green onion domes of St. Stephan's Cathedral. As you walk through the cobblestone streets toward those green onion domes, you'll realize that Passau retains the layout of the medieval town. However, many of the wooden medieval buildings burned to the ground in the 17th century, and the prince-bishops imported Italian artists to build a new cathedral and a magnificent new residence for the bishops themselves. As a result, these splendid structures flaunt Italian baroque and rococo style and ornamentation, complete with opulent gilding and wonderful frescoes. Your guide will introduce you to some of the architectural highlights—the rococo stairways of the New Residence; the cathedral; and the Town Hall, which boasts a magnificent atrium adorned by large paintings by Ferdinand Wagner—and make sure you get a close-up view of the point where the three rivers meet.

"Let's Go" scenic Bavarian river biking"Let's Go" hike along the Ilz RiverBike the famous Danube Valley from Engelhartszell to PassauGet into the water this morning: The Ilz River is a great place to paddle a canoe or a kayak—or you could even try some stand-up paddleboarding. It's splashy fun! Later in the day, you can mount a bike and join a group for a river-hugging ride that starts at the bike ferry across the Danube. You'll pedal through the lovely countryside between Engelhartszell and Passau—orchards and meadows glide past, along with the occasional castle, charming village or picturesque ruin. Your expert bike guide will have a surprise waiting for you somewhere along the route, too!
Uniworld looks for the next top model of Bavarian kids fashion, and dumpling workshop onboard
Day 4: Engelhartszell, cruising the Danube River
This may be the most leisurely day of your entire journey, as you spend it onboard, admiring the scenery, chatting with new friends and perhaps enjoying a massage in the spa. Your ship leaves Germany behind today, sailing into Austria and cruising through the Schlögener Schinge—a hairpin loop in the Danube that was once very hazardous for ships.
Day 5: Spitz, cruising the Wachau Valley
Your ship will dock in Spitz, midway through the glorious landscape, where you are invited to enjoy an exclusive sparkling wine reception at Artstatten Castle. Later in the day, you'll want to find a comfortable seat in the lounge or on the Sun Deck as your ship cruises through the Wachau Valley. Over the eons, the Danube cut a gorge through the foothills of the Bohemian Mountains, resulting in a 19-mile (30-kilometer) stretch of riverine scenery so beautiful, UNESCO declared it a World Heritage Landscape.Featured Excursions:
"Exclusive" sparkling wine reception at Artstatten Castle with Habsburg royaltyTreasure hunt hike in the vineyardsHead outdoors to the beautiful Wachau Valley, one of Austria's great nature habitats. Hike through vineyards high above the river with a nature expert who will guide you in a hunt for the treasures hiding in this habitat. Can you spot one of the orchid species that only grows here in the Wachau? How about the rare native feather grass? Glimpse a European green lizard basking on a stone terrace or a falcon soaring far overhead, but don't forget to look out over the river and the valley; these views are so lovely, the memory will stay with you forever.
Day 6: Vienna
A city tour will show you the architectural highlights of the Austrian capital as well as the legendary opera house in the heart of the city. Or, indulge your passion for art with visits to two distinctively different collections—a "cabinet of curiosities" collected by the Habsburgs and the Belvedere's extraordinary cache of paintings by Klimt and other renowned artists. The grand dame of the Danube, Vienna was the heart of the Austro-Hungarian Empire and remains, to this day, the political and cultural center of Austria. Klimt painted here; Beethoven and Mozart composed here; Freud developed his theories here. It's a treasure trove of splendid architecture, astonishing art collections and inviting cafés—and today it is yours to explore.Featured Excursions:
Vienna panoramic highlights with Old Town food and art walkVienna panoramic highlights World Museum Vienna: the manic Habsburg collector's treasuresSegway ride in Prater Park, Ferris Wheel, and see how Sacher Torte or Schönbrunn is madeHere's a fun way to see Vienna: Head to Prater Park. Tweens and teens can zoom around the park on Segways, but there's plenty for younger travelers to do too, including a ride on the Giant Ferris Wheel, built more than a century ago. Unlike American Ferris wheels, which have open seats, the carriages of the Riesenrad resemble miniature railroad cars. It's one of the tallest wheels in the world, so you get a fabulous view of the city from the top. Back on the ground, you'll encounter some mouthwatering classic Viennese sweets—because Vienna loves sweets!—by watching the famous Sacher torte being made at Café Demel, one of the city's most elegant cafés, and sampling yummy Lilliput chocolates at a shop near St. Stephen's Cathedral. Younger travelers can get a taste of Habsburg splendor at Schönbrunn Palace. At the Children's Museum in the palace, girls may dress up in the ruffles and brocades of long ago, and boys can don imperial uniforms. Try on tricorns and powdered wigs, flirt with your fan, figure out how to set the table for an imperial banquet—it's all fun, but it's also a glimpse into a long-ago world of protocol and grandeur.
Day 7: Budapest
Located on opposite sides of the Danube, Buda and Pest each has a distinctive character and allure all its own. Explore this dynamic and multi-faceted city with your choice of excursions—you can see it from a local's perspective on our exclusive walking tour, or cover more ground with a panoramic tour. Vibrant Budapest, Hungary's capital, offers an enchanting combination of East and West, old and new. Even its geography is made up of two parts—Buda (the hills) and Pest (the flatlands)—divided by the Danube. Appropriately enough, you have your choice of two different ways to explore it today.Featured Excursions:
Budapest: panoramic highlights"Do as the Locals Do" Budapest walking tourGet ready for a fun immersion in daily life in Budapest— your local guide will show you how to use the metro (one of the oldest in Europe) to easily reach all the city has to offer. Start with a visit to one of the city's irresistible market halls. Stalls spill over with produce, sausages and meats, festoons of dried paprika, cheeses, and jars of honey, all of it authentically Hungarian. After you leave the market, stop for coffee and a sweet treat at Szamos Gourmet Palace, a combination pastry shop, café and chocolate maker in Vörösmarty Square. Marzipan is a favorite confection in Budapest, and Szamos has specialized in making it since the 1930s, so you might want to try some—but the shop's truffle selection is equally irresistible. Refreshed, you'll be ready to hop back on the tram for a visit to the gracious green spaces of Károlyi Garden, sometimes described as Budapest's most charming small park. You'll ramble along the boulevards and pass the Hungarian National Museum, truly getting the feel for this dynamic city, as you head back toward the ship.

Your ship sets sail from Budapest after your tour, cruising along the Danube Bend, which is lined with scenic towns—among them are the oldest settlements in the country—nestled at the foot of lovely wooded hills.

Hospital in the RockImagine living underneath Budapest for 34 years in a secret abandoned hospital. That's what one couple did, tending miles of echoing caverns lined with ghostly hospital beds, boxes of files, gas masks . . . gas masks? Yes, gas masks. The Hospital in the Rock began as a hospital during WWII, when Budapest was besieged, but it became a secret nuclear bomb shelter—and hospital/torture chamber for prisoners—during the Soviet era in the 1950s. It was so secret that once it was abandoned in 1970, a single couple continued to live here as caretakers, telling no one what they did. Explore these once-secret caves, seeing 70-year-old hospital equipment still in place, along with some 200 wax figures that stand in for the real people who worked on this site of heroism and horror. Why was this place such a dark secret for so many decades? Can you help unravel its mysteries?
Day 8: Budapest (Disembark)
You've experienced the best of the Danube River, sampling myriad culinary delights and exploring fascinating stops along the way. Now your journey comes to a close (unless you've booked a Uniworld post-cruise tour of Budapest) and it's time to disembark the ship. If your cruise/tour includes a group departure transfer or if you have purchased a private departure transfer, you will be transferred to Budapest Ferenc Liszt International Airport for your flight home. Your Uniworld adventure may be over, but we know you'll enjoy the memories you've made for years to come.
---
Preparing For Your Trip

Make Sure to Bring All of Your Important Documents: Passport, Foreign visa (if applicable), Itinerary, Trip confirmation, Airline ticket, Drivers license, Credit cards, Travel documents.

Vaccinations Are Required for Entry to Some Countries. The U.S. Centers for Disease Control (CDC) and the World Health Organization (WHO) can provide you their recommendations for vaccinations and other travel health precautions for your trip abroad.

Are You Taking Any Prescriptions or Other Medications? Pack enough to last your entire trip, including some extra in case you are unexpectedly delayed.

Insurance: Purchase travel insurance to cover yourself against unexpected situations. You never know when something might happen, so always be prepared.

While Traveling

Keep an eye on your belongings. Do not leave your belongings unattended in public spaces

Always have local cash. Not every place takes credit cards.

Pavlus Travel Referral Program

How does our referral program work?

How does our referral program work?

It is simple: tell all your friends, family and anyone you meet on vacation about Pavlus Travel and Cruise and when they book their first tour / all-inclusive / cruise vacation with us, you will receive up to $150!*
Let Carol help you find the guaranteed best price on your vacation!
Call direct at 1-800-664-4947
or email at carol@pavlustravel.com

Contact our Travel Planners

800.528.9300
8:00am - 5:30pm MST M-F
9:00am - 4:00pm MST S-S