Grand France 2019 (Paris to Avignon)

For Francophiles in love with the culture, history, cuisine and romance of France, this grand voyage is a dream come true. Soak up the joie de vivre that makes France one of the most adored countries in the world.

Experience France from north to south, sailing three rivers and embarking upon in-depth shore excursions. Walk through Monet's beloved Giverny, seeing the enchanting grounds that he made famous; kayak under the arches of the 2,000-year-old Pont du Gard outside of Avignon; enjoy a recital of baroque favorites in a 12th-century cathedral in charming Viviers; visit Lyon's famous Les Halles food market; and have a chance to golf at two historic French golf courses.

From the beaches

of Normandy and the verve and romance of Paris to the sun-drenched vistas of Burgundy and Provence, this itinerary in France is truly sans pareil!

Who will enjoy this cruise? Those who desire a taste of everything—art, architecture, history, culture, fine wine and tantalizing cuisine—all in one grand adventure.

Grand France is a combination of Paris & Normandy and Burgundy & Provence.
Price starts at:

$7499

Tour length: 15 Days
Trip Type: River Cruise
All Brochure Prices Are Discounted.
We Guarantee Lowest Prices.
Why Pay Retail Prices? Call 1.800.528.9300.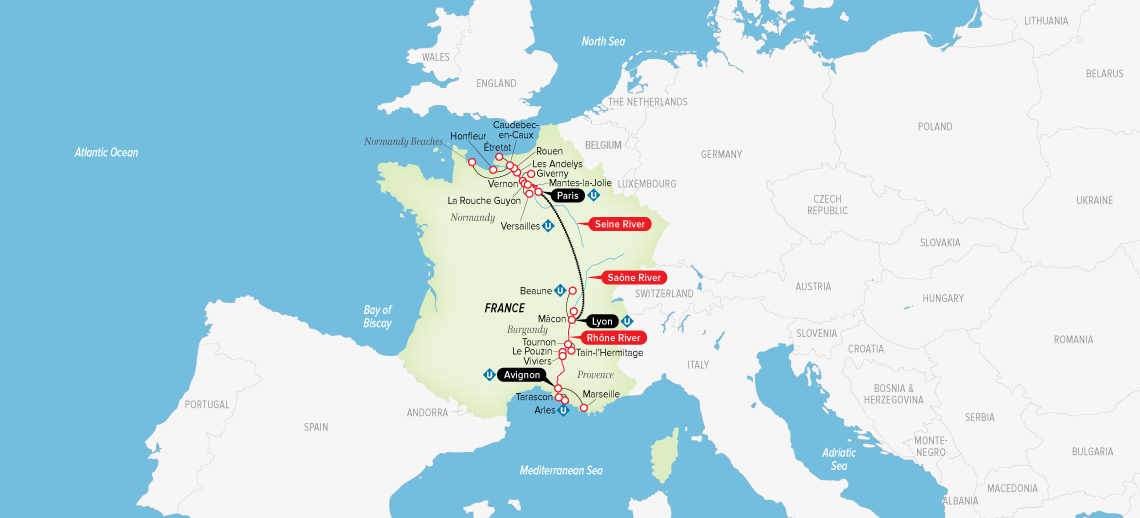 Paris (Embark)
Arrive at Paris Charles de Gaulle Airport. If your cruise package includes a group arrival transfer or if you have purchased a private transfer, you will be greeted by a Uniworld representative and transferred to the ship.
La Roche-Guyon, Vernon Giverny
Today is a celebration of Northern France's natural beauty, with an excursion to a splendid chateau and gardens situated in an equally grand setting, plus a chance to immerse yourself in the very landscapes that inspired Impressionist master Claude Monet. Visit the hilltop Chateau La Roche-Guyon, surrounded by beautiful gardens and offering sweeping views over the Seine. Later, you can visit the home and gardens of Impressionist master Claude Monet—the inspiration for many of his most beloved works. Or, take in the beautiful French countryside in a more invigorating way, with a guided bike ride from Vernon to Giverny.
Rouen (Normandy Beaches)
The Normandy coast will forever be associated with the Allies' D-Day invasion, a day that comes vividly to life today on an excursion to the beaches of 1944. Immerse yourself in the tactics, desperate courage and horrendous human cost of the 1944 Allied invasion of France, the first step in the ultimately victorious land campaign against the Third Reich. It began here, on these Norman beaches.
Caudebec-en-Caux (Honfleur or Étretat)
Golfing? On a river cruise? This delightfully unexpected excursion—a Uniworld exclusive—features a dramatic links course set atop Normandy's Alabaster Coast at the windy cliffs of Étretat .In a word, magnifique. Not into golf? Stroll through the beautiful Calvados countryside to seaside Honfleur, captured on canvas by generations of artists.
Rouen
Walk in the footsteps of greatness in Normandy's medieval capital, a city with a historic quarter that remains amazingly intact. From the cathedral Monet painted dozens of times to the cross marking to spot where Joan of Arc was martyred, Rouen is a treasure trove for the culturally curious. The medieval capital of Normandy, Rouen has managed to preserve much of its historic core, despite being turned into a battlefield numerous times. The roll call of famous people who lived or died in Rouen is long and varied— Richard the Lionheart, Joan of Arc, Gustave Flaubert and Claude Monet are among them.
Mantes-la-Jolie (Versailles)
How did France's rulers live over the centuries? Step into the private rooms of either the Palace of Versailles, the lavish palace built by the Sun King, or Marie Antoinette's hamlet to find out.
Paris
Whether you're a first-time visitor to the "City of Light" or you've been here many times before, there's something for everyone today in Paris. Enjoy a panoramic overview of the city, or join a local expert for a walk through two much-loved neighborhoods.
Paris (Disembark), Transfer to Lyon via High-Speed TGV Train (Embark)
You'll transfer from the magical S.S. Joie de Vivre cruise ship in Paris to the striking S.S. Catherine in Lyon via high-speed, first-class TGV train for the second half of this fabulous grand tour. Once you've settled into your new home, you'll have some time to explore delightful Lyon, which is nestled alongside the Saône River.
Mâcon (Beaune)
The pace of life is decidedly more relaxed in Burgundy, where endless rows of grapes hang heavy on the vine. The capital of the region's wine trade, Beaune, is renowned for its history, beauty and highly prized wine, as well as its medieval-era hospital—the Hospices de Beaune. Located in the southernmost part of Burgundy, Mâcon, a Saône River port, is your gateway to Beaune.
Lyon
As the epicenter of French gastronomy, Lyon is a city of tantalizing contrasts. There's much to explore here, from the work of culinary visionaries to silk weavers' secret passageways. After your choice of excursions, embrace the locals' favorite mode of transportation with a patisserie-fueled bike ride—a great way to see the sights. Two rivers: one tranquil, one torrential. Two hills: one for labor, where the sound of the silk weavers' looms used to echo; the other for prayers, crowned by a spectacular basilica. Two cities, as different as night and day: one boasting colorful Old World façades, medieval mansions and hidden passageways; one with a sophisticated urbanity reminiscent of Paris. Situated at the confluence of the Rhône and Saône rivers, and with roots stretching back over 2,000 years to the days of Julius Caesar, Lyon is a place of fascinating dualities. Today you have your choice of ways to explore this city of contrasts: Sample its culinary riches with a visit to its peerless market hall or follow the footsteps of the silk weavers in the old quarter. For a more active option, see the city from its extensive—and lovely—bike paths.
Tournon (Tain-l'Hermitage)
If you love fine wine, you'll love the twin villages of Tournon and Tain-l'Hermitage. Whether you opt for a guided walk or a more vigorous vineyard hike, you'll also have a chance to taste the local specialty—wonderful wines made primarily from Syrah grapes.
Viviers
Meet some new friends today in the village of Viviers; encounters that really get at the heart and soul of the French people and their culture and traditions. No matter whom you get to know—a pottery maker, a dance teacher or a local homeowner—you'll have an enjoyable and truly authentic experience, something you'll remember for years to come. An enchanting village where time seems to have stopped centuries ago, Viviers has a long and storied past that goes back more than 1,600 years—and a splendid architectural heritage to match. At one time, Viviers was divided along religious lines—the clergy lived in the upper part of the town, the laity in the lower part. Your exploration of the town will take you through both parts, as you begin at the crest and make your way to the riverbank.
Avignon
The walled city of Avignon is one of the most fascinating towns in southern France, with a host of historic gems to explore—including the fortress residence of rebellious popes who broke from Rome and once lived and ruled here. You'll see the Palace of the Popes and much more today, and also have a chance to kayak under a 2,000-year-old Roman aqueduct. Avignon is home to the medieval bridge immortalized in the folk song "Sur le Pont d 'Avignon," as well as the mighty Palace of the Popes. From a distance, the picture-perfect city center looks as though it has been lifted straight from the pages of a history book, but all you need to do is step inside its medieval walls to discover the prosperous heart of contemporary Avignon.
Tarascon (Arles or Tarascon)
Explore one of two sun-drenched Provençal towns today, each with an allure all its own. Known for its remarkable Roman ruins, Arles so inspired Van Gogh that he painted some 200 paintings there; Tarascon boasts an ancient castle, as well as a local legend about a ferocious dragon. Arles has existed since the sixth century BC, when the ancient Greeks founded it and named it Theline. It was here that the Romans built their first bridge across the Rhône River, creating a vital overland route between Italy and Spain and facilitating the expansion of their empire. Long renowned as one of the region's most attractive cities, it lured artist Vincent van Gogh, who painted hundreds of works here (including Sunflowers and The Yellow House) in just 15 months. A short distance from Arles is the ancient and charming town of Tarascon. Its many medieval sites include a 12th-century church and a 15th-century castle that is rich with tales of a beloved ruler. Bask in the warmth of the Provençal sunlight in either of these friendly Mediterranean towns.
Avignon (Disembark)
Disembark the ship. If your cruise package includes a group departure transfer or if you have purchased a private departure transfer, you will be transferred to Marseille International Airport for your flight home.
---
Preparing For Your Trip

Make Sure to Bring All of Your Important Documents: Passport, Foreign visa (if applicable), Itinerary, Trip confirmation, Airline ticket, Drivers license, Credit cards, Travel documents.

Vaccinations Are Required for Entry to Some Countries. The U.S. Centers for Disease Control (CDC) and the World Health Organization (WHO) can provide you their recommendations for vaccinations and other travel health precautions for your trip abroad.

Are You Taking Any Prescriptions or Other Medications? Pack enough to last your entire trip, including some extra in case you are unexpectedly delayed.

Insurance: Purchase travel insurance to cover yourself against unexpected situations. You never know when something might happen, so always be prepared.

While Traveling

Keep an eye on your belongings. Do not leave your belongings unattended in public spaces

Always have local cash. Not every place takes credit cards.

Pavlus Travel Referral Program

How does our referral program work?

How does our referral program work?

It is simple: tell all your friends, family and anyone you meet on vacation about Pavlus Travel and Cruise and when they book their first tour / all-inclusive / cruise vacation with us, you will receive up to $150!*
Let Jennifer help you find the guaranteed best price on your vacation!
Call direct at 866-811-1359
or email at jennifer@pavlustravel.com

Contact our Travel Planners

800.528.9300
8:00am - 5:30pm MST M-F
9:00am - 4:00pm MST S-S