Venice & the Gems of Northern Italy 2019 (Round Trip from venice)

Uncover the extraordinary hidden treasures of Venice and Northern Italy

Soak up the enchantment of "The City of Water" and three outer-lying Venetian islands, Burano, Mazzorbo and Torcello. Be treated to an exclusive evening opening and lighting ceremony at St. Mark's Basilica. Discover the charm of seaside Chioggia loved by fishermen and artists alike. Enjoy a multicourse lunch complete with wine pairings at a historic wine estate in Valpolicella. Explore medieval Padua, once home to Galileo and Copernicus; "bountiful" Bologna; and UNESCO-designated Ferrara. Each of these enchanting locales is yours to uncover on the "Gems of Northern Italy."

Who will enjoy this cruise/tour

Romantics, connoisseurs of food and wine and lovers of art and architecture. Experienced travelers looking to explore the hidden gems of Northern Italy.

Generations Family Program (select sailings)

Share the enchantment of this region with the special young people in your life. These cruise/tours not only feature unique, fun-filled adventures for families to enjoy together, they're also packed with culturally and historically significant experiences designed to spark creativity and lifelong learning.
Price starts at:

$2999

Tour length: 8 Days
Trip Type: River Cruise
All Brochure Prices Are Discounted.
We Guarantee Lowest Prices.
Why Pay Retail Prices? Call 1.800.528.9300.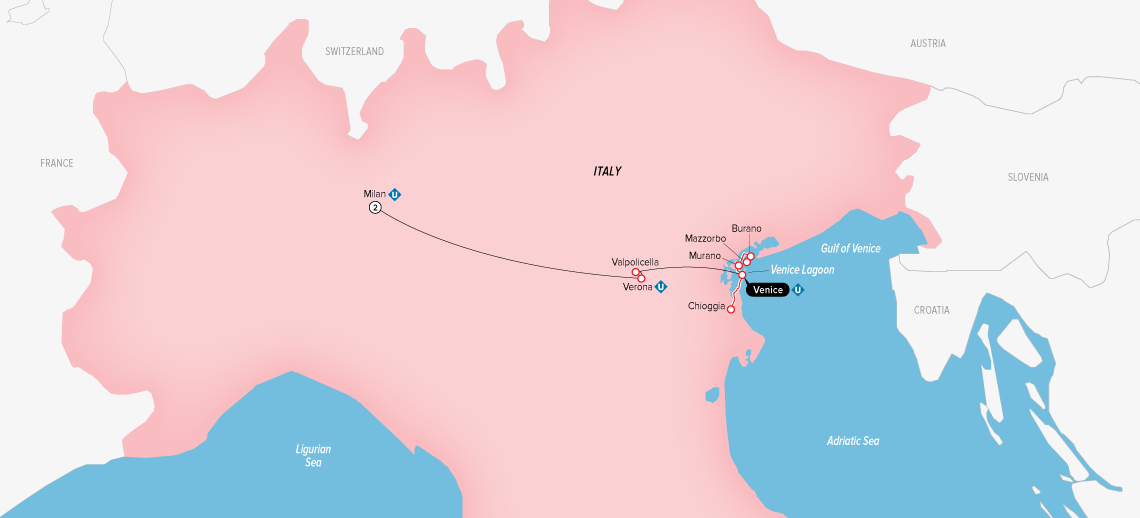 Day 1: Venice (Embark)
Arrive at Venice Marco Polo International Airport, where you will be transferred to the ship. Unpack, relax and enjoy your first evening on the Venetian Lagoon.
Day 2: Venice
If ever there was a city that could be described as "bewitching" and "ethereal," Venice is it. An expert guide will show you iconic sites as well as quiet lanes and secret spots known only to locals (shhhh….). Also on deck today: a scenic cruise around the Venetian Lagoon. Hoping to escape marauding Huns, Goths and Vandals as the Roman Empire collapsed in the fifth century, refugees built a little settlement they called Venice on tiny islands in a lagoon in the Adriatic Sea. By the 12th century, Venice was the wealthiest and most powerful city-state in Europe, controlling the Mediterranean and all European trade with the East. Its merchant-aristocrats lavished their wealth on palaces and churches, art and music, creating a city that is truly like no other. Now, seawater laps at the foot of thousand-year-old houses— and sometimes rises above the doorsteps—but the glorious palaces and romantic canals enchant visitors just as they have for centuries. Today you will embark on your own personal voyage of discovery through this entrancing city.Featured Excursions:
A morning walk in VeniceVenice has no need to designate a pedestrians-only historic district: No cars are permitted within the island city; all transportation is by foot or water. Begin your exploration—on foot, of course—by strolling through the historic Castello district. It's the largest of Venice's six districts; back in the 13th century it was home to the Arsenal, where Venice's ships were built (Venetians boasted that they could build a complete ship in a single day) and where the famous Biennale art exhibition now takes place. As you pass 800-year-old homes, you'll hear the murmur of the soft local dialect through the open windows, clothes flap from lines strung over tiny canals and kids kick soccer balls along cobbled alleys—it's a real, living, breathing neighborhood, not just a historic site. You will soon arrive at the most famous plaza in Italy, St. Mark's Square, and the Doge's Palace. Venetians elected their first doge, or duke, in AD 697 and began building the palace around AD 800.

The palace complex, as it exists now, mostly dates to the 14th and 15th centuries, and it brims with jaw-dropping artistic gems, including Tintoretto's wall-sized Paradise and works by Veronese, Tiepolo and Titian. Justice—and sometimes injustice, for Venice was a supremely political city—was meted out in the palace, and those convicted of crimes were led across the Bridge of Sighs to prison. Follow their footsteps to the prison and gaze into the cells: Casanova escaped from one of these cells; other, less fortunate prisoners whiled away their time by inscribing graffiti on the walls, which you can still read. Your tour ends at the Rialto (the oldest part of the city) and the famous 16th-century stone bridge spanning the Grand Canal.

After a scenic cruise around the Venetian Lagoon, you can spend the afternoon exploring on your own. In addition to its well-known museums, Venice is also home to some highly specialized ones: Displays at the Correr are devoted to the history of Venice; the Museo della Musica contains 17th- and 18th-century musical instruments and exhibits about composer Antonio Vivaldi (known as the Red Priest for his hair color), who taught music to the daughters of Venetian noblemen; and the Museo Ebraico examines the history of the Jewish community that was confined to an island known as Ghetto Nuovo. The latter was one of Europe's wealthiest and most cultured Jewish communities, made up in part with refugees from the Spanish Inquisition.

A special Captain's Welcome Reception and Dinner will be prepared for you this evening.
Day 3: Chioggia
Join a local expert for a stroll around this picturesque fishing village, a popular place for artists, or "Let's Go" with a bike ride along the beaches lining the lagoon, or, for something really unique, hop aboard a small boat to go mussel harvesting with local fishermen out in the lagoon.. The seaside air and sweeping views are simply spectacular. The River Countess sails from Venice, cruising through the lagoon, past the Lido, the colorful fishermen's houses of Pellestrina and the huge ongoing flood-control project called MOSE (which is designed to protect Venice from rising seawater), before docking in Chioggia, sometimes called "Little Venice," at the southern end of the lagoon. IMPORTANT: We are obliged to comply with Italian Maritime Authorities who require that the ship is only manned by crew during the Adriatic Sea passage. Therefore, our guests must disembark the ship and partake in the featured excursions. We thank you for your cooperation.Featured Excursions:
Padua morning walk and market visitAs you stroll through town on a picturesque tour of Padua's medieval highlights, you'll learn that in the 13th and 14th centuries, Padua was at the peak of its glory days. In 1222, Italy's second-oldest university was established here, where Galileo and Copernicus were among its students. The university sits outside the Palazzo del Bo, which is adjacent to Café Pedrocchi. Although the Café is not as old as the University itself, it is historically notable in its own way. Revolutionaries met there in 1848 and French writer Stendahl, called it the best club in Europe. Meander through the one of the largest public squares in Europe, Prato della Valle, originally constructed by the Romans and transformed into a lovely open space lined with canals and statues of historical figures. After gazing in awe at Padua's splendor, your excursion ends with an unforgettable sight—the Byzantine-inspired domes and towers of St. Anthony's Basilica.

Chioggia mussel harvesting experienceMussels have been a staple of Venetian cooking for many years, mainly because the waters of the lagoon produce a bounty of fish and shellfish. Climb aboard a small boat and head out to the mussel banks to take part in a harvest. Marvel at mussel ropes suspended from poles into shallow waters, and after a short introduction by the fishermen, help harvest the shellfish. Clamber up to a fisherman's platform where you'll steam your mussels in prosecco for a delicious lunch. Shellfish don't get any fresher or tastier than this.

"Let's Go" biking ChioggiaMeet your local bike guide dockside for a scenic ride along the lagoon. Your first stop is Piazza Vigo, with its famous—and beautiful—white marble bridge that links the square to San Domenico, a church standing on its own little island (you're likely to see your ship cruise past right about now). Your guide will provide an insightful overview of the fishing village of Chioggia and its beaches. Pedal to Fondamenta San Francesco for a view of its stunning Chiesa, before embarking on your excursion around the lagoon. Enjoy a pleasantly tranquil trip around the Lusenzo lagoon, the placid body of water between Chioggia and Sottomarina, which offers up stunning views of the city. Take a quick breather with a pit stop in Sottmorina to see the collection of model boats. After a long day working up an appetite, enjoy a well-deserved Italian lunch at Restaurant Il Ristoro and an enlightening mussel demonstration.
Day 4: Polesella (Bologna or Ferrara)
Bologna or Ferrara? Let your passions be your guide today. If you have an appetite for pasta, head to Bologna—the heart of Italian culinary traditions—and learn how to make (and eat!) your own lunch. Or indulge your appetite for art with an excursion to Ferrara, an ancient center for the arts that once rivaled Medici Florence. Today you face a tough decision: Do you spend a full day in Bologna, the culinary capital of Northern Italy, or visit UNESCO-designated Ferrara, a beautifully preserved Renaissance city?Featured Excursions:
Exclusive pasta-making and Italian lunch in BolognaDoes Bologna have the best food in Northern Italy? Taste and decide for yourself today. Of course there's Bolognese sauce, but that's just one possible topping for the exceptional pasta available here. There are those who believe that the best tortellini in the world is made in Bologna. Locals also claim to have invented the first chocolate bars, and even if others dispute that claim, there's no denying that the chocolate shops offer some very special treats. Bologna's green market brims with local produce, and its specialty food stores and food halls are unmatched; locally made mortadella, luscious balsamic vinegar from nearby Modena, ham from Parma and, of course, great rounds of Parmesan cheese all contribute to the lavish displays. Participate in a workshop on making pasta, enjoy lunch at a celebrated restaurant and then stroll with your guide under the famous arcades to see some of the lovely, historic buildings in the city center: The huge basilica dates to the 14th century, and the two leaning towers that loom above Piazza di Porta Ravegnana were built in the 12th century, as were the structures that housed Europe's first university.

Ferrera: Renaissance, elegance and Italian lifestyle town discovery walkSquare towers rise sternly above the moat that still surrounds Castle Estense, the huge fortress the Este family built in the center of Ferrara in the 14th century. It was a demonstration of both power and caution, since the Estes had just put down an uprising, but it is just one of the family palaces to grace the city they developed. They turned Ferrara into a center for the arts and artists—particularly for musicians and composers—that rivaled Medici Florence. Here the Renaissance concept of the ideal city took shape—it was the first planned city in Italy that did not follow a Roman model—and as you take a brief walking tour through the historic center, you will see the Estes' vision throughout it, from the street layout that parallels the river to the many family palaces. But not all of Ferrara is Renaissance: The medieval walls still surround the old city (providing a popular walking and biking route for locals and visitors alike), the Gothic cathedral dates to the 12th century, and tiny cobbled lanes might make you think you were visiting the Middle Ages—were it not for the bicycles that Ferrara's citizens ride everywhere. Your local expert will introduce you to the highlights of Ferrara, and you'll have some time to explore on your own before returning to the ship for lunch.
Day 5: Taglio di Po, Chioggia
Chioggia is such a delight that we'll return there today to experience something completely different. You can visit the village's bustling once-a-week market—a colorful and boisterous scene, and quintessentially Italian. IMPORTANT: We are obliged to comply with Italian Maritime Authorities who require that the ship is only manned by crew during the Adriatic Sea passage. Therefore, our guests must disembark the ship and partake in the featured excursions. We thank you for your cooperation.Featured Excursions:
Chioggia fish market with the chef and Bragozzo rideChioggia is the quintessential Venetian Lagoon fishing village. Founded in the fifth century, it was known as the pantry of Venice because of its many small truck farms, which supplied Venetian households with produce until just a few decades ago. It is still a thriving fishing port; its wholesale fish market is one of the largest in Italy. On Thursdays, Chioggia also hosts a huge outdoor market along its main thoroughfare, Corso del Popolo, where stands sell everything from locally grown melons and beets (pretty candy-striped Chioggia beets are treasured by U.S. chefs) to colorful straw handbags.

Private after-hours visit to Saint Mark's Basilica in VeniceThe doors of this icon open especially for you tonight, so you can see the glorious church in the evening light— without the crowds. You'll find it almost impossible not to gaze heavenward as you enter St. Mark's. High overhead, magnificent domes are sheathed in mosaics telling the story of the New Testament, but you should not miss the intricate pattern of marble and mosaic tile under your feet. Ahead of you is the famous altarpiece made by 10th-century Byzantine artisans who gilded it and decorated it with precious gems (some of which were subsequently stolen by Napoleon). The building, which exemplifies the city's historic connection to Byzantium and the Eastern Mediterranean, was finished in the 11th century and incorporates the remnants of earlier churches; gold glass-tile mosaics line the interior walls and cupolas, giving the church its nickname, Church of Gold. It houses treasures collected—one way or another—by Venetians over the centuries: The relics of St. Mark, patron saint of the city, were stolen from Alexandria, and the Tetrarch, a group of four crowned figures, was looted from Constantinople during the Fourth Crusade. Every successful Venetian voyager returned with something to decorate the basilica—a frieze, a statue—and the result is one of the most stunning works of art and architecture in this amazing city.

Note: It is not always possible to arrange an after-hours visit to St. Mark's Basilica. If religious functions or festivities are taking place in the evening, we will visit during regular hours.

You'll sail back to Venice this evening.
Day 6: Venice Islands (Burano, Mazzorbo, Torcello)
Venice is an island surrounded by hundreds of smaller islands, three of which you'll visit today—Burano, famous for its lace-makers and houses painted in eye-popping colors; Mazzorbo, where you'll taste a historic golden-hued wine; and Torcello, home to beautiful Byzantine mosaics.Featured Excursions:
Magic Island Day: hidden treasures of the lagoonThe Venetian lagoon is dotted with islands, each with its own history, heritage and charm. Your first island of the day is an exceptionally colorful one. Hot pink, chartreuse, orange, lemon yellow—Burano's brightly painted fishermen's cottages are an artist's dream. The sizzling colors may look random, but they are strictly regulated: An owner needs state permission to change the color of the house. Burano is even better known for its lace-making tradition than for its colors; the exquisite craft has been practiced here for 400 years, handed down from mother to daughter since the first workshop was set up at the end of the 16th century. Visit a historic lace-making atelier to see some of this delicate work and, if you like, purchase items to take home. 

Enjoy lunch on your own at one of Burano's charming restaurants, then rejoin the group for a visit to the neighboring island, Mazzorbo. Here you'll find a different craft practiced: wine-making. Visit an ambitious wine estate devoted to making wine with Dorona grapes, which tolerate the salt air—and the occasional saltwater bath during very high tides—and produce a luscious golden wine. These grapes grew here long ago in a walled vineyard that has been brought back into verdant production. Enjoy a tasting in lovely surroundings.

Then it's on to Torcello, perhaps the most surprising of all these islands. It was settled before Venice was founded, and at one time it was the greatest, most populous city in the lagoon; now, however, only a handful of people live there. Its centerpiece is the basilica of Santa Maria Assunta, the oldest church in the lagoon and a monument to Torcello's lost might. The doors open early for you so you can see the stunning 11th-century mosaic of the Last Judgment without the crowds—and with expert commentary from your art historian guide.
Day 7: Venice
Lovers of food and wine flock to Italy to immerse themselves in a true farm-to-table epicurean experience. If that sounds like you, you'll love today's walking tour to the famous fish and produce market next to the Rialto Bridge. Prefer a more visual feast? Join an art historian for a highlights tour of the Accademia gallery.Featured Excursions:
"AVG Arti Veneziane alla Giudecca" Glass Factory visit with crafts demonstrations"Do as the Locals Do" Rialto Market visitBack when Venice was at the height of its power, only the Rialto Bridge spanned the Grand Canal—and the city's famous Rialto markets for fish and produce have sprawled at its feet as long as the bridge has arched over the water. Here you'll find violet artichokes from the nearby island of Sant'Erasmo, honey from the salt marshes, white asparagus from Giare—and Venetians shopping for their dinners in the historic heart of the city. Join them as you explore the colorful, noisy and fun arcades with your guide (the ship's chef often leads this expedition), who knows Venice's culinary arts intimately. Freshly caught local fish is sold to knowledgeable customers under the Gothic arches of the covered fish market, which was probably originally built in the 11th century. At the end of the tour, join your guide at a bacaro (a casual wine bar) for the Venetian version of happy hour, called ombra e cicchetti—a drink (often a glass of prosecco) with a bite of something delicious— perhaps crostini with salt cod spread or another Venetian fish specialty.

Rialto Bridge and Fondaco dei Tedeschi"Venetian Painters at the Accademia" tour with art historian guideJoin an art historian on an exclusive guided visit to the Academy. Probably the greatest collection of Venetian Renaissance paintings in the world, it includes works by Tiepolo, Veronese, Tintoretto, Bellini and Canaletto. There are more than 20 galleries, each one containing extraordinary masterpieces, with exhibits generally laid out in chronological order. There are far too many to see in a single visit; fortunately, your guide brings a specialist's knowledge to the history of Venetian painting and will show you what was unique about Venetian art as it developed from the 14th through the 16th centuries.

Note: Photography is not permitted inside the Academy, and large bags, especially backpacks, must be left in lockers.

A special Captain's Farewell Reception and Dinner will be prepared for you this evening.
Day 8: Venice (Disembark)
Disembark the ship. If your cruise/tour package includes a group departure transfer or if you purchased a private departure transfer, you will be transferred to Venice Marco Polo International Airport for your flight home.
---
Preparing For Your Trip

Make Sure to Bring All of Your Important Documents: Passport, Foreign visa (if applicable), Itinerary, Trip confirmation, Airline ticket, Drivers license, Credit cards, Travel documents.

Vaccinations Are Required for Entry to Some Countries. The U.S. Centers for Disease Control (CDC) and the World Health Organization (WHO) can provide you their recommendations for vaccinations and other travel health precautions for your trip abroad.

Are You Taking Any Prescriptions or Other Medications? Pack enough to last your entire trip, including some extra in case you are unexpectedly delayed.

Insurance: Purchase travel insurance to cover yourself against unexpected situations. You never know when something might happen, so always be prepared.

While Traveling

Keep an eye on your belongings. Do not leave your belongings unattended in public spaces

Always have local cash. Not every place takes credit cards.

Pavlus Travel Referral Program

How does our referral program work?

How does our referral program work?

It is simple: tell all your friends, family and anyone you meet on vacation about Pavlus Travel and Cruise and when they book their first tour / all-inclusive / cruise vacation with us, you will receive up to $150!*
Let Donna help you find the guaranteed best price on your vacation!
Call direct at 1-866-811-1360
or email at donnad@pavlustravel.com

Contact our Travel Planners

800.528.9300
8:00am - 5:30pm MST M-F
9:00am - 4:00pm MST S-S