Castles & Kingdoms (Summer 2019)

Head to the Islands of Britain and Ireland for a stately journey across rugged, fairy-tale lands. A storyteller's paradise, you'll uncover the essence of Britain and the natural elements of Ireland, meeting some colourful characters along the way. From esteemed author and Dubliner Trevor White, to Killarney locals and a Royal House Guard in London, you're in for a trip rich in history, with fascinating local insights and lots of laughter! Travel in elegant style, stay at the most sought-after addresses, dine at Michelin-starred restaurants and savour local specialities. And of course, no trip to this part of the world would be complete without trying esteemed local delicacies, including Guinness in Ireland and a delicious English scone.
Price starts at:

$10598

Tour length: 20 Days
Trip Type: Escorted Tour
All Brochure Prices Are Discounted.
We Guarantee Lowest Prices.
Why Pay Retail Prices? Call 1.800.528.9300.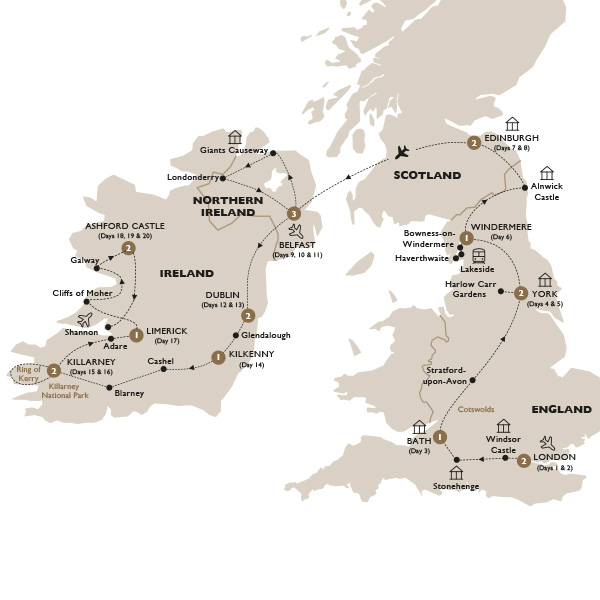 Welcome to London.
Your complimentary, private transfer takes you to your local departure airport. Meet your personal chauffeur on arrival at London Heathrow Airport and enjoy an escorted drive in a chic Mercedes Benz to the award-winning Milestone Hotel, an exquisite five-star hotel overlooking Kensington Palace and Gardens. A member of The Leading Hotels of the World, the Milestone Hotel is yours to explore, as you spend the day at leisure. Perhaps enjoy the most quintessential of English rituals, afternoon tea, hosted at the Milestone Hotel? At 18:00 meet your Travelling Concierge and travel companions for a grand Welcome Dinner hosted at Cheneston's Restaurant in your hotel. Savour classic British cuisine and take in the old-world ambience of your Victorian-styled surroundings.(Dinner with Wine)
Traditions and Treasures of London.
A modern-day hub of culture and commerce, and once the centre of an empire, London is no doubt one of the world's greatest cities, teeming with millions of stories. Your Travelling Concierge will introduce you to a Local Expert – a passionate resident who will share fascinating stories about the city, as you explore the city to see Big Ben, the Houses of Parliament and Westminster Abbey. You will then continue past Downing Street, Trafalgar Square and Piccadilly Circus. At the Household Cavalry Museum, uncover the secret messages hidden within a cavalryman's uniform and try on the royal uniform for yourself. Meet a serving Royal Horse Guard at the Horse Guards Parade and discover what it takes to be part of HM The Queen's Mounted Bodyguard. Stop at Buckingham Palace to witness the colourful Changing of the Guard ceremony, when available. Spend the afternoon shopping at Harrods, listening to the soapbox orators of Speaker's Corner or viewing the masterpieces in the National Gallery. Enjoy dinner as you please. Should you want to venture beyond your hotel, ask your knowledgeable Travelling Concierge for restaurant recommendations. In the evening, once the crowds have gone home, experience a private tour with a serving Yeoman Warder. After being greeted you will be lead through the grounds, with stops made through the quarters, including at the chapel, place of beheading and prison towers where the Yeoman Warder explains the history and importance of each place. You will then learn about the Ceremony of the Keys, carried out every night by the Beefeaters, without fail, for the past 700 years. The Yeoman Warder provides a history of the tradition and explains the etiquette of handling the keys before you are privy to witnessing this ancient gate-closing ritual.(Breakfast)
Windsor Castle, Stonehenge and Georgian Bath.
Windsor Castle, famous for its long-standing association with the British Royal family, dates back to the 11th century and is a spectacle of period architecture, manicured gardens and rich history. Visit the grounds with a Local Expert before you are then at leisure to explore the castle at your own pace, discovering the secrets that this royal residence has been keeping for over 900 years. Perhaps wander through the enfilade of suites in the State Apartments and marvel at the phenomenal Queen Mary's Doll's House or admire the endless armour collection in the Grand Vestibule. Your journey then continues to visit mysterious Stonehenge, a prehistoric UNESCO World Heritage burial site. You'll then move on to the Georgian city of Bath where people have been indulging in the healing waters for millennia. Enjoy a spectacular Highlight Dinner at a Michelin-star rated restaurant. With each Michelin-starred restaurant around the world meticulously selected based on outstanding food quality, you are in for an unrivalled indulgence.(Breakfast / Dinner with Wine)
Cotswolds, Stratford-upon-Avon and York.
Visit the original Roman Baths and Georgian Pump Room, one of the greatest religious spas of the ancient world, and imagine how Romans once gathered to relish the good life. Continue your journey through the Cotswolds which is among the most unspoiled regions of England, famous for gentle rolling hillsides known as 'wolds', green river valleys and historic market towns, where time has stood still for over 300 years. Stop in picture-perfect Bibury, described by the esteemed William Morris as the 'prettiest village in the Cotswolds.' Head to Burford nestled on the meandering River Windrush. Its high street is an eye-pleasing mix of honey-coloured stone, chocolate-box cottages and Tudor buildings. After browsing the tea houses and quaint shops, a leisurely drive brings you to the sleepy limestone villages of Bourton-on-the-Water and Stow-on-the-Wold, two of the most picturesque towns of the northern Cotswolds. Arrive in Stratford-upon-Avon, the birthplace of Shakespeare, and continue on to York.(Breakfast)
Medieval Wonders of York.
Step back in time as you meet the lively characters and explore the medieval streets of York. Once an important centre of Roman occupation in England, this is a storybook city surrounded by a large stone wall dating back to the 13th century. Experience York Your Way with a choice of two outstanding experiences today. Either join a Local Expert for a pulse-raising walk on the famous city walls - the longest medieval walls in England - and appreciate spectacular views of the river and the Old Town. Alternatively, embark on a leisurely guided tour to the York Minster, the largest medieval cathedral in northern Europe and one of the most outstanding Gothic buildings in the world. Spend free time this afternoon exploring York's many hidden gems. At sunset, join a senior gardener for a VIP, after-hours visit to the RHS Garden Harlow Carr, a prestigious member of the Royal Horticultural Society (RHS). In the same league as the iconic RHS Chelsea Flower Show, RHS Garden Harlow Carr boasts a wide variety of indigenous plants. Uncover the many hidden gems of the garden, before picking up a picnic bag to enjoy at your leisure on one of the garden's secluded benches. After a wander through the 57-acre garden, enjoy strawberries and cream and a refreshing, traditional Pimm's cocktail.(Breakfast / Dinner with Wine)
The Wild and Poetic Lake District.
The rugged and dramatic beauty of the English Lake District famously inspired 19th century writers such as Beatrix Potter and William Wordsworth. Experience the charms of a bygone era, as you step onboard a historic steam train at the Lakeside & Haverthwaite Railway Station for a short ride along the southern banks of the lake. Wonder at views of soaring mountain ranges, mystical forests and emerald-green waters, as you journey past vast Windermere to reach your hotel. Disembark to explore the lakeside town of Bowness-on-Windermere. In the evening dinner is served at a charming restaurant, Bistro at The Lakes Distillery, located on the picturesque Bassenthwaite Lake.(Breakfast / Dinner with Wine)
Alnwick Castle.
Journey to majestic Alnwick Castle and explore its magnificent interiors. Join a Local Expert for an in-depth exploration of the 11th Castle, with its striking medieval architecture and see why it was featured in the Harry Potter films. Travel up to the beautiful Scottish capital of Edinburgh where you have an evening to enjoy at your leisure. Your Travelling Concierge is a treasure-trove of knowledge and will happily guide you to the best local restaurants and attractions. Chairman's CollectionIf you are travelling on a Chairman's Collection departure, you will meet Her Grace The Duchess of Northumberland as she personally welcomes you for a private tour of her beloved garden. You are also introduced to the Head Gardener, Trevor Jones, who will lead you past a labyrinth, the serpent garden and ornate fountains, as you listen to the fascinating story of how The Duchess restored this exquisite garden to its former 18th century glory over the last twenty years. Admire this masterpiece of passion and dedication, which remains a work in progress, before indulging in a seasonal lunch. Join a Local Expert for an in-depth exploration of the 11th Castle, with its striking medieval architecture and see why it was featured in the Harry Potter films. Your travels continue to the beautiful Scottish capital of Edinburgh where you have an evening to enjoy at your leisure. Your Travelling Concierge is a treasure-trove of knowledge and will happily guide you to the best local restaurants and attractions. During August, you're invited to witness The Royal Edinburgh Military Tattoo, one of the most spectacular military events on earth and a celebration of the history, heritage and colours of Scotland's regiments both near and far. Hosted every August, this renowned international showcase of military pageantry boasts performers from forty-eight countries. Enjoy the sounds and sights of bagpipes rising, drums cracking through the night air and performers dressed in tunics, kilts and tartans with Edinburgh Castle, lit up in colour, providing a dramatic backdrop.(Breakfast)
Highlights of Beautiful Edinburgh.
Enjoy a visit to magnificent Edinburgh Castle, the country's most visited landmark. Skip the queue and join a Local Expert for a guided exploration of the castle grounds. Learn about the castle's tumultuous history, see its Crown Jewels and Stone of Destiny, and appreciate panoramic views of the city below. Travel along Princes Street, past the Gothic Sir Walter Scott Monument, and continue down the Royal Mile to the gates of the Palace of Holyroodhouse, the principal residence of Scottish royalty since the 16th century. In true Gaelic style, meet a professional bagpiper, who is said to have been the Queen Mother's favourite, and be enchanted as you listen to iconic music and fascinating tales about Scottish culture, whilst enjoying tea and scones. Raise a glass this evening to new friendships and a memorable journey, as we celebrate our finale dinner at one of the city's very best restaurants, Galvin Brasserie de Luxe.(Breakfast / Morning Tea / Dinner with Wine)
Edinburgh to Belfast.
Enjoy a morning at leisure before being transferred to the airport for your flight to Belfast, the energetic, memorable capital of Northern Ireland. On arrival you will be welcomed by a representative before a private transfer to your luxurious home for the next three nights. Located in the heart of Belfast City Centre, you'll have time to get settled in your Executive Room before joining your Travelling Concierge and fellow travelling companions at 18:00 for an à la carte dinner.(Breakfast / Dinner with Wine)
Highlights of Belfast.
Delve into Northern Ireland's inspiring and heartbreaking history in Belfast. Begin the day by heading to the Titanic Belfast Museum for a tour - the museum and monument are located on the site where the RMS Titanic was built from 1909-1912. Meet Hilda, a true Belfast local, having lived in the same house her entire life. During your panoramic tour, hear the history of the city and learn why Hilda is proud of its progress and current prosperity. You'll also see the City Hall, Queen's University, Parliament Building at Stormont and murals in different locations indicating political sentiments of local residents. The rest of the day is yours at leisure. Why not ask your Travelling Concierge for tips on exploring the area or their advice on the best restaurants for trying local delicacies?(Breakfast)
Giant's Causeway and Londonderry.
No trip to Northern Ireland would be complete without a trip to Giant's Causeway, a rugged natural phenomenon that locals once believed was the work of giants. During a private tour with a local ranger, they will explain its ancient history and impressive geography. Next, you'll head to Londonderry with Ronan, a Local Expert and one of Northern Ireland's best storytellers. He'll share local tales and advise you on where best to head for lunch. The evening is yours at leisure, why not head back to your luxury hotel and make the most of its spa facilities?(Breakfast)
Vibrant Dublin.
Today you'll make your way to vibrant Dublin. A haven for literary buffs and Guinness lovers, Ireland's unique capital is a hedonist's dream. Take a city tour with your Travelling Concierge to see O'Connell Street, Custom House and Dublin Castle, before heading to the Little Musuem of Dublin after hours. This new experience looks to tap into Ireland's dynamic history in an animated way. You'll explore the museum with its founder, respected author Trevor White, who'll also provide you with a signed copy of his critically acclaimed book, 'Alfie.' Enjoy a glass of prosecco with him as you learn more about the lives of Dubliners. End the day with a Michelin-starred dinner at L'Ecrivain, famed for its delectable, classic French cuisine.(Breakfast / Dinner with Wine)
A Truly Irish Experience.
Head to the iconic Guinness Storehouse, where you'll get to explore the venue before it opens to the public, with a private opportunity to learn to pull the perfect pint. In the afternoon enjoy some free time in Dublin. Why not head to the National Museum of Ireland or the Dublin City Gallery? If more Guinness is on your mind, ask your Travelling Concierge for his local advice on the best pubs Dublin has to offer! End your day by relaxing in your luxury boutique hotel.(Breakfast)
Glendalough to Kilkenny.
Enjoy a leisurely morning before heading to Glendalough, a glacial valley in County Wicklow, where you'll explore with a Local Expert. Head on to the medieval town of Kilkenny in southeast Ireland. Once here, you'll visit the local farmers market and enjoy a truffle tasting. From truffles to fudge, brownies and cakes, make sure you turn up on an empty stomach or stock up for the rest of your trip. End the day at Lyrath Estate, a beautiful, historic residence where you'll spend the night.(Breakfast)
Banter in Blarney.
Start your day in pretty Cashel, a small town in the south of Ireland, famous for its medieval buildings. See the spectacular Rock of Cashel, or St. Patrick's Rock, the traditional seat of the High Kings of Munster. Those looking to keep up with local Irish banter will enjoy a visit to Blarney Castle. Legend has it that kissing the Blarney Stone, a block of limestone built into the castle, gives you the gift of the gab. In the evening you'll enjoy dinner at the family-run Treyvaud's restaurant, which specialises in international cuisine. Later, try Irish dancing for yourself during a simple dance class with the Gaelic Roots, before settling in your VIP seats to watch the show.(Breakfast / Dinner with Wine)
Sweet Ring of Kerry.
Enjoy a morning at leisure in the comfort of your luxurious, five-star hotel, before travelling through the breathtakingly beautiful Killarney National Park, where sweeping mountains, lush lake lands and valleys await you as you drive along the iconic Ring of Kerry. Return to Killarney to explore the vibrant land on a scenic jaunting car ride before ending your day at J.M Reidy's Bar. The bar, which used to be a sweet shop, is a favourite among locals and still holds its old-world charm, with its sweet-jar-lined shelves and hand-written pricing. Here you will be hosted for an evening of entertainment with traditional, live music played by local musicians. local musicians(Breakfast)
Exploring Limerick.
Wake up, head outdoors and take in the fresh, sea air, as you drive along the Dingle Peninsula. The area's craggy clifftops and rolling hills have inspired films such as 'Ryan's Daughter.' Head on to the village of Adare. Famous for its thatched-roof cottages and charm, this heritage town is a worthy detour for budding photographers looking to document their journey. Your travels continue to Limerick where your Travelling Concierge leads you on an orientation of the city. While here you'll see St. Mary's Cathedral, the oldest and most historic building in Limerick, and the city's stone, where the Treaty of Limerick was signed in 1691.(Breakfast)
Regal County Mayo.
Travel through beautiful Country Clare to admire the breathtaking views of the 700-foot Cliffs of Moher. Continue to Galway, a harbour city that prides itself on its bustling streets and pubs, boutiques and quirky art galleries, where you'll explore with your Travelling Concierge. Journey on to the pretty village of Cong in County Mayo. Quaint in size but grand in character, this beautiful destination houses the famous Ashford Castle, where on arrival a lone piper escorts you over the drawbridge. This luxury hotel is where you'll stay the next two nights. Formerly home to the Guinness family, the hotel boasts sumptuous suites, antique furniture and unique historic features at every turn. The castle is set upon an idyllic 350-acre estate, making it a dreamy location for relaxing, romantic getaways. In the evening you will dine à la carte at the esteemed George V Dining Room, with delicacies including Ossetra Caviar, Skeaghanore Duck and Atlantic Tuna Tartare.(Breakfast / Dinner with Wine)
Majestic Ashford Castle.
Enjoy a relaxed start in your stately abode. During your leisure time why not head for a walk in its grounds and take in the plush exterior and crisp, fresh country air? Experience Ashford Castle Your Way with a choice between a unique falconry experience or scrumptious afternoon tea. Your final day culminates with a Celebration Dinner where you can share stories from the trip with your new-found friends, over dinner and wine.(Breakfast / Dinner with Wine)
Depart Shannon.
It's time to say goodbye or 'slán' to your fellow travellers, as a transfer takes you to Shannon airport. On arrival at your home airport, your driver will greet and escort you to your waiting car for your private transfer home.(Breakfast)
---
Preparing For Your Trip

Make Sure to Bring All of Your Important Documents: Passport, Foreign visa (if applicable), Itinerary, Trip confirmation, Airline ticket, Drivers license, Credit cards, Travel documents.

Vaccinations Are Required for Entry to Some Countries. The U.S. Centers for Disease Control (CDC) and the World Health Organization (WHO) can provide you their recommendations for vaccinations and other travel health precautions for your trip abroad.

Are You Taking Any Prescriptions or Other Medications? Pack enough to last your entire trip, including some extra in case you are unexpectedly delayed.

Insurance: Purchase travel insurance to cover yourself against unexpected situations. You never know when something might happen, so always be prepared.

While Traveling

Keep an eye on your belongings. Do not leave your belongings unattended in public spaces

Always have local cash. Not every place takes credit cards.

Pavlus Travel Referral Program

How does our referral program work?

How does our referral program work?

It is simple: tell all your friends, family and anyone you meet on vacation about Pavlus Travel and Cruise and when they book their first tour / all-inclusive / cruise vacation with us, you will receive up to $150!*
Let Annette help you find the guaranteed best price on your vacation!
Call direct at 1-866-811-1361
or email at annette@pavlustravel.com

Contact our Travel Planners

800.528.9300
8:00am - 5:30pm MST M-F
9:00am - 4:00pm MST S-S