by Patti Pietschmann Pavlus BlogMaster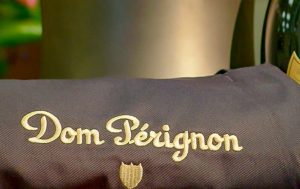 Thanks to its foodie founder/CEO Frank Del Rio (affectionately called FDR), Oceania Cruises cares about cuisine. I mean big time. FDR won't have it any other way. He told us once during a press event, that food presentation, quality and presentation were the most important ingredients to operating his highly regarded fleet of luxury liners. "
Fussy foodies
This fussy foodie feels the line does dish out some of the best food afloat (along with its subsidiary Regent Seven Seas). What's more just about all  of Oceania's repeat passenger say  one of the main reasons that sail with them is the fine food. Many go as far as to say they wouldn't sail with any other line because of the cuisine.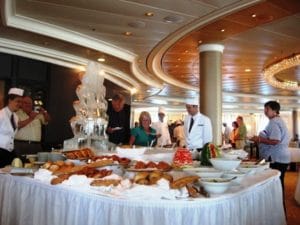 A cruise for champagne tastes  Oceania fans are in for the real treat. The chefs have created a sumptuous six course meal paired with premium Dom Perignon Champagne. The gastronomic event is available on Marina and Riviera at La Reserve.  It will cost you $295 a person plus tip, but it's well worth the splurge. Be sure to go to the gym or do some jogging or other exercise before indulging and repeat the day after the repast.
According to Bob Binder, president and CEO, "This is a totally new concept that is exclusive to Oceania Cruises. We worked with the team at Dom Perignon to pair the perfect champagnes with the perfect flavors and the outcome is spectacular. Marina and Riviera will be the only places in the world for travelers to enjoy this exclusive Dom Perignon experience."
The Dom Perignon Experience is an intimate affair for just 24 people. "We created this dinner to be sophisticated, memorable, a little bit decadent, but also a lot of fun. After all, champagne is all about celebration," added Binder.
"We've gone to exceptional lengths to pair the flavors of the dishes and the accompanying vintages to bring out the best in each other, and even surprise the palates of our dinner guests. This will be an experience I hope our guests are talking about, with the fondest of memories, twenty years from now," stated Bernhard Klotz ,vice president of Culinary Operations for Oceania Cruises.
Reservations are a must and can be made on line once you have a booking number.
The Dom Perignon Experience Menu
Scallops "Rossini", mole negro, roasted pineapple
Comme un Rossini de St Jacques, mole negro et ananas rôti
Dom Perignon 2009
Brittany blue lobster in yellow curry broth, coco foam
Curry jaune de homard bleu, nuage de coco
Dom Perignon 2006
Black truffle risotto, aged parmesan
Risotto aux truffes noires et vieux parmesan
Dom Perignon 2006
Seared wagyu beef sashimi style, sautéed arugula, blood orange-soya jus, caviar perlita
Sashimi de boeuf wagyu, roquette sautée, jus à l'orange sanguine et soja, caviar d'aquitaine
Dom Perignon Rose 2004
French A.O.C cheese plate, black currant-pepper paste, thyme flower
Assiette de fromage A.O.C, pate de fruit cassis-poivre et fleur de thym
Dom Perignon Rose 2004
Sakura tea "Geisha flower" ice cream, lemon caviar
Glace au thé fleur de Geisha et citron caviar
Dom Perignon 2009
What's next?
OceaniaNEXT is an array of dramatic enhancements intended to elevate raise guest experiences to new heights. Upgrades are adding new dining experiences and reimagined menus to the dramatic re-inspiration of the iconic Regatta-Class ships
About Oceania Cruises
Oceania Cruises operates a fleet , destination-focused luxury liners. There are six ships in the fleet that carry only 684 or 1,250 passenger on destination-rich itineraries that span the globe. My husband Richard and I have only sailed on the Marina, so far, and found it ab fab.
Did this whet your appetite for an Ocean Cruise?  You're in the right place. Pavlus Travel will find and book the perfect itinerary and price for you.
Do leave a comment.
Please follow and like us: