Let Taylor help you plan your vacation!
Call direct at 877-659-6862
or email at taylor@pavlustravel.com
Refine Your Search
Abercrombie & Kent Tours Connections Boutique Group Journeys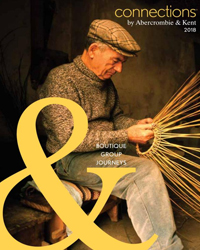 Boutique-style small-group travel, featuring boutique accommodations, authentic local interactions and groups of no more than 24 guests, led by an A&K Resident Tour Director.
Page 1 of 1 : : 100 per page
We have at least
27

trips that match this criteria.
Tour
Operator
Starting At
Days

Morocco: Imperial Cities

A&K
$3295
8
Details

Explore exotic Morocco, dining in an authentic riad, navigating Marrakech by horse-drawn carriage, sitting down to a meal with a local family and meeting the Berber people in their village beneath the Atlas' peaks.

North America: Canadian Rockies

A&K
$4995
8
Details

Hike vibrant Emerald Lake with a naturalist guide, ride across the Athabasca glacier, enjoy a barbecue lunch near Sunwapta Falls, trek the thrilling Glacier Skywalk and float down Banff's Bow River.

Russia: Treasures Of The Tsars

A&K
$4295
8
Details

Experience historic Russia as you view artifacts at the Kremlin, meet an expert on the Romanovs, cruise the scenic canals of St. Petersburg and enjoy crowd-free early access to the Hermitage and Peterhof.

Amsterdam, Paris & London

A&K
$6695
9
Details

In between cruising each city's waterways, visit the Anne Frank House in Amsterdam, discover Montmartre and the Louvre in Paris and, in London, see Buckingham Palace and historic Windsor Castle.

Amsterdam, Paris & London: A Family Journey

A&K
$6795
9
Details

Discover three European capitals, visiting the house of Anne Frank in Amsterdam, climbing to the top of the Arc de Triomphe in Paris and dressing up in costume at Shakespeare's Globe Theater in London.

Christmas Along The Danube

A&K
$4995
9
Details

Celebrate the holiday season on the Danube during a nine-day cruise, with Connections-exclusive shore excursions to Christkindlesmarkts and an organ concert at the Abbey of St. Florian as well as pre- and post-cruise stays in a boutique hotel in Munich.

Croatia: Jewel Of The Coast

A&K
$3795
9
Details

Explore stunning Croatia, including ancient Zagreb, the turquoise Plitvice Lakes and the Adriatic Coast, enjoying a private tour of Split's Meštrovic Gallery and a tasting of a freshly harvested oyster in Ston, en route to Dubrovnik.

Cruising Holland & Belgium In Bloom

A&K
$3995
9
Details

Cruise past blossoms and windmills, pausing for Connections-exclusive excursions to a local tulip grower, a meal of moules-frites in Bruges and the breathtaking Keukenhof Gardens, where you sit down to lunch amid fragrant bouquets of flowers.

Italy: Tuscany & Umbria

A&K
$5495
9
Details

Discover the great Italian cities of Rome and Florence along with a comprehensive tour of the beautiful Italian countryside, canvassing gems from Umbria to Tuscany and Chianti.

Along The Danube

A&K
$5995
10
Details

Cruise the Danube for seven nights, with stays in boutique hotels in Budapest and Munich. Attend a concert at the Kursalon in Vienna and disembark for a private tour of a World War II art bunker in Nuremberg and a guided tour of fairytale castle Schloss Artstetten.

Britain: Cornwall, Wales & The Cotswolds

A&K
$5995
10
Details

Experience dramatic landscapes on a captivating journey that takes you from buzzy London to the pastoral English countryside, visiting coastal Cornwall and the port city of Plymouth, and exploring Georgian Bath, the idyllic Cotswolds and the beautiful Welsh border region.

Central Europe: A Family Journey

A&K
$4595
10
Details

Family adventure awaits: ride the unique Children's Railway in Budapest, explore cliffside Devin Castle in Bratislava, learn to bake apple strudel at Schönbrunn Palace and discover the mysterious golem in Prague.

Central Europe: Budapest, Vienna & Prague

A&K
$4395
10
Details

Experience the charms of Central Europe, privately touring Budapest's State Opera House, cruising the Danube by twilight, enjoying a lecture with a former member of the Vienna Philharmonic, exploring the Old Town of Ceský Krumlov and visiting the Prague Jewish Museum.

Spain: A Family Journey

A&K
$5695
10
Details

Experience family-friendly Spain, exploring Gaudí's Sagrada Familia Basilica, gliding by cable car at the Rock of Gibraltar, riding a horse-drawn carriage to a palace in Seville and hunting for treasure in Madrid.

Spain: Seven Cities

A&K
$5695
10
Details

Experience the best of Spain on a journey that includes a visit to Barcelona's Boquería market, a tour of the Alhambra in Granada, a sherry tasting in Jerez and a horse-drawn carriage ride to a palace in Seville.

Art & Architecture Along The Rhine

A&K
$6995
11
Details

Spend seven nights cruising the Rhine River and stay in boutique hotels in Basel and Amsterdam, with Connections-exclusive excursions to the artists' colony of Mathildenhöhe; Weil am Rhein, where you take a private architectural tour; and the Kröller-Müller Museum.

Essence Of Italy

A&K
$6995
11
Details

Begin with a Roman tour of the Colosseum and Campo de Fiori, then explore Florence and its Uffizi Gallery with an expert guide, the coastal Cinque Terre, and the many lavish treasures of Venice.

Food & Wine Of France: Paris, Burgundy & Provence

A&K
$8995
11
Details

Cruise the Saône and Rhône rivers, with stays in boutique hotels in the heart of Paris and Beaune, coupled with exclusive shore excursions, including a tasting tour and cooking class in Les Halles de Lyon Paul Bocuse Markets; a cooking demonstration in Avignon; and private cellar tours and tastings throughout Burgundy and the Rhône.

Italy: A Family Journey

A&K
$6995
11
Details

Discover la dolce vita and all-ages fun with a Roman gladiator school, a day in the seaside Cinque Terre, a visit with Michelangelo's David and a gelateria in Florence, and a master class in Venetian carnival mask making.

Paris, Burgundy & A South Of France Cruise

A&K
$7595
11
Details

Stay in boutique hotels in Paris and Beaune; attend an exclusive, hands-on baking class at a boulangerie; and ply the Saône and Rhône rivers during a seven-night cruise through the south of France, disembarking for Connections-exclusive shore excursions, including a day trip to Sénanque and Arles.

Sicily, Puglia & The Amalfi Coast

A&K
$6595
11
Details

Explore Italy's gorgeous southern half on a panoramic journey that includes Sicily's ancient ruins and exotic landscapes, the remote towns of Calabria and Puglia, and breathtaking Sorrento on the sparkling Amalfi Coast.

Turkey: Istanbul & The Aegean Coast

A&K
$4595
11
Details

Visit the Hagia Sophia, explore Topkapi Palace, see Cappadocia's "fairy chimneys" - which you may balloon over - witness the captivating Whirling Dervish dance and meet with local craftsmen at the country's largest farmers' market.

Cruising The Mekong: Siam, Saigon & Angkor Wat

A&K
$7995
12
Details

Discover Angkor Wat with an expert local guide, cruise for seven nights on an exclusive charter along the Mekong River to experience its varied cultures, and explore the colonial legacy of old Saigon.

Scotland & Ireland: A Family Journey

A&K
$5995
12
Details

Dive into two kid-captivating countries, touring Edinburgh's historic underground streets, watching an amazing falconry display in the Highlands, riding an amphibious vehicle on a "splash tour" in Dublin and visiting Blarney Castle.

Scotland & Ireland: Stories & Legends

A&K
$5995
12
Details

In Scotland, explore Edinburgh's hilltop castle, tour coastal St. Andrews and venture to the Highlands; in Ireland, discover Dublin, Blarney Castle, Killarney National Park and the majestic Cliffs of Moher.

Cuba: Across The Island: People To People

A&K
$9795
13
Details

Traverse the island of Cuba on a comprehensive program, engaging with people from different walks of life for an unforgettable look at a nation once again opening its doors to the U.S.

The Heartland Of Europe: Cruising The Rhine, Main & Danube

A&K
$10195
17
Details

Embark on a 17-day odyssey along three of Europe's greatest rivers in Holland, Germany, Austria, Slovakia and Hungary, with stays in boutique hotels in Amsterdam and Budapest and a private tour of a World War II art bunker in Nuremburg.
Page 1 of 1 : : 100 per page