Let Carol help you find the guaranteed best price on your vacation!
Call direct at 1-800-664-4947
or email at carol@pavlustravel.com
Contact our Travel Planners
800.528.9300
8:00am - 5:30pm MST M-F
9:00am - 4:00pm MST S-S
---
Refine Your Search
Gate 1 Travel Gate 1 European River Cruises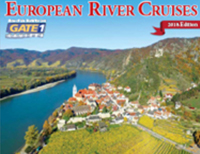 Affordable Gate 1 Travel packages that include sightseeing, activities, on-board entertainment and meals and deluxe accommodations to the most popular river cruise destinations in the world.
Page 1 of 1 : : 100 per page
We have at least
61

trips that match this criteria
at the lowest prices, guaranteed.
Tour
Operator
Starting At
Days

7 Day Athens With 3 Day Iconic Aegean Cruise

Gate1
$1199
7
Details

Round trip flights New York-Athens, Athens-New York
Other departure cities available. Click on date of departure for selection and prices
Airline taxes & fuel surcharges
5 nights accommodations

2 nights Athens in your choice of hotels
3 nights Celestyal Cruise

Cruise gratuities & porterage
All transfers
11 meals: 5 breakfasts, 3 lunches, 3 dinners
Unlimited drink package on board the cruise
Sightseeing per itinerary in modern air-conditioned motor coach
Entrance fees per itinerary




Special Features

Visit the Acropolis, the astonishing ancient architectural masterpiece built during the Golden Age of Athens
Explore the archaeological site of Ancient Ephesus and the colorful town of Kusadasi
Tour the Minoan palace of Knossos, with its awe-inspiring Throne Room and beautiful frescoes
Visit spectacular Oia village, one of the most photographed places in Greece

8 Day Athens With 4 Day Iconic Aegean Cruise

Gate1
$1399
8
Details

Round trip flights New York-Athens, Athens-New York
Other departure cities available. Click on date of departure for selection and prices
Airline taxes & fuel surcharges
6 nights accommodations

2 nights Athens
4 nights Celestyal Cruise

Cruise gratuities & porterage
All transfers
14 meals: 6 breakfasts, 4 lunches, 4 dinners
Unlimited drink package on board the cruise
Sightseeing per itinerary in modern air-conditioned motor coach
Entrance fees per itinerary

Special Features

Visit the Acropolis, the astonishing ancient architectural masterpiece built during the Golden Age of Athens
Explore the archaeological site of Ancient Ephesus and the colorful town of Kusadasi
Tour the traditional settlement of Lindos and the medieval city of Rhodes, a UNESCO World Heritage Site
Visit spectacular Oia village, one of the most photographed places in Greece

9 Day Croatia With 7 Day Adriatic Sea Cruise

Gate1
$1889
9
Details

Flights New York-Dubrovnik, Split-New York
Other departure cities available. Click on date of departure for selection and prices
Airline taxes & fuel surcharges
7 nights First Class sea cruise on Karizma, Lower Deck Cabin
Cruise porterage
All transfers
15 meals: 7 breakfasts, 6 lunches, 2 dinners
Services of English-speaking tour manager / cruise manager throughout
Services of local guides in all major cities
Entrance fees per itinerary
Comfortable wireless earphones for enhanced touring




Special Features

Tour magnificent Dubrovnik, declared a UNESCO World Heritage Site
Visit Mljet, Croatia's greenest island - tour its National Park
Explore the medieval walled city of Korcula and its Cathedral of St. Mark
Tour magical Hvar Island, an international playground for the rich and famous
Walk the cobbled streets of Split to the 4th century Palace of Diocletian
Excursion to Krka National Park known for its deep canyons and dramatic waterfalls
Discover Kornati National Park, one of the most magical places in Croatia
Visit Zadar, with its Roman architecture, Habsburg elegance and picture-perfect seafront

9 Day Danube River Cruise

Gate1
$2099
9
Details

Flights New York-Budapest, Munich-New York or vice versa
Other departure cities available. Click on date of departure for selection and prices
Airline taxes & fuel surcharges
7 nights outside cabin aboard the Deluxe MS Monarch Empress or First Class MS Monarch Princess or MS Monarch Baroness
River port charges of $190 per person
Cruise porterage
All transfers
20 meals: 7 breakfasts, 6 lunches, 7 dinners
Shore excursions per itinerary
Entrance fees per itinerary
Comfortable wireless earphones for enhanced touring during excursions




Special Features

See magnificent panoramic views of Budapest from atop Fisherman's Bastion
Enjoy a city tour of Vienna and view Hofburg Palace, Vienna Opera House and St. Stephen's Cathedral
Tour the historic Benedictine Melk Abbey, one of the finest examples of Baroque architecture
Visit Regensburg, one of Germany's best preserved medieval cities




River Cruise Features & Amenities

Captain's Welcome Dinner and Farewell Dinner
Unlimited wine and beer with dinners
Locally inspired recipes
Early riser breakfast in addition to buffet breakfast
Complimentary bottled water replenished daily in your stateroom
Late night snack
Complimentary basic Wi-Fi access in public areas
Self-serve coffee and tea station
Lounge serving premium spirits
Daily entertainment including an on-board musician
Fitness center
Non-smoking ship interior
Cruise Director & Activities Director throughout
Shore excursions conducted exclusively in English by licensed guides

Know Before You Book - High & Low Water

European river cruising has gained in popularity for very good reason. It's a relaxing and convenient way to experience Europe while enjoying the comfort of a deluxe ship. However, before making the decision to reserve your vacation, please be aware of potential conditions which may impact your cruise. While most of the time river cruises operate exactly as planned, weather conditions may result in high or low water levels which impact a ship's itinerary and, on occasion, render a ship unable to sail at all. On very rare occasions, other events such as heavy fog, a damaged lock, or an incapacitated vessel blocking the river, may impact a sailing. These events typically occur with little or no notice. In the event that a cruise is partially or completely impacted, the itinerary will be operated by deluxe motor coach, accompanied by a Tour Manager, with overnights in hotels. The itinerary will include as many of the originally scheduled sightseeing features as possible, considering the travel time and distances required, as well as meals. While it is not possible to recreate the more leisurely comforts of sailings, we will endeavor to provide a comparable itinerary. These alternative services will be provided at no additional charge.

9 Day Ecuador With 4 Day Eastern Galapagos Cruise

Gate1
$3899
9
Details

Flights Miami-Guayaquil, Quito-Miami
Some departure dates may be offered from an alternate nearby airport. Check flight itinerary options when booking.
Other departure cities available. Click on date of departure for selection and prices
Airline taxes & fuel surcharges
All intra-flights: Guayaquil-San Cristobal & Baltra-Quito
8 nights accommodations

2 nights Guayaquil
4 nights M/V Santa Cruz II
2 nights Quito

Cruise porterage
All transfers
16 Meals: 8 breakfasts, 4 lunches, 4 dinners
Services of English-speaking local guides
Services of English-speaking naturalist guides in the Galapagos
Galapagos National Park Fee of $100
Galapagos Transit Control Card fee of $20

Special Features

In Guayaquil, visit unique Seminario Park (Parque de las Iguanas), a favorite place of bird watchers
Journey to the Galapagos Archipelago of volcanic islands, five million years in the making
Attend fascinating lectures on board presented by professional Naturalist-Guides
On Punta Pitt, view three species of boobies: blue-footed, red-footed and Nazca boobies
Enjoy a panga ride to dramatic Santa Fe Island, with volcanic rocks over 4 million years old
Snorkel, swim in crystal-clear waters, or, sail on glass bottom boats with stunning underwater views
Experience 'face-to-face' 100-year-old giant tortoises eating, sleeping and wallowing in the mud
Walk in astonishing cactus forests surrounded by land and marine iguanas and blue-footed boobies
Stop at the famous Galápagos blow hole that sends tall jets of spray gushing through lava
At tranquil Gardner Bay enjoy the picture postcard white coral beach surrounded by dazzling blue seas
Discover Quito's Old Town, a UNESCO World Heritage Site packed with architectural treasures

9 Day Ecuador With 4 Day Northern Galapagos Cruise

Gate1
$3899
9
Details

Flights Miami-Guayaquil, Quito-Miami
Some departure dates may be offered from an alternate nearby airport. Check flight itinerary options when booking.
Other departure cities available. Click on date of departure for selection and prices
Airline taxes & fuel surcharges
All intra-flights: Guayaquil-Baltra & Baltra-Quito
8 nights accommodations

2 nights Guayaquil
4 nights M/V Santa Cruz II
2 nights Quito

Cruise porterage
All transfers
16 Meals: 8 breakfasts, 4 lunches, 4 dinners
Services of English-speaking local guides
Services of English-speaking naturalist guides in the Galapagos
Galapagos National Park Fee of $100
Galapagos Transit Control Card fee of $20

Special Features

Discover Guayaquil, a sprawling and vivacious city with striking architecture
Journey to the "beginning of time" as you travel to the astonishing Galapagos Archipelago
Snorkel/Swim on magnificent white sand beaches with astounding marine life
Observe areas with blue-footed boobies, frigate birds, Galapagos penguins and sea lions
Visit Buccaneer Cove, once an important site for 17th and 18th century sailors
Explore Quito with its treasures of art and architecture, a UNESCO World Heritage Site

9 Day Rhine River Cruise

Gate1
$2399
9
Details

Flights New York-Amsterdam, Basel-New York or vice versa
Other departure cities available. Click on date of departure for selection and prices
Airline taxes & fuel surcharges
7 nights outside cabin aboard the First Class Monarch Queen
River port charges of $190 per person
Cruise porterage
All transfers
20 meals: 7 breakfasts, 6 lunches, 7 dinners
Entrance fees per itinerary
Comfortable wireless earphones for enhanced touring during excursions




Special Features

In Amsterdam, board a glass-top boat and cruise the winding canals
Sail on the legendary Rhine to Cologne, capital of the Rhineland
Discover 2000-year-old Koblenz, with its superb Romanesque architecture
View the mighty Lorelei Rock named for the siren "Lorelei" rising vertically from the waters
Stroll the lanes filled with quaint wine taverns in the lively village of Rüdesheim
Visit the Alsace capital of Strasbourg, designated a UNESCO World Heritage site
Walk the cobbled streets of tiny Breisach, a city that dates back over 4,000 years




River Cruise Features & Amenities

Captain's Welcome Dinner and Farewell Dinner
Unlimited wine and beer with dinners
Locally inspired recipes
Early riser breakfast in addition to buffet breakfast
Complimentary bottled water replenished daily in your stateroom
Late night snack
Complimentary Wi-Fi access in public areas
Self-serve coffee and tea station
Lounge serving premium spirits
Daily entertainment including an on-board musician
Fitness center
Non-smoking ship interior
Cruise Director & Activities Director throughout
Shore excursions conducted exclusively in English

Know Before You Book - High & Low Water

European river cruising has gained in popularity for very good reason. It's a relaxing and convenient way to experience Europe while enjoying the comfort of a deluxe ship. However, before making the decision to reserve your vacation, please be aware of potential conditions which may impact your cruise. While most of the time river cruises operate exactly as planned, weather conditions may result in high or low water levels which impact a ship's itinerary and, on occasion, render a ship unable to sail at all. On very rare occasions, other events such as heavy fog, a damaged lock, or an incapacitated vessel blocking the river, may impact a sailing. These events typically occur with little or no notice. In the event that a cruise is partially or completely impacted, the itinerary will be operated by deluxe motor coach, accompanied by a Tour Manager, with overnights in hotels. The itinerary will include as many of the originally scheduled sightseeing features as possible, considering the travel time and distances required, as well as meals. While it is not possible to recreate the more leisurely comforts of sailings, we will endeavor to provide a comparable itinerary. These alternative services will be provided at no additional charge.

9 Day Tulip Time River Cruise

Gate1
$3099
9
Details

Round trip flights New York-Amsterdam, Amsterdam-New York
Other departure cities available. Click on date of departure for selection and prices
Airline taxes & fuel surcharges
7 nights outside cabin aboard the Deluxe MS Monarch Empress or First Class MS Monarch Queen
River port charges of $190 per person
Cruise & hotel porterage
All transfers
20 meals: 7 breakfasts, 6 lunches, 7 dinners
Shore excursions per itinerary
Entrance fees per itinerary
Comfortable wireless earphones for enhanced touring during excursions




Special Features

In Amsterdam, board a glass-top boat and cruise the winding canals
Visit Nijmegen, the oldest town in the Netherlands with its magnificent historic buildings
Dock in the historic Flanders port of Ghent, a showcase of Flemish wealth
Excursion to the Delta Works storm barrier, considered a technical miracle
Visit the windmill park in Kinderdijk built in the 1700s and still in use today
Explore the magnificent flower displays at Keukenhof Gardens




River Cruise Features & Amenities

Captain's Welcome Dinner and Farewell Dinner
Unlimited wine and beer with dinners
Locally inspired recipes
Early riser breakfast in addition to buffet breakfast
Complimentary bottled water replenished daily in your stateroom
Late night snack
Complimentary Wi-Fi access in public areas
Self-serve coffee and tea station
Lounge serving premium spirits
Daily entertainment including an on-board musician
Fitness center
Non-smoking ship interior
Cruise Director & Activities Director throughout
Shore excursions conducted exclusively in English

Know Before You Book - High & Low Water

European river cruising has gained in popularity for very good reason. It's a relaxing and convenient way to experience Europe while enjoying the comfort of a deluxe ship. However, before making the decision to reserve your vacation, please be aware of potential conditions which may impact your cruise. While most of the time river cruises operate exactly as planned, weather conditions may result in high or low water levels which impact a ship's itinerary and, on occasion, render a ship unable to sail at all. On very rare occasions, other events such as heavy fog, a damaged lock, or an incapacitated vessel blocking the river, may impact a sailing. These events typically occur with little or no notice. In the event that a cruise is partially or completely impacted, the itinerary will be operated by deluxe motor coach, accompanied by a Tour Manager, with overnights in hotels. The itinerary will include as many of the originally scheduled sightseeing features as possible, considering the travel time and distances required, as well as meals. While it is not possible to recreate the more leisurely comforts of sailings, we will endeavor to provide a comparable itinerary. These alternative services will be provided at no additional charge.

10 Day Croatia With 7 Day Adriatic Coast Cruise

Gate1
$2199
10
Details

Flights New York-Split, Dubrovnik-New York
Other departure cities available. Click on date of departure for selection and prices
Airline taxes & fuel surcharges
8 nights First Class accommodations

7 nights Karizma, Lower Deck Cabin
1 night Dubrovnik

Hotel & cruise porterage
All transfers
16 meals: 8 breakfasts, 6 lunches, 2 dinners
Services of English-speaking tour manager / cruise manager throughout
Services of local guides in all major cities
Entrance fees per itinerary
Comfortable wireless earphones for enhanced touring




Special Features

Visit Zadar, with its Roman architecture, Habsburg elegance and picture-perfect seafront
Excursion to Krka National Park known for its deep canyons and dramatic waterfalls 
Discover Kornati National Park, one of the most magical places in Croatia
Walk the cobbled streets of Split to the 4th century Palace of Diocletian
Tour magical Hvar Island, an international playground for the rich and famous
Explore the medieval walled city of Korcula and its Cathedral of St. Mark
Visit Mljet, Croatia's greenest island -tour its National Park with a Benedictine Monastery
Tour magnificent Dubrovnik, declared a UNESCO World Heritage Site

10 Day Croatia With 7 Day Dalmatian Coast Cruise

Gate1
$2099
10
Details

Round trip flights New York-Dubrovnik, Dubrovnik-New York
Other departure cities available. Click on date of departure for selection and prices
Airline taxes & fuel surcharges
8 nights First Class accommodations

7 nights MS Karizma, Lower Deck Cabin
1 night Dubrovnik

Hotel & cruise porterage
All transfers
16 meals: 8 breakfasts, 6 lunches, 2 dinners
Services of English-speaking tour manager / cruise manager throughout
Services of local guides in all major cities
Entrance fees per itinerary
Comfortable wireless earphones for enhanced touring

Special Features

Tour magnificent Dubrovnik, declared a UNESCO World Heritage Site
Visit Mljet, Croatia's greenest island and tour its National Park
Explore the medieval walled city of Korcula and its Cathedral of St. Mark
Walk the cobbled streets of Split to the 4th century Palace of Diocletian

10 Day Ecuador With 5 Day Western Galapagos Cruise

Gate1
$4499
10
Details

Flights Miami-Guayaquil, Quito-Miami
Some departure dates may be offered from an alternate nearby airport. Check flight itinerary options when booking.
Other departure cities available. Click on date of departure for selection and prices
Airline taxes & fuel surcharges
All intra-flights: Guayaquil-Baltra & Baltra-Quito
9 nights accommodations

2 nights Guayaquil
5 nights M/V Santa Cruz II
2 nights Quito

Cruise porterage
All transfers
19 Meals: 9 breakfasts, 5 lunches, 5 dinners
Services of English-speaking local guides
Services of English-speaking naturalist guides in the Galapagos
Galapagos National Park Fee of $100
Galapagos Transit Control Card fee of $20

Special Features

Explore Guayaquil, the largest city in Ecuador and the nation's largest port
Embark on a journey to the beginning of time in the Galapagos Archipelago of volcanic islands
Travel along the coast on a panga while Naturalist-Guides explain the area's dramatic geology
The unique environment encourages sea lions, Sally lightfoot crabs, penguins and flightless cormorants
Walk in an impressive cactus forest surrounded by land and marine iguanas and blue-footed boobies
Snorkel on magnificent white sand beaches with plentiful marine life
Visit the Charles Darwin Research Station's giant tortoise Breeding Centre
Discover Quito's colonial quarter, designated a UNESCO World Heritage Site

11 Day Adriatic Coast Cruise With Plitvice Lakes & Dubrovnik

Gate1
$2299
11
Details

Flights New York-Zagreb, Dubrovnik-New York
Other departure cities available. Click on date of departure for selection and prices
Airline taxes & fuel surcharges
9 nights First Class accommodations

1 night Zagreb
7 nights MS Karizma, Lower Deck Cabin
1 night Dubrovnik

Hotel & cruise porterage
All transfers
18 meals: 9 breakfasts, 6 lunches, 3 dinners
Services of English-speaking tour manager / cruise manager throughout
Services of local guides in all major cities
Entrance fees per itinerary
Comfortable wireless earphones for enhanced touring




Special Features

Tour striking Plitvice Lakes National Park, with its magnificent crystal blue waterways
Visit Zadar, with its Roman architecture, Habsburg elegance and picture-perfect seafront
Discover Kornati National Park, one of the most magical places in Croatia
Excursion to Krka National Park known for its deep canyons and dramatic waterfalls
Enjoy Sibenik, an atmospheric Adriatic town nestled in a protected natural harbor
Leisure time in Trogir, one of the best preserved medieval towns in Europe
In Split, walking tour of the historic inner city and the astonishing Palace of Diocletian
Tour magical Hvar Island, an international playground for the rich and famous
Walking tour of Old Dubrovnik highlights the city's treasures within the 800-year old walls of this spectacular city

11 Day Affordable China With 4 Day Yangtze River Cruise (Los Angeles Special)

Gate1
$1499
11
Details

Flights Los Angeles-Beijing, Shanghai-Los Angeles
Airline taxes & fuel surcharges
All intra-flights: Beijing-Yichang & Chongqing-Shanghai
9 nights First Class accommodations

3 nights Beijing
4 nights cruise upstream on Victoria Cruise, Yangtze River
2 nights Shanghai

Hotel taxes, fees & service charges
Hotel & cruise porterage
All transfers
19 meals: 9 breakfasts, 4 lunches, 6 dinners
Sightseeing per itinerary in modern air-conditioned motor coach
Services of English-speaking tour manager throughout
Services of local guides in all major cities
Entrance fees per itinerary
Comfortable wireless earphones for enhanced touring

Special Features

Visit the Great Wall, the World's longest man-made structure
Explore the classical Yuyuan Garden and the Bund Riverside

11 Day Affordable China With 4 Day Yangtze River Cruise (New York Special)

Gate1
$1549
11
Details

Flights New York-Beijing, Shanghai-New York
Airline taxes & fuel surcharges
All intra-flights: Beijing-Yichang & Chongqing-Shanghai
9 nights First Class accommodations

3 nights Beijing
4 nights cruise upstream on Victoria Cruise, Yangtze River
2 nights Shanghai

Hotel taxes, fees & service charges
Hotel & cruise porterage
All transfers
19 meals: 9 breakfasts, 4 lunches, 6 dinners
Sightseeing per itinerary in modern air-conditioned motor coach
Services of English-speaking tour manager throughout
Services of local guides in all major cities
Entrance fees per itinerary
Comfortable wireless earphones for enhanced touring

Special Features

Visit the Great Wall, the World's longest man-made structure
Explore the classical Yuyuan Garden and the Bund Riverside

11 Day Athens & Mykonos With 4 Day Iconic Aegean Cruise

Gate1
$1649
11
Details

Round trip flights New York-Athens, Athens-New York
Other departure cities available. Click on date of departure for selection and prices
Airline taxes & fuel surcharges
9 nights accommodations

2 nights Athens in your choice of hotels
3 nights Mykonos in your choice of hotels
4 nights Celestyal Cruise

Cruise gratuities & porterage
All transfers
16 meals: 9 breakfasts, 4 lunches, 3 dinners
Unlimited drink package on board the cruise
Sightseeing per itinerary in modern air-conditioned motor coach
Entrance fees per itinerary




Special Features

Visit the Acropolis, the astonishing ancient architectural masterpiece built during the Golden Age of Athens
Explore the archaeological site of Ancient Ephesus and the colorful town of Kusadasi
Tour the traditional settlement of Lindos and the medieval city of Rhodes, a UNESCO World Heritage Site
Visit spectacular Oia village, one of the most photographed places in Greece

11 Day Danube River Cruise With Budapest

Gate1
$2399
11
Details

Flights New York-Budapest, Munich-New York or vice versa
Other departure cities available. Click on date of departure for selection and prices
Airline taxes & fuel surcharges
9 nights accommodations

2 nights Budapest
7 nights outside cabin aboard the Deluxe MS Monarch Empress, First Class MS Monarch Princess or MS Monarch Baroness

River port charges of $190 per person
Cruise & hotel porterage
All transfers
22 meals: 9 breakfasts, 6 lunches, 7 dinners
Shore excursions per itinerary
Entrance fees per itinerary
Comfortable wireless earphones for enhanced touring during excursions

Special Features

During your Budapest City Tour, see the Parliament, Heroes Square, Royal Palace and Matthias Church
View the picturesque town of Szentendre with its unique shops and museums
Tour romantic Vienna with its legendary opulence and elegance
In Melk, join a guided tour of the historic Benedictine Abbey
Marvel at the beautiful churches and ancient stone bridges in Regensburg

River Cruise Features & Amenities

Captain's Welcome Dinner and Farewell Dinner
Unlimited wine and beer with dinners
Locally inspired recipes
Early riser breakfast in addition to buffet breakfast
Complimentary bottled water replenished daily in your stateroom
Late night snack
Complimentary basic Wi-Fi access in public areas
Self-serve coffee and tea station
Lounge serving premium spirits
Daily entertainment including an on-board musician
Fitness center
Non-smoking ship interior
Cruise Director & Activities Director throughout
Shore excursions conducted exclusively in English by licensed guides

Know Before You Book - High & Low Water

European river cruising has gained in popularity for very good reason. It's a relaxing and convenient way to experience Europe while enjoying the comfort of a deluxe ship. However, before making the decision to reserve your vacation, please be aware of potential conditions which may impact your cruise. While most of the time river cruises operate exactly as planned, weather conditions may result in high or low water levels which impact a ship's itinerary and, on occasion, render a ship unable to sail at all. On very rare occasions, other events such as heavy fog, a damaged lock, or an incapacitated vessel blocking the river, may impact a sailing. These events typically occur with little or no notice. In the event that a cruise is partially or completely impacted, the itinerary will be operated by deluxe motor coach, accompanied by a Tour Manager, with overnights in hotels. The itinerary will include as many of the originally scheduled sightseeing features as possible, considering the travel time and distances required, as well as meals. While it is not possible to recreate the more leisurely comforts of sailings, we will endeavor to provide a comparable itinerary. These alternative services will be provided at no additional charge.

11 Day New Orleans With 7 Day Western Caribbean Cruise

Gate1
$1039
11
Details

Round trip flights Newark-New Orleans, New Orleans-Newark
Other departure cities available. Click on date of departure for selection and prices
Airline taxes & fuel surcharges
10 nights accommodations

3 nights New Orleans
7 nights Norwegian Pearl, Norwegian Cruise Line®

Cruise porterage
Hotel to port transfer
20 meals: 7 breakfasts, 6 lunches, 7 dinners

Special Features

Walking tour of the iconic French Quarter, the oldest neighborhood in New Orleans
Norwegian Cruise Line® Complimentary & Specialty Restaurants

11 Day Rhine River Cruise With Amsterdam

Gate1
$2949
11
Details

Flights New York-Amsterdam, Basel-New York
Other departure cities available. Click on date of departure for selection and prices
Airline taxes & fuel surcharges
9 nights accommodation

2 nights Amsterdam
7 nights outside cabin aboard the First Class Monarch Queen

River port charges of $190 per person
Cruise & hotel porterage
All transfers
22 meals: 9 breakfasts, 6 lunches, 7 dinners
Entrance fees per itinerary
Comfortable wireless earphones for enhanced touring during excursions

Special Features

In Amsterdam, board a glass-top boat and cruise the winding canals
Sail on the legendary Rhine to Cologne, capital of the Rhineland
Discover 2000-year-old Koblenz, with its superb Romanesque architecture
View the mighty Lorelei Rock named for the siren "Lorelei" rising vertically from the waters
Stroll the lanes filled with quaint wine taverns in the lively village of Rüdesheim
Visit the Alsace capital of Strasbourg, designated a UNESCO World Heritage site
Walk the cobbled streets of tiny Breisach, a city that dates back over 4,000 years

River Cruise Features & Amenities

Captain's Welcome Dinner and Farewell Dinner
Unlimited wine and beer with dinners
Locally inspired recipes
Early riser breakfast in addition to buffet breakfast
Complimentary bottled water replenished daily in your stateroom
Late night snack
Complimentary Wi-Fi access in public areas
Self-serve coffee and tea station
Lounge serving premium spirits
Daily entertainment including an on-board musician
Fitness center
Non-smoking ship interior
Cruise Director & Activities Director throughout
Shore excursions conducted exclusively in English

Know Before You Book - High & Low Water

European river cruising has gained in popularity for very good reason. It's a relaxing and convenient way to experience Europe while enjoying the comfort of a deluxe ship. However, before making the decision to reserve your vacation, please be aware of potential conditions which may impact your cruise. While most of the time river cruises operate exactly as planned, weather conditions may result in high or low water levels which impact a ship's itinerary and, on occasion, render a ship unable to sail at all. On very rare occasions, other events such as heavy fog, a damaged lock, or an incapacitated vessel blocking the river, may impact a sailing. These events typically occur with little or no notice. In the event that a cruise is partially or completely impacted, the itinerary will be operated by deluxe motor coach, accompanied by a Tour Manager, with overnights in hotels. The itinerary will include as many of the originally scheduled sightseeing features as possible, considering the travel time and distances required, as well as meals. While it is not possible to recreate the more leisurely comforts of sailings, we will endeavor to provide a comparable itinerary. These alternative services will be provided at no additional charge.

11 Day Rhine River Cruise With Lucerne

Gate1
$3049
11
Details

Flights New York-Amsterdam, Zurich-New York
Other departure cities available. Click on date of departure for selection and prices
Airline taxes & fuel surcharges
9 nights First Class accommodations

7 nights outside cabin aboard the First Class Monarch Queen
2 nights Lucerne

River port charges of $190 per person
Cruise & hotel porterage
All transfers
22 meals: 9 breakfasts, 6 lunches, 7 dinners
Entrance fees per itinerary
Comfortable wireless earphones for enhanced touring during excursions

Special Features

In Amsterdam, board a glass-top boat and cruise the winding canals
Sail on the legendary Rhine to Cologne, capital of the Rhineland
Discover 2000-year-old Koblenz, with its superb Romanesque architecture
View the mighty Lorelei Rock named for the siren "Lorelei" rising vertically from the waters
Stroll the lanes filled with quaint wine taverns in the lively village of Rüdesheim
Visit the Alsace capital of Strasbourg, designated a UNESCO World Heritage site
Walk the cobbled streets of tiny Breisach, a city that dates back over 4,000 years
Explore Lucerne with its pristine lakeside setting and gorgeous mountainous panorama

River Cruise Features & Amenities

Captain's Welcome Dinner and Farewell Dinner
Unlimited wine and beer with dinners
Locally inspired recipes
Early riser breakfast in addition to buffet breakfast
Complimentary bottled water replenished daily in your stateroom
Late night snack
Complimentary Wi-Fi access in public areas
Self-serve coffee and tea station
Lounge serving premium spirits
Daily entertainment including an on-board musician
Fitness center
Non-smoking ship interior
Cruise Director & Activities Director throughout
Shore excursions conducted exclusively in English

Know Before You Book - High & Low Water

European river cruising has gained in popularity for very good reason. It's a relaxing and convenient way to experience Europe while enjoying the comfort of a deluxe ship. However, before making the decision to reserve your vacation, please be aware of potential conditions which may impact your cruise. While most of the time river cruises operate exactly as planned, weather conditions may result in high or low water levels which impact a ship's itinerary and, on occasion, render a ship unable to sail at all. On very rare occasions, other events such as heavy fog, a damaged lock, or an incapacitated vessel blocking the river, may impact a sailing. These events typically occur with little or no notice. In the event that a cruise is partially or completely impacted, the itinerary will be operated by deluxe motor coach, accompanied by a Tour Manager, with overnights in hotels. The itinerary will include as many of the originally scheduled sightseeing features as possible, considering the travel time and distances required, as well as meals. While it is not possible to recreate the more leisurely comforts of sailings, we will endeavor to provide a comparable itinerary. These alternative services will be provided at no additional charge.

11 Day Rome With 7 Day Western Med Cruise

Gate1
$1119
11
Details

Round trip flights New York-Rome, Rome-New York
Other departure cities available. Click on date of departure for selection and prices
Airline taxes & fuel surcharges
9 nights First Class accommodations

2 nights Rome
7 nights Norwegian Epic, Norwegian Cruise Line®

Cruise porterage
Hotel to port transfer
22 meals: 9 breakfasts, 6 lunches, 7 dinners

Special Features

Norwegian Cruise Line® Complimentary & Specialty Restaurants

11 Day Tulip Time River Cruise With Amsterdam

Gate1
$3599
11
Details

Round trip flights New York-Amsterdam, Amsterdam-New York
Other departure cities available. Click on date of departure for selection and prices
Airline taxes & fuel surcharges
9 nights accommodations

2 nights Amsterdam
7 nights outside cabin aboard the Deluxe MS Monarch Empress or First Class MS Monarch Queen

River port charges of $190 per person
Cruise & hotel porterage
All transfers
22 meals: 9 breakfasts, 6 lunches, 7 dinners
Shore excursions per itinerary
Entrance fees per itinerary
Comfortable wireless earphones for enhanced touring during excursions




Special Features

In Amsterdam, board a glass-top boat and cruise the winding canals
Marvel at the Dutch Master's collection in the Rijksmuseum
Visit Nijmegen, the oldest town in the Netherlands with its magnificent historic buildings
Dock in the historic Flanders port of Ghent, a showcase of Flemish wealth
Excursion to the Delta Works storm barrier, considered a technical miracle
Visit the windmill park in Kinderdijk built in the 1700s and still in use today
Explore the magnificent flower displays at Keukenhof Gardens




River Cruise Features & Amenities

Captain's Welcome Dinner and Farewell Dinner
Unlimited wine and beer with dinners
Locally inspired recipes
Early riser breakfast in addition to buffet breakfast
Complimentary bottled water replenished daily in your stateroom
Late night snack
Complimentary basic Wi-Fi access in public areas
Self-serve coffee and tea station
Lounge serving premium spirits
Daily entertainment including an on-board musician
Fitness center
Non-smoking ship interior
Cruise Director & Activities Director throughout
Shore excursions conducted exclusively in English by licensed guides

Know Before You Book - High & Low Water

European river cruising has gained in popularity for very good reason. It's a relaxing and convenient way to experience Europe while enjoying the comfort of a deluxe ship. However, before making the decision to reserve your vacation, please be aware of potential conditions which may impact your cruise. While most of the time river cruises operate exactly as planned, weather conditions may result in high or low water levels which impact a ship's itinerary and, on occasion, render a ship unable to sail at all. On very rare occasions, other events such as heavy fog, a damaged lock, or an incapacitated vessel blocking the river, may impact a sailing. These events typically occur with little or no notice. In the event that a cruise is partially or completely impacted, the itinerary will be operated by deluxe motor coach, accompanied by a Tour Manager, with overnights in hotels. The itinerary will include as many of the originally scheduled sightseeing features as possible, considering the travel time and distances required, as well as meals. While it is not possible to recreate the more leisurely comforts of sailings, we will endeavor to provide a comparable itinerary. These alternative services will be provided at no additional charge.

11 Day Venice With 7 Day Eastern Med & Adriatic Cruise

Gate1
$1269
11
Details

Round trip flights New York-Venice, Venice-New York
Other departure cities available. Click on date of departure for selection and prices
Airline taxes & fuel surcharges
9 nights First Class accommodations

2 nights Venice
7 nights Norwegian Star, Norwegian Cruise Line®

Cruise porterage
Hotel to port transfer
22 meals: 9 breakfasts, 6 lunches, 7 dinners

Special Features

Norwegian Cruise Line® Complimentary & Specialty Restaurants

11 Day Venice With 7 Day Eastern Med & Greek Isles Cruise

Gate1
$1569
11
Details

Round trip flights New York-Venice, Venice-New York
Other departure cities available. Click on date of departure for selection and prices
Airline taxes & fuel surcharges
9 nights First Class accommodations

2 nights Venice
7 nights Norwegian Star, Norwegian Cruise Line®

12 Day Classic Greece With 4 Day Iconic Aegean Cruise

Gate1
$2139
12
Details

Round trip flights New York-Athens, Athens-New York
Other departure cities available. Click on date of departure for selection and prices
Airline taxes & fuel surcharges
10 nights accommodations

3 nights Athens
4 nights Celestyal Cruise
1 night Olympia
1 night Delphi
1 night Kalambaka

Cruise gratuities & porterage
All transfers
21 meals: 10 breakfasts, 4 lunches, 7 dinners
Unlimited drink package on board the cruise
Sightseeing per itinerary in modern air-conditioned motor coach
Services of English-speaking tour manager (Days 8-11)
Entrance fees per itinerary

Special Features

Visit the Acropolis, the astonishing ancient architectural masterpiece built during the Golden Age of Athens
Tour the archaeological sites of Delphi and the Temple of Apollo
Visit Olympia, birthplace of the first Olympic Games
Ascend to Meteora with its mystical monasteries
Explore the archaeological site of Ancient Ephesus and the colorful town of Kusadasi
Tour the traditional settlement of Lindos and the medieval city of Rhodes, a UNESCO World Heritage Site
Visit spectacular Oia village, one of the most photographed places in Greece

12 Day Danube River Cruise With Prague

Gate1
$2599
12
Details

Flights New York-Budapest, Prague-New York or vice versa
Other departure cities available. Click on date of departure for selection and prices
Airline taxes & fuel surcharges
10 nights accommodations

7 nights outside cabin aboard the Deluxe MS Monarch Empress, First Class MS Monarch Princess or MS Monarch Baroness
3 nights Prague

River port charges of $190 per person
Cruise & hotel porterage
All transfers
23 meals: 10 breakfasts, 6 lunches, 7 dinners
Shore excursions per itinerary
Entrance fees per itinerary
Comfortable wireless earphones for enhanced touring during excursions

Special Features

During your Budapest City Tour, see the Parliament, Heroes Square, Royal Palace and Matthias Church
Tour romantic Vienna with its legendary opulence and elegance
In Melk, join a guided tour of the historic Benedictine Abbey
Marvel at the beautiful churches and ancient stone bridges in Regensburg
City tour of Prague "The City of a Thousand Spires"

River Cruise Features & Amenities

Captain's Welcome Dinner and Farewell Dinner
Unlimited wine and beer with dinners
Locally inspired recipes
Early riser breakfast in addition to buffet breakfast
Complimentary bottled water replenished daily in your stateroom
Late night snack
Complimentary basic Wi-Fi access in public areas
Self-serve coffee and tea station
Lounge serving premium spirits
Daily entertainment including an on-board musician
Fitness center
Non-smoking ship interior
Cruise Director & Activities Director throughout
Shore excursions conducted exclusively in English by licensed guides

Know Before You Book - High & Low Water

European river cruising has gained in popularity for very good reason. It's a relaxing and convenient way to experience Europe while enjoying the comfort of a deluxe ship. However, before making the decision to reserve your vacation, please be aware of potential conditions which may impact your cruise. While most of the time river cruises operate exactly as planned, weather conditions may result in high or low water levels which impact a ship's itinerary and, on occasion, render a ship unable to sail at all. On very rare occasions, other events such as heavy fog, a damaged lock, or an incapacitated vessel blocking the river, may impact a sailing. These events typically occur with little or no notice. In the event that a cruise is partially or completely impacted, the itinerary will be operated by deluxe motor coach, accompanied by a Tour Manager, with overnights in hotels. The itinerary will include as many of the originally scheduled sightseeing features as possible, considering the travel time and distances required, as well as meals. While it is not possible to recreate the more leisurely comforts of sailings, we will endeavor to provide a comparable itinerary. These alternative services will be provided at no additional charge.

12 Day First Class Russian River Cruise With St. Petersburg & Moscow

Gate1
$2749
12
Details

Flights New York-St. Petersburg, Moscow-New York or vice versa
Other departure cities available. Click on date of departure for selection and prices
Airline taxes & fuel surcharges
10 nights First Class accommodations

2 nights St. Petersburg
7 nights First Class river cruise on MS Mstislav Rostropovich
1 night Moscow

Cruise porterage
All transfers & port fees
23 meals: 10 breakfasts, 6 lunches, 7 dinners
Shore excursions per itinerary
Entrance fees per itinerary

Special Features

Tour of enchanting St. Petersburg with its beautiful Russian architecture
Visit the world-famous Hermitage Museum, housed in the lavishly decorated Winter Palace in St. Petersburg
Sail to Mandrogi, a reconstructed 18th century traditional Russian village
Stand in awe at the fairy tale Church of Transfiguration in Kizhi, a World Heritage Site
Guided walking tour of the Kremlin grounds
Captain's Welcome Cocktail Reception and Gala Farewell Dinner
Choice of wine or juice with dinner
Russian vodka tasting on board

12 Day Norway's Mountains & Fjords With 6 Day Scenic Coast Cruise

Gate1
$3499
12
Details

Round trip flights New York-Oslo, Oslo-New York
Other departure cities available. Click on date of departure for selection and prices
Airline taxes & fuel surcharges
Intra-flight Kirkenes-Oslo
10 nights accommodations

3 nights Oslo
1 night Flam
6 nights aboard the MS Nordlys, or MS Richard With, Standard Inside Cabin

Hotel porterage
All transfers and port fees
25 meals: 10 breakfasts, 6 lunches, 9 dinners
Sightseeing per itinerary in modern air-conditioned motor coach
Services of English-speaking tour manager throughout
Entrance fees per itinerary

Special Features

Visit Vigeland Sculpture Park in Oslo with its more than 200 sculptures, designed by Gustav Vigeland
Board the famous Flam Railway for a mountain train ride into Norway's high glacial regions
Visit to a working Norwegian farm with light lunch
Visit Troldhaugen in Bergen, inspirational home of composer Edvard Grieg
Stroll through Bryggen, the ancient Hanseatic pier and the UNESCO-listed buildings in Bergen
Dock at Trondheim, Norway's original capital, with its handsome architecture
Cross the Arctic Circle, land of the "Midnight Sun"
Dock in Tromso, a lively town beside the mighty Arctic Ocean
Pass through Honningsvåg, gateway to the spectacular North Cape and Lapland

Coastal Cruise Features & Amenities

Coffee & tea with all meals; bottled water with lunch & dinner; wine or beer with dinner
Access to 24-hour café serving snacks and drinks
Bar serving beer, wine & cocktails
Panoramic lounge
Fitness center
Internet café & library
Non-smoking ship interior
Meetings with your traveling companions and Tour Manager

12 Day Rhine River Cruise With Bruges & Paris

Gate1
$2999
12
Details

Flights New York-Basel, Paris-New York
Other departure cities available. Click on date of departure for selection and prices
Airline taxes & fuel surcharges
10 nights accommodations

7 nights outside cabin aboard the First Class Monarch Queen
1 night Bruges
2 nights Paris

River port charges of $190 per person
Cruise & hotel porterage
All transfers
23 meals: 10 breakfasts, 6 lunches, 7 dinners
Comfortable wireless earphones for enhanced touring during excursions




Special Features

Walk the cobbled streets of tiny Breisach, a town that dates back over 4,000 years
Visit the Alsace capital of Strasbourg, designated a UNESCO World Heritage site
Stroll the lanes filled with quaint wine taverns in the lively village of Rüdesheim
Discover 2000-year-old Koblenz, with its superb Romanesque architecture
View the mighty Lorelei Rock named for the siren "Lorelei" rising vertically from the waters
Sail on the legendary Rhine to Cologne, capital of the Rhineland
In Amsterdam, board a glass-top boat and cruise the winding canals
Tour Brussels and Bruges in Belgium, two of Europe's most beautiful cities
Discover Paris, the "City of Lights," with its endless treasures




River Cruise Features & Amenities

Captain's Welcome Dinner and Farewell Dinner
Unlimited wine and beer with dinners
Locally inspired recipes
Early riser breakfast in addition to buffet breakfast
Complimentary bottled water replenished daily in your stateroom
Late night snack
Complimentary Wi-Fi access in public areas
Self-serve coffee and tea station
Lounge serving premium spirits
Daily entertainment including an on-board musician
Fitness center
Non-smoking ship interior
Cruise Director & Activities Director throughout
Shore excursions conducted exclusively in English

Know Before You Book - High & Low Water

European river cruising has gained in popularity for very good reason. It's a relaxing and convenient way to experience Europe while enjoying the comfort of a deluxe ship. However, before making the decision to reserve your vacation, please be aware of potential conditions which may impact your cruise. While most of the time river cruises operate exactly as planned, weather conditions may result in high or low water levels which impact a ship's itinerary and, on occasion, render a ship unable to sail at all. On very rare occasions, other events such as heavy fog, a damaged lock, or an incapacitated vessel blocking the river, may impact a sailing. These events typically occur with little or no notice. In the event that a cruise is partially or completely impacted, the itinerary will be operated by deluxe motor coach, accompanied by a Tour Manager, with overnights in hotels. The itinerary will include as many of the originally scheduled sightseeing features as possible, considering the travel time and distances required, as well as meals. While it is not possible to recreate the more leisurely comforts of sailings, we will endeavor to provide a comparable itinerary. These alternative services will be provided at no additional charge.

12 Day Russian River Cruise

Gate1
$1749
12
Details

Flights New York-St. Petersburg, Moscow-New York
Other departure cities available. Click on date of departure for selection and prices
Airline taxes & fuel surcharges
10 nights Tourist Class river cruise on MS Zosima Shashkov
Cruise porterage
All transfers & port fees
29 meals: 10 breakfasts, 9 lunches, 10 dinners
Shore excursions per itinerary
Entrance fees per itinerary




Special Features

Tour of enchanting St. Petersburg with its beautiful Russian architecture
Visit the world-famous Hermitage Museum, housing the largest collection of priceless masterpieces
Sail to Mandrogi, a reconstructed 18th century traditional Russian village
Stand in awe at the fairy tale Church of Transfiguration in Kizhi, a UNESCO World Heritage Site
Walk the lanes of the quaint "Golden Ring" city of Yaroslavl, dating back to the Viking era
Guided walking tour of the Kremlin, a fortified complex at the heart of Moscow
Bottled water with lunch
Choice of wine, beer or soda with dinner
Russian vodka tasting on board

12 Day Tulip Time River Cruise With Paris

Gate1
$3699
12
Details

Flights New York-Amsterdam, Paris-New York
Other departure cities available. Click on date of departure for selection and prices
Airline taxes & fuel surcharges
10 nights accommodations

7 nights outside cabin aboard the Deluxe MS Monarch Empress or First Class MS Monarch Queen
3 nights Paris

River port charges of $190 per person
Cruise & hotel porterage
All transfers
23 meals: 10 breakfasts, 6 lunches, 7 dinners
Shore excursions per itinerary
Entrance fees per itinerary
Comfortable wireless earphones for enhanced touring during excursions

Special Features

In Amsterdam, board a glass-top boat and cruise the winding canals
Visit Nijmegen, the oldest town in the Netherlands with its magnificent historic buildings
Dock in the historic Flanders port of Ghent, a showcase of Flemish wealth
Excursion to the Delta Works storm barrier, considered a technical miracle
Visit the windmill park in Kinderdijk built in the 1700s and still in use today
Explore the magnificent flower displays at Keukenhof Gardens
Discover Paris, the "City of Lights", with its endless treasures
Tour Brussels' re-created 15th century town square with decorated guild houses

River Cruise Features & Amenities

Captain's Welcome Dinner and Farewell Dinner
Unlimited wine and beer with dinners
Locally inspired recipes
Early riser breakfast in addition to buffet breakfast
Complimentary bottled water replenished daily in your stateroom
Late night snack
Complimentary basic Wi-Fi access in public areas
Self-serve coffee and tea station
Lounge serving premium spirits
Daily entertainment including an on-board musician
Fitness center
Non-smoking ship interior
Cruise Director & Activities Director throughout
Shore excursions conducted exclusively in English by licensed guides

Know Before You Book - High & Low Water

European river cruising has gained in popularity for very good reason. It's a relaxing and convenient way to experience Europe while enjoying the comfort of a deluxe ship. However, before making the decision to reserve your vacation, please be aware of potential conditions which may impact your cruise. While most of the time river cruises operate exactly as planned, weather conditions may result in high or low water levels which impact a ship's itinerary and, on occasion, render a ship unable to sail at all. On very rare occasions, other events such as heavy fog, a damaged lock, or an incapacitated vessel blocking the river, may impact a sailing. These events typically occur with little or no notice. In the event that a cruise is partially or completely impacted, the itinerary will be operated by deluxe motor coach, accompanied by a Tour Manager, with overnights in hotels. The itinerary will include as many of the originally scheduled sightseeing features as possible, considering the travel time and distances required, as well as meals. While it is not possible to recreate the more leisurely comforts of sailings, we will endeavor to provide a comparable itinerary. These alternative services will be provided at no additional charge.

13 Day Classic Alaska With 7 Day Cruise

Gate1
$2679
13
Details

Flights Seattle-Anchorage, Vancouver-Seattle
Other departure cities available. Click on date of departure for selection and prices
Airline taxes & fuel surcharges
12 nights accommodations

1 night Anchorage
3 nights Denali
1 night Seward
7 nights Norwegian Sun, Norwegian Cruise Line®

13 Day Croatia & Venice With 7 Day Adriatic Sea Cruise

Gate1
$3289
13
Details

Flights New York-Dubrovnik, Venice-New York
Other departure cities available. Click on date of departure for selection and prices
Airline taxes & fuel surcharges
11 nights First Class accommodations

7 nights sea cruise on Karizma, Lower Deck Cabin
2 nights Opatija
2 nights Venice

Hotel & cruise porterage
All transfers
21 meals: 11 breakfasts, 6 lunches, 4 dinners
Sightseeing per itinerary in modern air-conditioned motor coach
Services of English-speaking tour manager / cruise manager throughout
Services of local guides in all major cities
Entrance fees per itinerary
Comfortable wireless earphones for enhanced touring




Special Features

Walking tour of Old Dubrovnik, known as the "Pearl of the Adriatic", highlights the city's treasures within its 800-year-old walls
Explore Mljet National Park, a scenic area that borders two salt water lakes
Explore the medieval walled city of Korcula and its Cathedral of St. Mark
Tour magical Hvar Island, an international playground for the rich and famous
In Split, walking tour of the historic inner city and the astonishing Palace of Diocletian
Enjoy Sibenik, an atmospheric Adriatic town nestled in a protected natural harbor
Leisure time in Trogir, one of the best preserved medieval towns in Europe
Excursion to Krka and Kornati National Parks, known for their dramatic scenery
Visit Zadar, with its Roman architecture, Habsburg elegance and picture-perfect seafront
Tour striking Plitvice Lakes National Park, with its magnificent crystal blue waterways
Enjoy two nights discovering the magnificent resort cities on the Istrian Peninsula
Visit the remarkable Postojna Caves and tour the subterranean world by electric train
Walking tour in Venice highlights the gorgeous palaces, endless bridges and winding canals

13 Day Rhine River Cruise With Amsterdam & Lucerne

Gate1
$3449
13
Details

Flights New York-Amsterdam, Zurich-New York
Other departure cities available. Click on date of departure for selection and prices
Airline taxes & fuel surcharges
11 nights First Class & Deluxe accommodations

2 nights Amsterdam
7 nights outside cabin aboard the First Class Monarch Queen
2 nights Lucerne

River port charges of $190 per person
Cruise & hotel porterage
All transfers
24 meals: 11 breakfasts, 6 lunches, 7 dinners
Entrance fees per itinerary
Comfortable wireless earphones for enhanced touring during excursions




Special Features

In Amsterdam, board a glass-top boat and cruise the winding canals
Sail on the legendary Rhine to Cologne, capital of the Rhineland
Discover 2000-year-old Koblenz, with its superb Romanesque architecture
View the mighty Lorelei Rock named for the siren "Lorelei" rising vertically from the waters
Stroll the lanes filled with quaint wine taverns in the lively village of Rüdesheim
Visit the Alsace capital of Strasbourg, designated a UNESCO World Heritage site
Walk the cobbled streets of tiny Breisach, a city that dates back over 4,000 years
Explore Lucerne with its pristine lakeside setting and gorgeous mountainous panorama




River Cruise Features & Amenities

Captain's Welcome Dinner and Farewell Dinner
Unlimited wine and beer with dinners
Locally inspired recipes
Early riser breakfast in addition to buffet breakfast
Complimentary bottled water replenished daily in your stateroom
Late night snack
Complimentary Wi-Fi access in public areas
Self-serve coffee and tea station
Lounge serving premium spirits
Daily entertainment including an on-board musician
Fitness center
Non-smoking ship interior
Cruise Director & Activities Director throughout
Shore excursions conducted exclusively in English

Know Before You Book - High & Low Water

European river cruising has gained in popularity for very good reason. It's a relaxing and convenient way to experience Europe while enjoying the comfort of a deluxe ship. However, before making the decision to reserve your vacation, please be aware of potential conditions which may impact your cruise. While most of the time river cruises operate exactly as planned, weather conditions may result in high or low water levels which impact a ship's itinerary and, on occasion, render a ship unable to sail at all. On very rare occasions, other events such as heavy fog, a damaged lock, or an incapacitated vessel blocking the river, may impact a sailing. These events typically occur with little or no notice. In the event that a cruise is partially or completely impacted, the itinerary will be operated by deluxe motor coach, accompanied by a Tour Manager, with overnights in hotels. The itinerary will include as many of the originally scheduled sightseeing features as possible, considering the travel time and distances required, as well as meals. While it is not possible to recreate the more leisurely comforts of sailings, we will endeavor to provide a comparable itinerary. These alternative services will be provided at no additional charge.

13 Day Russian River Cruise

Gate1
$1799
13
Details

Flights New York-Moscow, St. Petersburg-New York
Other departure cities available. Click on date of departure for selection and prices
Airline taxes & fuel surcharges
11 nights Tourist Class river cruise on MS Zosima Shashkov
Cruise porterage
All transfers & port fees
32 meals: 11 breakfasts, 10 lunches, 11 dinners
Shore excursions per itinerary
Entrance fees per itinerary

Special Features

Guided walking tour of the Kremlin, a fortified complex at the heart of Moscow
Walk the lanes of the quaint "Golden Ring" city of Yaroslavl, dating back to the Vikings
Stand in awe at the fairy tale Church of Transfiguration in Kizhi, a UNESCO World Heritage Site
Sail to Mandrogi, a reconstructed 18th century traditional Russian village
Tour of enchanting St. Petersburg with its beautiful Russian architecture
Visit the world-famous Hermitage Museum
Bottled water with lunch
Choice of wine, beer or soda with dinner
Russian vodka tasting on board

14 Day China With 4 Day Yangtze River Cruise

Gate1
$1799
14
Details

Flights Los Angeles-Shanghai, Beijing-Los Angeles
Other departure cities available. Click on date of departure for selection and prices
Airline taxes & fuel surcharges
All intra-flights: Shanghai-Yichang, Chongqing-Xian & Xian-Beijing
12 nights First Class accommodations

3 nights Shanghai
4 nights cruise upstream on the Yangtze River
2 nights Xian
3 nights Beijing

Hotel taxes, fees & service charges
Hotel & cruise porterage
All transfers
26 meals: 12 breakfasts, 7 lunches, 7 dinners with beer
Sightseeing per itinerary in modern air-conditioned motor coach
Services of English-speaking tour manager throughout
Services of local guides in all major cities
Entrance fees per itinerary
Comfortable wireless earphones for enhanced touring

Special Features

Explore the classical Yuyuan Garden and the Bund Riverside, Shanghai's popular promenade
See the world-famous Terracotta Army, a collection of finely sculpted life-size soldiers, horses & chariots
Visit the amazing Forbidden City, once residence of Chinese Emperors and Summer Palace
Visit the 2000-year-old Great Wall, the World's longest man-made structure
Savor a famous Peking Duck dinner with wine

14 Day Danube River Cruise With Budapest & Prague

Gate1
$2899
14
Details

Flights New York-Budapest, Prague-New York or vice versa
Other departure cities available. Click on date of departure for selection and prices
Airline taxes & fuel surcharges
12 nights accommodations

2 nights Budapest
7 nights outside cabin aboard the Deluxe MS Monarch Empress, First Class MS Monarch Princess or MS Monarch Baroness
3 nights Prague

River port charges of $190 per person
Cruise & hotel porterage
All transfers
25 meals: 12 breakfasts, 6 lunches, 7 dinners
Shore excursions per itinerary
Entrance fees per itinerary
Comfortable wireless earphones for enhanced touring during excursions

Special Features

During your Budapest City Tour, see the Parliament, Heroes Square, Royal Palace and Matthias Church
View the picturesque town of Szentendre with its unique shops and museums
Tour romantic Vienna with its legendary opulence and elegance
In Melk, join a guided tour of the historic Benedictine Abbey
Marvel at the beautiful churches and ancient stone bridges in Regensburg
City tour of Prague "The City of a Thousand Spires"

River Cruise Features & Amenities

Captain's Welcome Dinner and Farewell Dinner
Unlimited wine and beer with dinners
Locally inspired recipes
Early riser breakfast in addition to buffet breakfast
Complimentary bottled water replenished daily in your stateroom
Late night snack
Complimentary basic Wi-Fi access in public areas
Self-serve coffee and tea station
Lounge serving premium spirits
Daily entertainment including an on-board musician
Fitness center
Non-smoking ship interior
Cruise Director & Activities Director throughout
Shore excursions conducted exclusively in English by licensed guides

Know Before You Book - High & Low Water

European river cruising has gained in popularity for very good reason. It's a relaxing and convenient way to experience Europe while enjoying the comfort of a deluxe ship. However, before making the decision to reserve your vacation, please be aware of potential conditions which may impact your cruise. While most of the time river cruises operate exactly as planned, weather conditions may result in high or low water levels which impact a ship's itinerary and, on occasion, render a ship unable to sail at all. On very rare occasions, other events such as heavy fog, a damaged lock, or an incapacitated vessel blocking the river, may impact a sailing. These events typically occur with little or no notice. In the event that a cruise is partially or completely impacted, the itinerary will be operated by deluxe motor coach, accompanied by a Tour Manager, with overnights in hotels. The itinerary will include as many of the originally scheduled sightseeing features as possible, considering the travel time and distances required, as well as meals. While it is not possible to recreate the more leisurely comforts of sailings, we will endeavor to provide a comparable itinerary. These alternative services will be provided at no additional charge.

14 Day Danube River Cruise With Warsaw, Krakow & Budapest

Gate1
$3299
14
Details

Flights New York-Warsaw, Munich-New York
Other departure cities available. Click on date of departure for selection and prices
Airline taxes & fuel surcharges
12 nights accommodations

2 nights Warsaw
2 nights Krakow
1 night Budapest
7 nights outside cabin aboard the Deluxe MS Monarch Empress or First Class MS Monarch Princess

River port charges of $190 per person
Cruise & hotel porterage
All transfers
27 meals: 12 breakfasts, 6 lunches, 9 dinners
Shore excursions per itinerary
Entrance fees per itinerary
Comfortable wireless earphones for enhanced touring during excursions

Special Features

In Warsaw, along the Royal Route, view historic monuments and residences
Admire the historic 16th century Wawel Royal Castle in medieval Krakow
Enjoy a city tour of Vienna and view Hofburg Palace, Vienna Opera House and St. Stephen's Cathedral
Tour the historic Benedictine Melk Abbey, one of the finest examples of Baroque architecture
Visit Regensburg, one of Germany's best preserved medieval cities

River Cruise Features & Amenities

Captain's Welcome Dinner and Farewell Dinner
Unlimited wine and beer with dinners
Locally inspired recipes
Early riser breakfast in addition to buffet breakfast
Complimentary bottled water replenished daily in your stateroom
Late night snack
Complimentary basic Wi-Fi access in public areas
Self-serve coffee and tea station
Lounge serving premium spirits
Daily entertainment including an on-board musician
Fitness center
Non-smoking ship interior
Cruise Director & Activities Director throughout
Shore excursions conducted exclusively in English by licensed guides

Know Before You Book - High & Low Water

European river cruising has gained in popularity for very good reason. It's a relaxing and convenient way to experience Europe while enjoying the comfort of a deluxe ship. However, before making the decision to reserve your vacation, please be aware of potential conditions which may impact your cruise. While most of the time river cruises operate exactly as planned, weather conditions may result in high or low water levels which impact a ship's itinerary and, on occasion, render a ship unable to sail at all. On very rare occasions, other events such as heavy fog, a damaged lock, or an incapacitated vessel blocking the river, may impact a sailing. These events typically occur with little or no notice. In the event that a cruise is partially or completely impacted, the itinerary will be operated by deluxe motor coach, accompanied by a Tour Manager, with overnights in hotels. The itinerary will include as many of the originally scheduled sightseeing features as possible, considering the travel time and distances required, as well as meals. While it is not possible to recreate the more leisurely comforts of sailings, we will endeavor to provide a comparable itinerary. These alternative services will be provided at no additional charge.

14 Day Ecuador With 4 Day Northern Galapagos Cruise

Gate1
$4499
14
Details

Flights Miami-Guayaquil, Quito-Miami
Some departure dates may be offered from an alternate nearby airport. Check flight itinerary options when booking.
Other departure cities available. Click on date of departure for selection and prices
Airline taxes & fuel surcharges
All intra-flights: Guayaquil-Baltra & Baltra-Quito
13 nights accommodations

2 nights Guayaquil
4 nights M/V Santa Cruz II
2 nights Quito
1 night Otavalo
1 night Papallacta
2 nights Punta Ahuano (Amazon)
1 night Baños

Hotel & cruise porterage
All transfers
31 Meals: 13 breakfasts, 8 lunches, 10 dinners
Sightseeing per itinerary in modern air-conditioned motor coach
Services of English-speaking tour manager (Days 7-14)
Services of English-speaking local guides
Services of English-speaking naturalist guides in the Galapagos (Days 3-6)
Galapagos National Park Fee of $100
Galapagos Transit Control Card fee of $20
Entrance fees per itinerary




Special Features

Discover Guayaquil, a sprawling and vivacious city with striking architecture
Journey to the "beginning of time" as you travel to the astonishing Galapagos Archipelago
Snorkel/Swim on magnificent white sand beaches with astounding marine life
Observe areas with blue-footed boobies, frigate birds, Galapagos penguins and sea lions
Visit Buccaneer Cove, once an important site for 17th and 18th century sailors
Visit Colonial Quito, a UNESCO World Heritage Site and walk through its cobblestone streets
Stand at the Middle of the World monument, situated at latitude 0º
Browse for local goods at the traditional Otavalo Market
Stay in the Amazon region, the world's largest ecosystem

14 Day New Orleans & Cajun Country With 7 Day Western Caribbean Cruise

Gate1
$2079
14
Details

Round trip flights Newark-New Orleans, New Orleans-Newark
Other departure cities available. Click on date of departure for selection and prices
Airline taxes & fuel surcharges
13 nights accommodations

4 nights New Orleans
1 night Baton Rouge
1 night Lafayette
7 nights Norwegian Pearl, Norwegian Cruise Line®

Hotel & cruise porterage
Airport to hotel and hotel to port transfers
29 meals: 13 breakfasts, 7 lunches, 9 dinners
Sightseeing per itinerary in modern air-conditioned motor coach
Services of English-speaking tour manager (Days 2-7)
Services of English-speaking local guides
Entrance fees per itinerary
Comfortable wireless earphones for enhanced touring (Days 2-7)




Special Features

Walking tour of the iconic French Quarter, the oldest neighborhood in New Orleans
Visit the unique Presbytere with its exquisite collection of Mardi Gras memorabilia
Tour of Baton Rouge, the jewel of Louisiana, a city of contrasting cultures
Swamp Boat Ride in the magical Atchafalaya Basin, the largest wetland in the U.S.
Visit Vermilionville, a folklife park and living history museum on the banks of the Bayou
Tour the Visitors Center and pepper sauce factory of the world famous "hot" Tabasco sauce on Avery Island
Visit the open-air French Market, a uniquely New Orleans shopping experience
Stop at a local distillery for a tour & tasting
View some of New Orleans distinctive neighborhoods including the historic mansions
Norwegian Cruise Line® Complimentary & Specialty Restaurants

14 Day South American Glaciers, Forests & Lakes With 4 Day Patagonia Cruise

Gate1
$4699
14
Details

Small groups of maximum 22 travelers guaranteed
Round trip international flights Miami-Buenos Aires, Buenos Aires-Miami
Other departure cities available. Click on date of departure for selection and prices
Airline taxes & fuel surcharges
All intra-flights: Buenos Aires-El Calafate & Ushuaia-Buenos Aires
12 nights First Class accommodations

3 nights Buenos Aires
2 nights El Calafate
2 nights Torres del Paine
1 night Puerto Natales
4 nights Patagonia Cruise on the M/V Stella Australis

Hotel & cruise porterage
All transfers and sightseeing per itinerary in modern air-conditioned vehicles
26 meals: 12 breakfasts, 5 lunches, 9 dinners (including welcome & farewell dinners)
Bottled water during sightseeing excursions
Services of English-speaking tour manager
Comprehensive, guided sightseeing and entrance fees per itinerary
Active itinerary with unique cultural features




Tour Highlights

Thanks to our small group size, we can get to the heart of our destination, visit places that other tours miss, and get to know the locals.
Tour of cosmopolitan Buenos Aires, the sophisticated "Paris of South America"
Enjoy Tango lessons with professional Argentine Tango Dancers
Travel to the Perito Moreno Glacier at Los Glaciares National Park, a UNESCO World Heritage Site
Visit Torres del Paine National Park, one of the most impressive sights in the Southern Hemisphere
Tour Puerto Natales, center of Chilean Patagonia, on the shores of the Senoret Channel
Discover Patagonia's astonishing scenery and magnificent glaciers on a four-night expedition cruise to Southern Patagonia and Tierra del Fuego

14 Day Tulip Time River Cruise With Amsterdam & Paris

Gate1
$4199
14
Details

Flights New York-Paris, Amsterdam-New York
Other departure cities available. Click on date of departure for selection and prices
Airline taxes & fuel surcharges
12 nights accommodations

2 nights Amsterdam
7 nights outside cabin aboard the Deluxe MS Monarch Empress or First Class MS Monarch Queen
3 nights Paris

River port charges of $190 per person
Cruise & hotel porterage
All transfers
25 meals: 12 breakfasts, 6 lunches, 7 dinners
Shore excursions per itinerary
Entrance fees per itinerary
Comfortable wireless earphones for enhanced touring during excursions



Special Features

In Amsterdam, board a glass-top boat and cruise the winding canals
Visit Nijmegen, the oldest town in the Netherlands with its magnificent historic buildings
Dock in the historic Flanders port of Ghent, a showcase of Flemish wealth
Excursion to the Delta Works storm barrier, considered a technical miracle
Visit the windmill park in Kinderdijk built in the 1700s and still in use today
Explore the magnificent flower displays at Keukenhof Gardens
Tour Brussels' re-created 15th century town square with decorated guild houses
Discover Paris, the "City of Lights", with its endless treasures




River Cruise Features & Amenities

Captain's Welcome Dinner and Farewell Dinner
Unlimited wine and beer with dinners
Locally inspired recipes
Early riser breakfast in addition to buffet breakfast
Complimentary bottled water replenished daily in your stateroom
Late night snack
Complimentary basic Wi-Fi access in public areas
Self-serve coffee and tea station
Lounge serving premium spirits
Daily entertainment including an on-board musician
Fitness center
Non-smoking ship interior
Cruise Director & Activities Director throughout
Shore excursions conducted exclusively in English by licensed guides

Know Before You Book - High & Low Water

European river cruising has gained in popularity for very good reason. It's a relaxing and convenient way to experience Europe while enjoying the comfort of a deluxe ship. However, before making the decision to reserve your vacation, please be aware of potential conditions which may impact your cruise. While most of the time river cruises operate exactly as planned, weather conditions may result in high or low water levels which impact a ship's itinerary and, on occasion, render a ship unable to sail at all. On very rare occasions, other events such as heavy fog, a damaged lock, or an incapacitated vessel blocking the river, may impact a sailing. These events typically occur with little or no notice. In the event that a cruise is partially or completely impacted, the itinerary will be operated by deluxe motor coach, accompanied by a Tour Manager, with overnights in hotels. The itinerary will include as many of the originally scheduled sightseeing features as possible, considering the travel time and distances required, as well as meals. While it is not possible to recreate the more leisurely comforts of sailings, we will endeavor to provide a comparable itinerary. These alternative services will be provided at no additional charge.

15 Day Burma (Myanmar) With 9 Day World Class River Cruise

Gate1
$4199
15
Details

Round trip flights Los Angeles-Bangkok, Bangkok-Los Angeles or vice versa
Other departure cities available. Click on date of departure for selection and prices
Airline taxes & fuel surcharges
All intra-flights: Bangkok-Mandalay & Yangon-Bangkok
13 nights accommodations

2 nights Bangkok
1 night Mandalay
9 nights Deluxe river cruise, Irrawaddy Explorer
1 night Yangon

Hotel taxes, fees & service charges
Hotel & cruise porterage
All transfers & port fees
31 meals: 13 breakfasts, 9 lunches, 9 dinners
Services of English-speaking tour manager (Days 3-13)
Services of local guide in Bangkok
Shore excursions per itinerary
Entrance fees per itinerary




Special Features

Stroll along the U-Bein Bridge
Tour the amazing Hpowindaung and Shwebadaung Caves
Visit a local school to interact with children
Visit Bagan, one of the most unforgettable archaeological sites in the world
Tour the Bagan-era village of Salay, an active religious center founded in the 13th century
Horse cart ride to the charming colonial town of Thayetmyo
Visit Pyay, (formerly Prome), a stupa studded Irrawaddy riverside town
Excursion to Thayekhittaya (Sri Ksetra), a UNESCO World Heritage Site




River Cruise Features & Amenities

Complimentary bottled water, coffee, tea, soft drinks, local beer, and wine with dinner
Welcome & Farewell receptions
Locally inspired dinners
Series of cultural performances, educational talks, cooking classes, and ship tour
Spacious air conditioned lounge with nightly entertainment
Fitness center & spa
Non-smoking ship interior

15 Day China With Chengdu & 3 Day Yangtze River Cruise

Gate1
$2199
15
Details

Flights Los Angeles-Beijing, Shanghai-Los Angeles
Other departure cities available. Click on date of departure for selection and prices
Airline taxes & fuel surcharges
All intra-flights: Beijing-Xian, Xian-Chengdu & Yichang-Shanghai
13 nights First Class accommodations

3 nights Beijing
2 nights Xian
3 nights Chengdu
3 nights cruise downstream on the Yangtze River
2 nights Shanghai

Hotel taxes, fees & service charges
Hotel & cruise porterage
All transfers
33 meals: 13 breakfasts, 12 lunches, 8 dinners with beer
Sightseeing per itinerary in modern air-conditioned motor coach
Services of English-speaking tour manager throughout
Services of local guides in all major cities
Entrance fees per itinerary
Comfortable wireless earphones for enhanced touring

Special Features

Visit the Forbidden City, once residence of the Chinese emperors, and Summer Palace
Savor a famous Peking Duck Dinner with wine
Visit the Great Wall, the World's longest man-made structure
See the world famous archaeological site of the magnificent Terracotta Army
Explore the preserved Huanglongxi Village, with its stone paved streets and ancient wooden houses
Visit the Chengdu Panda Research Center
Explore the classical Yuyuan Garden and the Bund Riverside

15 Day Danube River Cruise With Prague, Dresden & Berlin

Gate1
$3599
15
Details

Flights New York-Budapest, Berlin-New York
Other departure cities available. Click on date of departure for selection and prices
Airline taxes & fuel surcharges
13 nights First Class accommodations

7 nights outside cabin aboard the First Class Monarch Baroness
3 nights Prague
1 night Dresden
2 nights Berlin

River port charges of $190 per person
Cruise & hotel porterage
All transfers
27 meals: 13 breakfasts, 6 lunches, 8 dinners
Shore excursions per itinerary
Entrance fees per itinerary
Comfortable wireless earphones for enhanced touring during excursions




Special Features

Enjoy a city tour of Vienna and view Hofburg Palace, Vienna Opera House and St. Stephen's Cathedral
Tour the historic Benedictine Melk Abbey, one of the finest examples of Baroque architecture
Visit Regensburg, one of Germany's best preserved medieval cities
City tour of Prague "The City of a Thousand Spires"
View Checkpoint Charlie, the Reichstag and Brandenberg Gate, symbols of the formerly divided city of Berlin




River Cruise Features & Amenities

Captain's Welcome Dinner and Farewell Dinner
Unlimited wine and beer with dinners
Locally inspired recipes
Early riser breakfast in addition to buffet breakfast
Complimentary bottled water replenished daily in your stateroom
Late night snack
Complimentary basic Wi-Fi access in public areas
Self-serve coffee and tea station
Lounge serving premium spirits
Daily entertainment including an on-board musician
Fitness center
Non-smoking ship interior
Cruise Director & Activities Director throughout
Shore excursions conducted exclusively in English by licensed guides

Know Before You Book - High & Low Water

European river cruising has gained in popularity for very good reason. It's a relaxing and convenient way to experience Europe while enjoying the comfort of a deluxe ship. However, before making the decision to reserve your vacation, please be aware of potential conditions which may impact your cruise. While most of the time river cruises operate exactly as planned, weather conditions may result in high or low water levels which impact a ship's itinerary and, on occasion, render a ship unable to sail at all. On very rare occasions, other events such as heavy fog, a damaged lock, or an incapacitated vessel blocking the river, may impact a sailing. These events typically occur with little or no notice. In the event that a cruise is partially or completely impacted, the itinerary will be operated by deluxe motor coach, accompanied by a Tour Manager, with overnights in hotels. The itinerary will include as many of the originally scheduled sightseeing features as possible, considering the travel time and distances required, as well as meals. While it is not possible to recreate the more leisurely comforts of sailings, we will endeavor to provide a comparable itinerary. These alternative services will be provided at no additional charge.

15 Day Ecuador With 5 Day Western Galapagos Cruise

Gate1
$5099
15
Details

Flights Miami-Guayaquil, Quito-Miami
Some departure dates may be offered from an alternate nearby airport. Check flight itinerary options when booking.
Other departure cities available. Click on date of departure for selection and prices
Airline taxes & fuel surcharges
All intra-flights: Guayaquil-Baltra & Baltra-Quito
14 nights First Class accommodations

2 nights Guayaquil
5 nights M/V Santa Cruz II
2 nights Quito
1 night Otavalo
1 night Papallacta
2 nights Punta Ahuano (Amazon)
1 night Baños

Hotel porterage
All transfers
34 Meals: 14 breakfasts, 9 lunches, 11 dinners
Sightseeing per itinerary in modern air-conditioned motor coach
Services of English-speaking tour manager (Days 8-15)
Services of English-speaking naturalist guides in the Galapagos (Days 3-7)
Entrance fees per itinerary
Galapagos National Park Fee of $100
Galapagos Transit Control Card fee of $20

Special Features

Embark on a journey to the beginning of time in the Galapagos Archipelago of volcanic islands
Travel along the coast on a panga while naturalist guides explain the area's dramatic geology
The unique environment encourages sea lions, Sally lightfoot crabs, penguins and flightless cormorants
Walk in an impressive cactus forest surrounded by land and marine iguanas and blue-footed boobies
Snorkel on magnificent white sand beaches with plentiful marine life
Visit the Charles Darwin Research Station's giant tortoise Breeding Centre
Visit Colonial Quito and walk through its cobblestone streets
Stand at the Middle of the World monument
Browse for local goods at the traditional Otavalo Market
Stay in the Amazon region, the world's largest ecosystem

16 Day Burma (Myanmar) With 9 Day World Class River Cruise

Gate1
$4549
16
Details

Round trip flights Los Angeles-Bangkok, Bangkok-Los Angeles
Other departure cities available. Click on date of departure for selection and prices
Airline taxes & fuel surcharges
All intra-flights: Bangkok-Yangon & Mandalay-Bangkok
14 nights accommodations

2 nights Bangkok
1 night Yangon
9 nights Deluxe river cruise, Irrawaddy Explorer
2 nights Mandalay

Hotel taxes, fees & service charges
Hotel & cruise porterage
All transfers & port fees
33 meals: 14 breakfasts, 10 lunches, 9 dinners
Services of English-speaking tour manager (Days 3-14)
Services of local guide in Bangkok
Shore excursions per itinerary
Entrance fees per itinerary




Special Features

Visit serene Wat Po, home of the astonishing giant Reclining Buddha, over 150 feet long
Visit Pyay (formerly Prome), a stupa studded Irrawaddy riverside town
Excursion to Thayekhittaya (Sri Ksetra), a UNESCO World Heritage Site
Horse cart ride to the charming colonial town ofThayetmyo
Tour the Bagan-era village of Salay, an active religious center founded in the 13th century
Visit Bagan, one of the most unforgettable archaeological sites in the world
Visit a local school to interact with children
Visit the amazing Hpowindaung and Shwebadaung Caves
Stroll along Mandalay's 200 year old U-Bein Bridge




River Cruise Features & Amenities

Complimentary bottled water, coffee, tea, soft drinks, local beer, and wine with dinner
Welcome & Farewell receptions
Locally inspired dinners
Series of cultural performances, educational talks, cooking classes, and ship tour
Spacious air conditioned lounge with nightly entertainment
Fitness center & spa
Non-smoking ship interior

16 Day Canadian Rockies With 7 Day Alaska Cruise

Gate1
$2869
16
Details

Flights Los Angeles-Calgary, Seattle-Los Angeles
Other departure cities available. Click on date of departure for selection and prices
Airline taxes & fuel surcharges
Intra-flight Calgary-Seattle
15 nights accommodations

2 nights Calgary
2 nights Waterton Lake
2 nights Banff
2 nights Jasper
7 nights Norwegian Pearl, Norwegian Cruise Line®

16 Day Classic European River Cruise

Gate1
$3999
16
Details

Flights New York-Budapest, Amsterdam-New York or vice versa
Other departure cities available. Click on date of departure for selection and prices
Airline taxes & fuel surcharges
14 nights outside cabin aboard the Deluxe MS Monarch Empress, First Class MS Monarch Baroness or MS Monarch Queen
River port charges of $380 per person
Cruise porterage
All transfers
41 meals: 14 breakfasts, 13 lunches, 14 dinners
Entrance fees per itinerary
Comfortable wireless earphones for enhanced touring during excursions




Special Features

See magnificent panoramic views of Budapest from atop Fisherman's Bastion
Tour romantic Vienna with its legendary opulence and elegance
In Melk, join a guided tour of the historic Benedictine Abbey
Marvel at the beautiful churches and ancient stone bridges in Regensburg
Cruise the Main-Danube Canal, considered a marvel of modern engineering
Walk in Bamberg's medieval center with its 11th century Romanesque cathedral
View the mighty Lorelei Rock named for the siren "Lorelei" rising vertically from the waters
Sail on the legendary Rhine to Cologne, capital of the Rhineland
In Amsterdam, board a glass-top boat and cruise the winding canals




River Cruise Features & Amenities

Captain's Welcome Dinner and Farewell Dinner
Unlimited wine and beer with dinners
Locally inspired recipes
Early riser breakfast in addition to buffet breakfast
Complimentary bottled water replenished daily in your stateroom
Late night snack
Complimentary Wi-Fi access in public areas
Self-serve coffee and tea station
Lounge serving premium spirits
Daily entertainment including an on-board musician
Fitness center
Non-smoking ship interior
Cruise Director & Activities Director throughout
Shore excursions conducted exclusively in English by licensed guides

Know Before You Book - High & Low Water

European river cruising has gained in popularity for very good reason. It's a relaxing and convenient way to experience Europe while enjoying the comfort of a deluxe ship. However, before making the decision to reserve your vacation, please be aware of potential conditions which may impact your cruise. While most of the time river cruises operate exactly as planned, weather conditions may result in high or low water levels which impact a ship's itinerary and, on occasion, render a ship unable to sail at all. On very rare occasions, other events such as heavy fog, a damaged lock, or an incapacitated vessel blocking the river, may impact a sailing. These events typically occur with little or no notice. In the event that a cruise is partially or completely impacted, the itinerary will be operated by deluxe motor coach, accompanied by a Tour Manager, with overnights in hotels. The itinerary will include as many of the originally scheduled sightseeing features as possible, considering the travel time and distances required, as well as meals. While it is not possible to recreate the more leisurely comforts of sailings, we will endeavor to provide a comparable itinerary. These alternative services will be provided at no additional charge.

16 Day Italy With 7 Day Western Med Cruise

Gate1
$3189
16
Details

Flights New York-Venice, Rome-New York
Other departure cities available. Click on date of departure for selection and prices
Airline taxes & fuel surcharges
14 nights First Class accommodations

2 nights Venice
2 nights Florence
3 nights Rome
7 nights Norwegian Epic, Norwegian Cruise Line®

Italian city hotel taxes
Hotel & cruise porterage
All transfers
31 meals: 14 breakfasts, 6 lunches, 11 dinners
Sightseeing per itinerary in modern air-conditioned motor coach
Services of English-speaking tour manager (Days 2 - 8)
Services of local guides in all major cities (Days 2 - 8)
Entrance fees per itinerary (Days 2 - 8)
Comfortable wireless earphones for enhanced touring on motor coach tour

Special Features

Visit the pink marble Doge's Palace in Venice
Stop at a typical farm in the Tuscan countryside for wine tasting and local specialties
See Pisa's Piazza dei Miracoli with its famous Leaning Tower
Stand before Michelangelo's David in Florence
Visit the 13th-century Basilica di San Francesco in Assisi
Tour of the Vatican Museums and Michelangelo's incomparable Sistine Chapel
Historic tour of Ancient Rome including the Roman Forum and the Colosseum
Wine & mineral water with all dinners on motor coach tour
Norwegian Cruise Line® Complimentary & Specialty Restaurants

17 Day Burma (Myanmar) & Bangkok With 9 Day World Class River Cruise

Gate1
$4349
17
Details

Round trip flights Los Angeles-Bangkok, Bangkok-Los Angeles
Other departure cities available. Click on date of departure for selection and prices
Airline taxes & fuel surcharges
All intra-flights: Bangkok-Yangon, Mandalay-Bangkok
15 nights accommodations

4 nights Bangkok
1 night Yangon
9 nights Deluxe river cruise, Irrawaddy Explorer
1 night Mandalay

Hotel taxes, fees & service charges
Hotel & cruise porterage
All transfers & port fees
33 meals: 15 breakfasts, 9 lunches, 9 dinners
Services of English-speaking tour manager (Days 5-13)
Services of local guide in Bangkok
Shore excursions per itinerary
Entrance fees per itinerary




Special Features

Visit serene Wat Po, home of the astonishing giant Reclining Buddha, over 150 feet long
Stroll along Mandalay's 200 year old U-Bein Bridge
Tour the amazing Hpowindaung and Shwebadaung Caves
Visit a local school to interact with children
Visit Bagan, one of the most unforgettable archaeological sites in the world
Tour the Bagan-era village of Salay, an active religious center founded in the 13th century
Horse cart ride to the charming colonial town of Thayetmyo
Visit Pyay, (formerly Prome), a stupa studded Irrawaddy riverside town
Excursion to Thayekhittaya (Sri Ksetra), a UNESCO World Heritage Site




River Cruise Features & Amenities

Complimentary bottled water, coffee, tea, soft drinks, local beer, and wine with dinner
Welcome & Farewell receptions
Locally inspired dinners
Series of cultural performances, educational talks, cooking classes, and ship tour
Spacious air conditioned lounge with nightly entertainment
Fitness center & spa
Non-smoking ship interior

17 Day China With 4 Day Yangtze River Cruise & Hong Kong

Gate1
$2699
17
Details

Flights Los Angeles-Shanghai, Hong Kong-Los Angeles
Other departure cities available. Click on date of departure for selection and prices
Airline taxes & fuel surcharges
All intra-flights: Shanghai-Yichang, Chongqing-Xian, Xian-Beijing & Beijing-Hong Kong
15 nights First Class accommodations

3 nights Shanghai
4 nights cruise upstream on the Century Sun, Yangtze River
2 nights Xian
3 nights Beijing
3 nights Hong Kong

Hotel taxes, fees & service charges
Hotel & cruise porterage
All transfers
29 meals: 15 breakfasts, 7 lunches, 7 dinners with beer
Sightseeing per itinerary in modern air-conditioned motor coach
Services of English-speaking tour manager Days 2-14
Services of local guides in all major cities
Entrance fees per itinerary
Comfortable wireless earphones for enhanced touring

Special Features

Visit the Forbidden City, once residence of Chinese emperors and Summer Palace
See the world famous archaeological site of the magnificent Terracotta Army
Visit the Great Wall, the World's longest man-made structure
Explore the classical Yuyuan Garden and the Bund Riverside
Savor a famous Peking Duck dinner with wine
Admire panoramic views of Hong Kong Island from Victoria Peak
Visit Aberdeen Harbor, home of the floating fishermen's village

17 Day China With 4 Day Yangtze River Cruise & Tokyo

Gate1
$3149
17
Details

Flights Los Angeles-Tokyo, Beijing-Los Angeles
Other departure cities available. Click on date of departure for selection and prices
Airline taxes & fuel surcharges
All intra-flights: Tokyo-Shanghai, Shanghai-Yichang, Chongqing-Xian & Xian-Beijing
15 nights First Class accommodations

3 nights Tokyo
3 nights Shanghai
4 nights cruise upstream on the Century Sun, Yangtze River
2 nights Xian
3 nights Beijing

Hotel taxes, fees & service charges
Hotel & cruise porterage
All transfers
30 meals: 15 breakfasts, 8 lunches, 7 dinners
Sightseeing per itinerary in modern air-conditioned motor coach
Services of English-speaking tour manager (Days 5-17)
Services of local guides in all major cities
Entrance fees per itinerary
Comfortable wireless earphones for enhanced touring

Special Features

Embark on a city tour of Tokyo that includes the Tokyo Tower, Meji Shrine and Senso-ji Temple
Explore the classical Yu Yuan Gardens and the lively Bund, Shanghai's popular promenade
See the world-famous Terracotta Army, a collection of finely sculpted life-size soldiers, horses & chariots
Visit the amazing Forbidden City, once residence of Chinese Emperors and Summer Palace
Visit the 2000-year-old Great Wall, the World's longest man-made structure
Savor a famous Peking Duck dinner with wine

17 Day Danube River Cruise With Budapest, Prague, Dresden & Berlin

Gate1
$3999
17
Details

Flights New York-Budapest, Berlin-New York
Other departure cities available. Click on date of departure for selection and prices
Airline taxes & fuel surcharges
15 nights First Class accommodations

2 nights Budapest
7 nights outside cabin aboard the First Class Monarch Baroness
3 nights Prague
1 night Dresden
2 nights Berlin

River port charges of $190 per person
Cruise & hotel porterage
All transfers
29 meals: 15 breakfasts, 6 lunches, 8 dinners
Shore excursions per itinerary
Entrance fees per itinerary
Comfortable wireless earphones for enhanced touring during excursions

Special Features

During your Budapest City Tour, see the Parliament, Heroes Square, Royal Palace and Matthias Church
View the picturesque town of Szentendre with its unique shops and museums
Enjoy a city tour of Vienna and view Hofburg Palace, Vienna Opera House and St. Stephen's Cathedral
Tour the historic Benedictine Melk Abbey, one of the finest examples of Baroque architecture
Visit Regensburg, one of Germany's best preserved medieval cities
City tour of Prague "The City of a Thousand Spires"
View Checkpoint Charlie, the Reichstag and Brandenberg Gate, symbols of the formerly divided city of Berlin

River Cruise Features & Amenities

Captain's Welcome Dinner and Farewell Dinner
Unlimited wine and beer with dinners
Locally inspired recipes
Early riser breakfast in addition to buffet breakfast
Complimentary bottled water replenished daily in your stateroom
Late night snack
Complimentary Wi-Fi access in public areas
Self-serve coffee and tea station
Lounge serving premium spirits
Daily entertainment including an on-board musician
Fitness center
Non-smoking ship interior
Cruise Director & Activities Director throughout
Shore excursions conducted exclusively in English by licensed guides

Know Before You Book - High & Low Water

European river cruising has gained in popularity for very good reason. It's a relaxing and convenient way to experience Europe while enjoying the comfort of a deluxe ship. However, before making the decision to reserve your vacation, please be aware of potential conditions which may impact your cruise. While most of the time river cruises operate exactly as planned, weather conditions may result in high or low water levels which impact a ship's itinerary and, on occasion, render a ship unable to sail at all. On very rare occasions, other events such as heavy fog, a damaged lock, or an incapacitated vessel blocking the river, may impact a sailing. These events typically occur with little or no notice. In the event that a cruise is partially or completely impacted, the itinerary will be operated by deluxe motor coach, accompanied by a Tour Manager, with overnights in hotels. The itinerary will include as many of the originally scheduled sightseeing features as possible, considering the travel time and distances required, as well as meals. While it is not possible to recreate the more leisurely comforts of sailings, we will endeavor to provide a comparable itinerary. These alternative services will be provided at no additional charge.

17 Day Danube River Cruise With Warsaw, Krakow, Budapest & Prague

Gate1
$3799
17
Details

Flights New York-Warsaw, Prague-New York
Other departure cities available. Click on date of departure for selection and prices
Airline taxes & fuel surcharges
15 nights Deluxe accommodations

2 nights Warsaw
2 nights Krakow
1 night Budapest
7 nights outside cabin aboard the Deluxe 5* MS Monarch Empress
3 nights Prague

River port charges of $190 per person
Cruise & hotel porterage
All transfers
30 meals: 15 breakfasts, 6 lunches, 9 dinners
Shore excursions per itinerary
Entrance fees per itinerary
Comfortable wireless earphones for enhanced touring during excursions




Special Features

In Warsaw, along the Royal Route, view historic monuments and residences
Admire the historic 16th century Wawel Royal Castle in medieval Krakow
View Vienna with its magnificent Baroque palaces, parks and monuments
Visit Regensburg, one of Germany's best preserved medieval cities
City tour of Prague, "The City of a Thousand Spires"




River Cruise Features & Amenities

Captain's Welcome Dinner and Farewell Dinner
Unlimited wine and beer with dinners
Locally inspired recipes
Early riser breakfast in addition to buffet breakfast
Complimentary bottled water replenished daily in your stateroom
Late night snack
Complimentary basic Wi-Fi access
Self-serve coffee and tea station
Lounge serving premium spirits
Daily entertainment including an on-board musician
Fitness center
Non-smoking ship interior
Cruise Director & Activities Director throughout
Shore excursions conducted exclusively in English by licensed guides

Know Before You Book - High & Low Water

European river cruising has gained in popularity for very good reason. It's a relaxing and convenient way to experience Europe while enjoying the comfort of a deluxe ship. However, before making the decision to reserve your vacation, please be aware of potential conditions which may impact your cruise. While most of the time river cruises operate exactly as planned, weather conditions may result in high or low water levels which impact a ship's itinerary and, on occasion, render a ship unable to sail at all. On very rare occasions, other events such as heavy fog, a damaged lock, or an incapacitated vessel blocking the river, may impact a sailing. These events typically occur with little or no notice. In the event that a cruise is partially or completely impacted, the itinerary will be operated by deluxe motor coach, accompanied by a Tour Manager, with overnights in hotels. The itinerary will include as many of the originally scheduled sightseeing features as possible, considering the travel time and distances required, as well as meals. While it is not possible to recreate the more leisurely comforts of sailings, we will endeavor to provide a comparable itinerary. These alternative services will be provided at no additional charge.

18 Day Burma (Myanmar) & Bangkok With 9 Day World Class River Cruise

Gate1
$4649
18
Details

Round trip flights Los Angeles-Bangkok, Bangkok-Los Angeles
Other departure cities available. Click on date of departure for selection and prices
Airline taxes & fuel surcharges
All intra-flights: Bangkok-Yangon, Mandalay-Bangkok
16 nights accommodations

4 nights Bangkok
1 night Yangon
9 nights Deluxe river cruise, Irrawaddy Explorer
2 nights Mandalay

Hotel taxes, fees & service charges
Hotel & cruise porterage
All transfers & port fees
35 meals: 16 breakfasts, 10 lunches, 9 dinners
Services of English-speaking tour manager (Days 5-16)
Services of local guide in Bangkok
Shore excursions per itinerary
Entrance fees per itinerary




Special Features

Visit serene Wat Po, home of the astonishing giant Reclining Buddha, over 150 feet long
Visit Pyay (formerly Prome), a stupa studded Irrawaddy riverside town
Excursion to Thayekhittaya (Sri Ksetra), a UNESCO World Heritage Site
Horse cart ride to the charming colonial town of Thayetmyo
Tour the Bagan-era village of Salay, an active religious center founded in the 13th century
Visit Bagan, one of the most unforgettable archaeological sites in the world
Visit a local school to interact with children
Visit the amazing Hpowindaung and Shwebadaung Caves
Stroll along Mandalay's 200 year old U-Bein Bridge




River Cruise Features & Amenities

Complimentary bottled water, coffee, tea, soft drinks, local beer, and wine with dinner
Welcome & Farewell receptions
Locally inspired dinners
Series of cultural performances, educational talks, cooking classes, and ship tour
Spacious air conditioned lounge with nightly entertainment
Fitness center & spa
Non-smoking ship interior

18 Day Classic European River Cruise With Amsterdam

Gate1
$4849
18
Details

Flights New York-Budapest, Amsterdam-New York or vice versa
Other departure cities available. Click on date of departure for selection and prices
Airline taxes & fuel surcharges
16 nights First Class accommodations

14 nights outside cabin aboard the First Class Monarch Queen
2 nights Amsterdam

River port charges of $380 per person
Cruise & hotel porterage
All transfers
43 meals: 16 breakfasts, 13 lunches, 14 dinners
Entrance fees per itinerary
Comfortable wireless earphones for enhanced touring during excursions

Special Features

See magnificent panoramic views of Budapest from atop Fisherman's Bastion
Tour romantic Vienna with its legendary opulence and elegance
In Melk, join a guided tour of the historic Benedictine Abbey
Marvel at the beautiful churches and ancient stone bridges in Regensburg
Cruise the Main-Danube Canal, considered a marvel of modern engineering
Walk in Bamberg's medieval center with its 11th century Romanesque cathedral
View the mighty Lorelei Rock named for the siren "Lorelei" rising vertically from the waters
Sail on the legendary Rhine to Cologne, capital of the Rhineland
In Amsterdam, board a glass-top boat and cruise the winding canals

River Cruise Features & Amenities

Captain's Welcome Dinner and Farewell Dinner
Unlimited wine and beer with dinners
Locally inspired recipes
Early riser breakfast in addition to buffet breakfast
Complimentary bottled water replenished daily in your stateroom
Late night snack
Complimentary Wi-Fi access in public areas
Self-serve coffee and tea station
Lounge serving premium spirits
Daily entertainment including an on-board musician
Fitness center
Non-smoking ship interior
Cruise Director & Activities Director throughout
Shore excursions conducted exclusively in English by licensed guides

Know Before You Book - High & Low Water

European river cruising has gained in popularity for very good reason. It's a relaxing and convenient way to experience Europe while enjoying the comfort of a deluxe ship. However, before making the decision to reserve your vacation, please be aware of potential conditions which may impact your cruise. While most of the time river cruises operate exactly as planned, weather conditions may result in high or low water levels which impact a ship's itinerary and, on occasion, render a ship unable to sail at all. On very rare occasions, other events such as heavy fog, a damaged lock, or an incapacitated vessel blocking the river, may impact a sailing. These events typically occur with little or no notice. In the event that a cruise is partially or completely impacted, the itinerary will be operated by deluxe motor coach, accompanied by a Tour Manager, with overnights in hotels. The itinerary will include as many of the originally scheduled sightseeing features as possible, considering the travel time and distances required, as well as meals. While it is not possible to recreate the more leis

18 Day Classic European River Cruise With Budapest

Gate1
$4299
18
Details

Flights New York-Budapest, Amsterdam-New York or vice versa
Other departure cities available. Click on date of departure for selection and prices
Airline taxes & fuel surcharges
16 nights First Class accommodations

2 nights Budapest
14 nights outside cabin aboard the First Class Monarch Queen

River port charges of $380 per person
Cruise & hotel porterage
All transfers
43 meals: 16 breakfasts, 13 lunches, 14 dinners
Entrance fees per itinerary
Comfortable wireless earphones for enhanced touring during excursions




Special Features

See magnificent panoramic views of Budapest from atop Fisherman's Bastion
Tour romantic Vienna with its legendary opulence and elegance
In Melk, join a guided tour of the historic Benedictine Abbey
Marvel at the beautiful churches and ancient stone bridges in Regensburg
Cruise the Main-Danube Canal, considered a marvel of modern engineering
Walk in Bamberg's medieval center with its 11th century Romanesque cathedral
View the mighty Lorelei Rock named for the siren "Lorelei" rising vertically from the waters
Sail on the legendary Rhine to Cologne, capital of the Rhineland
In Amsterdam, board a glass-top boat and cruise the winding canals




River Cruise Features & Amenities

Captain's Welcome Dinner and Farewell Dinner
Unlimited wine and beer with dinners
Locally inspired recipes
Early riser breakfast in addition to buffet breakfast
Complimentary bottled water replenished daily in your stateroom
Late night snack
Complimentary Wi-Fi access in public areas
Self-serve coffee and tea station
Lounge serving premium spirits
Daily entertainment including an on-board musician
Fitness center
Non-smoking ship interior
Cruise Director & Activities Director throughout
Shore excursions conducted exclusively in English by licensed guides

Know Before You Book - High & Low Water

European river cruising has gained in popularity for very good reason. It's a relaxing and convenient way to experience Europe while enjoying the comfort of a deluxe ship. However, before making the decision to reserve your vacation, please be aware of potential conditions which may impact your cruise. While most of the time river cruises operate exactly as planned, weather conditions may result in high or low water levels which impact a ship's itinerary and, on occasion, render a ship unable to sail at all. On very rare occasions, other events such as heavy fog, a damaged lock, or an incapacitated vessel blocking the river, may impact a sailing. These events typically occur with little or no notice. In the event that a cruise is partially or completely impacted, the itinerary will be operated by deluxe motor coach, accompanied by a Tour Manager, with overnights in hotels. The itinerary will include as many of the originally scheduled sightseeing features as possible, considering the travel time and distances required, as well as meals. While it is not possible to recreate the more leis

19 Day Peru With 5 Day Western Galapagos Cruise

Gate1
$6849
19
Details

Flights Miami-Guayaquil, Lima-Miami
Some departure dates may be offered from an alternate nearby airport. Check flight itinerary options when booking
Other departure cities available. Click on date of departure for selection and prices
Airline taxes & fuel surcharges
All intra-flights: Guayaquil-Baltra-Quito, Lima-Cuzco & Juliaca-Lima
18 nights accommodations

2 nights Guayaquil
5 nights M/V Santa Cruz II

2 nights Quito
3 nights Lima
2 nights Urubamba Sacred Valley
2 nights Cuzco
2 nights Puno

Cruise & Hotel porterage
All transfers
33 Meals: 18 breakfasts, 7 lunches, 8 dinners
Services of English-speaking local guides in Guayaquil & Quito
Services of English-speaking naturalist guides in the Galapagos
Services of English-speaking tour manager (Days 10-19)
Galapagos National Park Fee of $100
Galapagos Transit Control Card fee of $20

Special Features

Explore Guayaquil, the largest city in Ecuador and the nation's largest port
Embark on a journey to the beginning of time in the Galapagos Archipelago of volcanic islands
Travel along the coast on a panga while Naturalist-Guides explain the area's dramatic geology
The unique environment encourages sea lions, Sally lightfoot crabs, penguins and flightless cormorants
Walk in an impressive cactus forest surrounded by land and marine iguanas and blue-footed boobies
Snorkel on magnificent white sand beaches with plentiful marine life
Visit the Charles Darwin Research Station's giant tortoise Breeding Centre
Discover Quito's colonial quarter, designated a UNESCO World Heritage Site
City Tour of Lima with its 2000 years of history
Visit the impressive Inca fortress of Ollantaytambo
Discover the astonishing ancient citadel of Machu Picchu via Vistadome Train
Excursion by boat to the fascinating Uros Floating Islands

20 Day Classic European River Cruise With Amsterdam & Budapest

Gate1
$4749
20
Details

Flights New York-Budapest, Amsterdam-New York or vice versa
Other departure cities available. Click on date of departure for selection and prices
Airline taxes & fuel surcharges
18 nights First Class & Deluxe accommodations

2 nights Budapest
14 nights outside cabin aboard the First Class Monarch Queen
2 nights Amsterdam

River port charges of $380 per person
Cruise & hotel porterage
All transfers
45 meals: 18 breakfasts, 13 lunches, 14 dinners
Entrance fees per itinerary
Comfortable wireless earphones for enhanced touring during excursions




Special Features

See magnificent panoramic views of Budapest from atop Fisherman's Bastion
Tour romantic Vienna with its legendary opulence and elegance
In Melk, join a guided tour of the historic Benedictine Abbey
Marvel at the beautiful churches and ancient stone bridges in Regensburg
Cruise the Main-Danube Canal, considered a marvel of modern engineering
Walk in Bamberg's medieval center with its 11th century Romanesque cathedral
View the mighty Lorelei Rock named for the siren "Lorelei" rising vertically from the waters
Sail on the legendary Rhine to Cologne, capital of the Rhineland
In Amsterdam, board a glass-top boat and cruise the winding canals




River Cruise Features & Amenities

Captain's Welcome Dinner and Farewell Dinner
Unlimited wine and beer with dinners
Locally inspired recipes
Early riser breakfast in addition to buffet breakfast
Complimentary bottled water replenished daily in your stateroom
Late night snack
Complimentary Wi-Fi access in public areas
Self-serve coffee and tea station
Lounge serving premium spirits
Daily entertainment including an on-board musician
Fitness center
Non-smoking ship interior
Cruise Director & Activities Director throughout
Shore excursions conducted exclusively in English by licensed guides

Know Before You Book - High & Low Water

European river cruising has gained in popularity for very good reason. It's a relaxing and convenient way to experience Europe while enjoying the comfort of a deluxe ship. However, before making the decision to reserve your vacation, please be aware of potential conditions which may impact your cruise. While most of the time river cruises operate exactly as planned, weather conditions may result in high or low water levels which impact a ship's itinerary and, on occasion, render a ship unable to sail at all. On very rare occasions, other events such as heavy fog, a damaged lock, or an incapacitated vessel blocking the river, may impact a sailing. These events typically occur with little or no notice. In the event that a cruise is partially or completely impacted, the itinerary will be operated by deluxe motor coach, accompanied by a Tour Manager, with overnights in hotels. The itinerary will include as many of the originally scheduled sightseeing features as possible, considering the travel time and distances required, as well as meals. While it is not possible to recreate the more leis

23 Day Spain & Portugal With 7 Day Western Med Cruise

Gate1
$3939
23
Details

Flights New York-Lisbon, Barcelona-New York
Other departure cities available. Click on date of departure for selection and prices
Airline taxes & fuel surcharges
Ave High-Speed Train - Madrid-Barcelona
21 nights First Class accommodations

2 nights Lisbon
2 nights Seville
3 nights Torremolinos
1 night Granada
2 nights Madrid
4 nights Barcelona
7 nights Norwegian Epic, Norwegian Cruise Line®

24 Day Chilean Fjords With 13 Day Antarctica Cruise & Buenos Aires

Gate1
$10149
24
Details

Small groups of maximum 20 travelers guaranteed
International flights Miami-Buenos Aires, Santiago-Miami
Other departure cities available. Click on date of departure for selection and prices
Airline taxes & fuel surcharges
All intra-flights: Buenos Aires-El Calafate & Punta Arenas-Santiago
22 nights First Class accommodations

2 nights Buenos Aires
2 nights El Calafate
2 nights Torres del Paine
1 night Puerto Natales
13 nights Antarctica Cruise on the MS Midnatsol
2 nights Santiago

Hotel & cruise porterage
All transfers and sightseeing per itinerary in modern air-conditioned vehicles
54 meals: 22 breakfasts, 14 lunches, 18 dinners (including welcome & farewell dinners)
Bottled water during sightseeing excursions
Services of English-speaking tour manager
Comprehensive, guided sightseeing and entrance fees per itinerary
Active itinerary with unique cultural features

Tour Highlights

Thanks to our small group size, we can get to the heart of our destination, visit places that other tours miss, and get to know the locals.
Tour of cosmopolitan Buenos Aires, the sophisticated "Paris of South America"
Enjoy Tango lessons with professional Argentine Tango Dancers
Travel to the Perito Moreno Glacier at Los Glaciares National Park, a UNESCO World Heritage Site
Visit Torres del Paine National Park, one of the most impressive sights in the Southern Hemisphere
Tour Puerto Natales, center of Chilean Patagonia, on the shores of the Senoret Channel
Join on board naturalists for daily sightings of wildlife from the ship's observation deck
Traverse the Strait of Magellan named for the Portuguese seafarer who discovered this passage
Enter the narrow Garibaldi Fjord - view the awesome splendor of the stark Garibaldi Glacier
Stop in Puerto Williams on the tiny island of Navarino, capital of the Chilean Antarctic
Go ashore on Cape Horn (conditions permitting) southernmost point of Chile and South America
An exciting journey takes you along the Drake Passage where the Atlantic and Pacific converge
Go ashore in Zodiacs to encounter colonies of Magellanic Penguins, birds, dolphins and sea lions
Explore crescent-shaped Half Moon Island, a jewel of diversity in the polar landscape
On Deception Island, discover Whalers Bay known for its warm springs and black volcanic sand
You'll be welcomed by colonies of waddling Gentoo penguins on your visit to Neko Harbor
A stunning cruise to Lemaire Channel where sheer cliffs rise above iceberg filled passage
Tour Santiago, the energetic capital city of Chile
Page 1 of 1 : : 100 per page