Adventures by Disney Disney Tours — 2017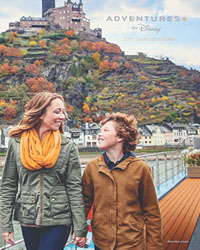 Let Adventures by Disney® be your guides, your storytellers, your local experts and your masters of hassle-free guided group travel. We'll take you where you want to go. Bring you closer to the places you visit. See to every last detail. And make sure every moment of your vacation, for everyone in your family, is a moment you'll want to remember again and again
Page 1 of 1 : : 100 per page
We have at least
4

trips that match this criteria
at the lowest prices, guaranteed.
Tour
Operator
Starting At
Days

Winter In Wyoming Long Weekend 2017

Adventures by Disney
$4869
5
Details

"Mush" through the snow-covered terrain of the Wyoming wilderness on a Yellowstone winter tour. Traverse trails of pristine powder on your way to gorgeous panoramic views, erupting geysers and, after a vigorous day, soak in a natural hot spring.

Southern California: Disney Backstage, Hollywood, Disneyland 2017

Adventures by Disney
$3679
6
Details

Get ready for your close up as you experience the sights of Old Hollywood on this Southern California vacation that includes a rare behind-the-magic private visit of the Walt Disney Studios. Then, find yourself in the middle of the magic at the Happiest Place on Earth, spending several fun-filled days and nights at the Disneyland Resort.

Costa Rica: Tortuguero, Arenal, Guanacaste, San José 2017

Adventures by Disney
Call Us
7
Details

Unveil the mysteries of nature at its most beautiful. Explore the scenic wonderland of this Central American paradise—boasting a verdant rainforest, breathtaking coastlines, rugged mountains, numerous waterways, active volcanoes and exotic wildlife.

Cambodia, Vietnam, & Laos: Saigon, Hoi An, Hanoi, Luang Prabang, Siem Reap 2017

Adventures by Disney
Call Us
12
Details

Discover the beauty and magic of Southeast Asia through the splendor of Vietnam, Cambodia and Laos. Filled with history and tradition, these countries offer their own natural beauty, artistic elegance and philosophies of living that permeate everything from their martial arts and religious practices to their delicious regional cuisine.
Page 1 of 1 : : 100 per page