Across the Himalayas
Starting at
$6,399

Destinations & Sightseeing

Itinerary and Meals

Accomodations
---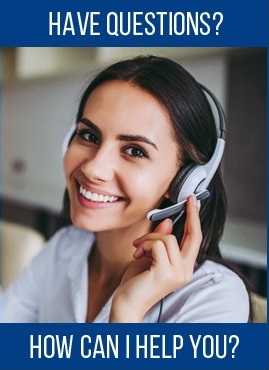 800.528.9300
Our exclusive Himalaya tour encompasses some of the most amazing vistas on Earth. Traveling across the Roof of the World from Tibet to Nepal in 4x4 jeeps, we include Mt. Everest Base Camp, flightseeing over Everest, and real experiences of life and culture in these remote mountain lands.

 
Click for larger view.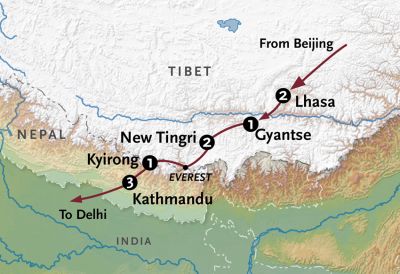 Destination & Sightseeing
ITINERARY
Day 1 - Welcome to Lhasa, Tibet
You'll be greeted on arrival and escorted to the 5-star Shangri-La Hotel. The balance of this day is at leisure so you can relax and acclimate to the altitude. Tonight, you'll sit down to an à la carte dinner here at the hotel.  Meals D  
Day 2 - Tibetan History + Culture
After breakfast, our engaging Tibetan guide will be waiting to share with you the historic sites and colorful stories of this intriguing city. Stretching for more than 1,000 feet along a ridge set against the snowcapped peaks, the Potala Palace #WHS# was the winter residence of the Dalai Lama. Entering within its massive walls, gates and turrets, your guided tour will include both the White and Red Palaces.   Back in town, a resident monk enriches your tour of Jokhang Temple; originally founded in the 7th century, this 4-story timber structure is topped with gold and remains an important pilgrimage site for Tibetan Buddhists. Then experience the lively markets of Barkhor Street and visit Sera Monastery, founded in the 15th century.  Meals B+L+D
Day 3 - Over the Kambala Pass to Shigatse
After breakfast and check out, you'll hit the road this morning with our professional driver and experienced Mountain Trip Leader. In comfortable Toyota 4x4 Land Cruisers, our intimate group will journey southward through the spectacular mountain scenery. Ascending to 15,680 feet through the Kambala Pass, you'll have great views over Yamdrok Yumtso, one of Tibet's three holy lakes.   In Gyantse, you'll hear the colorful history of this high-mountain town that sits on an ancient trade route between India and Tibet. Visit Palkhor Monastery, with its distinctive blend of Han, Tibetan and Nepalese architecture, and see the impressive Kumbum Stupa where Tibetan pilgrims come to perform Kora – an ancient Buddhist rite of walking and prayer. Continue your scenic overland journey to Shigatse and check in to the comfortable Qomo Langzong Hotel.  Meals B+L+D
Day 4 - Across the Roof of the World
Another memorable day of discovery begins this morning at Tashilhunpo Monastery. Founded in 1447 by the first Dalai Lama, it sits at the foot of a mountain peak and is the largest monastery in the region. At Sakya Monastery, you'll admire some of the finest Buddhist frescoes in Tibet. Dating back nearly 1,000 years, this is also the principal monastery of the Sakyapa Sect of Tibetan Buddhism. In the small town of Lhatse, you'll spend time with a resident family. With our expert guide on hand to translate and offer insight, this specially arranged cultural encounter affords an authentic look into Tibetan life. Your overland journey continues at a comfortable and leisurely pace through the fabled Gyatso La Pass at 17,000 feet. From here, Mt. Everest can be seen on a clear day! Drive onward to New Tingri and settle in to the Tingri Qomolangma Hotel; though simple, it's the best in town.  Meals B+L+D
Day 5 - Mt. Everest Base Camp
After breakfast, we'll travel in our 4x4 Land Cruisers to Gawa La Pass to experience one of the most breathtaking vistas in the world. With favorable conditions, Mt. Everest may be the tallest and most famous mountain in view. But this celebrated spot offers a chance to see and photograph no less than four peaks that tower more than 26,000 feet above sea level. Next you'll visit Rongbuk Monastery, set at an elevation of more than 16,000 feet against the awesome North Face of Everest. Built in 1899 by a local lama, this is the highest temple in the world!   Deep in the soaring terrain of the Himalayas, Rongbuk is also one of the best places on Earth to see Everest's 29,000-foot summit. Indeed, you're just a few miles from Everest Base Camp which is only 1,300 feet higher than the monastery, so you'll be one of the privileged few to get this close to the world's highest peak! You'll also stop in a mountain pass where you can prepare your own prayer flag. Personalize it with the names of those you love and hold dear, and add it to the many other flags that you see hanging and fluttering in the breeze. Before returning to New Tingri, you can mail a postcard from the world's highest post office.  Meals B+L+D  
Day 6 - Overland to Kyirong
An unforgettable journey through remote high-mountain landscapes affords a variety of breathtaking vistas including Mt. Shishapangma. At 26,289 feet, this is the 14th highest mountain on the planet. With its turquoise blue waters and salt-encrusted shore, Peiku Tso is the largest lake in the region. Along with the rushing waters of the Kyirong River, these waterways of the Tibetan Plateau add a captivating dimension to the region's mountain vistas. We'll stop for a picnic lunch, surrounded by the gorgeous scenery, before continuing toward the Nepalese border. Arriving in the border town of Kyirong, you'll check in to the Kyirong Hotel with time to refresh before dinner.  Meals B+L+D  
Day 7 - Into Nepal and on to Kathmandu
Check out after breakfast for the short drive to the border. Bid farewell to our Tibetan Trip Leader and meet our Nepalese guide who will assist you with immigration formalities. The journey into Nepal takes you through Langtang National Park. Encompassing the soaring peaks of the Central Himalayan Range along with temperate river valleys, old growth forests and glacial-carved cliffs, the varied terrain of Langtang promises a spectacular journey. Continuing southward, you'll descend into the Kathmandu Valley which sits just over 4,000 feet above sea level. Check in to the Vivante by Taj for your 2-night stay.  Meals B+L  
Day 8 - Mt. Everest Flightseeing + Kathmandu and Patan
A once-in-a-lifetime thrill begins early this morning as we take you to the airport to board a special twin-engine plane for a flightseeing adventure over the snow-covered slopes of the Himalayas. Narrated with fascinating facts and colorful stories about the spiritual significance of the various summits, this 1-hour experience promises amazing views of glaciers, mountains, high-altitude lakes and, of course, the 29,029-foot peak of Mt. Everest! The plane will make a u-turn and a second pass close to Everest so that passengers on both sides of the aircraft can experience the view!   Back in Kathmandu #WHS#, our guided city tour begins with the medieval landmarks of Durbar Square. In Hanuman Dhoka, the ancient royal quarter of the city, you'll find a complex of centuries-old palaces, temples and courtyards. It's the perfect place to learn more about the Malla Dynasty that ruled from 1201 to 1769. You'll also visit Mahadev Parvati Temple and the House of the Goddess Kumari. Outside the city center on the opposite banks of the Bagmati River, you'll visit the once independent city-state of Patan #WHS#. Celebrated for its traditional architecture, much of it embellished with beautifully carved windows and balconies, our guided tour will include Teleju Temple and the oft-photographed Krishna Mandir, built and carved of stone in the 17th century. This evening before dinner, we've made special arrangements for you to spend time with an adventurer who has scaled Mt. Everest. With a chance to pose your questions in a casual setting, this congenial meeting offers a fascinating glimpse into the world of extreme mountain climbers.  Meals B+D
Day 9 - The Kathmandu Valley
After breakfast, you'll journey deeper into the picturesque Kathmandu Valley to explore ancient Bhaktapur #WHS#, another one of the three kingdoms of medieval Nepal. In the town's main square, you'll see architectural treasures like the Lion Gate and the Palace of 55 Windows. With its 5-tiered roof and carved statues of Goddesses, animals and mythical beasts, Nyatapola Temple is the tallest in all of Nepal.   Then visit Boudhanath, the largest stupa in Nepal and venerated by both Tibetan and Nepalese Buddhists. Before returning to your hotel, stop along the banks of the picturesque Bagmati River to see Pashupatinath Temple; dedicated to Lord Shiva this is one of the holiest Hindu shrines in the world.  Meals B  
After breakfast, you'll be escorted to the airport for your onward flight. Meals B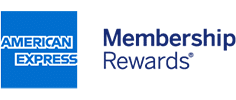 REDEEM POINTS FOR TRAVEL WITH PAVLUS TRAVEL.
Book with Pavlus Travel and use Membership Rewards® points from American Express for all or part of a cruise, vacation package, flight or prepaid hotel.
Terms & Conditions Apply
. We're Cruise Specialists with Great Cruise Deals, European River Cruise Experts & Europe Tour Packages retailers.