Journey to Rajasthan
Starting at
$4,799
Destinations & Sightseeing
Itinerary and Meals
Accomodations
---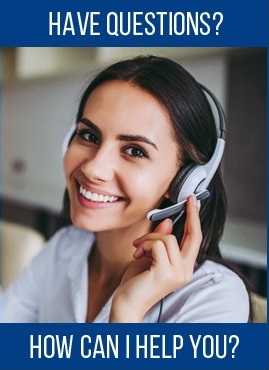 800.528.9300
In the intimate company of never more than 16 guests, our exclusive combination of North India's most venerated sites and the magnificent Hill Forts of Rajasthan is enhanced by special cultural encounters, unique desert adventures, 5-star hotels and fine dining.
Click for larger view.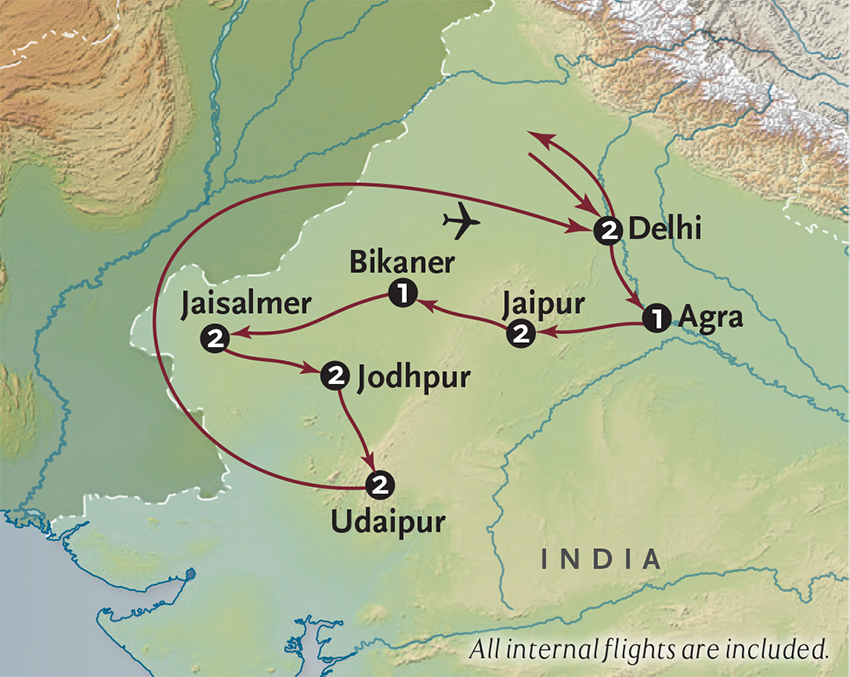 Destination & Sightseeing
ITINERARY
Upon arrival, you'll be greeted and escorted to our luxury hotel, ideally located in the prestigious, city-center Diplomatic Enclave amidst six acres of beautifully landscaped grounds.
Day 2 - Discover Delhi… Old + New
Join our engaging native-born guide for a full-day tour of Indias vibrant and fascinating capital. Focusing this morning on the sights and sounds of Old Delhi, youll begin with Jama Masjid, Indias largest mosque. Then hop aboard a traditional pedicab - a delightful way to immerse in the colors and rhythms of the city. Step off at the bustling and fragrant Spice Market and explore among the many vendors as our guide offers insight into Indias enduring cultural and culinary traditions.   Continue your exploration with the historic landmarks of New Delhi, driving past the India Gate – built in memory of Indian soldiers killed during World War I. Visiting Gurudwara Bangla Sahib, the city's largest Sikh temple, offers insight into the city rich multicultural diversity. Then continue past Rashtrapati Bhawan, built in the early 20th century as the Viceroys residence and now the official home of the President of India. At Qutab Minar #WHS#, youll discover the tallest brick minaret in the world – a graceful, fluted, tapering tower completed in the 14th century with beautiful terra cotta embellishments and balconies. Tonight, youll enjoy dinner with wine at our 5-star hotel.  Meals B+D
Day 3 - Agra + The Taj Mahal
After breakfast, you'll embark on a scenic southward journey to Agra, the venerated 16th-century capital of the Lodhi Dynasty. On arrival, check in to the 5-star Trident Hotel and refresh before setting out for some guided sightseeing. Behind the impressive 1.5-mile long fortress walls of the Red Fort of Agra, you'll discover lovely grounds, mosques, audience halls and fairytale palaces. Dating back to the 16th century and reflecting elements of both Hindu and Islamic architectural styles, this fort is more aptly described as a magnificent, walled palatial city.   As the sun dips towards the horizon, we'll take you across the Yamuna River to Mehtab Bagh. Most visitors don't know to come here, but this lovely Mughal garden located on the river banks across from the Taj Mahal offers some of the most captivating views of the iconic monument – especially in the golden light of sunset. This evening, you'll dine in a charming city restaurant that specializes in fine Mughlai cuisine. Meals B+D
Day 4 - Journey to Jaipur
Arise early this morning for a sunrise visit to the Taj Mahal. You of course did already see this renowned "Monument to Love" yesterday evening, but the strikingly iridescent and translucent façade of the Taj Mahal offers a different but equally enchanting experience in the sharper light of early morning.   After a mid-morning breakfast back at the Trident Hotel, check out and embark on the scenic drive into Rajasthan to visit Fatehpur Sikri #WHS#. Built by Emperor Akbar in the 16th century but abandoned soon after his death, this veritable fairy tale city is still in pristine condition, making it easy to imagine the opulence of court life long ago. Continue to Jaipur and check into the 5-star ITC Rajputana. This evening, your native-born guide will take you to Birla Temple, built in the shadow of an historic hilltop fort and dedicated to Lord Vishnu. Here in this evocative setting, you'll witness Aarti - an inspiring, ancient Hindu ceremony of light and devotion.  Meals B+L+D
Day 5 - In and around Jaipur
Founded in the 11th century and beautifully constructed from yellow and pink sandstone and gleaming white marble, the spectacular Amber Fort just outside of town stands in testament to the once-powerful and never-conquered Rajput Kingdom. Entering through the towering Sun Gate, your fascinating guided tour reveals lavish courtyards, beautifully decorated halls and the dazzling Chamber of Mirrors.   Back in the city, you'll see Hawa Mahal, the oft-photographed Palace of Winds. Built at the end of the 18th century and comprised of delicately latticed windows, its ingenious design allowed women of royal families to remain concealed while they observed the hustle and bustle of the street below. At the City Palace Museum, our knowledgeable guide will enhance your tour of its extensive and carefully curated collection including miniature paintings, ancient weapons and traditional Rajasthani royal costumes. You'll also visit Jantar Mantar, an observatory built in 1726. You're sure to be astounded by these architectural stone instruments – skillfully designed and constructed to measure time, predict eclipses and track the movements of the stars and planets; the largest instrument stands 90 feet tall and all are amazing accurate.   As the afternoon wanes, you'll have time to stroll through the vibrant and colorful bazaars of Old Jaipur as the come alive with the setting sun. The city is famed for its skilled artisans and you'll find wonderful ateliers and shops specializing in textiles, metalwork, jewelry, wood carvings and the famous blue pottery of Jaipur. Tonight's dinner with a resident family promises a delicious and traditional home-cooked meal enlivened by congenial conversation that is sure to deepen your understanding and appreciation of Indian culture.  Meals B+D
Day 6 - Onward to Bikaner
This morning's drive takes us deeper into historic Rajasthan to Bikaner, an ancient city surrounded by the vastness of the Thar Desert. The town's many forts, palaces, temples and residences are built of red and yellow sandstone and reflect traditional Rajasthani architecture during the reign of famous Mughal Emperors like Akbar and Jahangir.   Just outside of town is the National Camel Research Center. With our well-informed guide, your visit at the Center offers a chance to observe and learn about these fascinating creatures. Enjoy dinner and an unforgettable stay at Narendra Bhawan, a luxury hotel set in the former residence of the last ruling prince of Bikaner.  Meals B+L+D
Day 7 – Junagarh Fort + Onward to Jaisalmer - India's Golden City
After breakfast and check-out, join your guide for a tour of Junagarh Fort, regarded by many as the most interesting of Bikaner's landmarks. Built in 1588, this monumental fortress was never successfully conquered though it was attacked many times. Behind its huge towers, formidable walls and encircling moat, you'll explore a lovely complex of palaces, courtyards, temples and pavilions – many embellished with exquisite stone carvings, lattice-enclosed balconies and painted interiors.   Leaving Bikaner behind, continue onward to Jaisalmer, India's fabled "Golden City" in the far western reaches of Rajasthan. Despite its remote setting on a sandstone ridge in the heart of the starkly beautiful Thar Desert, this captivating city was a thriving medieval trading center along ancient camel trade routes. Today, this architectural legacy makes Jaisalmer one of India's most fascinating cities to explore. On arrival, check in to the deluxe Suryagarh Hotel where your evening is free to relax and dine as you wish.  Meals B+L
Set on a hill amidst the sweeping expanse of the Thar Desert, Jaisalmer Fort is one of the largest and most impressive of Rajasthan's many hill and desert fortresses. Built in the 12th century and witness to numerous fierce battles and attacks, the fort's defensive bastions encircle numerous winding lanes, shops, homes and temples. Jaisalmer is one of the world's very few "living forts" and with thousands of residents still living within its ancient walls, your guided exploration offers a penetrating look into the former glory and enduring legacies of the princely Rajput states that flourished in Rajasthan centuries ago.   Like the sandstone walls that surround it, many of the fort's interior buildings seem to glow with the same tawny lion-mane color as the surrounding defensive walls and towers. Expertly narrated, your guided tour promises not just visual delights but also a greater understanding and appreciation for India's rich history and culture. Outside of the fortress walls, you'll visit Salim Singh Haveli, one of Jaisalmer's many enduring merchant homes. Built two centuries ago, this architectural masterpiece is impressively embellished with lattice-enclosed balconies, delicately carved arches and pale blue cupolas.   Later this afternoon, you'll embark on a thrilling adventure as you join our guide for a camel trek across the dunes. As the sun begins to set across the golden sands, you'll arrive at our enchanting desert encampment for dinner and traditional Rajasthani entertainment under the stars.  After this magical experience, you'll be escorted back to your 5-star hotel in town.  Meals B+D
Day 9 - Travel to Jodhpur
This morning's journey through the desert landscapes brings you to Jodhpur, an historic city settled more than 500 years ago. Dominated by the imposing silhouette of Mehrangarh Fort and home to broad streets lined with the town's signature blue and white homes, Jodhpur captures the ambience and spirit of a bygone era. On arrival, check in to the luxurious Taj Hari Mahal and take this free afternoon to enjoy as you wish. Our delightful hotel is set amidst lush gardens and features distinctive architectural elements including graceful cupolas and latticed balconies – it's the perfect place to relax, explore, and maybe catch up on your correspondence or travel journal. An elegant dinner with wine is included this evening.  Meals B+D
Day 10 – Spectacular Desert + Magnificent Fort
Despite its seemingly barren stretches of remote scenery and foreboding semi-arid terrain, the rural and desert landscapes outside of Jodhpur are home to thriving communities, unique flora, and a surprising diversity of wildlife - including nearly 200 species of birds like the Himalayan griffin, tawny eagle, and grey-headed cannery flycatcher.   Setting out with an experienced driver in a comfortable 4x4, you'll venture across the rugged terrain, even going off road for a true desert adventure. More than just an adrenaline-rushing expedition however, today's excursion offers a wonderful way to learn about the centuries-old history of Rajasthan as well as its culture, flora and fauna. And with our specialist guide, born into an old noble Rajasthani family, you'll also spend time with members of the Bishnoi community, an indigenous tribe known for their deep reverence for the sacredness of all life.   Later this afternoon, you'll tour the magnificent Mehrangarh Fort, which stands atop a 400-foot hill overlooking the city. Behind these massive walls which soar up to 120 feet is an extraordinary complex of ornate places decorated with carved panels, delicate lattice windows and beautiful stained glass. First established in 1459, many of the fort's current structures were built in the 17th century and today Mehrangarh is one of the largest forts in all of India. It is also home to a fabulous collection of memorabilia from Jodhpur's royal families – ornate palanquins, elephant howdahs, miniature paintings, priceless antiques and glittering costumes. End your touring with a guided stroll through the city's bustling market – which comes to life as the sun sets and the desert air begins to cool.  Meals B+L
Day 11 - Onward to Udaipur
and journey southward to visit Ranakpur Temple, one of the largest and most important Jain temples in all of India. Established in the 15th century in a remote and tranquil valley of the Aravalli Hills, this immense and breathtaking complex covers more than 45,000 square feet. Within, there are four shrines and 24 pillared halls of exquisitely carved sandstone domes and columns. Each of the 1,444 columns is unique; with intricate designs and ornamentation, now two are exactly alike.   Continue your journey to Udaipur and check in to the Taj Lake Palace for an unforgettable 2-night stay. Originally built as the pleasure palace of a young prince, our fabulous luxury hotel is set on a private island surrounded by the tranquil waters of Lake Pichola. Late this afternoon, we'll take you on a sightseeing cruise to experience the setting sun as it casts is golden rays across the hills and waters that cradle Udaipur, regarded by many as India's most romantic city.  Meals B+L+D
Day 12 - The City of Dreams
Udaipur has been called India's "City of Dreams" and you'll understand why as you explore the immense City Palace - set magnificently on a ridge overlooking Lake Pichola. With its courtyards and grand halls, all wonderfully ornamented with pillars, balconies, towers and cupolas, this architectural masterpiece was built over several dynasties, but the harmony of its design makes it one of the finest palaces in all of Rajasthan. Now a museum, the richly decorated Palace is famed for its superb collection of cultural treasures including Mogul paintings and carvings.   By special arrangement, you'll view a marvelous collection of vintage automobiles including a rare Rolls Royce Phantom, a 1939 Cadillac convertible, and several limousines that once belonged to the powerful House of Mewar.  Then venturing into the heart of the city, you'll enjoy a guided stroll through the bustling local market to Jagdish Temple. Built in 1651 and decorated with towering tiers of bas relief carvings, this Hindu temple enshrines a black stone image of Lord Vishnu and his vehicle, a mighty bird called Garuda.   At the Rajasthan School of Art, you'll meet students who are learning traditional arts like miniature painting. After lunch, the rest of your afternoon is at leisure so you can enjoy the idyllic setting of your private-island lake resort. This evening, you'll gather with your fellow travelers for a congenial farewell dinner here at the hotel.  Meals B+D
After breakfast and a leisurely morning, you'll be escorted to the airport. We include your flight to Delhi where you will connect to your onward flight.  Meals B