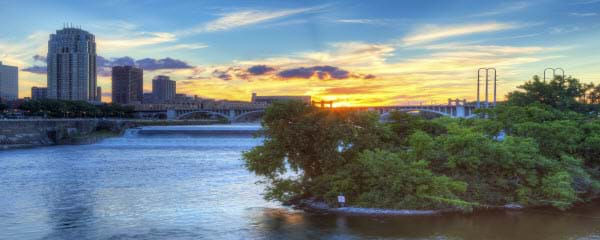 Red Wing (Minneapolis) to New Orleans — The Mighty Mississippi 2019 (American Queen)
Starting at
$4,499

Destinations & Sightseeing

Itinerary and Meals

Accomodations
---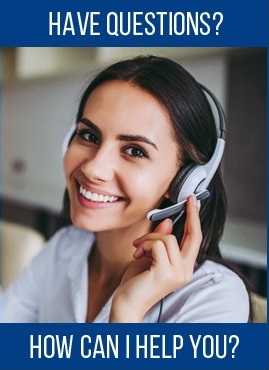 800.528.9300
AUTHENTIC AMERICA ON THE MIGHTY MISSISSIPPI - Have you ever wondered what this country looked like to its early explorers and pioneers? Traveling on the Mississippi and its tributaries aboard the elegant American Queen, you will be transported back in time to an era of leisurely and romantic travel. Storybook American towns and vibrant, bustling cities combine with the sweeping panoramas and deep blue lakes which inspired the works of Mark Twain. Authentic America is out there just waiting to be explored and after two weeks cruising amidst the Antebellum charms and gracious style of the American Queen, you will forever be changed. 

Theme:
• The Mighty Mississippi: Full-Length Mississippi River Voyage*
 
Click for larger view.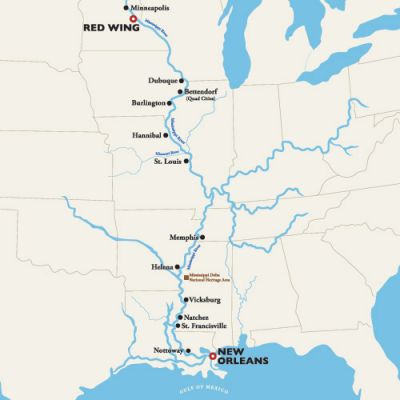 Destination & Sightseeing

Your Cruise Fare Includes:

Complimentary Hop-On Hop-Off shore excursions in each port of call

Complimentary hotel stay the night before your voyage – includes breakfast, taxes, porterage and transfers to the vessel

All onboard meals, including both fine dining and casual cuisine

24-Hour Room Service

Complimentary wine and beer with dinner

Complimentary cappuccino, espresso, specialty coffees, tea, bottled water and soft drinks throughout your voyage

Gracious service from a friendly, all-American staff

Acclaimed entertainment worthy of Broadway

Our own dedicated fleet of deluxe motorcoaches


Available for Purchase: Additional Pre-voyage Hotel Night
Available for Purchase: Optional Post-voyage Hotel Night


Terms and Conditions
One included pre-voyage hotel night is provided as part of the voyage fare. Additional pre-voyage hotel nights may be purchased for an additional charge. Guests are required to present a credit card upon hotel check-in to cover their incidental charges. Post-voyage hotel nights are not included in the voyage fare and may be purchased for an additional charge. A maximum of three pre-voyage and three post-voyage hotel nights are allowed for any booking. In lieu of an included pre-voyage hotel night on any voyage, a $50 per person onboard credit is available upon request and dependent upon voyage date. On a back-to-back voyage, two included hotel nights or a combination of one included hotel night plus a $50 per person onboard credit will be granted in lieu of taking a second included hotel night. A hotel credit will not be offered if a hotel is unable to accommodate additional hotel nights. Additional room night availability is based on the AQSC standard annual rate and is not guaranteed. The AQSC pre-voyage hotel may offer a direct promotional rate throughout the year that is lower than the AQSC standard annual rate.

ITINERARY
Day 1 - Hotel Stay - Minneapolis, MN
Enjoy your complimentary stay at Radisson Blu Mall of America. The evening is yours to get self-acquainted with the local attractions of Minneapolis.  Our Hospitality Desk will be located in the hotel for your convenience between 2:00 p.m. and 7:00 p.m. It is here that our friendly staff can assist with everything from general questions about your upcoming voyage to reserving Premium Shore Excursions. An American Queen Steamboat Company representative, as well as a local representative, will be readily available to provide you with dining, entertainment, and sight-seeing suggestions so that you may maximize your time in Minneapolis.
Explore nearby Minneapolis at your leisure or consider a Pre-Cruise Premium Shore Excursion with afternoon transfer to the American Queen.
Relax on deck with a copy of Huckleberry Finn or another imaginative selection borrowed from our revered Mark Twain Gallery, enjoy some quiet time in the Ladies Tea Parlor, or recruit your fellow guests for an exciting board game in our Gentlemens Card Room. For a remarkable one-of-a-kind experience, take a guided tour of the American Queens Engine Room to explore the inner workings of our classic, steam-powered vessel. There is always plenty to do between dawn and dusk on the river! 
One of the few large cities in Iowa with hills, Dubuque is an extremely popular tourist destination, featuring unique architecture and desirable river location. From the America's River Project in the Port of Dubuque that transformed the riverfront, to the revitalization of the historic Main Street, the ongoing evolution of the Historic Millwork District downtown, and the impressive and expansive westward growth, Dubuque remains a remarkable city along the Mississippi. Intelligent Community Forum named Dubuque as one of just five U.S. cities as a "Smart21 Community" in 2015 and the National Civic League has named Dubuque as a top All-American City three times in just six years! Guests will surely enjoy exploring this beautiful and unique city as they uncover the history and advancements held within.
Day 5 - Bettendorf, IA (Quad Cities)
Bettendorf, Iowa, is the starting point of historic exploration where you will set off to uncover the intriguing evolution of five individual, yet unified, communities known as the Quad Cities. During the Civil War, the nearby river towns of Davenport, Iowa, Rock Island, Illinois. and Moline, Illinois, thoughtful planning and strong leaders helped them to flourish while other settlements began to fail. It was during this same time period that the three towns began to refer to themselves as the "Tri-Cities." Today, despite the name "Quad Cities," the area is comprised of five towns in total with the addition of East Moline, Illinois, and Bettendorf, Iowa. Enjoy the diverse culture of this "melting-pot" city and uncover the stories of Quad Cities' past in the many museums, boutiques, and eateries!
Explored in 1673 by Pere Jaques Marquette and Louis Joliet, the land that is now Des Moines County changed hands from France to Spain, back to France and finally to the United States as part of the Louisiana Purchase. After Lt. Zebulon Pike's expedition landed at what is now Crapo Park in 1805, it was part of several territories – Louisiana, Indiana, Missouri, and Michigan. In 1834, residents named the land "Burlington" after trader John Gray's Vermont hometown. When Iowa was named a territory in 1838, Burlington remained the capital. Today, visitors enjoy the sights and attractions of the town as the hills and valleys, prairies, and the Mississippi River create the perfect scenic backdrop.
Hannibal, Missouri has a rich history, diverse industrial economy, and truly remarkable arts. The city was founded in 1819 by Moses D. Bates and became a popular stop along the river for many steamboats traveling up the Mississippi River. Hannibal offers more parks per citizens than most towns in the Midwest and was included in the famous "50 Miles of Art." Today, the most popular draw of this quirky town is Hannibal's very own Samuel Langhorne Clemens, recognized world-wide as Mark Twain. Many of the popular characters featured in Twain's novels were based on people Clemens had known while growing up in Hannibal. Many of the characters and influences of this American icon are weaved into the streets, shops, restaurants, and museums of Hannibal waiting to be uncovered.
St. Louis, Missouri, famously referred to as the "Gateway City," is known for its diverse neighborhoods and the different cultures and traditions each one brings forth. The iconic city was founded in 1764 by French explorers who settled on the east side of the Mississippi, claiming the land as their fur trading post. In 1803, the city's name began to spread as the beginning point for the famous Louis and Clark Expedition. The city is typically associated with its 630-foot stainless steel monument, the Gateway Arch, which stands proud on the banks of the Mississippi River to symbolize the westward expansion of the United States.
There is always plenty to do between dawn and dusk on the river and today is the perfect day to enjoy the many public spaces and activities that are available to you onboard. Consider booking an indulgent, stress-relieving massage in the American Queens spa. Browse The Emporium gift shop for that perfect keepsake, or take the time to mingle with fellow guests. 
Memphis is a city built on melody from the jazz dives and blues clubs of Beale Street to the Memphis Rock N Soul Museum, Gibson Guitar factory, Sun Studio and the famous Stax Museum of American Soul Music. In a city of contrasts, the tragic but uplifting stories of the National Civil Rights Museum are balanced by the frivolity of the twice-daily march of the ducks at the Peabody Hotel.
The Mississippi Delta is more than a geographical region. It is a way of life - a true cultural experience based around agriculture, music and history. These small river towns have been the inspiration for authors, musicians and artists for centuries. Lower Mississippi River voyages include a unique glimpse into a Port of the Mississippi Delta.
Vicksburg perfectly blends Southern culture and heritage with exciting modern attractions. Described as the key to the South by President Abraham Lincoln, this Southern town carries a history unlike any other Civil War city. Vicksburg was founded in 1811 and grew as a vital river port city. It was a major component to the Civil War and carries much of the history within the town. Today, Vicksburg is a popular spot for tourists to learn about the battles of the city, taste the cuisine, visit the many museums and pick out the perfect souvenir. 
This charming river town was founded in 1716, making it the oldest city on the Mississippi. The city is known for its elegance, hospitality and impressive preservation of history – found on every street corner. Enjoy the unique shops, restaurants, museums and historical homes, all of which contribute to Hugh Bayless' book "The 100 Best Towns in America." 
Day 14 - St. Francisville, LA
Established in 1809, St. Francisville is the oldest town in the Florida Parishes. Below where St. Francisville is located currently, was a settlement called Bayou Sara in the 1790's. When this settlement was destroyed by flooding and fires, many of the structures and artifacts were hauled up the bluff into St. Francisville where they are still standing. The town is referred to as "two miles long and two yards wide," but that definitely doesn't mean they have nothing to offer! With over 140 buildings on the National Register, beautiful plantation homes nestled in the rolling countryside and bustling Main Street shops, this quaint town situated on the bluffs of the Mississippi River has a style all its own. 
Day 15 - Nottoway Plantation, LA
Nottoway is the South's largest, most glorious remaining antebellum mansion, with a rich history dating back to 1859. In a fabulous location along the Great River Road, this White Castle of the South transports visitors back to an era of glory and grandeur. Set among a natural backdrop of vibrant gardens and 200-year-old oak trees, the mansion boasts three floors and 64 rooms, and flaunts an incredible 22 white square columns. The most popular room among guests is the White Ballroom, which is painted entirely in white with elaborate gold décor throughout. Rooms are trimmed in custom plaster frieze made from Spanish moss, clay, plaster and mud, and are all original to the house. And as if that weren't enough, this immaculate mansion was constructed with 365 openings – one for each day of the year. Nottoway Plantation captivates all with a brilliant blend of true Southern hospitality, history and mystery. 
Thank you for cruising with us! We hope that you had a memorable experience and look forward to welcoming you aboard in the future. Enjoy New Orleans at your leisure or consider a Post-Cruise Premium Shore Excursion with airport transfer.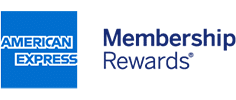 REDEEM POINTS FOR TRAVEL WITH PAVLUS TRAVEL.
Book with Pavlus Travel and use Membership Rewards® points from American Express for all or part of a cruise, vacation package, flight or prepaid hotel.
Terms & Conditions Apply
. We're Cruise Specialists with Great Cruise Deals, European River Cruise Experts & Europe Tour Packages retailers.