Luxury Independent Journeys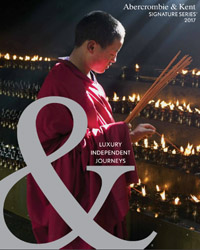 The ideal independent journey suited for two to four travelers, featuring each destination's must-see highlights and ready to book with one phone call.
Page 1 of 1 : : 100 per page
We have at least
17

trips that match this criteria.
Tour
Operator
Starting At
Days

Signature Croatia

A&K
$5995
8
Details

Experience the wonders of Croatia, guided by local experts, as you discover Roman-influenced Split and the sunny island of Hvar; day-trip to Kotor, Montenegro; and visit Dubrovnik, the "Pearl of the Adriatic" on this elegant independent journey.

Signature Israel

A&K
$6495
8
Details

Discover Biblical and historic sites in Bethlehem, Nazareth and Jerusalem; explore Masada and Yad Vashem; and cruise the Sea of Galilee on this immersive independent journey.

Signature Peru & Machu Picchu

A&K
$6395
8
Details

Journey independently through the Sacred Valley to explore the mysterious ruins of Machu Picchu, discovering the last remnants of the Andean and Incan cultures of Peru, and behold the immense stone marvel of Sacsayhuaman.

Signature Tanzania

A&K
$8495
8
Details

Embark independently on an authentic Tanzanian safari adventure, watching for wildlife in Tarangire, Ngorongoro Crater and the Serengeti, and slumbering at A&K's classic tented camps.

Signature South Africa & Victoria Falls

A&K
$8995
9
Details

Experience the full spectrum of what South Africa has to offer, with luxurious stays in Cape Town and safari adventures on a private game reserve in Kruger National Park, followed by spectacular views of Victoria Falls, all on one awe-inspiring independent journey.

Signature Uganda

A&K
$7995
9
Details

Venture forth on an independent journey to see habituated chimpanzees at Kibale National Park, glimpse tree-climbing lions at Queen Elizabeth National Park and track endangered mountain gorillas in Uganda's Bwindi Impenetrable National Park.

Signature Botswana

A&K
$7595
10
Details

See breathtaking Victoria Falls, take a safari cruise on the Chobe River and explore the Okavango Delta on exciting game drives and bush walks, staying in beautiful accommodations - including a luxury tree house - on this incomparable independent itinerary.

Signature Egypt & The Nile

A&K
$7995
10
Details

Ride a camel past the pyramids at Giza, and then step inside one of these ancient architectural marvels for a visit, on an independent journey that includes a four-night cruise along the Nile aboard Sanctuary 'Sun Boat IV' and sailing the Nile in a felucca.

Signature Bhutan & Nepal

A&K
$7295
11
Details

Immerse yourself in the cultures of Bhutan and Nepal on this intrepid independent journey, hiking up to the Taktsang ("Tiger's Nest") Monastery and visiting a local farmhouse. Ride a rickshaw to Durbar Square and Taleju Temple, and attend a Nepalese cooking class in a local home.

Signature Myanmar & The Irrawaddy

A&K
$6695
11
Details

On this independent journey, embark on a four-night Irrawaddy River cruise aboard luxurious, all-balcony 'Sanctuary Ananda,' see Shwedagon Pagoda and explore Bagan's many temples.

Signature Kenya & Tanzania

A&K
$11795
12
Details

Visit East Africa's top game reserves, including Amboseli, Lake Manyara, Ngorongoro Crater, the Serengeti and the Masai Mara, all abundant with Kenya and Tanzania's fascinating wildlife, on a diverse and authentic independent itinerary.

Signature Morocco

A&K
$7795
12
Details

Delve into Morocco on this independent journey from its historic cities to its mysterious desert, exploring the UNESCO World Heritage sites of Volubilis and Meknes, staying in a Desert Tented Camp amid the Erg Chebbi dunes, and savoring three nights in lively Marrakech.

Signature China & The Yangtze

A&K
$7495
13
Details

Discover China's past and present on an independent journey that takes you from the bustling capital, Beijing, to the Terra Cotta Warriors in Xian. Visit the iconic giant panda bears and explore the storied Yangtze River on an all-balcony river cruiser.

Signature Indochina & Angkor Wat

A&K
$6595
13
Details

Experience the sights and sounds of Southeast Asia on an inspiring independent journey, from sailing magical Ha Long Bay and sharing a sunrise over Angkor Wat to exploring evocative Ho Chi Minh City, laid-back Luang Prabang and the lively city of Bangkok.

Signature Jordan & Israel

A&K
$10995
13
Details

On this fascinating independent journey into the past, walk in ancient footsteps in rock-carved Petra and the otherworldly desert of Wadi Rum; sail on the Sea of Galilee; and visit Israel's storied cities and sites, from Bethlehem and Jerusalem to Masada and Nazareth.

Signature Great Migration Safari

A&K
$17995
14
Details

Experience East Africa's landscapes and wildlife at their finest on this independent itinerary, embarking on game drives through majestic national parks and reserves in Kenya and Tanzania, keeping watch for the famous "Big Five," and visiting a Maasai village and a local primary school supported by A&K Philanthropy.

Signature India & The Taj Mahal

A&K
$9295
15
Details

Explore India's greatest treasures, as you visit the timeless Taj Mahal, seek the graceful Bengal tiger and witness a holy rite beside the Ganges - all while staying in royal palaces-turned-luxury hotels, on this dynamic independent itinerary.
Page 1 of 1 : : 100 per page