Bluegrass and Blue Ridges: Louisville to Nashville


Crafted by Tauck and Ken Burns! One of our newest journeys in North America, crafted with filmmakers Ken Burns and Dayton Duncan, celebrates the history, cultural heritage and natural beauty found in the Great Smoky Mountains and three of the most popular states in the Appalachia Mountains - Kentucky (the Blue Grass State), North Carolina and Tennessee. Kentucky - enjoy an insider tour of Churchill Downs, home of the Kentucky Derby... visit the homestead that inspired Stephen Foster's "My Old Kentucky Home"... explore a 19th-century Shaker village... learn the secrets of bourbon at a visit to a bourbon distillery... North Carolina - explore the Biltmore Estate, a palatial manor house built by George Vanderbilt in 1895... spend two nights in Asheville, one of America's top culinary destinations... trace the roots of Appalachian music at the Folk Art Center... visit the Museum of the Cherokee Indian in Cherokee... Tennessee - visit the Hermitage, the plantation home of President Andrew Jackson... tour the Ryman Auditorium and the Country Music Hall of Fame and Museum in Nashville... and more. Tauck exclusives and highlights include... original film content produced exclusively for Tauck by award-winning documentary filmmaker Ken Burns exploring the development of Bluegrass, Country and Appalachian musical forms, as well as the history of westward expansion and American Indian perspectives... exploring Great Smoky Mountains National Park, America's most visited national park... standing at the Cumberland Gap, gateway to the west... "backstretch" tour of Churchill Downs with a professional jockey... lunch with a Nashville songwriter at the Country Music Hall of Fame... private presentation on Appalachian music and instrument craftmanship... a country music performance at the Grand Ole Opry or Ryman Auditorium... and much more, including a special highlight - a "Bluegrass & Bourbon" dinner event at a mansion in Lexington, Kentucky, featuring a live Bluegrass band.

Price starts at:

$5290

Tour length: 9 Days
Trip Type: River Cruise
Call us now at 1.800.528.9300
Available Dates
Showing 11 available departures (30 per page)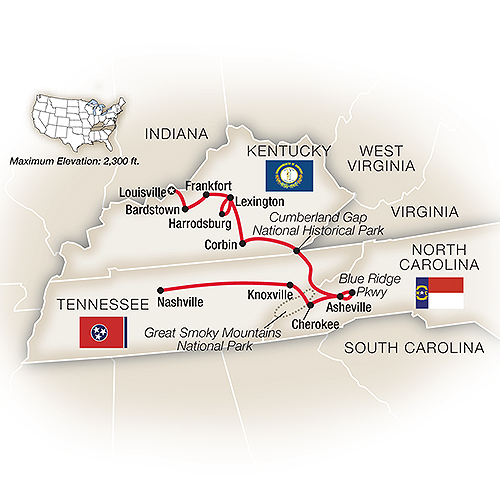 Arrive Louisville
Tour begins: 5:30 PM, The Brown Hotel. A transfer is included from Louisville International Airport to The Brown Hotel, a landmark in the heart of downtown Louisville near the theatre district. Since 1923, this gracious hotel has entertained celebrities and dignitaries with its opulence, charm, and impeccable Southern hospitality, and is on the National Register of Historic Places. Please join us at the hotel this evening for a welcome reception and dinner.
Behind-the-scenes at Churchill Downs & more
Begin the day with a visit to Churchill Downs, the legendary thoroughbred racetrack that has hosted The Kentucky Derby since 1875. Your visit includes a Tauck Exclusive tour of the backstretch with a professional jockey who'll share insider views of the track's history and daily operation while the horses take their morning exercise. On the racetrack grounds, you'll also visit The Kentucky Derby Museum for insights into the race's celebrated history, and what goes into the breeding and training of a thoroughbred champion. A short drive to Bardstown takes you to another iconic landmark, Federal Hill, a Georgian-style plantation house built in 1795 by Judge John Rowan that once entertained dignitaries like Andrew Jackson and Marquis de Lafayette, but is better known as the inspiration for Stephen Foster's "My Old Kentucky Home" - tour the impeccably preserved mansion and formal gardens. After lunch at a historic tavern, head to Frankfort for a guided tour of the Buffalo Trace Distillery, famous for its fine Kentucky bourbon, which it has produced continuously since 1775. During Prohibition, the distillery was permitted to output whiskey "for medicinal purposes..." Arrive late afternoon at your resort hotel in Lexington where the evening is free.
Shakers and a private "Bluegrass & Bourbon" evening
Drive to Pleasant Hill, site of what was once the largest, most successful Shaker community in America. Founded in England in the 18th century, the sect known as Shakers had a profound effect on 19th century America, as documented in Ken Burns's film, Hands to Work, Hearts to God. Known locally as "Shakertown," the village, which flourished here from 1805 to 1910, comprises 34 original buildings, wonderfully restored as a living museum with costumed interpreters, where you'll gain insights into the hearts and minds of the Shakers, and marvel at their engineering achievements; besides their fame for furniture making, the Shakers invented the circular saw, the clothespin, the wheel-driven washing machine, and numerous other labor-saving devices. Following lunch at the village, delve deeper into equine culture at The Kentucky Horse Park, a working horse farm and theme park showcasing breeds from around the world; you'll also visit the International Museum of the Horse. Return to your hotel for a special, private "Bluegrass & Bourbon" evening, including a banquet dinner, a live band, and bourbon tasting.
Currents of the Cumberland Gap
Travel off the beaten pathway to the Cumberland Gap, a break in the Appalachian Mountains that provided a gateway to the west for migrating buffalo herds, American Indian tribes, and restless pioneers - including Daniel Boone, who blazed a trail known as the Wilderness Road here in 1775. And today you will join that long list of "travelers" when you behold the naturally formed gateway. Explore its rich history and cultural currents at a private presentation at the Cumberland Gap National Historical Park visitors' center. Continue to Asheville, North Carolina, where your accommodation is both historic and gracious, exemplifying the best of Southern hospitality. Asheville has emerged as one of America's top culinary destinations - a "foodie haven" with many new twists on traditional southern cuisine. In addition to being ranked #12 on the recent "Top 100 Best Places to Live in America," its restaurants and chefs have won top accolades in numerous polls. Dine at your leisure at "The Biltmore."
The Biltmore Estate & Appalachian music
Back in 1895 George Vanderbilt II, grandson of railroad tycoon Cornelius Vanderbilt, decided to build himself "a little mountain escape" in the Blue Ridge Mountains of North Carolina. The result was the Biltmore Estate, a fabulous 250-room French château for which he employed architect Richard Morris Hunt for the castle design and Frederick Law Olmsted (the designer of Central Park) to lay out the woodlands and formal gardens. You'll have an opportunity to learn more about this magnificent estate on tours of both the estate grounds and through the mansion itself. See Antler Hill Village, a town built to house the employees who worked on the estate and tended its crops and livestock. After lunch on the estate, you'll visit the Folk Art Center for a private presentation on Appalachian music. Return to Asheville where the remainder of the day is free to spend as you please.
Great Smoky Mountains National Park & Cherokee culture
Today you'll experience one of the most beautiful, and one of the oldest, places on Earth - Great Smoky Mountains National Park, the most visited national park in the US. Historically, it is known as a place of refuge; the fascinating story of its creation includes the heroic efforts of Horace Kephart, George Masa and President Franklin Delano Roosevelt. Ecologically, it is one of the world's best examples of a deciduous hardwood forest - a UNESCO World Heritage Site with one of the most diverse ecosystems on Earth, it is dedicated as an international biosphere reserve. Scenically, the grandeur and beauty of the Southern Appalachians is at its very core - from mist-shrouded "smoky" mountains with their wide range of elevations to fresh streams and miles of forests; it is the very definition of the word "vista." In Cherokee, North Carolina, explore 19th century wilderness settlement life with period interpreters at the Great Smoky Mountains National Park visitors' center. You'll also visit the Museum of the Cherokee Indian for a guided tour and exclusive private viewing of its archival collection of artifacts. Arrive in Knoxville late afternoon.
Nashville Rhythms
Travel today to what has emerged as the music capital of America... Nashville, Tennessee. First up is a visit to the Country Music Hall of Fame, where you'll truly get a behind-the-scenes look at the industry during lunch with a Nashville songwriter. Enjoy time on your own to explore the museum, then head to the Ryman Auditorium for a private front-of-house and backstage tour. The venerable hall is best known as the former home of the Grand Ole Opry, from 1943 to 1974, having hosted the biggest country stars of its day. Your downtown hotel is a palatial Beaux-Arts landmark built in 1910; dine as you wish this evening.
From The Hermitage to the Opry in Nashville
Visit The Hermitage, the plantation home of Andrew Jackson, military hero, populist, and 7th President of the United States. Dayton Duncan notes that you can understand Andrew Jackson by his own words - "I was born for a storm. And a calm does not suit me." Jackson ("Old Hickory") lived here until his death in 1845 and his brick mansion is considered the most accurately preserved presidential home in the US, with restored décor and original furnishings. Your next stop is the General Jackson Showboat, a paddle wheeler on the Cumberland River, where lunch includes live entertainment. Drive along Music Row to your hotel; enjoy some free time to explore Nashville as you please before an early farewell reception and dinner. Join us this evening for a performance of country music at the inimitable Grand Ole Opry (schedule permitting; if an Opry performance is not available on day 8, we may attend a performance on day 7, or a performance at the Opry's original home, the Ryman Auditorium).
Journey home
Tour ends: Nashville. Fly home anytime. A transfer is included from The Hermitage Hotel to Nashville International Airport. Allow a minimum of two hours for flight check-in.
---
Preparing For Your Trip

Make Sure to Bring All of Your Important Documents: Passport, Foreign visa (if applicable), Itinerary, Trip confirmation, Airline ticket, Drivers license, Credit cards, Travel documents.

Vaccinations Are Required for Entry to Some Countries. The U.S. Centers for Disease Control (CDC) and the World Health Organization (WHO) can provide you their recommendations for vaccinations and other travel health precautions for your trip abroad.

Are You Taking Any Prescriptions or Other Medications? Pack enough to last your entire trip, including some extra in case you are unexpectedly delayed.

Insurance: Purchase travel insurance to cover yourself against unexpected situations. You never know when something might happen, so always be prepared.

While Traveling

Keep an eye on your belongings. Do not leave your belongings unattended in public spaces

Always have local cash. Not every place takes credit cards.

Pavlus Travel Referral Program

How does our referral program work?

How does our referral program work?

It is simple: tell all your friends, family and anyone you meet on vacation about Pavlus Travel and Cruise and when they book their first tour / all-inclusive / cruise vacation with us, you will receive up to $150!*
Let Jennifer help you plan your vacation!
Call direct at 866-811-1359
or email at jennifer@pavlustravel.com