Treasures of the Aegean


Your Greek island cruise aboard Wind Star in the Aegean Sea blends ancient with modern in a kaleidoscope of discoveries both mythic and epic... Spend two nights at a fabulous hotel in the heart of Athens where you'll go back in time to ancient Greece, seeing antiquities that reflect its glory at the height of its power... then sail to fabulous destinations steeped in legend, lore and sunshine and enjoy lovely sunsets over the Aegean Sea. Explore Greek Islands including Mykonos, playground of the rich and famous... Delos, holiest of all Greek sanctuaries... Santorini, eye-candy perfect with its blue-domed buildings and amazing views... Patmos, whose cultural treasures have attracted pilgrims for centuries... and Monemvasia, "the Gibraltar of the East"... plus Ephesus in Turkey, the famous remains of an ancient Greco-Roman city.

Price starts at:

$7990

Tour length: 10 Days
Trip Type: River Cruise
Call us now at 1.800.528.9300
Available Dates
Showing 4 available departures (30 per page)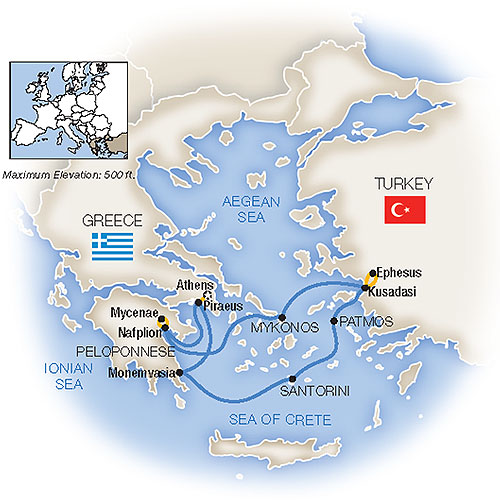 Arrive in Athens
Tour begins 6:00 p.m., Hotel Grande Bretagne, Athens, Greece. A transfer is included from Athens International Airport to Hotel Grande Bretagne. Meet fellow travelers at the welcome cocktail reception and dinner.
Athens' Acropolis & the Acropolis Museum
In the quiet early morning, before the crowds, visit the Acropolis of Athens - the rock above the city on which four of the greatest masterpieces of classical Greek art and architecture sit - the Parthenon, the Propylaea, the Erechtheum, and the Temple of Athena Nike. Today's sightseeing also includes a guided tour of the new Acropolis Museum, a towering modern work of concrete and glass with a direct view of the Parthenon. Spend the rest of the day as you wish in Athens, perhaps on the Grand Promenade, a pedestrian paradise built for the 2004 Olympics. Not far from your hotel, the walkway is lined on one side with classical antiquities and on the other with modern cafés, mansions, and art galleries.
Archaeological Museum & embark Wind Star
Begin your day with a guided tour through the National Archaeological Museum of Athens, considered one of the top ten museums in the world, before embarking your yacht, Wind Star, in Piraeus. Enjoy a cocktail hour, an evening briefing and dinner onboard at your leisure as the ship sails for Nafplion.
Nafplion, Mycenae & Epidaurus
Nafplion (also known as Nauplion), on the Peloponnese Peninsula, is considered one of the most beautiful and romantic towns in Greece. Nestled by the sea with two mountains and a fortress overlooking the town, the unique architecture of Nafplion includes ancient walls, medieval castles, Ottoman fountains, Venetian and Neoclassical buildings. This historic city is the starting point for your choices of exploration today. One choice includes visits to three important sites around the Bay of Argolis - the architectural remnants of the tomb of Agamemnon, who led the Greeks during the Trojan War, in Mycenae, a fortified citadel that was first settled in 3000 BC; Palmidis Castle, set high above the town of Nafplion; and, after lunch, a guided walking tour of Nafplion, followed by some time to explore on your own. Or you can choose a different excursion that takes in Agamemnon's tomb at Mycenae, then visits the Ancient Theatre of Epidaurus. This theatre, dating back to 4 BC, is still used for performances today and is known for remarkable acoustics that allow the voice of a speaker on stage to reach some 15,000 spectators. Epidaurus was also home to one of the most renowned healing centers in the classical world. This choice also includes a winery lunch and some free time to check out Nafplion as you please. Return to the ship for cocktails and dinner, as Wind Star sets sail for the island of Mykonos.
The islands of Mykonos & Delos
Wind Star arrives at the island of Mykonos, where you can take your pick of activities: a guided tour of this lively island, including a visit to the 16th-century church in the village of Ano Mera; or a boat ride to the archaeological site of Delos, where you'll find remnants of its reign as the holiest of all Greek sanctuaries. Ancient laws forbade anyone to be born or die on this island; even today, no one is allowed to stay the night! Return to Wind Star for lunch and spend the afternoon at leisure on Mykonos, exploring the labyrinthine town on your own. Dine onboard tonight as the ship continues on to the port of Kusadasi in Turkey.
To Kusadasi & Ephesus
Arrive this morning in the port of Kusadasi, Turkey for a guided excursion to Ephesus, one of the world's best-preserved classical cities revealing important vestiges of an ancient Roman civilization; in its heyday, marble lined the streets, fountains flowed, and an eternal flame burned upon a sacred altar. Take a walking tour of the ancient city, seeing the Odeon, Temple of Hadrian, Trajan's Fountain, the Arcadian Way and the two-tiered Library of Celsus. Have lunch at a local restaurant and a carpet demonstration before returning to the ship for cocktails. Enjoy a special dinner ashore this evening, complete with music by the Aegean Chamber Orchestra, at the Library of Celsus at Ephesus. Wind Star charts a course for the island of Patmos tonight.
Cultural treasures on the Isle of Patmos
Today you'll discover the many charms of the picturesque island of Patmos, an important Christian pilgrimage site for its role in the writing of the Book of Revelations in the Christian Bible by St. John the Theologian. You'll have three choices of activities today. The first is a photography excursion through a shutterbug's dream - the historic heart of Chora, Patmos' capital city; with your guide, make your way through the old village's maze of winding cobblestoned streets and arched alleyways, learning to compose and capture stunning images of ancient whitewashed buildings and bell towers, rugged cliffs and hills, and blue Aegean seascapes. Alternatively, you can choose a tour of Chora's fortresslike 11th-century Monastery of St. John the Theologian, overlooking the city from high atop a hill, as well as its museum; a stop at the Convent of Zoodochos Pigi; and a visit to an icon restoration studio, where centuries-old icons from the early days of Christianity are restored. And a third choice includes a tour of the aforementioned Monastery of St. John the Theologian, plus a visit to the Grotto of St. John - also known as the Cave of the Apocalypse - where tradition has it that John of Patmos received visions from Jesus that he recorded as the Book of Revelations; together, the grotto and the monastery have been designated a UNESCO World Heritage Site. Following lunch, you'll have free time to explore the port of Skala on Patmos, from which Wind Star will depart, bound for the island of Santorini.
The pleasures of Santorini
Rise early to observe Wind Star's arrival at the beautiful island of Santorini. Travel ashore by motor launch for an island tour that takes you to Athinios Port and then to Oia followed by Fira, the island's capital city. Here you'll visit the Prehistoric Museum of Fira, and feast your eyes on stunning views of the city's blue-domed buildings, which combine with the port to offer picture-perfect memories of this gorgeous Greek island. And you'll have the opportunity to see these treasures by cable car, atop Santorini's famous donkeys, or on foot as you make your way back down to Athinios Port. The ship offers tender service to and from the port, giving you the opportunity to explore this gem of an island at leisure until Wind Star sets sail for Monemvasia this evening.
Aegean cruising & Monemvasia
After a leisurely morning spent cruising the Aegean Sea, Wind Star arrives midday at the town of Monemvasia, located on a small, rock-like island off the Peloponnese's east coast that was separated from the mainland by an earthquake around 375 AD. Nicknamed "the Gibraltar of the East" or simply "the Rock," Monemvasia has over the past thousand years or so been ruled by the Byzantine Empire, the Venetian Republic and the Ottoman Empire before becoming part of an independent Greece in the 19th century. Traces of its many occupiers over the centuries can be found throughout the island, some of which are revealed on a walking tour through the cobbled pathways of this fascinating town. You'll also have some time to explore as you wish before Wind Star departs the island for her return to Athens via the port of Pireaus. Join us onboard for a farewell cocktail reception followed by dinner tonight.
Journey home
Tour ends: 9:00 AM at Eleftherios Venizelos, Athens' International Airport. Disembark Wind Star for an 8:15 AM transfer. Flights should depart after 11:45 AM due to disembarkation schedules which cannot be guaranteed.
---
Preparing For Your Trip

Make Sure to Bring All of Your Important Documents: Passport, Foreign visa (if applicable), Itinerary, Trip confirmation, Airline ticket, Drivers license, Credit cards, Travel documents.

Vaccinations Are Required for Entry to Some Countries. The U.S. Centers for Disease Control (CDC) and the World Health Organization (WHO) can provide you their recommendations for vaccinations and other travel health precautions for your trip abroad.

Are You Taking Any Prescriptions or Other Medications? Pack enough to last your entire trip, including some extra in case you are unexpectedly delayed.

Insurance: Purchase travel insurance to cover yourself against unexpected situations. You never know when something might happen, so always be prepared.

While Traveling

Keep an eye on your belongings. Do not leave your belongings unattended in public spaces

Always have local cash. Not every place takes credit cards.

Pavlus Travel Referral Program

How does our referral program work?

How does our referral program work?

It is simple: tell all your friends, family and anyone you meet on vacation about Pavlus Travel and Cruise and when they book their first tour / all-inclusive / cruise vacation with us, you will receive up to $150!*
Let Carol help you plan your vacation!
Call direct at 1-800-664-4947
or email at carol@pavlustravel.com