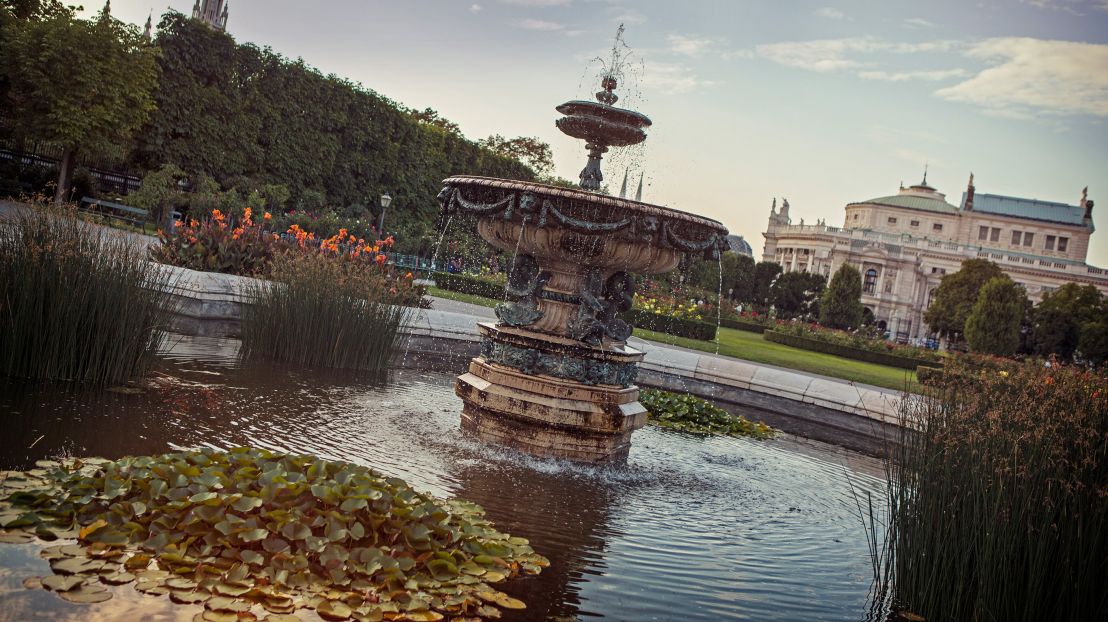 Eastern Europe, Croatia & the Balkans
Starting at
$4,399
Destinations & Sightseeing
Itinerary and Meals
Accomodations
---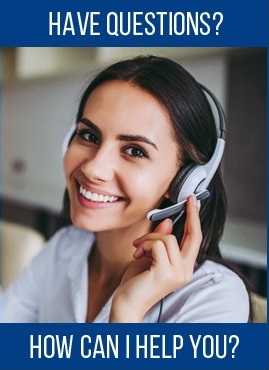 800.528.9300
This epic cross-European adventure offers an intriguing combination of Central Europe's castles and romantic squares with the Balkans' own historic towns and wondrous landscapes. But this trip isn't a cobweb-enshrouded history tour — you'll connect with village life, immerse yourself in urban centres, and get active with outdoor pursuits, including kayaking in Montenegro and hiking through diverse country. With 28 days devoted to this journey, this is your chance to discover what still feels like a well-kept secret.
Click for larger view.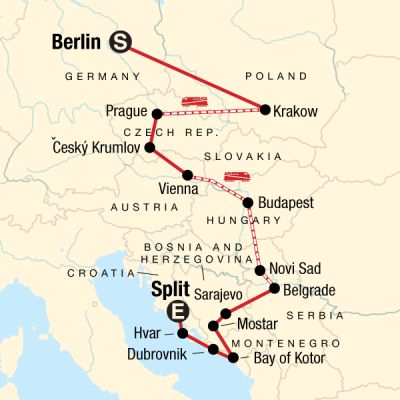 Destination & Sightseeing
ITINERARY
We recommend arriving a day or two early to fully explore this world-renowned city.Included Activities: Meet Your CEO and Group
Berlin is an amazing city with tangible historical importance and a melting pot of different cultures and flavours.
Watch the scenery go by as you journey to Krakòw. En route, stop by the Pławniowice Palace grounds, one of the best maintained in Silesia. With free time in Krakòw, opt to explore the different neighbourhoods like the Jewish section and main square. Dip into a local milk bar for a real Polish meal.Included Activities: Orientation WalkTransport: Private Vehicle (6.00-6.50 hours, 600km)
You may want to end your day embracing Polish social traditions in one of Krakow's many cellar restaurants and pubs. Dive into the thriving social scene over a few vodkas in one of these cheerful establishments, Zubrowka (Bison Grass Vodka) is a must!Included Activities: Auschwitz-Birkenau Memorial and Museum Visit
Opt to visit Rynek Główny - Europe's largest medieval market square; savour a traditional Polish breakfast (kielbasa, yum), or sit back with a coffee and a slice of Poland's famous cheesecake (sernik babci) at one of the many cafes in the area. Then, walk it off with a stroll uphill to marvel at the impressive Wawel Royal Castle.
If you're in the area and want to experience traditional Czech pubs, which are guaranteed to be loud, lively, and packed with locals on any night of the week, this is the place to find restaurants serving traditional Czech cuisine such as fried pork cutlets, goulash, and dumplings.Transport: Local train (7.00-10.00 hours, 534km)
Enjoy an orientation walk with your CEO before exploring all Prague has to offer. Opt to visit the famous Charles Bridge, the clock tower in the main square or a traditional Czech beer hall with serious helpings of meat and potatoes.Included Activities: Orientation Walk
Day 9 Prague/Český Krumlov (1B)
Travel to Český Krumlov. Spend time wandering the small city or visiting the small town's castle.Transport: Private Vehicle (3.00 hour(s))
Day 10 Český Krumlov/Vienna (1B)
There's plenty of time here to visit world-famous museums, the opera house or indulge in typical Austrian desserts like strudel or Sacher Torte.Included Activities: Vienna Walking Tour Magdas HotelTransport: Private Vehicle (4.00 hour(s))
Wander the elegant streets a little more, take in some of Europe's most distinguished art galleries or just settle yourself on a café terrace, order up a slice of mouthwatering Viennese cake and watch the world go by over coffee.
Day 12 Vienna/Budapest (1B)
With the Danube River dividing old town, Buda, from the newer area, Pest, there is plenty to see and do.To gain deeper insight on local history, opt to pre-book the "Budapest History Walking Tour" on the checkout page ahead of time, to include this optional on your tour.Included Activities: Nem Adom Fel Café and BarTransport: Train (4.00 hour(s))
Spend a free day exploring this charming and historic city. Opt to take a boat trip down the Danube, or travel further afield to the Etyek wine country.
Today, new travellers may join you for the rest of your adventure. You are welcome to join them at a group meeting this evening, followed by an optional dinner.Included Activities: Optional Welcome Meeting for Travellers on Combos
Day 15 Budapest/Novi Sad (1B)
Cross into Serbia and enjoy time in the second largest city. Spend an evening wandering this cultural hub.Transport: Cross into Serbia. Border crossings in the Balkans are typically pretty easy but there can be some delays. Ensure you have any necessary visas to speed up the process. Train (5.00 hour(s))
Day 16 Novi Sad/Belgrade (1B)
Spend the morning exploring Novi Sad, the ancient capital of Serbia. Visit the famous Petrovaradin Fortress and, with time, check out the charming old town, or Stari Grad. In the afternoon, hop a train for a short ride to Belgrade.Included Activities: Petrovaradin Fortress VisitTransport: Train (1.50 hour(s))
Opt to visit the National Theater or National Museum. The city offers a wealth of churches and cathedrals as well as an interesting Ethnographic Museum. Learn more about Serbian culture, traditions, costumes, and tools used throughout history.Included Activities: Kalemegdan Fortress Visit
Day 18 Belgrade/Sarajevo (1B)
Walk around the cobblestone streets of the Old Town while taking in the architecture of its diverse places of worship.Transport: Private Vehicle (7.00-8.00 hours)
Take an included tour of the 'Tunnel of Life' to get a better understanding of the tragic recent history of this captivating city. Spend some free time exploring the Stari Grad section and looking for 'Sarajevo Roses'.Included Activities: Tunnel of Life Tour
Day 20 Sarajevo/Mostar (1B)
After visiting the bridge, wander through the small streets and opt to sit in a café, enjoying the laid-back atmosphere.For a sobering look into the city's recent history, wander through town, passing buildings still riddled with bullet holes. Visit a bank that was completely destroyed during the war and past houses in shambles. While life continues and progress is made, these sights remain as reminders of the evils of war.Transport: Private Vehicle (2.00-3.00 hours, 130km)
Arrive in time to start exploring this gorgeous area.If relaxing is more your style, the beach of Kotor offers a great escape.Transport: Cross into Montenegro. Border crossings in the Balkans are typically pretty easy but there can be some delays. Ensure you have any necessary visas to speed up the process. Private Vehicle (3.00-4.00 hours, 190km)
Enjoy a sea kayaking tour before free time to relax or explore. Wander the streets of the walled city of Kotor or relax on picturesque beaches.Included Activities: Sea Kayaking
Day 23 Kotor/Dubrovnik (1B)
The red roofs of the old city make for spectacular photos and the seaside cafés serve up tasty seafood.Transport: Cross into Croatia. Border crossings in the Balkans are typically pretty easy but there can be some delays. Ensure you have any necessary visas to speed up the process. Private Vehicle (2.00 hour(s))
Enjoy a free day to explore the Dalmatian Coast.
Day 25 Dubrovnik/Hvar (1B)
Filled with sunshine, the beautiful island is known for its lavender fields and vineyards in the interior and detailed Venetian-inspired architecture in the towns.Transport: Hop on a ferry from Dubrovnik to beautiful Hvar. Ferry (3.00 hour(s))
Soak in the scenery and relish the calm on a boat ride around the Pakleni Islands.Included Activities: Pakleni Islands Boat Ride
Opt to visit the local market and gobble up some Croatian delicacies. For a little more activity, visit Marjan's peak with gorgeous views over the city or hit up some of the hiking and biking trails in the area.Included Activities: Diocletian's Palace Guided WalkTransport: Ferry (1.00 hour(s))
We recommend staying an extra day or two to fully experience all this lively city has to offer.