Epic Europe: Central & Italy (Basix)
Starting at
$3,582

Destinations & Sightseeing

Itinerary and Meals

Accomodations
---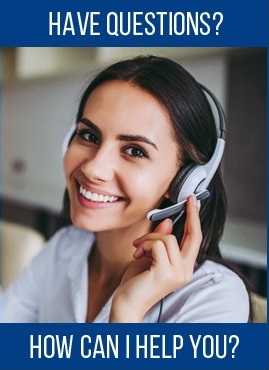 800.528.9300
Beginning in Germany and ending in Italy, this tour hits seven countries but doesn't rush them. See historic landmarks, medieval squares, hilltop castles, romantic canals and make memories that will last a lifetime. Beginning in Europe's alt-capital Berlin, walk the 'Royal Route' in Krakow, soak up the terracotta views of Prague and Cesky Krumlov and the classic vibes of Vienna, see the might Danube in Budapest, be charmed by Lake Bled, get (good) lost among the canals of Venice, hit up the charmed towns of the Cinque Terre, marvel in the arts culture in Florence and finish with a pizza in the piazzas of Rome. With plenty of free time to do your own thing, there's no better way to see this epic pocket of Europe, all with a crew of like-minded travellers by your side.
Click for larger view.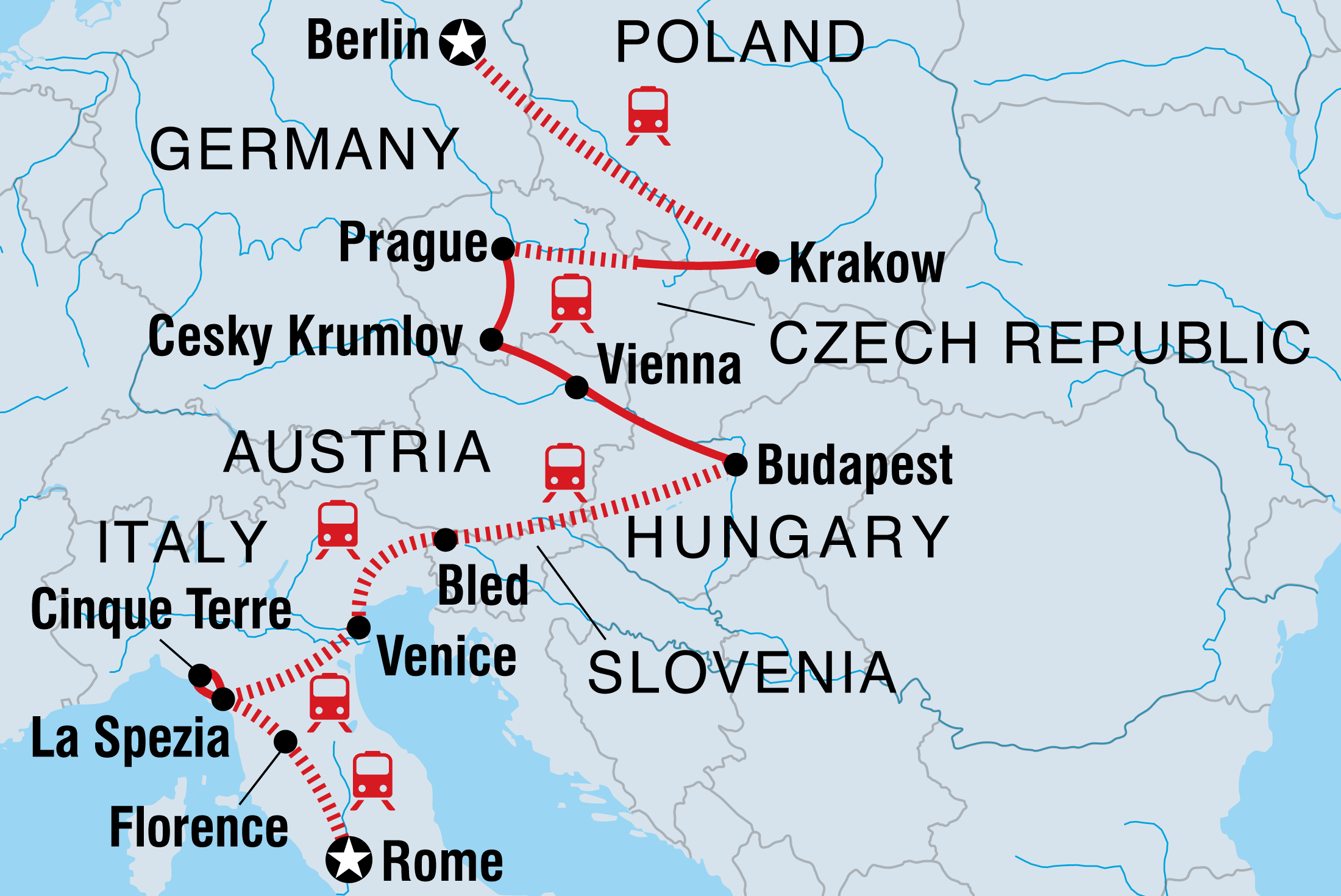 Destination & Sightseeing
Central Europe is all about the narrow alleyways, cobblestone streets and ancient staircases – good thing you'll be getting around with a small, unobtrusive group, and able to check things out at your own pace – not just catch a glimpse from a bus window.
So much of what is great about Europe – art, history, music – can be found in Vienna, but it's sometimes overlooked by younger travellers. Not on our watch!
Step into the pages of a fairy-tale on the shore of Slovenia's Lake Bled. See the church on the island in the lake's centre and treat yourself to a slice of cream cake.
Never go hungry (or thirsty) with mouth-watering seafood along Italy's coast, fine wine in Tuscany and endless pasta dishes on offer in Rome.
Discover the country within a city at the Vatican with a leader-led tour of St Peter's Basilica, packed with rich history and full of religious icons and unforgettable artwork.
MEALS
Includes 7 breakfasts, lunches, dinners
Hotel (6 nights) Simple hotel (3 nights) Guesthouse (5 nights) Overnight train (1 night) Hostel (6 nights)
ITINERARY
Guten Tag! Welcome to Germany. Your adventure kicks off with a welcome meeting at 6 pm where you'll meet your tour leader and travel group. There are no other activities planned for today, but why not get to know your new travel crew a bit better and head out for currywurst (hot dogs covered in a mixture of ketchup, Worcester sauce and curry powder) and a stein. If you arrive early, make sure to get out and explore this dynamic city. Berlin is packed with poignant historic sites, cutting-edge galleries and iconic architecture. The city also boasts a party scene that makes NYC's nightlife seem tame. If you're keen to see what all the fuss is about, make sure to head out tonight as tomorrow you'll be on an overnight train bound for Poland.
Today morning and early afternoon is free to explore ever-changing Berlin's many sites. Evidence of its turbulent past are present everywhere you look. This is a city that was destroyed by WWII and later rebuilt. It was divided in two and the stage for a revolution. It's also a city with a thriving art scene and incredible architecture. Maybe wander through the Brandenburg Gate, swing by Checkpoint Charlie to see where the main gate between East and West Berlin used to stand and witness the crumbling remnants of the Berlin Wall that are scattered all over the city. Or you could reflect on the past and pay visits to the Jewish Memorial, the empty shelves of Bebelplatz and the confronting Topography of Terror. In the afternoon, meet back up with the group and board an overnight train for Krakow.
Arrive into Krakow and stretch your legs on an orientation walk with your leader. As you stroll the pretty streets of the World Heritage-listed Old Town, you'll soon discover this is a place that seems frozen in time. Get a glimpse of its gorgeous medieval architecture, castles, churches and sprawling squares with your leader, as well as the chance to try zapiekanka. This beloved street snack consists of a baguette topped with mushroom and cheese. Later, strike out on your own. Maybe visit Wawel Royal Castle, which sits atop a hill next to the Vistula River or glimpse the impressive St Mary's Basilica and its extraordinary wood-carved Gothic altarpiece. If churches are your thing, the neo-Gothic St Francis' Basilica is worth a visit.
Today is free day for you to explore Krakow at your own pace. Walking the 'Royal Route' – the former path of Polish monarchs – takes you past most of the Old Town's greatest treasures including Florianska Gate (a Gothic gateway tower where streets musicians tend to play and local artists often display their work), the Barbician, a grand Baroque theatre, as well as some impressive churches and museums. You could easily spend the whole day leisurely exploring this historic stretch. If you can tear yourself away from Krakow, a number of interesting daytrips are available. Maybe head to Wieliczha to visit its 700-year-old Salt Mine. Buried 135-metres underground, this mind-boggling complex is a vast network of tunnels, pits and chambers – all hewn by hand from solid salt! You'll also find chapels with elaborate salt chandeliers and lakes deep underground. After a full day of sightseeing, why not hit one of Krakow's cellar restaurants for plate of pierogis and a cold drink.
The journey kicks on to country number three today: the Czech Republic. First, travel by minivan to Ostrava, then board a train bound for Prague. Then entire journey should take about 6 hours. After checking into your hotel, your leader will show you some of Prague's best sites on an orientation walk. Afterwards, you are free to explore on your own. Maybe wander the streets of the Jewish Quarter and check out the oldest surviving synagogue in Europe or learn about Prague's favourite son at the Franz Kafka Museum. Make sure to take a scenic stroll along the Charles Bridge and watch the Astronomical Clock in action as it ticks over.
Enjoy more free time in Prague to visit the sites you missed yesterday. Prague Castle has a great viewpoint that provides sweeping views of the city's red rooftops and Medieval architecture. Consider a day-trip to Kutna Hora where you can visit Sedlec Ossuary, an eerie chapel decorated with human skeletons, or St Barbara Church and its medieval frescoes. Prague's Old Town becomes particularly magical at night. Return for an evening stroll to soak up the atmosphere before checking out some of the town's cosy cellar hangouts or underground absinthe bars. If you're into jazz, Prague also boasts one of the best scenes in Europe. Ask your tour leader for suggestions if you're not sure where to head out tonight.
Bid farewell to Prague and travel about 4 hours south to the fairytale-like town of Cesky Krumlov. Dating back to the 13th century, this tiny town closely resembles Prague with its gorgeous castle across the river and pretty mix of Renaissance and Baroque architecture. And it's extremely walkable. Your tour leader will lead a walk around town, providing insight into architectural symbolism and Old Town mysteries along the way. Afterwards, use free time to head to the top of the Castle Tower for a great view of the town's red rooftops and distant rolling green hills, explore the castle and its gardens or browse the shops that line the riverfront. If you're feeling active, ask your tour leader about rafting and canoeing activities on offer (time and weather permitting).
Hop into a minivan and travel across the border to Austria and the Baroque city of Vienna. A perennial favourite for world's most liveable city, Vienna is also a dream for starry-eyed travellers looking for delicious coffee and pastries (sachertorte, in particular), classical music and grand palaces. Get acquainted with the city on a leader-led walking tour before free time to explore on your own. Art-lovers have their pick of museums to explore. Perhaps check out modern Austrian art at the Leopold Museum, paintings by Monet, Degas and Picasso at the neo-classical Albertina or the world's largest collection of paintings by Austrian painter Gustav Klimt at Belvedere Palace. This evening, why not sample Vienna's incredible musical heritage and catch a performance at one of the city's historic venues such as the Vienna State Opera House. Your tour leader can help if you need advice or help booking tickets.
Spend another day exploring Vienna's rich artistic and intellectual heritage. Maybe head to Schloss Belvedere (Belvedere Palace), Schoenbrunn Palace or the Hofburg palace complex to discover Austria's symmetrical take on over-the-top grandeur. Exploring some of the city's more specific museums such as the Schnapps Museum, the Sigmund Freud Museum or the Globe Museum, which is located inside the impressive Austrian National Museum. Climb the tower of St Stephen's Cathedral, take a spin on the Prater Ferris Wheel or catch a dressage show at the Spanish Riding School. If you didn't head out last night, maybe cap off a culture-filled day with a spot of Mozart Bach or Schubert at the opera house.
Continue your exploration of Europe's opulent past in Budapest today. It'll take 3 hours to get here by train. Upon arrival, your leader will show you around the city on an orientation walk. Later, visit the cavernous Great Market Hall to stock up on Hungarian specialties like langos (fried dough) and Mangalica (an endemic pig) meat and then enjoy a picnic with a view at one of the city's picturesque parks or viewpoints. More than just fairy-tale-like ode to the past, Budapest is also a bustling city with hip bars, trendy cafes and plenty of cheap eats. Your evening is free, so maybe ask your leader which ones to bless with your presence.
Enjoy a free day to further explore Budapest. Visible from pretty much everywhere in the city, the 13th-century Buda Castle is a must-see – literally. Why not imagine how Hungarian kings used to live by touring the palace complex, which houses the Hungarian National Gallery and the Budapest History Museum. Or you could head to Fisherman's Bastion for the best view of the city before taking a leisurely stroll along the cobbled streets of the Castle District. Another option is a boat trip along the Danube River where you'll get a different view of the Parliament buildings, the Castle District and the bridges that link Buda and Pest. Chat to your leader about your options.
Get ready for a long day of travel as you board a train and make the 8-hour journey to Ljubljana. From there, you'll board a bus bound for Bled, an impossibly scenic lakeside town tucked at the foothills of the Julian Alps. You visit plenty of pretty towns on this trip but Bled truly is out of a fairy-tale. Arrive in the late afternoon and head to its gorgeous lake. Here your leader will point out the town's best attractions, like its 11th-century clifftop castle and the small island located in the lake's centre. Use the rest of the day to search for Bled's famous cream cake (which shouldn't be hard, every cafe in town claims to make the best one) or choose to join the group for an optional dinner of Slovenian specialties.
Postcard-perfect Bled is also tailor-made for adventure. And as today is a free day, it's up to you how (and if) you'd like to get active. Hiking, biking, canoeing and rafting are all on the cards. Choose to hire a bike and explore the surrounds, head to Vintgar Gorge for a walk through its natural canyon or go rafting along the Soca River. If you'd like to keep it more lowkey, head to Bled Castle for some exploration or take a plenta (small wooden boat) to the church on the island in the middle of the lake to ring the wishing bell. You could even venture further afield and take a daytrip to Bohinj, another pretty lakeside town. As always, your leader is there for a reason! Grill them about the options.
Board the train and brace yourself for some amazing scenery on the way to Venice (approximately 5.5 hours). Venice is one of a kind, built over a hundred small islands connected by 400 bridges. As well as all those romantic canals, it has all the hallmarks of a fine old Italian city: world-class food, performance, art and architecture. Use your free time to explore – the best way to go is on foot. Try to take in all the famous sights, like the Grand Canal, the shops of the Rialto Bridge, the Palace of the Doge (ruler of Venice), the Piazza San Marco and its golden basilica, and the Bridge of Sighs. Don't even think about leaving until you've eaten some tiramisu. This is where the dish was born, and they know how to do it just right.
Today is as clear as Murano glass, so let Venice weave its magic on you. Maybe you'd like to visit the island of Murano, where colourful glass products are still produced and sold all over the world. Otherwise, you could just hunt down the best gelato you can find, and you'll need it after walking a mile, trekking through the cobbled lanes past the never-ending canals. At around 6 pm tonight, head to another meeting, where you might gain an extra few travellers for this leg of the journey. After this quick briefing, why not grab a feed with your new group at a local restaurant – your group leader will know of some good spots to go.
Today is free to go out and explore the splendour of Venice. Your group leader will orientate you to the lay of the land in Venice, which includes a traghetto (public transport gondola) to cross the famous Grand Canal. Once you have your bearings, walk the stone laneways to Doge's Palace, the Piazza and Basilica di San Marco and the Bridge of Sighs. Otherwise, wind through the narrow canals on a Venetian gondola – it's worth the ticket. Also, you could take a vaporetto (water bus) to the island of San Giorgio to climb the bell tower for the best view of Venice. It's no problem if your legs get tired – pull up a seat at one of the piazzas and tuck into an Italian coffee or a local tiramisu, and enjoy watching visitors and locals soak in the magic of the city. For something a bit more artsy, visit the Palazzo Ducale to see paintings by the Italian masters then head to the modern Peggy Guggenheim Collection. You're on Italian time now, so relax into the evening with an aperol spritz, and go in search for Venice's seafood spaghetti specialities, like fresh lobster or squid ink, to get your pasta fix.
Spend the day travelling by train to the town of La Spezia: the gateway to the stunning Cinque Terre region (approximately 5-7 hours, depending on train connections). The journey is a beautifully scenic trip through Italy's north. The name Cinque Terre comes from the five tiny villages – Monterosso, Vernazza, Corniglia, Manarola and Riomaggiore – whose position, wedged into a series of coves between sheer cliffs, makes this one of the highlights of the whole of Italy. There won't be too much time to explore the towns on arrival, but once you've checked in, you may like to take a walk around the pedestrian zone on Via del Prione and to the waterside gardens. Keep an eye out for a buzzing restaurant on the harbour – you're sure to be hungry.
Day 18 - Cinque Terre / La Spezia
Today it's time to get out and explore the walking tracks of Cinque Terre, a region of Italy famed for its rocky coastline and pastel villages. The footpaths that run between the villages were once the only way to travel in the region, and take you through olive groves, vineyards and on to spectacular views of the towns below hugging the cliffs. Included today is the 'Cinque Terre Card' to get you into the national park and provide train travel between towns and, depending on the group's agreed fitness level, your leader will take you on a scenic hike. How far, and how many sections to walk is up to you, and it's possible to take the train between any of the villages or back to the base in La Spezia whenever you'd like. If food is more your thing, take advantage of the culinary-rich Liguria region with an optional pesto making class, or perhaps just load up on focaccia, another local speciality. Return to La Spezia in the evening and feel free to keep the food exploration going – there's no better way to recover from a day of walking than indulging in more Mediterranean delights.
Leave the Cinque Terre and catch a train to Florence (approximately 3.5 hours). On arrival, check into the hostel and take a brief walk around the immediate area to get your bearings. Florence is one of the most culturally rich and beautiful cities in Italy, known to many as the heart of Tuscany. The Medicis, Leonardo da Vinci, Raphael, Brunelleschi, Machiavelli, Donatello and Michelangelo all lived in Florence at the height of their creative reign, and food is a major part of the city's identity, so get stuck into some of the regional specialities. Meat lovers should try the bistecca alla fiorentina, a large sliced steak that's usually shared between two people, or ribollita, a thick delicious vegetable soup with bread, beans and greens. Panforte is the signature sweet treat, and trust us, it's oh so sweet.
Head out into the centre of Florence. It's impossible to see everything in this Renaissance wonderland, so take your time, enjoy it and discover the city's culture-rich atmosphere, from family-run vineyards on the outskirts, to the Duomo's magnificent marble facade. If you are up for it you could visit the local market, potentially culminating in a picnic of traditional Florentine and Tuscan treats. You could then visit the Galleria dell'Accademia to see Michelangelo's famous statue of David, or marvel in the spectacle of the Uffizi: one of the world's oldest art galleries. For sweeping views of the city, walk up to Piazzale Michelangelo, which is set on a hill on the south bank of the Arno River. On your way down, head toward the Ponte Vecchio and stop by a trattoria to fill up with Florence's renowned food and wine. After all, you are in the thriving centre of Tuscany.
Day 21 - Vatican City / Rome
Take the train to Rome (approximately 2 hours) and remember, when in Rome – well, you tell us. Join your group on a visit to the Vatican, catching the metro from the main Termini station, and enjoying a leader-led visit to the magnificent St Peter's Basilica. The country within a city is the home of the Catholic Church and the basilica attracts thousands of visitors for its grand scale, famous iconography and huge forecourt. Afterwards, spend time walking up to the Gianicolo lookout with your group, and witness a panoramic snapshot of the nation's capital. Later, perhaps head to the Trevi Fountain to see its extravagance under lights, and while you're walking, maybe grab a gelato – you're only in Rome once! Make sure you don't miss out on seeing the other iconic Roman sights such as the Colosseum, Arch of Constantine, the Forum, the Pantheon and the Spanish Steps.
There are no activities planned for today and you're free to depart the accommodation at any time. If you have some more time in Rome, why not head back to the Vatican museum, or check out the day trips offered by Urban Adventures, like the Tasting La Dolce Vita tour, exploring the city's most iconic monuments, piazzas, fountains and movie locations, with some (well-deserved) food stops on the way. Check out urbanadventures.com/destination/Rome-tours for more information.

Disclaimer: Prices listed are per person, based on double occupancy, and in USD. All promotions are valid for new bookings only, capacity controlled and valid on select dates and departures. Individual Terms and Conditions will apply to all promotions. Any promotion can be withdrawn at any time without notice. Please speak with your Pavlus Travel Planner for complete vendor terms and conditions, including eligible tour and cruise dates.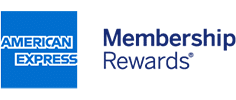 REDEEM POINTS FOR TRAVEL WITH PAVLUS TRAVEL.
Book with Pavlus Travel and use Membership Rewards® points from American Express for all or part of a cruise, vacation package, flight or prepaid hotel.
Terms & Conditions Apply
. We're Cruise Specialists with Great Cruise Deals, European River Cruise Experts & Europe Tour Packages retailers.