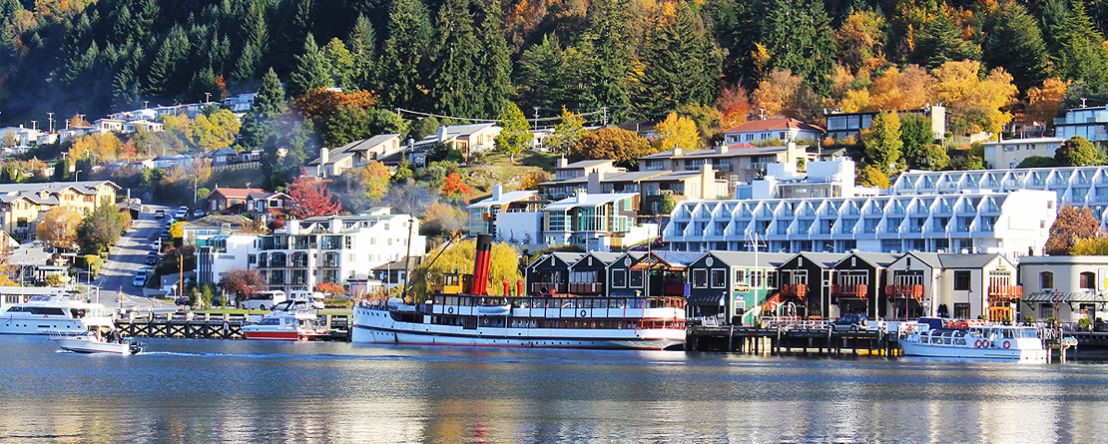 Sun & Fun Down Under with Queenstown 2020
14 days from Sydney to Queenstown
Starting at
$3,269
Destinations & Sightseeing
Itinerary and Meals
Accomodations
---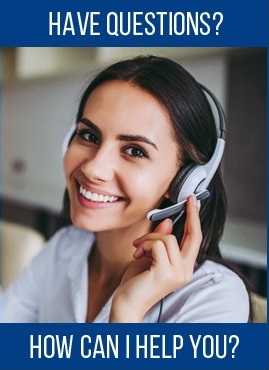 800.528.9300
Click for larger view.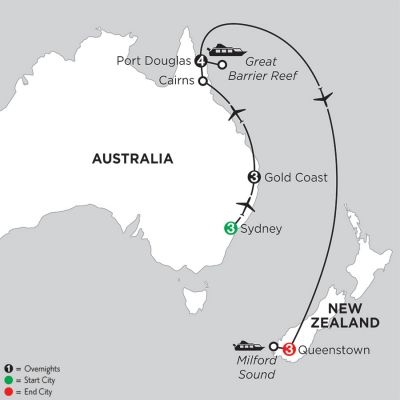 Destination & Sightseeing
Transportation:
As outlined in the day-by-day itinerary and transfers to/from all intra-vacation flights (intra-vacation flights not included)
MEALS
American breakfast daily; 1 lunch *The Ibis Sydney King Street Wharf includes a continental breakfast
ITINERARY
Day 1 ARRIVE IN SYDNEY, AUSTRALIA.
Arrive in Sydney, Australia's largest city. The remainder of the day is at leisure to start exploring this vibrant city
Today's included sightseeing features a photo stop at the Opera House and Sydney Harbour Bridge and a visit to world-famous BONDI BEACH. The afternoon is at your leisure. Your Local Host will have suggestions for additional sightseeing, shopping, and dining

Breakfast
A full day to explore more of Sydney. You may choose from an array of optional excursions including a visit to Hunter Valley to sample Australia wines, the chance to climb to the top of Sydney Harbour Bridge for amazing views of the harbor and city below, or a relaxing dinner atop Sydney Tower's revolving restaurant

Breakfast
Fly to the Gold Coast, known for its laid-back lifestyle and incredible white sand beaches. Enjoy a 3-night stay in this tropical paradise

Breakfast
Day 5 GOLD COAST. EXCURSION TO MOUNT TAMBORINE NATIONAL PARK.
This morning, escape the hustle and bustle of the city and take a peaceful drive through the Gold Coast's hinterland. Your guided sightseeing tour will take you on rainforest roads through MOUNT TAMBORINE NATIONAL PARK, where you will have your chance to spot native wildlife and visit a tropical waterfall after a guided rainforest walk. Indulge in a local WINE TASTING before visiting the Gallery Walk, where local artists showcase their arts and crafts. Return to the Gold Coast for your afternoon at leisure

Breakfast
A full day at leisure. You may wish to spend the day on the white sands of Main Beach, or wander down the Esplanade taking in the stunning coastline. Other options include a visit to Currumbin Wildlife Sanctuary, where you can feed a kangaroo, get up close to a crocodile, or cuddle a koala; or take a trip to SkyPoint Observation Deck, the Gold Coast's highest attraction with 360-degree views

Breakfast
Day 7 GOLD COAST–BRISBANE–CAIRNS–PORT DOUGLAS.
Transfer to Brisbane Airport and fly to Cairns, "Gateway to the Great Barrier Reef." Continue to Port Douglas, a beachside town surrounded by rainforest and the Coral Sea. Check in to your hotel for a 4-night stay

Breakfast
Day 8 PORT DOUGLAS. EXCURSION TO THE GREAT BARRIER REEF.
Today, prepare for the experience of a lifetime when you board a catamaran and CRUISE to the Great Barrier Reef, one of the Seven Natural Wonders of the World. Explore this underwater world that is a dazzling kaleidoscope of color and brilliance. Choose to SNORKEL, take a semi-submersible WATERCRAFT TOUR, or attend a presentation by a marine biologist. Return to Port Douglas, where the evening is at leisure

Breakfast
Lunch
With your day at leisure, you may wish to take a trip into the Daintree Forest, the world's oldest living rainforest, and to beautiful Cape Tribulation, where the jungle meets the sea. Your Local Host will have suggestions for additional sightseeing, shopping, and dining

Breakfast
Today is free to explore as you wish. You may want to take a stroll on Four Mile Beach, shop the unique boutiques and galleries in downtown Port Douglas, or just relax by your resort's pool

Breakfast
Day 11 PORT DOUGLAS–CAIRNS–QUEENSTOWN, NEW ZEALAND.
Today, fly to the Queenstown. The remainder of the day is at your leisure

Breakfast
Day 12 QUEENSTOWN. EXCURSION TO MILFORD SOUND.
Enjoy a full-day excursion to Milford Sound. First, travel by motorcoach along the shores of Lake Wakatipu to Te Anau, gateway to FIORDLAND NATIONAL PARK. View the Mirror Lakes as you pass through Eglinton Valley. From the Homer Tunnel, emerge into Cleddau Valley. Join your Milford Sound CRUISE for an unforgettable experience. Be on the lookout for wildlife such as dolphins and penguins, and enjoy the breathtaking waterfalls and scenery. Return to Queenstown late this evening

Breakfast
Enjoy a full day at leisure in the "Adventure Capital of the World." Perhaps choose an optional jet boat ride, visit a local winery, or tour some of the sites used to film The Lord of the Rings trilogy

Breakfast
Your stay in Queenstown ends with breakfast this morning.
Accommodations
| | | | | | | | | | | | | | | | | | | | | | | | | | | | | | | | | | | | | | | | | | | | | | | | | | | | | | | | | | | | | | | | | | | | | | | | | | | | | | | | | | | | | | | | | | | | | | | | | | | | | | | | | | | | | | | | | | | | | | | | | | | | | | | | | | | | | | | | | | | | | | | | | | | | | | | | | | | | | | | | | | | | | | | | | | | | | | | | | | | | | | | | | | | | | | | | | | | | | | | | | | | | | | | | | | | | | | | | | | | | | | | | | | | | | | | | | | | | | | | | | | | | | | | | | | | | | | | | | | | | | | | | | | | | | | | | | | | | | | | | | | | | | | | | | | | | | | | | | | | | | | | | | | | | | | | | | | | | | | | | | | | | | | | | | | | | | | | | | | | | | | | | | | | | | | | | | | | | | | | | | | | | | | | | | | | | | | | | | | | | | | | | | | | | | | | | | | | | | | | | | | | | | | | | | | | | | | | | | | | | | | | | | | | | | | | | | | | | | | | | | | | | | | | | | | | | | | | | | | | | | | | | | | | | | | | | | | | | | | | | | | | | | | | | | | | | | | | | | | | | | | | | | | | | | | | | | | | | | | | | | | | | | | | | | | | | | | | | | | | | | | | | | | | | | | | | | | | | | | | | | | | | | | | | | | | | | | | | | | | | | | | | | | | | | | | | | | | | | | | | | | | | | | | | | | | | | | | | | | | | | | | | | | | | | | | | | | | | | | | | | | | | | | | | | | | | | | | | | | | | | | | | | | | | | | | | | | | | | | | | | | | | | | | | | | | | | | | | | | | | | | | | | | | | | | | | | | | | | | | | | | | | | | | | | | | | | | | | | | | | | | | | | | | | | | | | | | | | | | | | | | | | | | | | | | | | | | | | | | | | | | | | | | | | | | | | | | | | | | | | | | | | | | | | | | | | | | | | | | | | | | | | | | | | | | | | | | | | | | | | | | | | | | | | | | | | | | | | | | | | | | | | | | | | | | | | | | | | | | | | | | | | | | | | | | | | | | | | | | | | | | | | | | | | | | | | | | | | | | | | | | | | | | | | | | | | | | | | | | | | | | | | | | | | | | | | | | | | | | | | | | | | | | | | | | | | | | | | | | | | | | | | | | | | | | | | | | | | | | | | | | | | | | | | | | | | | | | | | | | | | | | | | | | | | | | | | | | | | | | | | | | | | | | | | | | | | | | | | | | | | | | | | | | | | | | | | | | | | | | | | | | | | | | | | | | | | | | | | | | | | | | | | | | | | | | | | | | | | | | | | | | | | | | | | | | | | | | | | | | | | | | | |
| --- | --- | --- | --- | --- | --- | --- | --- | --- | --- | --- | --- | --- | --- | --- | --- | --- | --- | --- | --- | --- | --- | --- | --- | --- | --- | --- | --- | --- | --- | --- | --- | --- | --- | --- | --- | --- | --- | --- | --- | --- | --- | --- | --- | --- | --- | --- | --- | --- | --- | --- | --- | --- | --- | --- | --- | --- | --- | --- | --- | --- | --- | --- | --- | --- | --- | --- | --- | --- | --- | --- | --- | --- | --- | --- | --- | --- | --- | --- | --- | --- | --- | --- | --- | --- | --- | --- | --- | --- | --- | --- | --- | --- | --- | --- | --- | --- | --- | --- | --- | --- | --- | --- | --- | --- | --- | --- | --- | --- | --- | --- | --- | --- | --- | --- | --- | --- | --- | --- | --- | --- | --- | --- | --- | --- | --- | --- | --- | --- | --- | --- | --- | --- | --- | --- | --- | --- | --- | --- | --- | --- | --- | --- | --- | --- | --- | --- | --- | --- | --- | --- | --- | --- | --- | --- | --- | --- | --- | --- | --- | --- | --- | --- | --- | --- | --- | --- | --- | --- | --- | --- | --- | --- | --- | --- | --- | --- | --- | --- | --- | --- | --- | --- | --- | --- | --- | --- | --- | --- | --- | --- | --- | --- | --- | --- | --- | --- | --- | --- | --- | --- | --- | --- | --- | --- | --- | --- | --- | --- | --- | --- | --- | --- | --- | --- | --- | --- | --- | --- | --- | --- | --- | --- | --- | --- | --- | --- | --- | --- | --- | --- | --- | --- | --- | --- | --- | --- | --- | --- | --- | --- | --- | --- | --- | --- | --- | --- | --- | --- | --- | --- | --- | --- | --- | --- | --- | --- | --- | --- | --- | --- | --- | --- | --- | --- | --- | --- | --- | --- | --- | --- | --- | --- | --- | --- | --- | --- | --- | --- | --- | --- | --- | --- | --- | --- | --- | --- | --- | --- | --- | --- | --- | --- | --- | --- | --- | --- | --- | --- | --- | --- | --- | --- | --- | --- | --- | --- | --- | --- | --- | --- | --- | --- | --- | --- | --- | --- | --- | --- | --- | --- | --- | --- | --- | --- | --- | --- | --- | --- | --- | --- | --- | --- | --- | --- | --- | --- | --- | --- | --- | --- | --- | --- | --- | --- | --- | --- | --- | --- | --- | --- | --- | --- | --- | --- | --- | --- | --- | --- | --- | --- | --- | --- | --- | --- | --- | --- | --- | --- | --- | --- | --- | --- | --- | --- | --- | --- | --- | --- | --- | --- | --- | --- | --- | --- | --- | --- | --- | --- | --- | --- | --- | --- | --- | --- | --- | --- | --- | --- | --- | --- | --- | --- | --- | --- | --- | --- | --- | --- | --- | --- | --- | --- | --- | --- | --- | --- | --- | --- | --- | --- | --- | --- | --- | --- | --- | --- | --- | --- | --- | --- | --- | --- | --- | --- | --- | --- | --- | --- | --- | --- | --- | --- | --- | --- | --- | --- | --- | --- | --- | --- | --- | --- | --- | --- | --- | --- | --- | --- | --- | --- | --- | --- | --- | --- | --- | --- | --- | --- | --- | --- | --- | --- | --- | --- | --- | --- | --- | --- | --- | --- | --- | --- | --- | --- | --- | --- | --- | --- | --- | --- | --- | --- | --- | --- | --- | --- | --- | --- | --- | --- | --- | --- | --- | --- | --- | --- | --- | --- | --- | --- | --- | --- | --- | --- | --- | --- | --- | --- | --- | --- | --- | --- | --- | --- | --- | --- | --- | --- | --- | --- | --- | --- | --- | --- | --- | --- | --- | --- | --- | --- | --- | --- | --- | --- | --- | --- | --- | --- | --- | --- | --- | --- | --- | --- | --- | --- | --- | --- | --- | --- | --- | --- | --- | --- | --- | --- | --- | --- | --- | --- | --- | --- | --- | --- | --- | --- | --- | --- | --- | --- | --- | --- | --- | --- | --- | --- | --- | --- | --- | --- | --- | --- | --- | --- | --- | --- | --- | --- | --- | --- | --- | --- | --- | --- | --- | --- | --- | --- | --- | --- | --- | --- | --- | --- | --- | --- | --- | --- | --- | --- | --- | --- | --- | --- | --- | --- | --- | --- | --- | --- | --- | --- | --- | --- | --- | --- | --- | --- | --- | --- | --- | --- | --- | --- | --- | --- | --- | --- | --- | --- | --- | --- | --- | --- | --- | --- | --- | --- | --- | --- | --- | --- | --- | --- | --- | --- | --- | --- | --- | --- | --- | --- | --- | --- | --- | --- | --- | --- | --- | --- | --- | --- | --- | --- | --- | --- | --- | --- | --- | --- | --- | --- | --- | --- | --- | --- | --- | --- | --- | --- | --- | --- | --- | --- | --- | --- | --- | --- | --- | --- | --- | --- | --- | --- | --- | --- | --- | --- | --- | --- | --- | --- | --- | --- | --- | --- | --- | --- | --- | --- | --- | --- | --- | --- | --- | --- | --- | --- | --- | --- | --- | --- | --- | --- | --- | --- | --- | --- | --- | --- | --- | --- | --- | --- | --- | --- | --- | --- | --- | --- | --- | --- | --- | --- | --- | --- | --- | --- | --- | --- | --- | --- | --- | --- | --- | --- | --- | --- | --- | --- | --- | --- | --- | --- | --- | --- | --- | --- | --- | --- | --- | --- | --- | --- | --- | --- | --- | --- | --- | --- | --- | --- | --- | --- | --- | --- | --- | --- | --- | --- | --- | --- | --- | --- | --- | --- | --- | --- | --- | --- | --- | --- | --- | --- | --- | --- | --- | --- | --- | --- | --- | --- | --- | --- | --- | --- | --- | --- | --- | --- | --- | --- | --- | --- | --- | --- | --- | --- | --- | --- | --- | --- | --- | --- | --- | --- | --- | --- | --- | --- | --- | --- | --- | --- | --- | --- | --- | --- | --- | --- | --- | --- | --- | --- | --- | --- | --- | --- | --- | --- | --- | --- | --- | --- | --- | --- | --- | --- | --- | --- | --- | --- | --- | --- | --- | --- | --- | --- | --- | --- | --- | --- | --- | --- | --- | --- | --- | --- | --- | --- | --- | --- | --- | --- | --- | --- | --- | --- | --- | --- | --- | --- | --- | --- | --- | --- | --- | --- | --- | --- | --- | --- | --- | --- | --- | --- | --- | --- | --- | --- | --- | --- | --- | --- | --- | --- | --- | --- | --- | --- | --- | --- | --- | --- | --- | --- | --- | --- | --- | --- | --- | --- | --- | --- | --- | --- | --- | --- | --- | --- | --- | --- | --- | --- | --- | --- | --- | --- | --- | --- | --- | --- | --- | --- | --- | --- | --- | --- | --- | --- | --- | --- | --- | --- | --- | --- | --- | --- | --- | --- | --- | --- | --- | --- | --- | --- | --- | --- | --- | --- | --- | --- | --- | --- | --- | --- | --- | --- | --- | --- | --- | --- | --- | --- | --- | --- | --- | --- | --- | --- | --- | --- | --- | --- | --- | --- | --- | --- | --- | --- | --- | --- | --- | --- | --- | --- | --- | --- | --- | --- | --- | --- | --- | --- | --- | --- | --- | --- | --- | --- | --- | --- | --- | --- | --- | --- | --- | --- | --- | --- | --- | --- | --- | --- | --- | --- | --- | --- | --- | --- | --- | --- | --- | --- | --- | --- | --- | --- | --- | --- | --- | --- | --- | --- | --- | --- | --- | --- | --- | --- | --- | --- | --- | --- | --- | --- | --- | --- | --- | --- | --- | --- | --- | --- | --- | --- | --- | --- | --- | --- | --- | --- | --- | --- | --- | --- | --- | --- | --- | --- | --- | --- | --- | --- | --- | --- | --- | --- | --- | --- | --- | --- | --- |
| Sydney | Sydney | Sydney | Sydney | Sydney | Sydney | Port Douglas | Port Douglas | Port Douglas | Queenstown | Queenstown | Queenstown | Queenstown | Sydney | Sydney | Sydney | Sydney | Sydney | Sydney | Port Douglas | Port Douglas | Port Douglas | Queenstown | Queenstown | Queenstown | Queenstown | Sydney | Sydney | Sydney | Sydney | Sydney | Sydney | Port Douglas | Port Douglas | Port Douglas | Queenstown | Queenstown | Queenstown | Queenstown | Sydney | Sydney | Sydney | Sydney | Sydney | Sydney | Port Douglas | Port Douglas | Port Douglas | Queenstown | Queenstown | Queenstown | Queenstown | Sydney | Sydney | Sydney | Sydney | Sydney | Sydney | Port Douglas | Port Douglas | Port Douglas | Queenstown | Queenstown | Queenstown | Queenstown | Sydney | Sydney | Sydney | Sydney | Sydney | Sydney | Port Douglas | Port Douglas | Port Douglas | Queenstown | Queenstown | Queenstown | Queenstown | Sydney | Sydney | Sydney | Sydney | Sydney | Sydney | Port Douglas | Port Douglas | Port Douglas | Queenstown | Queenstown | Queenstown | Queenstown | Sydney | Sydney | Sydney | Sydney | Sydney | Sydney | Port Douglas | Port Douglas | Port Douglas | Queenstown | Queenstown | Queenstown | Queenstown | Sydney | Sydney | Sydney | Sydney | Sydney | Sydney | Port Douglas | Port Douglas | Port Douglas | Queenstown | Queenstown | Queenstown | Queenstown | Sydney | Sydney | Sydney | Sydney | Sydney | Sydney | Port Douglas | Port Douglas | Port Douglas | Queenstown | Queenstown | Queenstown | Queenstown | Sydney | Sydney | Sydney | Sydney | Sydney | Sydney | Port Douglas | Port Douglas | Port Douglas | Queenstown | Queenstown | Queenstown | Queenstown | Sydney | Sydney | Sydney | Sydney | Sydney | Sydney | Port Douglas | Port Douglas | Port Douglas | Queenstown | Queenstown | Queenstown | Queenstown | Sydney | Sydney | Sydney | Sydney | Sydney | Sydney | Port Douglas | Port Douglas | Port Douglas | Queenstown | Queenstown | Queenstown | Queenstown | Sydney | Sydney | Sydney | Sydney | Sydney | Sydney | Port Douglas | Port Douglas | Port Douglas | Queenstown | Queenstown | Queenstown | Queenstown | Sydney | Sydney | Sydney | Sydney | Sydney | Sydney | Port Douglas | Port Douglas | Port Douglas | Queenstown | Queenstown | Queenstown | Queenstown | Sydney | Sydney | Sydney | Sydney | Sydney | Sydney | Port Douglas | Port Douglas | Port Douglas | Queenstown | Queenstown | Queenstown | Queenstown | Sydney | Sydney | Sydney | Sydney | Sydney | Sydney | Port Douglas | Port Douglas | Port Douglas | Queenstown | Queenstown | Queenstown | Queenstown | Sydney | Sydney | Sydney | Sydney | Sydney | Sydney | Port Douglas | Port Douglas | Port Douglas | Queenstown | Queenstown | Queenstown | Queenstown | Sydney | Sydney | Sydney | Sydney | Sydney | Sydney | Port Douglas | Port Douglas | Port Douglas | Queenstown | Queenstown | Queenstown | Queenstown | Sydney | Sydney | Sydney | Sydney | Sydney | Sydney | Port Douglas | Port Douglas | Port Douglas | Queenstown | Queenstown | Queenstown | Queenstown | Sydney | Sydney | Sydney | Sydney | Sydney | Sydney | Port Douglas | Port Douglas | Port Douglas | Queenstown | Queenstown | Queenstown | Queenstown | Sydney | Sydney | Sydney | Sydney | Sydney | Sydney | Port Douglas | Port Douglas | Port Douglas | Queenstown | Queenstown | Queenstown | Queenstown | Sydney | Sydney | Sydney | Sydney | Sydney | Sydney | Port Douglas | Port Douglas | Port Douglas | Queenstown | Queenstown | Queenstown | Queenstown | Sydney | Sydney | Sydney | Sydney | Sydney | Sydney | Port Douglas | Port Douglas | Port Douglas | Queenstown | Queenstown | Queenstown | Queenstown | Sydney | Sydney | Sydney | Sydney | Sydney | Sydney | Port Douglas | Port Douglas | Port Douglas | Queenstown | Queenstown | Queenstown | Queenstown | Sydney | Sydney | Sydney | Sydney | Sydney | Sydney | Port Douglas | Port Douglas | Port Douglas | Queenstown | Queenstown | Queenstown | Queenstown | Sydney | Sydney | Sydney | Sydney | Sydney | Sydney | Port Douglas | Port Douglas | Port Douglas | Queenstown | Queenstown | Queenstown | Queenstown | Sydney | Sydney | Sydney | Sydney | Sydney | Sydney | Port Douglas | Port Douglas | Port Douglas | Queenstown | Queenstown | Queenstown | Queenstown | Sydney | Sydney | Sydney | Sydney | Sydney | Sydney | Port Douglas | Port Douglas | Port Douglas | Queenstown | Queenstown | Queenstown | Queenstown | Sydney | Sydney | Sydney | Sydney | Sydney | Sydney | Port Douglas | Port Douglas | Port Douglas | Queenstown | Queenstown | Queenstown | Queenstown | Sydney | Sydney | Sydney | Sydney | Sydney | Sydney | Port Douglas | Port Douglas | Port Douglas | Queenstown | Queenstown | Queenstown | Queenstown | Sydney | Sydney | Sydney | Sydney | Sydney | Sydney | Port Douglas | Port Douglas | Port Douglas | Queenstown | Queenstown | Queenstown | Queenstown | Sydney | Sydney | Sydney | Sydney | Sydney | Sydney | Port Douglas | Port Douglas | Port Douglas | Queenstown | Queenstown | Queenstown | Queenstown | Sydney | Sydney | Sydney | Sydney | Sydney | Sydney | Port Douglas | Port Douglas | Port Douglas | Queenstown | Queenstown | Queenstown | Queenstown | Sydney | Sydney | Sydney | Sydney | Sydney | Sydney | Port Douglas | Port Douglas | Port Douglas | Queenstown | Queenstown | Queenstown | Queenstown | Sydney | Sydney | Sydney | Sydney | Sydney | Sydney | Port Douglas | Port Douglas | Port Douglas | Queenstown | Queenstown | Queenstown | Queenstown | Sydney | Sydney | Sydney | Sydney | Sydney | Sydney | Port Douglas | Port Douglas | Port Douglas | Queenstown | Queenstown | Queenstown | Queenstown | Sydney | Sydney | Sydney | Sydney | Sydney | Sydney | Port Douglas | Port Douglas | Port Douglas | Queenstown | Queenstown | Queenstown | Queenstown | Sydney | Sydney | Sydney | Sydney | Sydney | Sydney | Port Douglas | Port Douglas | Port Douglas | Queenstown | Queenstown | Queenstown | Queenstown | Sydney | Sydney | Sydney | Sydney | Sydney | Sydney | Port Douglas | Port Douglas | Port Douglas | Queenstown | Queenstown | Queenstown | Queenstown | Sydney | Sydney | Sydney | Sydney | Sydney | Sydney | Port Douglas | Port Douglas | Port Douglas | Queenstown | Queenstown | Queenstown | Queenstown | Sydney | Sydney | Sydney | Sydney | Sydney | Sydney | Port Douglas | Port Douglas | Port Douglas | Queenstown | Queenstown | Queenstown | Queenstown | Sydney | Sydney | Sydney | Sydney | Sydney | Sydney | Port Douglas | Port Douglas | Port Douglas | Queenstown | Queenstown | Queenstown | Queenstown | Sydney | Sydney | Sydney | Sydney | Sydney | Sydney | Port Douglas | Port Douglas | Port Douglas | Queenstown | Queenstown | Queenstown | Queenstown | Sydney | Sydney | Sydney | Sydney | Sydney | Sydney | Port Douglas | Port Douglas | Port Douglas | Queenstown | Queenstown | Queenstown | Queenstown | Sydney | Sydney | Sydney | Sydney | Sydney | Sydney | Port Douglas | Port Douglas | Port Douglas | Queenstown | Queenstown | Queenstown | Queenstown | Sydney | Sydney | Sydney | Sydney | Sydney | Sydney | Port Douglas | Port Douglas | Port Douglas | Queenstown | Queenstown | Queenstown | Queenstown | Sydney | Sydney | Sydney | Sydney | Sydney | Sydney | Port Douglas | Port Douglas | Port Douglas | Queenstown | Queenstown | Queenstown | Queenstown | Sydney | Sydney | Sydney | Sydney | Sydney | Sydney | Port Douglas | Port Douglas | Port Douglas | Queenstown | Queenstown | Queenstown | Queenstown | Sydney | Sydney | Sydney | Sydney | Sydney | Sydney | Port Douglas | Port Douglas | Port Douglas | Queenstown | Queenstown | Queenstown | Queenstown | Sydney | Sydney | Sydney | Sydney | Sydney | Sydney | Port Douglas | Port Douglas | Port Douglas | Queenstown | Queenstown | Queenstown | Queenstown | Sydney | Sydney | Sydney | Sydney | Sydney | Sydney | Port Douglas | Port Douglas | Port Douglas | Queenstown | Queenstown | Queenstown | Queenstown | Sydney | Sydney | Sydney | Sydney | Sydney | Sydney | Port Douglas | Port Douglas | Port Douglas | Queenstown | Queenstown | Queenstown | Queenstown | Sydney | Sydney | Sydney | Sydney | Sydney | Sydney | Port Douglas | Port Douglas | Port Douglas | Queenstown | Queenstown | Queenstown | Queenstown | Sydney | Sydney | Sydney | Sydney | Sydney | Sydney | Port Douglas | Port Douglas | Port Douglas | Queenstown | Queenstown | Queenstown | Queenstown | Sydney | Sydney | Sydney | Sydney | Sydney | Sydney | Port Douglas | Port Douglas | Port Douglas | Queenstown | Queenstown | Queenstown | Queenstown | Sydney | Sydney | Sydney | Sydney | Sydney | Sydney | Port Douglas | Port Douglas | Port Douglas | Queenstown | Queenstown | Queenstown | Queenstown | Sydney | Sydney | Sydney | Sydney | Sydney | Sydney | Port Douglas | Port Douglas | Port Douglas | Queenstown | Queenstown | Queenstown | Queenstown | Sydney | Sydney | Sydney | Sydney | Sydney | Sydney | Port Douglas | Port Douglas | Port Douglas | Queenstown | Queenstown | Queenstown | Queenstown | Sydney | Sydney | Sydney | Sydney | Sydney | Sydney | Port Douglas | Port Douglas | Port Douglas | Queenstown | Queenstown | Queenstown | Queenstown | Sydney | Sydney | Sydney | Sydney | Sydney | Sydney | Port Douglas | Port Douglas | Port Douglas | Queenstown | Queenstown | Queenstown | Queenstown | Sydney | Sydney | Sydney | Sydney | Sydney | Sydney | Port Douglas | Port Douglas | Port Douglas | Queenstown | Queenstown | Queenstown | Queenstown | Sydney | Sydney | Sydney | Sydney | Sydney | Sydney | Port Douglas | Port Douglas | Port Douglas | Queenstown | Queenstown | Queenstown | Queenstown | Sydney | Sydney | Sydney | Sydney | Sydney | Sydney | Port Douglas | Port Douglas | Port Douglas | Queenstown | Queenstown | Queenstown | Queenstown | Sydney | Sydney | Sydney | Sydney | Sydney | Sydney | Port Douglas | Port Douglas | Port Douglas | Queenstown | Queenstown | Queenstown | Queenstown | Sydney | Sydney | Sydney | Sydney | Sydney | Sydney | Port Douglas | Port Douglas | Port Douglas | Queenstown | Queenstown | Queenstown | Queenstown | Sydney | Sydney | Sydney | Sydney | Sydney | Sydney | Port Douglas | Port Douglas | Port Douglas | Queenstown | Queenstown | Queenstown | Queenstown | Sydney | Sydney | Sydney | Sydney | Sydney | Sydney | Port Douglas | Port Douglas | Port Douglas | Queenstown | Queenstown | Queenstown | Queenstown | Sydney | Sydney | Sydney | Sydney | Sydney | Sydney | Port Douglas | Port Douglas | Port Douglas | Queenstown | Queenstown | Queenstown | Queenstown | Sydney | Sydney | Sydney | Sydney | Sydney | Sydney | Port Douglas | Port Douglas | Port Douglas | Queenstown | Queenstown | Queenstown | Queenstown | Sydney | Sydney | Sydney | Sydney | Sydney | Sydney | Port Douglas | Port Douglas | Port Douglas | Queenstown | Queenstown | Queenstown | Queenstown | Sydney | Sydney | Sydney | Sydney | Sydney | Sydney | Port Douglas | Port Douglas | Port Douglas | Queenstown | Queenstown | Queenstown | Queenstown | Sydney | Sydney | Sydney | Sydney | Sydney | Sydney | Port Douglas | Port Douglas | Port Douglas | Queenstown | Queenstown | Queenstown | Queenstown | Sydney | Sydney | Sydney | Sydney | Sydney | Sydney | Port Douglas | Port Douglas | Port Douglas | Queenstown | Queenstown | Queenstown | Queenstown | Sydney | Sydney | Sydney | Sydney | Sydney | Sydney | Port Douglas | Port Douglas | Port Douglas | Queenstown | Queenstown | Queenstown | Queenstown | Sydney | Sydney | Sydney | Sydney | Sydney | Sydney | Port Douglas | Port Douglas | Port Douglas | Queenstown | Queenstown | Queenstown | Queenstown | Sydney | Sydney | Sydney | Sydney | Sydney | Sydney | Port Douglas | Port Douglas | Port Douglas | Queenstown | Queenstown | Queenstown | Queenstown | Sydney | Sydney | Sydney | Sydney | Sydney | Sydney | Port Douglas | Port Douglas | Port Douglas | Queenstown | Queenstown | Queenstown | Queenstown | Sydney | Sydney | Sydney | Sydney | Sydney | Sydney | Port Douglas | Port Douglas | Port Douglas | Queenstown | Queenstown | Queenstown | Queenstown | Sydney | Sydney | Sydney | Sydney | Sydney | Sydney | Port Douglas | Port Douglas | Port Douglas | Queenstown | Queenstown | Queenstown | Queenstown | Sydney | Sydney | Sydney | Sydney | Sydney | Sydney | Port Douglas | Port Douglas | Port Douglas | Queenstown | Queenstown | Queenstown | Queenstown | Sydney | Sydney | Sydney | Sydney | Sydney | Sydney | Port Douglas | Port Douglas | Port Douglas | Queenstown | Queenstown | Queenstown | Queenstown | Sydney | Sydney | Sydney | Sydney | Sydney | Sydney | Port Douglas | Port Douglas | Port Douglas | Queenstown | Queenstown | Queenstown | Queenstown | Sydney | Sydney | Sydney | Sydney | Sydney | Sydney | Port Douglas | Port Douglas | Port Douglas | Queenstown | Queenstown | Queenstown | Queenstown | Sydney | Sydney | Sydney | Sydney | Sydney | Sydney | Port Douglas | Port Douglas | Port Douglas | Queenstown | Queenstown | Queenstown | Queenstown | Sydney | Sydney | Sydney | Sydney | Sydney | Sydney | Port Douglas | Port Douglas | Port Douglas | Queenstown | Queenstown | Queenstown | Queenstown | Sydney | Sydney | Sydney | Sydney | Sydney | Sydney | Port Douglas | Port Douglas | Port Douglas | Queenstown | Queenstown | Queenstown | Queenstown | Sydney | Sydney | Sydney | Sydney | Sydney | Sydney | Port Douglas | Port Douglas | Port Douglas | Queenstown | Queenstown | Queenstown | Queenstown |
Sir Stamford at Circular Quay
Deluxe