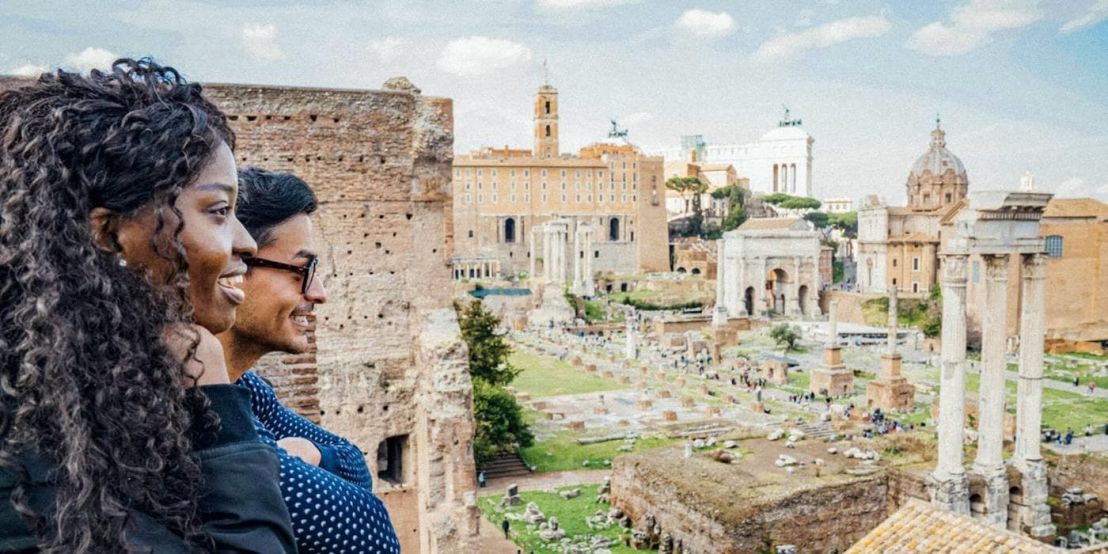 Simply Italy (Winter)
Starting at
$1,645

Destinations & Sightseeing

Itinerary and Meals

Accomodations
---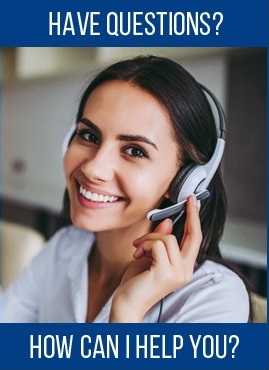 800.528.9300
Welcome to 12 days of pure Italian travel immersion. Covering Rome, Florence, Milan, Venice and beyond, this one brings you the blissful best of this soul-stirring country. Explore Rome's historical highlights, travel through the streets of Michelangelo's Florence, enjoy some antipasto and chianti in a 16th Century Tuscan winery and drop by the cove-studded Isle of Capri...and that's just an aperitivo. Beauty, romance and all the pasta you can fit in; the good life just got even better. That's amore!
Click for larger view.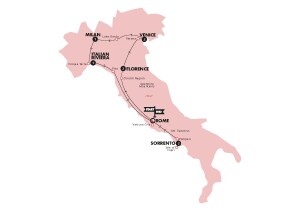 Destination & Sightseeing
Arrive Rome
Special access Rome sightseeing tour
See the Colosseum, the Roman Forum, The Vatican, Trevi Fountain, Pantheon & Piazza Navona

Rome to Sorrento
Locally guided tour of the Sistine Chapel, St. Peter's Basilica & the art of the Vatican Museums

Florence
Discover Renaissance Florence on foot including the statue of David, Ponte Vecchio & the Medici Palace
See the Duomo, Basilica Santa Croce, Giotto's Bell Tower, the Baptistery & Piazza della Signoria
Learn about Florence's leather craft with a demonstration


MEALS
Delight your taste buds with delicious, traditional fare from the food capital of the world. Wake up to a continental breakfast each day and enjoy 3 regional dinners on us.
ITINERARY
Italy - you have our attention! These are the 12-days we've been dreaming of since the day we booked. Our group of globe-roamers will meet up at 4pm at our Rome digs before hitting the streets for our first dinner and a taste of the city. La perfezione!
Rome to Sorrento via Vatican City
What better way to spend our last day in Rome than by swinging by the Pope's house? It would be rude not to. We'll head to Vatican City, a.k.a. the smallest country in the world, and take a locally guided tour of the Sistine Chapel, gawping at Michelangelo's masterpiece on the ceiling, St Peter's Basilica & the art of the Vatican Museums"So so so so in love with Sorrento" are about the only words you'll muster up tonight as you sit seaside watching the sunset in this famous town of beauty.
Sorrento via Amalfi Coast
Rise and shine! When we're in this part of the world, it would be rude not to uncover the rugged beauty of the Amalfi coast.This has to be one of the most scenic drives in Europe, as we soak in the plunging mountainsides, lush woodlands and glittering waters that make this landscape a UNESCO World Heritage site. You'll have the opportunity today to explore a stunning lemon grove and meet a local family while enjoying local delicacies like limoncello and lemon cake. When life gives you lemons, make all your days as sweet as this.We'll arrive back in Sorrento with full stomachs and full camera rolls. It's definitely been a day to remember.
Sorrento to Florence via Pompei
See you, Sorrento! Thanks for making our Instagram feeds look like shoots for Italian Vogue!Once a totally vibing hang-out of the Romans, Pompeii is now an archaeological site showing remains of what was destroyed by a mountain eruption in the year ... wait for it...79AD. The saying "stepping back in time" is about to take on a whole new meaning.The famous dome of the Duomo Cathedral sits above the city, making certain we know we have arrived in Florence. Tonight you can continue your Tuscan love affair with a stroll along River Arno & ponder the prettiness of Florence over another vino or two.
Explore the city's markets complete with gelato in hand; marvel at artworks from the likes of legends like Michelangelo; and be impressed by the skillful art of leather at an included demonstration. These are the sorts of activities likely to fill your Florence agenda.Tonight, you have the chance to sign up for a traditional Tuscan evening with dinner full of Italian flavours. Top off your night with an optional Space Electronic Disco at one of Florence's hippest nightclubs.
Florence to Venice via Verona
From one romantic city to the next, today we're venturing on to Verona and Venice to find Shakespearean vibes and a city that floats.In fair Verona, we'll be lapping up the city where the story of Romeo & Juliet was set. Deemed a UNESCO World Heritage Site thanks to its urban structure and architecture, we'll absorb it over a stroll past the Roman Arena and find a spot to eat before our next destination.Already in the spirit of Italian history and romance, tonight we'll land in the nest of Venice, which rivals the beauty of any other body of canals in the world, it's immensely charming thanks to drifting gondolas. You'll get the chance to explore this city tomorrow with a full free day on the agenda, but tonight, you have the chance to head out onto the lamplit streets and get your bearings with an optional evening walking tour.
Wake-up sleeping beauties! Venice is yours for the entirety of this glorious Italian day. We'll be jumping aboard our own private boat and hitting the canals en route to the historical heart of the city. A guided walking tour and a gondola ride are up for grabs, or you can always choose to get lost on your own and see where the maze takes you.
Venice to Milan via Lake Garda
Now that Venice has charmed us, it's time to strut our way to Milan for all things fashion & good taste.En route, we'll stop at Sirmione to gaze upon vine-covered villas, Roman ruins and a fable like castle. For those keen to get panoramic with the Dolomite Mountain range & suss out lake life, an optional cruise is up for grabs.Here we are in the Capital of Cool. Spend your free afternoon faking fabulous at the glam shopping arcade of Galleria Vittorio Emanuele II. You'll also need to put La Scala Opera House and Duomo Cathedral on your Milan must-do list.Tonight you have the chance to treat yourself to an extra special Italian meal with our optional EatWith experience, where you'll get to meet Milan locals and dine with them in their home.
Milan to Italian Riviera via Cinque Terre
This morning we make an exit from Milan with coastal villages on the mind. Get your camera at the ready and on max charge; this will be a day of pretty.Today is truly one for the bucket list, as we arrive in the glamorous Cinque Terre. You'll get your included one day Cinque Terre one day travelcard, allowing you to take the train or access hiking trails between the '5 lands', each with their own unique culture and charisma.We'll train hop our way back to our base, La Spezia, in time for an optional Pesto Making class and dinner tonight. We say optional - but learning how to make pesto in its spiritual home of Italy is one experience you're not going to want to miss.
Italian Riviera to Rome via Pisa and Chianti Region
Walk away from the Italian Riviera with plans to come back here for a few weeks or months, why not?It's our last leg before we loop back to Rome, and we plan to make the most of it. Which means a final stop in Pisa to ogle at the world's most famous #AwkwardLean, no less.Endless lines of olive trees & the golden Tuscan sun will have us in a stupor of happiness. And that's before we've pulled up at a 16th century Tuscan winery to explore an old cellar & try a local drop paired with delicious antipasto.Now that you're 10-days deep in your Italian odyssey, you will set your eyes upon Rome with heightened love and appreciation for the great country she's nested in. Get a glimpse of the greats, maybe down some pizza and stroll the streets in la mode of leisure knowing you have all day tomorrow to see the sites.
The end might be near, but we're in no great hurry to start winding down the adventure. As it's our last night on our trip, an optional dinner has been organised in a Roman restaurant complete with an opera singer, live music and pasta. We like to end things on a high note - no opera pun intended.
That's a wrap! Our Italian love affair has officially come to a close but will carry on filling our thoughts way into the future. Particularly when we're back in the real world dreaming of the good life on tour.