By Patti Pietschmann
A muse inspires creativity. In Greek and Roman mythology there are nine goddesses, the daughters of Zeus and Mnemosyne, who preside over the arts and sciences. Silversea's Silver Muse, a new goddess of the seas, embodies art, creativity and innovation.
When Silversea Cruises debuted in 1994 it raised the nautical bar with innovations, unheard of (at the time), superior service, chic style and a new definition of luxury. As the line grew so did its imagination which recently blossomed with the launch, in 2017, of Silver Muse–a 596 passenger goddess of the seas that reinvents the company's sophistication. Many changes are evident especially for those of us who have sailed on every ship in the fleet.
Gone is The Bar-the once uber popular social spot for passengers to gather before and after dinner that repeat passengers knew and loved. It is now replaced by nearly 10 different tippling options on different decks. Also MIA is the Restaurant or main dining room which has given way to the birth of several different dining venues–spaced throughout the ship–offering far more varieties of cuisines. Two of them (La Dame and Kaiseki) cost $60 a person extra but the others are free but require reservations. Also absent is an Internet Café. There are two computers available for use near the reception deck and the staff will print out your boarding passes if requested. Silversea now offers free WiFi for all with special premium packages complimentary to top suite guests. You can also pop for an upgrade to a premium hookup and I highly recommend doing so because it works really well, even better than the AT&T service I used in my home office. What a pleasure if was emailing, posting on social media and sending articles and photos out to editors.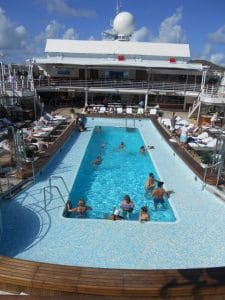 The pool on the Muse pool was one the longest of the fleet until the line put its Silver Spirit into drydock for a stretching that increased deck space and the length of that pool. Silver Muse also has more of the popular Silver Suites, in which we were happily ensconced in during a 13-day Caribbean cruise from Fort Lauderdale to San Juan. Not only are they spacious with long verandas, they sport big beautiful bathrooms with Jacuzzi tub, large separate marbled showers with rain showers that pummel your body that my husband Richard couldn't stop raving about (nor I), sinks with double vanities, two large flat screen TVs, espresso makers with Illy cafe, robes, slippers, big bed, sofa, dining tables indoors and out, desk, vanity and lots of storage shelves and hanging space but few drawers.
A new spa was also built for the ship.. It's called  Zagara Spa.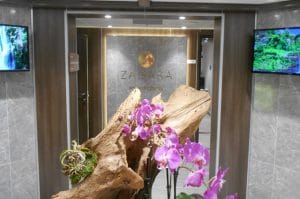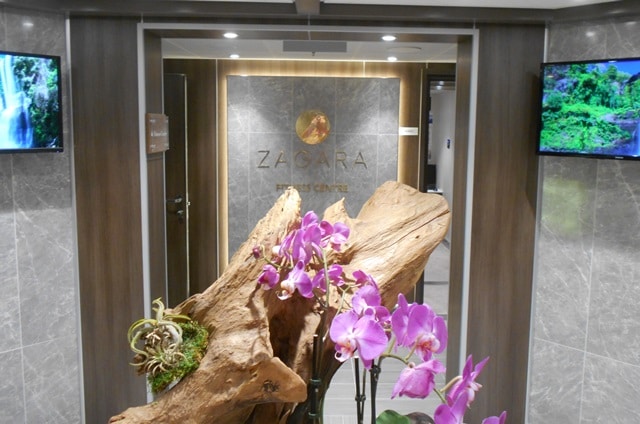 There is also a dreamy supper club called Silver Note where we enjoyed a wonderful vocalist with a jazzy touch on the standards and great piano player accompanist. Another passenger-pleasing addition is the Arts Café where you can grab a sandwich, pastries or coffee.
What hasn't changed are Silversea's inclusive amenities such as wines (which I have complained about but were greatly improved on this cruise), spirits and beverages, gratuities and butler service in all cabin categories. The food wasn't quite up to snuff in La Terrazza at lunch. Much to my room service-loving husband Richard's chagrin you are now limited to what you can order in your suite. Before you could order direct from the evening's dinner menu, now it's a fixed carte. So we only had dinner in once but did have super breakfasts served by our butler Pedro Banac on our balcony. Speaking of which Silversea butler service continues with our man Pedro took excellent care of us. He went of his way on to decorate our suite for our anniversary complete with flashing lights, colorful battery operated candles and romantic music.
And now for the nitty gritty
The Silver Muse pretty much pleases the typical discerning, well-heeled Silversea passengers.  As mentioned, the changes took getting used to by repeat passengers, many who missed The Bar and weren't pleased with the new reservation system which operates only when the dining venues are open or before you sail you can book on line. But how do you know where you want to eat that far in advance. We lucked out and were able to get in the restaurants when we wanted to sometimes with reservations, other times just by showing up.
Where we sailed
It was a port intensive cruise with just two days at sea that began in Fort Lauderdale where we went two days early and stayed at a great find, Pelican Grand Resort. The Nobel House hotel is in north end of town smack on a long stretch of beach. It was an ideal location to begin our anniversary cruise. We booked a King Suite with a large balcony and lots of space. After a shower and freshening up from the five hour flight from LA we went downstairs for an al fresco dinner at Ocean 2000 in the hotel on the first night. The food was fantastic and so was our server Mitch. The next morning we trolled on the beach before enjoying a lovely room service breakfast on the balcony overlooking the sea. A friend recommended a restaurant for our second night called Shooters Waterfront which turned out to be a hoot filled with spring breakers, locals and tourists. It's just a 20-minute stroll from the hotel and worth the exercise. The fresh fish was excellent. Spending two nights in Lauderdale was a great way to start our 13-day anniversary cruise on Silversea Silver Muse.
Embarkation on the Muse was a breeze but it took our bags awhile to get to the suite. We spent the first day at sea before touching down at such glorious ports as Barbados, Grand Turk, St. Barths, Bequia, St. John's, St. Thomas, Antigua and Martinique. Unfortunately, although we had four shore excursions (all snorkel and kayak) booked, we had to cancel them all due to illness (Patti caught a very bad bug). Still we did get off the ship at each stop and strolled around assessing the damage from those viscous hurricanes that hit last fall. It was noticeable, but it's mostly business as usual throughout the Caribbean. We were in Antigua on Easter Sunday and strolled the short distance from the ship to St. John's Cathedral where we stood in the back of the church listening to the melodic choir which was so good it gave us chills. We also checked out the port shops in St. Thomas where there are still some good duty free bargains on booze and jewelry. I was feeling better by the time we reached St. Barths our favorite spot) so we took the launch to Gustavia, walked around window shopping (prices are beyond our budget) and then went to our favorite Shell Beach to swim and sun.
Most of our fellow passengers got off in every port either to take a tour or go on their own. Those who stayed on had plenty of diversions from bingo to lectures, ever popular team trivia, shuffleboard, seminars on beauty and fitness, movies, golf putting, and of course eating.
There were nightly shows which we didn't make due to aforementioned ailment but passengers we spoke to said they were diverting and entertaining. One night there was a Death by Chocolate Latin Dance party on deck that was well received. One of the highlights, and innovations is the Silver Note supper club where a very talented jazz singer and equally adept pianist performed while you ate or sat at the bar. We did the latter and thoroughly enjoyed the show.
Dining around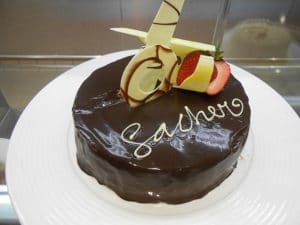 Ten restaurants are at passengers' beck and call and all but two require reservations. There is still the favorite Hot Rocks on the pool deck which is always casual. It's a romantic dinner spot with candle light and hot plates where you cook your own beef, veal, fish or even tofu. We ate there about four times.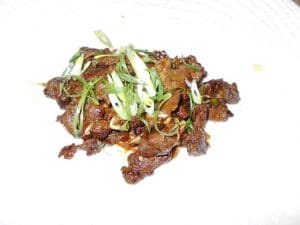 The new kids in town are Atlantide and Indochine on deck 4. Atlantide serves continental cuisine while Indochine features Asian fusion (see photo above). Both are attractive and fairly consistent in quality but not spectacular.
Two dining venues cost $60 a person: Dame and Kaiseki on deck 4. We didn't try either. There is also a pizza place outdoors on deck 11 where the pies are excellent.
La Terrazza, on deck 7, serves all three meals and is best for breakfast and dinner. We found the luncheon buffet under par. But the evening offerings, especially fish dishes, were good.
The Silver Note supper club on deck 7 is an intimate spot for dinner that was booked nightly and we couldn't get in except to sit at the bar and listen to the vocalist and pianist.
Additional tippling options include the pool bar on deck 10, Panorama Lounger on deck 9, Dolce Vita on deck 5, Enoteca on deck 4, the bar at Atlantide, Silver Note and the Connoisseurs Corner on deck 8 which caters to cigar and cigarette smokers. If you puff that's the spot or you can go on the port side of the pool deck but not in your suite or on your balcony.
The suite life
And sweet is was in our large Silver Suite, the most popular rooms on deck 11. Ours was just a couple of doors down from the Tor's Observation Library where we stopped for before dinner drinks, mixed by amiable and adept Rodney, every night. There are also books there to borrow.
The largest and most impressive accommodations include the super swank Owner's Suite—with adjoining bedroom, and an en-suite bathroom with spectacular sea views. One bedroom: 947 – 1055 ft² / 88 – 98m² including veranda.
Two bedroom: 1281 – 1389 ft² / 119 – 129m² including veranda*
A Grand Suite—a one bedroom: 1475 – 1572 ft² / 137 – 146 m² including veranda. Two bedroom: 1873 – 1970 ft² / 174 – 183 m² inlcuding veranda
Royal Suites–One bedroom: 1130 ft² / 105m² including veranda
Two bedroom: 1528 ft² / 142m² including veranda
Silver Suites like we had that span 786 square feet
Less expensive but still very comfy options include
Deluxe and Superior Verandah suites and non-balcony Panorama and Vista suites.
Silversea style
During our voyage there were two formal nights but few men donned tuxedos, most opted for suits or jackets and ties. The rest of the time was informal or casual at night. Daytime dress is always resort casual.
By design
The Silver Muse has an artsy feel especially at its new Arts Café on deck 8 which is a whimsically designed social spot for sweets, sandwiches, coffees and/or drinks. I think it was patterned from Seabourn Cruises Seabourn Square but it doesn't have the same fine panache.
Patti's observations 
Sometime changes are hard to adapt to. It took time to get comfortable with the reinvented Silversea experience and they do have some kinks to iron out. But it was definitely a dreamy experience with a very fine crew, attentive butler, two top captains (the first one left for vacation after seven days). The waiters, deck staff, barkeeps, reception desk staff were all great.
Avid swimmers that we are, Richard an I also appreciated that glorious very long pool that was never crowded. And I loved the free use of the steam and sauna (both with windows to the sea) in the Spa as well as the nicely-equipped fitness room.
Silversea (www.silversea.com) operates a fleet of small, sophisticated luxury vessels– Silver Wind, Silver Shadow, Silver Whisper, Silver Spirit and Silver Muse –that do global itineraries. Fares include all beverages from Champagne and beyond, tips and free WiFi for all categories (super fast speed premium hookups are offered in top suites and an be purchased in others). The company also offers a fleet of Expedition ships. Silver Explorer, Silver Galapagos, Silver Discoverer, and Silver Cloud.
Please follow and like us: