Antarctica


Floating castles of ice glisten in the warmth of the austral sun... glacial mountains rise from the sea, framed against a radiant sky... in an instant, a bright sun illuminates a floating regatta of ice formations... Explorers throughout the centuries have been captivated by the ice... Today, you are that Antarctic explorer. Few experiences can compare to the feeling you'll have as you head off on an expeditionary Antarctica cruise and immerse in the Earth Journeys experience, featuring custom-made BBC Earth on-tour film vignettes. Your adventure begins with two nights in amazing Buenos Aires, Argentina. Then it's all aboard your Ponant sister ship for a 10-night cruise to a magical wonderland where the locals, from penguins and seals to seabirds, welcome you ashore with friendly curiosity. Learn about their life and icy habitats from onboard naturalists who educate and inspire. And at night, enjoy informal chats, onboard lectures, documentary films and warm camaraderie with fellow explorers, captain and crew.

Price starts at:

$11690

Tour length: 13 Days
Trip Type: River Cruise
Call us now at 1.800.528.9300
Available Dates
Showing 1 available departures (30 per page)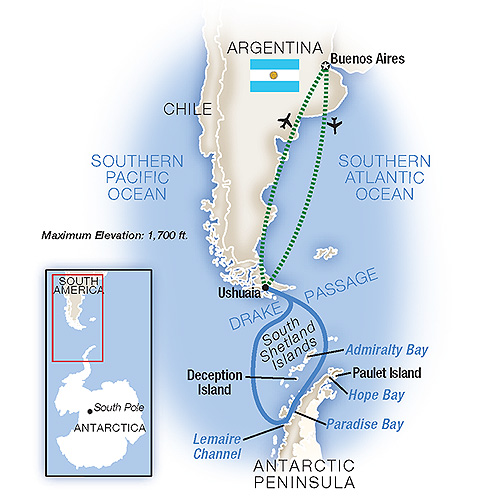 Arrive Buenos Aires
Tour begins: 2:00 PM, Alvear Art Hotel or Hilton Buenos Aires. A transfer is included upon arrival at the Buenos Aires Ezeiza International Airport to the Alvear Art Hotel or the Hilton Buenos Aires. Your exploration of Buenos Aires begins with a city tour that includes Avenue 9 de Julio, renowned as the world's widest avenue; Plaza de Mayo, site of Argentina's most important historical events; and charming neighborhoods like San Telmo and La Boca, where history plays out along streets lined with antique shops, decades-old restaurants and tango halls. Return to the hotel for this evening's welcome reception and dinner featuring live music, tango dancers and lessons.
City Sightseeing
Your discovery of Buenos Aires continues today with more city sightseeing featuring a visit to famous La Recoleta Cemetery and Evita Perón's grave. The remainder of the day is free for you to explore on your own.
Fly to Ushuaia / Embark Ship
Fly south along the coast of Argentina to the southernmost city in the world. Ushuaia, a frontier town located on the Tierra del Fuego Archipelago and the Beagle Channel, is also the only Argentine city that sits on the other side of the Andes. Get an overview of life at the end of the world on an afternoon sightseeing excursion that takes you up and down the hilltop streets that preside over this waterfront town and visit Tierra del Fuego National Park. Embark on your 10-night cruise to the Antarctic; the captain and crew host an onboard briefing before dinner this evening.
Cruising the infamous Drake Passage
Find your sea legs on a two-day crossing of the Drake Passage, named after 16th-century explorer Sir Francis Drake who sailed these waters back in the late 1500s. While there is no land in sight during this part of your Antarctica cruise, you will have an opportunity to spot whales, dolphins and petrels from the observation decks of your yacht. You can attend on-board lectures from your naturalist team whose specialties include oceanography, ornithology and more. You may also take the time to visit the spa or the gym, curl up with a book from the ship's library or visit the bridge to chart your ship's progress.
Getting closer to Antarctica
One more day to go until you spot your first sight of the Antarctic Peninsula islands. Once part of a large Equatorial land mass, these islands broke off on their own more than 180 million years ago and are now home to glacial landscapes and wildlife that are awe-inspiring in every way. If you haven't yet watched one of the ship's collection of documentaries, today might be a good day to do so.
Feel terra firma, Antarctic-style, under your feet
Wake up to a glacial wonderland. For the next four days, you'll be able to join an expedition team leader for a Zodiac excursion to any one of a number of Antarctic islands. Due to changing weather and shifting glacial patterns, your day-to-day itinerary will vary; each new day aboard cruising the Antarctic brings something different. Be on the lookout for seals on ice floes along the shore. Look up to spot seabirds flying against a cloudless blue sky. Look down in the waters where marine animals may be seen. At night, share stories during the daily cocktail hour and enjoy the camaraderie with fellow explorers.
Explore the world of the penguin
If conditions permit, take a shore excursion to a polar village populated by fascinating and very amusing penguins. Walk softly among them on the beaches where their rookeries are found. See them waddle and wave as they make treks into the sea and back with food for themselves and their families. Your naturalist guide will share expert insights with you about these locals!
The main attractions are made of ice... cruising the Archipelago
Dramatic icebergs, masterfully carved in all manner of shapes and sizes by the elements, don technicolor coats of blues, greens and snow whites and are the main event here in Antarctica. Get a closer look as you cruise among them and watch their transformation with the changing light of day. The sun never completely sets at this time of year so you can stroll on the deck late into the night and still enjoy an amazing glacial show.
Seabirds of different feathers
By your fourth day cruising the Antarctic Archipelago, you may have passed by Penguin Island, blessed with diverse wildlife that includes chinstrap and Adélie penguins, southern giant petrels, Antarctic terns and skuas, and Hannah Point, one of the best places to see gentoo and macaroni penguins, blue-eyed shags, and Wilson's storm petrels, with the occasional fur seal or elephant seal among them. Don't worry if their names sound confusing; you will soon become a pro at identifying them with some help from your on-board ornithologists.
Whales and seals of Antarctica
The wildlife experts on your ship are eager to point out the region's fur seals and elephant seals who share the frigid waters with penguins and humpback whales. You may find a fur seal or two languidly sunning or sleeping on ice floes, their faces endearing with natural smiles, in large part because there are few native predators like polar bears here. Southern elephant seals, so named for their massive sizes and trunk-like noses of the males, prefer to hang out in beach parties; look for them on rocky island shores. As your captain skillfully navigates your yacht around Lemaire Channel, you'll have a good chance to see humpback whales, always a breathtaking sight. The evening colors are spectacular too!
Back through the Drake Passage
Your yacht begins its voyage back through the Drake Passage today, making it the perfect time to record the experiences you had during the past week. Your private ship log might include your thoughts about the array of icebergs and the Swedish expeditioners' hut you saw in Hope Bay, or the old whaling station you encountered near Neptune's Bellows and that dip you were tempted to make in the hot geothermal springs there. You may have had an opportunity to meet the researchers and scientists of King George Island or explore the history of Elephant Island, linked to Ernest Shackleton and his men. Your stories will make great reading back home!
Enjoy your last day aboard ship as your cruise concludes
Savor your last day of your cruise to Antarctica as you cross the Drake Passage again. Activities include on-board lectures that enrich your new-found knowledge; spa treatments that keep you relaxed and refreshed; work-out equipment that invigorates; and card games or chess tournaments with shipmates. Your last evening aboard ship is a perfect time to toast your expedition, and celebrate what for many travelers is their "seventh continent."
Cruise ends in Ushuaia - fly to Buenos Aires & home
Your cruise ends when you disembark ship today in Ushuaia for your flight back to Buenos Aires. A transfer to Buenos Aires' (Ezeiza) Ministro Pistarini International Airport is included. Tour ends: 5:30 PM at Buenos Aires' (Ezeiza) Ministro Pistarini International Airport. You should allow three hours for flight check-in.
---
Preparing For Your Trip

Make Sure to Bring All of Your Important Documents: Passport, Foreign visa (if applicable), Itinerary, Trip confirmation, Airline ticket, Drivers license, Credit cards, Travel documents.

Vaccinations Are Required for Entry to Some Countries. The U.S. Centers for Disease Control (CDC) and the World Health Organization (WHO) can provide you their recommendations for vaccinations and other travel health precautions for your trip abroad.

Are You Taking Any Prescriptions or Other Medications? Pack enough to last your entire trip, including some extra in case you are unexpectedly delayed.

Insurance: Purchase travel insurance to cover yourself against unexpected situations. You never know when something might happen, so always be prepared.

While Traveling

Keep an eye on your belongings. Do not leave your belongings unattended in public spaces

Always have local cash. Not every place takes credit cards.

Pavlus Travel Referral Program

How does our referral program work?

How does our referral program work?

It is simple: tell all your friends, family and anyone you meet on vacation about Pavlus Travel and Cruise and when they book their first tour / all-inclusive / cruise vacation with us, you will receive up to $150!*
Let Dianne help you plan your vacation!
Call direct at 1-855-334-9061
or email at dianne@pavlustravel.com