SOUTHERN & MIDWESTERN UNITED STATES

The state of Texas is the largest producer of wool in the United States
Louisiana is the only state in the union that does not have counties. Its political subdivisions are called parishes
The Grand Ole Opry in Nashville is the longest continuously running live radio program in the world
Swamps cover one-fifth of Florida and are home to manatees, alligators and the Florida panther
Michigan has more than 150 lighthouses, the most of any U.S. state
The South is a place packed with history, culture, variety, and tradition. From the beaches of Florida to the Jazz-filled New Orleans streets, the birthplace of country music–Nashville & Memphis– to the Mountains of West Virginia, experience life of a different style in every southern destination! Mark Twain spoke of the South in his memoir, Life on the Mississippi. He said, "A Southerner talks music." The deeply embedded traditions found in the South coupled with a rich heritage make travelers feel as if they've been invited to a special event.
Visit plantations and stately mansions where the spirit of the old South lives on. The unique architecture and the pre-Civil War period can be seen everywhere, but are especially prominent in the Deep South's Natchez, Mississippi, New Orleans, Louisiana, Beaufort, South Carolina, and Savannah, Georgia. Experience an educational journey of the South's historic trails from the remarkable plains of Gettysburg to the home of Thomas Jefferson in Lexington, Virginia. Their stories are well-preserved and the pride of the South is reflected in hundreds of southern monuments. Enjoy antebellum mansions, cobblestone streets, and low country cuisine in charming Charleston, South Carolina.
Louisiana's French Quarter and its bustling Bourbon Street, the sounds of jazz, and home of the greatest Mardi Gras celebration in America, are classic images of the Southern tradition. Experience the sights and sounds of the South…and tastes! Tour a whiskey distillery and see how it's done "bourbon-style." Get glimpses of the horses and learn about the world-famous Kentucky Derby. Have lunch at the Jekyll Island Club, the winter home of the Vanderbilt, Rockefeller, and Morgan families. And since the South is such a place of music, see Graceland in Memphis, the Elvis Presley mansion and gardens. In Nashville, experience the Country Music Hall of Fame and the world-famous Grand Ole Opry, a mecca for country musicians since 1925.
Southern hospitality is legendary – the people, the food, the style, and traditions of the South give visitors a sense that they have witnessed an important part of American heritage – the beginnings of the United States and its enriching stories.
Known as "America's Heartland," the Midwest is a collection of big cities, small towns, and farming communities. Nicknamed the "Motor City," Detroit is home to the Henry Ford Museum, a nine-acre showcase featuring an extensive collection of artifacts documenting the genius of the American people. Discover the beauty of Michigan's Great Lakes along the "North Coast," including the quaint town of Petoskey with stunning views of Lake Michigan. The highlight of northern Michigan is historic Mackinac Island, where bicycles and horse-drawn carriages are the only means of transportation. Located on the southern shores of Lake Michigan sits Chicago, the "Windy City." Home to stunning architecture including the Willis Tower, America's tallest building, world-class shopping along the Magnificent Mile, and spectacular museums, restaurants, and countless jazz and blues clubs, Chicago is an American classic with a little something for everyone.
CURRENCY

For the most current exchange rates, please go to our website at Globusjourneys.com/Currency.
Although credit cards are widely accepted in the United States, we recommend our passengers carry some cash (~$50.00) to use in circumstances when credit cards are not accepted or in destinations where ATMs are not readily available.
BUDGETING AND SHOPPING

When budgeting for your trip, keep in mind that the cost of goods, including food, drinks, and souvenirs, may differ significantly from what you're used to at home.
Shopping|
There are some classic items to shop for in New Orleans. Pick up some regional favorites such as Tabasco sauce and specialty food products, CDs of Louisiana's great music, be it jazz, blues, Cajun, or zydeco, voodoo dolls, New Orleans cookbooks, anything with the fluer-de-lis symbol on it, and don't forget the Mardi Gras beads and masks. And if you fall in love with the beignets, you can pick up a box of the Café Du Monde mix to make at home!
In Memphis & Nashville, take home some of your favorite sounds or music themed memorabilia – choose from an enormous variety of Elvis souvenirs, blues and country music, western clothing, jewelry, and more. While in Georgia, shop for classic Southern souvenirs such as Gone with the Wind merchandise, southern cookbooks, local crafts, peach jam and the wonderful creations at Byrd Cookie Company in Savannah. Handmade Sweetgrass baskets, jewelry, and low-country foods are always a hit in Charleston, Don't miss King Street's Antique District which was voted "Best antique shopping in the US" by readers of Travel + Leisure magazine.
Shopping along the coast, you'll find a lot of distinctive country shops and unique stores. Take home handmade candy and cookies, southern cookbooks, and tasty pralines. You can also pick up local crafts like tshirts, beach wear, and hand-made jewelry.
In the Midwest, sample and take home some delicious fudge from Murdick's Fudge in Mackinac Island, which has been serving fudge since 1887. Visit Bronner's Christmas Wonderland in Frankenmuth, a onestop shop for everything Christmas. Shopping opportunities abound in Chicago, which offers everything from kitschy souvenirs and sports memorabilia to high-end retail stores along Michigan Avenue.
TEMPERATURES

The southern United States is notoriously humid. The moisture content will cause warm temperatures to feel warmer and cooler temperatures to feel colder. Humidity also has a tendency to produce a "sticky" sensation on your skin. When traveling to coastal cities, an ocean breeze may persist. We recommend checking local weather in each of your destinations prior to traveling to ensure you are adequately prepared for the conditions.
In the Midwest, temperatures vary by season and can fluctuate throughout the day. Summers along the Great Lakes are moderate, with cool mornings and warmer afternoons. In Chicago, the summer months are generally warm and sunny while spring and summer offers a milder climate. To help you plan, below are average low and high temperatures for Southern and Midwestern United States.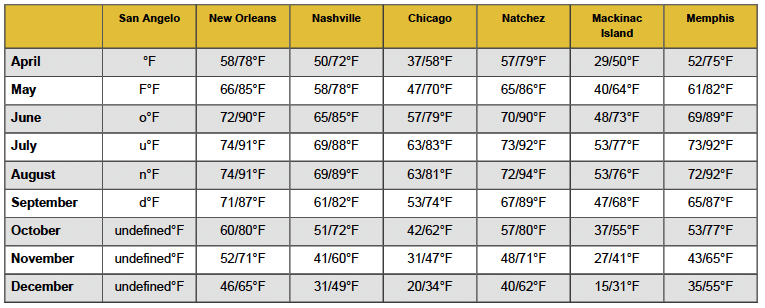 To convert to Celsius, subtract 30, then divide by 2. While not exact, this simple formula will give a close estimation..
FOOD SPECIALTIES

In New Orleans, the flare of the South, be sure to try some of Louisiana's best foods like a traditional Po' Boy sandwich, gumbo, crawfish, jambalaya, "dirty rice," and beignets – golden and puffy French style- doughnuts dusted with powdered sugar…and a perfect complement – a cup of southern-style chickaree coffee. For those warm weather days, a chilled New Orleans hurricane is refreshing and just potent enough to "take the edge off.
The South is also known for its fresh seafood, low country barbecue, shrimp and grits, collard greens, corn bread, and southern pralines. Try some of the typical foods of the south: fried chicken, crab stew, blackeyed peas, and fresh peach cobbler and wash it all down with some sweet tea. Michigan offers a wide variety of fresh local produce, including apples, cherries, peaches, blueberries, and grapes. Local favorites include Mackinac Island fudge, Detroit square pizza, and apple pie. While Chicago features a wide variety of international cuisines, it is best known for deep-dish pizza, Chicago-style hot dogs, and Chicago mix popcorn from Garrett Popcorn (combining caramel and cheese).
U.S. DEPARTMENT OF STATE COUNTRY INFORMATION
Additional country-specific information for US citizens can be found on the US Government's website www.travel.state.gov. Here, you can find the most up-to-date information about destination descriptions, passports/visas, safety and security, transportation, travel local laws, alerts/warnings, vaccinations, and more. For citizens of other nations, we recommend you consult your local consulate for travel information, regulations, and requirements.