Fun Facts

South Africa is the second-largest fruit producers in the world and the world's largest producer of macadamia nuts.
South Africa is bordered on three sides by more than 1,850 miles (nearly 3,000 km) of coastline sculpted by the Indian and Atlantic Oceans.
It has three capitals: Cape

Town

(legislative), Pretoria (administrative), and Bloemfontein (judicial).
South Africa has been declared one of the 18 mega-diverse destinations in the world.
Nobel Peace Prize winners Nelson Mandela and Archbishop Desmond

Tutu

had houses on the same street.
There are more than 2,000 shipwrecks off the coast of South Africa, most of which date back at least 500 years.
The southernmost country in Africa and "Cradle of Civilization," South Africa is one of the planet's most remarkable tapestries of nature, wildlife, history, and culture. It is site of some of the oldest civilizations in the world, as well as unmatched modern multiculturalism. (South Africa's constitution recognizes 11 official languages—more than any other country!) It is a place where exotic wildlife awaits: the famed "Big Five" as well as cheetahs, hippos, giraffes, penguins, whales, sharks, crocodiles, leatherback sea turtles, and a jaw- dropping number of bird species, and where rugged sea coasts lead to mountains, forests, deserts, farmland, colorful cities.
VISAS, PASSPORTS, AND OTHER ENTRY REQUIREMENTS

A visa for your visit to South Africa is not necessary for US citizens. If you hold a passport from another country, check with your local consulate about requirements for travel to South Africa.
All passengers traveling internationally are required to have a passport. Most countries require that the passport be valid for at least six (6) months beyond the conclusion of your trip, so please check the expiration date carefully. It is also recommended you have a minimum of three blank pages in your passport when traveling, as many countries require blank pages. Please carry proper identification (your passport) on you and do not leave it in your suitcase or hotel room. Most countries have laws that require you to carry your passport with you at all times.
Health Requirements
It is imperative to find out from your physician what inoculations may be required for travel to South Africa, and if any other health precautions are recommended (such as anti-malaria pills). For more details, you might also like to consult the internet site of Centers for Disease Control and Prevention at http://www.cdc.gov/travel.
Traveling with children
The South African govern taining to children under the age of 18 visiting the country. All travelers should visit the South African Department of Home Affairs website (dha.gov.za) for the latest requirements. The required documentation varies based on who is traveling
with the child(ren) so it is important to review carefully or entry to the country may be denied.
Country Codes

The country code for South Africa is 27. When calling to South Africa from overseas, dial your international access code (011 from the US/Canada), followed by the country code, area code, and phone number. Phone numbers in South Africa are 9 digits in length. Dialing from the US/Canada: 011 27 ## ### ####.
Currency

As a general guideline, bring a variety of payment means, particularly in the event that you have difficulties with your preferred method of payment.
The currency in South Africa is the Rand (ZAR). For initial convenience we recommend you bring some local currency with you from home in case you are not able to immediately access a money exchange or ATM.
If you bring U.S. Dollars to exchange, ensure bills are the latest design with the large portraits and subtle background colors, as it has been known for older U.S. currency to be refused. Also, bills should be in good condition and not ripped or torn as these may be refused.
ATMs are available in major cities.
1 South African Rand (ZAR) = 100 Cents(c)
Banknote denominations: 10, 20, 50, 100, 200 Rand
Coin denominations: 5, 10, 20, 50 cents, 1, 2, 5 Rand
For the most current exchange rates, please go to our website at Globusjourneys.com/Currency.
Credit Cards
Credit cards are widely accepted in South Africa, and you should have no problem using them on vacation. Visa and MasterCard are most accepted. Smaller shops may ask you to pay in cash or have a minimum amount required to use a credit card. Due to increasing credit card fraud worldwide, be prepared to show identification when making a transaction with a credit card.
Traveler's Checks
These are not accepted in South Africa.
Bank hours:
Monday–Friday: 9 am–3:30 pm
Saturday: 9

am–11

am
Sunday
Budgeting and Shopping

The following budget guidelines are just approximate values or starting values for meals and are per person. Actual prices will vary widely by restaurant and city within a country but below are some averages as provided by our experienced personnel.
The approximate cost of a soft drink/mineral water/coffee is ZAR15-20.
An average lunch consisting of a salad or sandwich and a soda or water starts at approximately ZAR100-130.
Dinner at a mid-range restaurant with dessert and a non-alcoholic beverage starts at approximately ZAR500-600.
Shopping
Please be warned that if you buy items on tour to be shipped to your home, customs import charges are rarely included in the price. If you use a credit card for your purchase, you will be debited in the local currency, and your bank will establish the rate of exchange on the debit. Sales tax or GST (Goods & Services Tax) is normally already included on price tags; GST refunds, if applicable, are processed at the departing airport relevant country.
Tipping

Tipping is a common practice in South Africa and usually well received. In restaurants and bars, a tip of 10%-20% is acceptable.
Tip taxis drivers 10% of the fare.
For hotel and room service, a common tip amount is R10-R20 per service if warranted (excluding porterage, which is included).
Electricity and Electrical Outlets
Outlets

Voltage s generally 110V. Therefore, you will need a converter for your travels. Adapters will be necessary to adapt your plug into the outlet, but these may not convert the voltage, so both devices are necessary.
Some hotels feature multi-region outlets.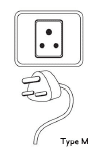 Temperatures

South Africa is a large and diverse country with a climate that varies from region to region.
Cape

Town:

Mostly mild climate. Wind and rain increase from late fall to early spring (May–Sep.).
Johannesburg: Generally dry and

sunny,

with mild winters
Greater Kruger National Park: Spring (Sep.–Oct.) – warm with some rain Summer (Dec.–Feb.) – hot with some rain Fall (Mar.–May) – hot Winter (Jun.–Aug.) – cooler and dry
To help you plan, below are average low and high temperatures for South Africa.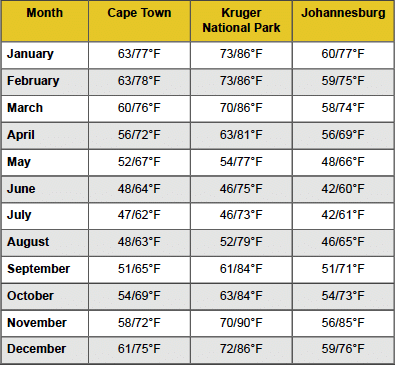 To convert to Celsius, subtract 30, then divide by 2. While not exact, this simple formula will give a close estimation.
A typical day on safari

Below is an outline of a typical day on safari. It is important to note that there is no way to predict 100% what will happen each day, as nature is always full of wonderful surprises! Changes may be implemented due to weather or due to a spontaneous and magical safari moment that captures your attention.
Morning – Wake up early between 5 am and 5:30 am, for coffee/tea. Although this may seem very early, it is essential to head out early, as this is the time of day many animals are most active. Depart your lodge between 5:30 am and 6 am. The game drive lasts around 3 hours; breakfast is served upon your return to the lodge.
Late morning/Midday – Time to relax at your lodge. Read a book, take a nap, or go for a swim! Lunch is generally served from 12/12:30 pm until 2 pm.
Afternoon – Around 3:30 pm, gather for tea and snacks before embarking on your afternoon game drive.
This allows time to see the animals during the daylight but also stop for included sundowner drinks as the
sun sets over the spectacular African landscape! Arrive back at your lodge between 6:30 pm and 7 pm to
freshen up for dinner.
Evening – Dinner service starts between 7 pm and 7:30 pm and is normally quite lively as everyone shares stories from an exciting day on safari. Afterward, grab a drink in the bar or proceed to bed…you may have
another early day tomorrow!
Food Specialties

South Africa boasts excellent fresh produce, meat, fruit, wines and seafood. Types of dishes served include sosaties (kebab), bobotie (curried mince), crayfish, biltong (seasoned dried meat), and potjiekos (a casserole cooked for hours in a three-legged iron pot).
Drinking Water
In South Africa, tap water is safe to drink in all cities. In South African game reserves, we recommend you drink bottled water. Bottled water is provided on all game drives and hotels and lodges generally provide complimentary water in each guestroom.
Customs and Culture

African culture is diverse.

You

will encounter new customs and different lifestyles as soon as you enter the country. Appreciate and enjoy the differences. A majority of the locals speak English and will greet you with a smile.
In some African countries, a warm smile and a handshake is a perfectly acceptable greeting. If you are not a local, do not extend your hand first.

Wait

for the other person to do so. Local men do not normally shake hands with women in public. When greeting an

elder,

it is acceptable to bow your head slightly in place of a handshake.
Although not

necessary,

many visitors like to bring gifts for the local children. If you would like to give a gift, we suggest that gifts and donations be made through local schools and orphanages. This gives you the chance to help the local community without reinforcing the culture of begging. If you do choose to give gifts directly to children you encounter, please do not give out

candy.

Gifts such as school supplies or clothes are much better options. In addition, we do not recommend that anything be given to street beggars and street children encountered in the towns and cities, as it promotes a negative lifestyle.
Always ask permission before taking a photograph of a local resident.
Poverty is a fact of life in many African countries.

You

should be prepared to see it but not be scared by it, as most people are still very happy and

friendly.

Out of respect, it is best to avoid excessive displays of wealth.
A few words of the local language
Afrikaans:

Good mor aand, Hi: Haai/Hallo, Goodbye: Totsiens, Please: Asseblief, Thank you: Dankie, Yes: Ja, No: Nee, Do you speak English?: Praat jy Engels, I don't understand: Ek begryp nie dit nie, How much?: nic, 1 (one): Eeen, 2 (two): Twee, 3 (three): Drie, 4 (four): Vier, 5 (five): Vyf, 6 (six): Ses, 7 (seven): Sewe, 8 (eight): Ag, 9 (nine): Nege, 10 (ten): Tien, Where is … ?: Waar is, WC: Badkamer, Tea: Tee, Coffee: Koffie, Bottled water: Gebottelde water, Cheers!:
Gesondheid, Have a nice day!: Lekker dag,
Xhosa:
Good m w are you?: Unjani?, Very well: Ndiyaphila, Goodbye: Sala kakuhle, Yes: Ewe, No: Hayi, Thank you: Enkosi, Please: Ndicela, How much?: Yimalini?, Where is…?: Iphi…?, Today: Namhlanje, Tomorrow: Ngomso, Yesterday: Izolo, Water: Amanzi, Coffee: Ikofu, Tea: Iti, Milk: Ubisi, Sugar: Iswekile, Ice: Umkhenkce.
Zulu:
Good How are you?: Kunjani?, Very well: Kuhle, Goodbye: Hamba kahle, Yes: Yebo, No: Cha, Thank you: Ngiyabonga, Please: Ngiyacela, How much?:
Kangakanani?, Where is…?: Ikuphi…?, Today: Namuhla, Tomorrow: Kusasa/Ngomuso, Yesterday: Izolo, Water: Amanzi, Coffee: Ikofi, Tea: Itiye, Milk: Ubisi, Sugar: Ushukela, Ice: Iqhwa.
U.S. Department of State Country Information
Additional country-specific information for US citizens can be found on the US Government's website www.travel.state.gov. Here, you can find the most up-to-date information about destination descriptions, passports/visas, safety and security, transportation, travel local laws, alerts/warnings, vaccinations, and more. For citizens of other nations, we recommend you consult your local consulate for travel information, regulations, and requirements.