Budapest to Venice (Basix)
Starting at
$2,920

Destinations & Sightseeing

Itinerary and Meals

Accomodations
---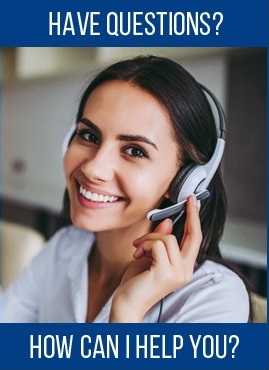 800.528.9300
Experience the many charms of eastern Europe and Italy – from the hearty cuisine of Hungary to the glamorous beaches of Split and stunning alpine scenery of Slovenia – on this unforgettable small group adventure. Be seduced by Belgrade's Bohemian vibe, see why Montenegro's emerging as Europe's next tourism hotspot, feel the press of history on a stroll through Split's old town and fall head over hells for ever-seductive Venice. Whether you're heading to this part of the world for your first time or tenth, eastern Europe never fails to enamour.
Click for larger view.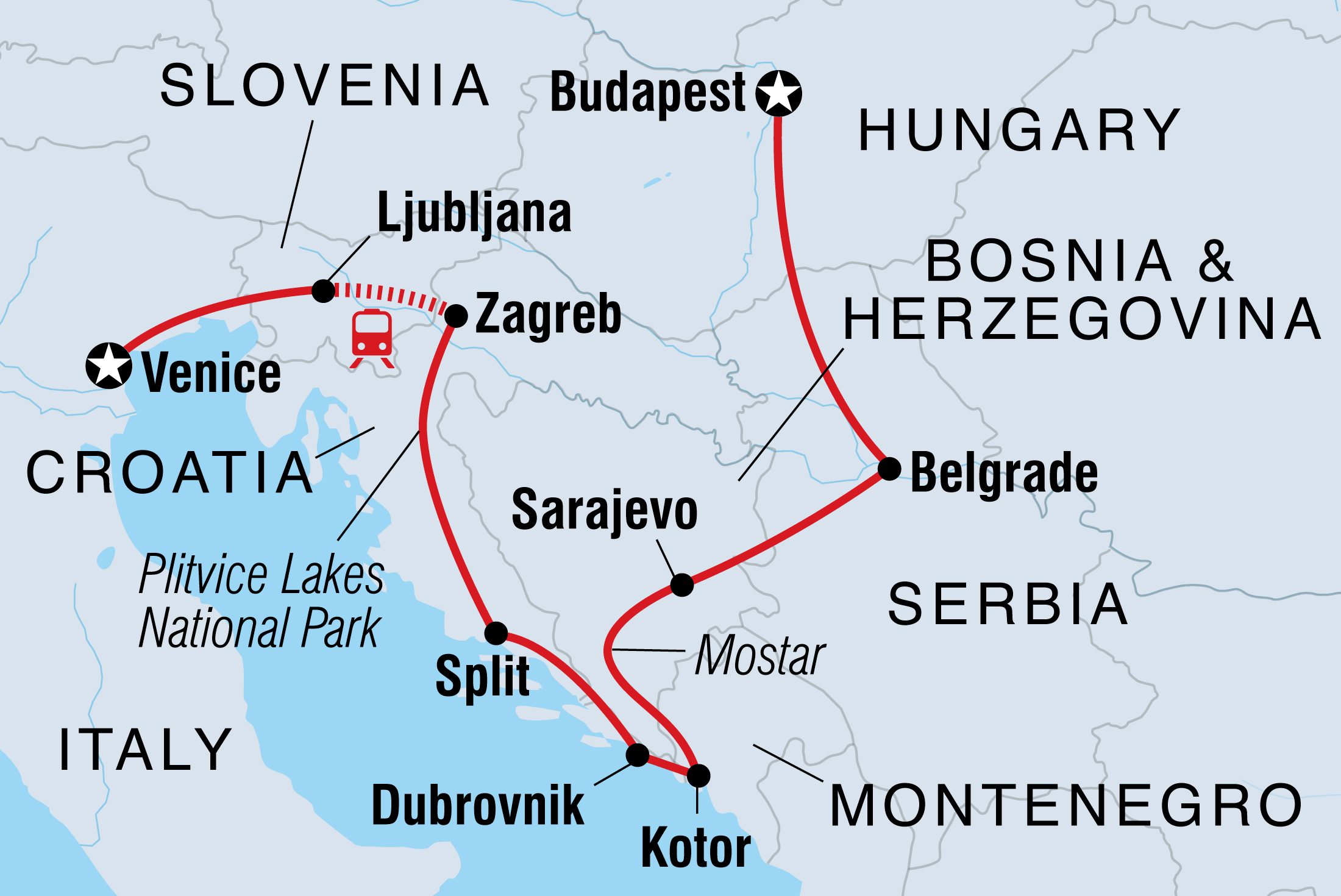 Destination & Sightseeing
Learn about the dark history and rebuilding of Bosnia and Herzegovina in Sarajevo, then visit Mostar's famous Old Bridge and witness a traditional bridge jumper hurl themselves into the icy waters below.
Immerse yourself in the edgy street scene of Belgrade's Bohemian Quarter, then dance the night away in one of Europe's nightlife hotspots.
Admire the restored architecture of World Heritage-listed Kotor, Montenegro, on a climb along the ancient city walls
Split is a haven of relaxation and culture. Unwind with a walk along the waterfront promenade and admire the impressive ruins of Diocletian's Palace.
Stroll through Plitvice Lakes National Park, marvelling at luminous lakes and waterfalls that appear to have been sketched by an artist.
Croatia's amazing array of food specialities mix multiple European influences, and Zagreb harnesses the best of them. Feast on Mediterranean fresh seafood, Italian-influenced antipasti and the crunchy, doughy dessert of fritule.
The floating city of Venice is one place you'll be happy to get lost in. The city's maze of alleyways, canals and lagoon islands lead to over 130 churches, all with their own distinct character.
MEALS
Includes 11 breakfasts, 1 lunches, dinners
Hotel (7 nights), Hostel (7 nights), Pension (4 nights)
ITINERARY
Szia! Welcome to Hungary. Budapest is Hungary's intoxicating capital, on the banks of the Danube River. In the evening after the welcome meeting perhaps head out with your new travel buddies and your leader for dinner, then take a night walk along the Danube River to see the surrounding buildings and bridges lit up in lights. Not to be missed are Budapest's funky 'ruin pubs'.
This morning you have the option to join your leader on a short orientation walk of the city. Afterwards you have a full free day to explore Budapest, known as 'The Pearl of the Danube'. Admire intricate carvings on resplendent buildings, cross the iconic Chain Bridge to explore the Castle District, or simply meander through winding streets snacking on local delicacies. Budapest is a great city to enjoy from the water. Perhaps take a boat trip along the river or catch a funicular up to the castle for spectacular views of the Parliament Building. With so much to see and do, hiring a bicycle is another great way to move between the sights. Perhaps head to Statue Park to see the communist monuments that were removed from the city after the fall of the Iron Curtain. You might like to take a tour of the beautiful Hungarian State Opera House, or check out the Hungarian National Museum. One unmissable activity is a soak in the healing waters of Budapest's hot thermal baths. You could also take part in one of our Urban Adventure day tours, such as the Budapest Castle Explorer or Bites and Sights. Check them out at urbanadventures.com.
Board your private transport and head to Belgrade, Serbia's surprising capital. Known as the' White City', Belgrade is one of the oldest cities in Europe. Sitting at the confluence of two major rivers, the Sava and the Danube, it's an important intersection between Eastern and Western Europe. Here you'll experience an energetic mix of progressive flamboyance and conservative customs. Upon arrival there is the option to join a guided tour. Then you'll have plenty of free time to explore the city. Perhaps begin with a wander around the city's wide boulevards and squares, and the historic and green heart of Kalemegdan Park. The park is home to Kalemegdan Fortress, which has overlooked the Danube River here for centuries. In the evening, head down to Skadarska Street in the bohemian quarter of Skadarlija to sample some authentic local food and enjoy the lively atmosphere, in a place where Orthodox churches vie for space next to fashionable nightclubs.
Today is a free day to further discover Belgrade. You might like to take a cruise along the Danube River, passing the Kalemegdan Fortress, Pancevo Bridge and Zemun. Make sure you visit the imposing Hram Svetog Save (St Sava Church). Alternatively the local market Zeleni Venac can keep you occupied for hours. Perhaps take a stroll through the Nikola Tesla Museum to learn about the life and work of Serbia's greatest inventor, or check out the city's Ethnographic or Military Museums. You can climb the 36-metre, 1896 Gardos tower in Zemun for sweeping views of the city and the Danube, or get a crash course in Serbian contemporary art at Zepter Museum. If the weather is warm, why not brave the crowds on Ada Ciganlija beach, where you can swim, take part in water-sports or simply soak up the sun with a cocktail. Throughout the summer months, Belgrade hosts a variety of musical and cultural events and the city is abuzz with people and activities. The city's nightlife has become legendary throughout Europe, with several hundred floating bars, restaurants and nightclubs lining the Danube and Sava rivers.
Travel by bus through beautiful countryside to Sarajevo. The journey will take around eight hours in total, so sit back and enjoy the scenery. Sarajevo is Bosnia and Herzegovina's small but vibrant capital. More than twenty years after the end of a devastating war, Sarajevo is slowly asserting itself as one of Europe's most beautiful and interesting destinations. The city often draws comparisons with Istanbul as a place that mixes east and west – dotted with minarets, mosques, bazaars and the aroma of coffee. On arrival, perhaps embark on an optional guided tour to gain insight into the history and culture of the city. Sarajevo is one of the few cities in the world that features an Orthodox church, a Catholic church and a mosque (the famous Begova Džamija) all within close proximity. Make sure you explore Baščaršija, Sarajevo's old bazaar. Out from here the city's history unfolds – from Ottoman-era buildings to the elaborate constructions of the Austro-Hungarian period and on to the structures of the communists. In the evening perhaps try try the local specialty of bosanski cevapi (grilled minced meat mixed with mild spices).
Enjoy a free day in and around Sarajevo. You could take an optional day trip out to the thermal springs and green parks of Ilidza, the source of the River Bosna. You might prefer to discover local history with a visit to the History Museum and the Sarajevo War Tunnels (dug underneath the airport runway and used to smuggle provisions into the city during its siege) and Sniper Alley, or learn about the tragedies faced by the city's Jews at the Jewish Museum. Perhaps get cultural with a stroll through the Art Gallery of Bosnia and Herzegovina. Perhaps return to Baščaršija and get lost in the mosques, caravanserais, and stone-vaulted bazaars, snacking on burek or ćevapi, or ramble along through Park Prinčeva for views of the city. The Pivnica HS brewery, which also has a restaurant, is a good place to sample local award-winning beer and spend an evening.
Head out of Sarajevo by early morning train to Mostar, a town situated in a beautiful valley in the high mountains of Herzegovina (approximately 3 hours). Thanks to the river Neretva Mostar was able to develop as a city in the barren landscape of Herzegovina. Neretva's size turned Mostar into a trading centre of the region very early on. The city was the most heavily bombed settlement in Bosnia during the war, but it has since been rebuilt and now features on UNESCO's World Heritage list. On arrival, perhaps head to the famous Stari Most (meaning Old Bridge), first built by the Ottomans in 1565 – it was the great architect Mimar Hajrudin who succeeded with the impossible mission to cross the Neretva River with a single span stone bridge. The bridge also made headline news during the Yugoslav wars when it was destroyed in 1993. It was rebuilt and reopened in 2004, and there's an interesting museum about its history next to the bridge itself. If you're lucky you'll see the famous brave members of Mostar's diving club hurl themselves into the icy waters below. It's a tradition for the young men of the town to make the jump, and it's now an annual competition. We advise against having a go yourself though, as the bridge is very high and the water is freezing. You might like to follow local custom and hand the divers a few Marks. Later on today continue to Kotor where you will spend the night (approximately 4 hours).
Explore Europe's most southerly fjord, Boka Kotorska (Bay of Kotor) and Kotor town, with free time to discover the narrow alleyways by yourself today. This 5th-century World Heritage-listed city is set on a secluded bay, with towering peaks surrounding a rocky coastline dotted with pretty waterside towns. Check out the 12th-century Cathedral of St Tryphun, the South Gates of Kotor (the Gurdich Gate) and the Armoury Square (Trg od oruzija). Afterwards, you might like to get delightfully lost in the crooked alleyways, checking out the boutiques and cafes, or climb the hills behind the city to visit Kotor's ruined fortification walls. A one-and-a-half hour hike up the stone steps, past churches, gates, and bastions to the Fortress of Sveti Ivan at the top rewards you with magnificent views across town and the brooding Bay of Kotor. In the evening the city walls are prettily lit up to provide a unique night-time perspective.
Depart Montenegro by bus, riding along the beautiful southern coast of Croatia to Dubrovnik (approximately 2.5 hours). The day is free for you to explore Dubrovnik at your own pace. Take a walk along the city walls of 'Game of Thrones' fame, enjoying views of the sparkling Adriatic Sea in this renowned jewel of the Dalmatian Coast. Visit Big Onofrio's Fountain, built by architect Onofrio della Cava in the 15th century to supply water to the city. Perhaps check out the 13th-century Franciscan monastery or the Sponza and Rector's Palaces, the only Renaissance buildings in the city to survive a devastating earthquake and fire in 1667. Alternatively, get a sobering glimpse into the Yugoslavia wars at the city's War Photography Museum.
Today is a free day to explore the beaches and scenery of this idyllic coastal city. Dubrovnik is a great place to discover on foot, with its cobblestone streets, tiled roofs, white washed walls and stone buildings. Stroll down the main street of Stradun that runs straight through the World heritage-listed Old Town, with its baroque monuments and gothic buildings.
Enjoy Another free day to delve deeper into this beautiful city. Why not take a boat trip to nearby Lokrum Island, where you will find the French-built Fort Royal Castle, a monastery, and a botanical garden that dates back to when the Austrian archduke Maximilian had his holiday home on the island. Or perhaps you'd prefer to simply unwind on a beach.
Take a public bus up the coast to Split (approximately 5 hours). If Dubrovnik is considered the heart of Dalmatia, Split is certainly its soul. Situated on a small peninsula on the eastern shores of the Adriatic Sea, it's the second largest city in Croatia. Enjoy a free afternoon in this stunning seaside town, exploring the historic streets, and make sure you see the World Heritage-listed Diocletian's Palace. Alternatively, for a more in-depth introduction to this fascinating city why not join an optional guided tour with a local guide.
Enjoy a free day in Split. At the heart of its atmospheric Old Town is a fascinating city-within-a-city – the remains of a 3rd-century palace built for Roman Emperor Diocletian. Some places might have protected such an impressive complex in a museum, but not enigmatic Split. These ancient walls now house a vibrant mix of shops, cafes, restaurants and houses. Step back in time strolling its sprawling maze of passageways and courtyards and you'll also find a 16th-century synagogue and a courtyard often filled with music. If your feet get tired, why not sample Croatia's fine coffee culture with a frothy kava from a cafe on the Riva waterfront promenade, a prime spot for people watching. In the evening, Split boasts an increasingly bustling nightlife scene.
Day 14 - Plitvice Lakes National Park / Zagreb
Today you will visit one of Croatia's most beautiful sites – Plitvice Lakes National Park (approximately 3 hours). The park was given World Heritage status 20 years ago and is 19 hectares of wooded hills that surround 16 stunning turquoise lakes, all connected by a series of waterfalls. The area is populated by deer, bears, wolves, boars and some rare bird species, and the thick, primeval forest vegetation of beech trees, fir spruce and white pine adds another element to the park's beauty. You'll have free time to explore here or simply follow your leader to see the best spots – all trails in the national park are well marked so it's difficult to get lost, but please follow the national park rules, which your leader will outline to you. A series of wooden walkways pass over the landscape, ensuring that there's as little impact on the park as possible. Look to the canopy for over 120 species of birds, including hawks and owls. After your memorable visit to the lakes, drive to Croatia's capital, Zagreb (approximately 3 hours).
Take a morning orientation walk with your leader who will point out local amenities and attractions you might want to visit along the way, so ask any questions you might have about the city during the walk. The rest of the day is free, so check out both the upper town and the lower town to understand the city's culture. The tallest building in town is the gothic Zagreb Cathedral, with iconic twin spires that dominate the city's skyline. Ban Jelacic Square is the city's central point, which is surrounded by multiple structures that reflect different periods of Zagreb's past. There is so much to see and do here, the hard thing is deciding what to choose. There are a number of excellent museums to visit including the quirky Museum of Broken Relationships.
Travel by train across the Slovenian border and arrive in the cosmopolitan capital (pronounced 'Lyub-Li-Yana') (approximately 3 hours). On arrival into Ljubljana, check in to your accommodation and then head out on a short orientation walk with your leader. The rest of the day is free for you to delve deeper into this beautiful city. Located in the centre of Slovenia, Ljubljana is a city full of style and sophistication, history, monuments, churches, museums and great restaurants. In your free time, you can wander around the old city centre, renowned for its unique architectural appearance. The Old Town consists of three main squares and Baroque houses, and you can visit the Ljubljana Castle, the Town Hall, Cathedral of St. Nicholas, and the Dragon Bridge. Stop at the central Preseren Square, dedicated to the Slovenian romantic poet, France Preseren. With views of the Triple Bridge and Ljubljana Castle on one side, and a magnificent Franciscan church on the other, you'll feel like you've walked right into a scene from a beautiful postcard. Maybe also drop by the open market under the arcade.
Today is a free day to further explore Ljubljana. You have the option of going a day trip to Bled. Gifted with immense natural beauty, Bled ranks among the most beautiful of alpine resorts. Its fairy tale-like scenery which includes a castle, a stunning lake and a picturesque island topped with a church, is a dream to explore. Maybe head to the 11th-century cliff-top Bled Castle. Take a Pletna boat ride (a wooden, awning-covered boat rowed by a special oarsman) across sparkling Lake Bled to its island, then climb the 99 steps to St Mary's Church. Be sure to seek out the famous Bled cream cake. It isn't hard to find; nearly every cafe and cake shop in town claims their cream cake is the best. There's also plenty of action for adrenaline junkies: rafting, caving, cycling, canoeing, boating and swimming, to name a few.
This morning, travel by bus to one of the world's most unique and romantic destinations – Venice (approximately 3.5 hours). Renowned for its canals, Venice is comprised of hundreds of small islands connected by nearly 400 bridges; a watery wonderland of towers, piazzas, canals, churches and gondolas. Rich with artistic masterpieces, modern Venice combines history with contemporary life through food, performance, art and architecture. Its famous sights – such as the Grand Canal, the Rialto Bridge, Doge's Palace (the ruler of Venice), the Piazza San Marco and the evocative Bridge of Sighs – are easily explored by foot. Wander the cobblestone streets and spacious piazzas, crossing hundreds of tiny bridges and you'll find shops, markets, galleries and churches around every corner. Don't miss the chance to take a gondola ride through the romantic canals and sample a slice of tiramisu (coffee-soaked sponge cake), the region's specialty. In the evening, perhaps join your fellow travellers for a final group dinner at a local restaurant and try two other local specialities, fresh lobster and squid ink pasta.
Your trip comes to an end today and there are no planned activities. Venice is a charming city with much to do. We recommend staying a few extra days to make the most of your time here. We are happy to book additional accommodation for you, subject to availability. Please enquire at the time of booking.

Disclaimer: Prices listed are per person, based on double occupancy, and in USD. All promotions are valid for new bookings only, capacity controlled and valid on select dates and departures. Individual Terms and Conditions will apply to all promotions. Any promotion can be withdrawn at any time without notice. Please speak with your Pavlus Travel Planner for complete vendor terms and conditions, including eligible tour and cruise dates.