2018 Escorted Journeys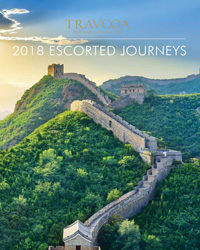 First-class small-group escorted travel that combines inspiration, awe and painstaking attention to every must-have all-inclusive detail. From Asia to The Americas, Africa to Europe - Travcoa delivers extraordinary opportunities both meaningful and inspiring.
Page 1 of 1 : : 100 per page
We have at least
3

trips that match this criteria
at the lowest prices, guaranteed.
Tour
Operator
Starting At
Days

Egypt: The Land Of Pharaohs & Pyramids

Travcoa
$5620
8
Details

Destinations: Cairo | Aswan | Abu Simbel | Nile River Cruise | Kom Ombo | Edfu | Luxor

Hotels: Mena House Garden Hotel, Oberoi Philae, Four Seasons Hotel Cairo at Nile Plaza

Travel back in time to a civilization that has intrigued historians for centuries. As you traverse the land of pharaohs and pyramids, stand before the mysterious Sphinx and the mammoth Great Pyramids of Giza. Feel the grandeur of the imposing statues at Abu Simbel. Delve into incredibly well-preserved underground tombs in the Valley of the Kings, and gaze upon the ancient symbols carved in stone at the temples at Luxor, Kom Ombo and Edfu. Lose yourself in the collection of riches at Cairo's Egyptian Museum, and travel like ancient royalty as you cruise the life-giving waters of the Nile.

Journey Pace: Active

Highlands Of Papua New Guinea

Travcoa
$5030
9
Details

Destinations: Port Moresby | Tari Valley | Karawari | Mount Hagen

Hotels: Airways Hotel Port Moresby, Ambua Lodge, Karawari Lodge, Rondon Ridge

Venture off the beaten path to discover the wonders of Papua New Guinea. Begin your journey in the capital of Port Moresby and delve into the artistic traditions of the country's indigenous people at the National Museum. Travel to the Southern Highlands to meet the colorful Huli Wigmen, whose reverence for birds is displayed in their ceremonial dances and elaborate feather-studded wigs. Discover the amazing ecology and culture of the unspoiled Karawari lowland forests. Wander the trails of the Western Highlands, a region of lush grasslands set beneath mist-shrouded mountain peaks.

Journey Pace: Active & Challenging

Ancient Treasures Of The Mekong: Vietnam & Cambodia

Travcoa
$8325
11
Details

Destinations: Ho Chi Minh City | Mekong River Cruise | Phnom Penh | Siem Reap | Angkor Wat

Hotels: Park Hyatt Ho Chi Minh City, M/V Aqua Mekong, Sofitel Phnom Penh Phokeethra, Sofitel Angkor Phokeethra Golf & Spa Resort

Explore the mystique, heritage and history of the Mekong River. From the busy bustle of Ho Chi Minh City to the serene stillness of the jungleentwined temples of Ta Prohm, this is a land of energy and enigma. Discover Cambodia's culture, visiting the temples, palaces and pagodas of Phnom Penh. Spend four days experiencing life on the Mekong River— explore floating markets and local villages, and meet the fascinating people who call the river home. Their simple life stands in stark contrast with the grand temples of Angkor—the most beautiful and expansive display of ornate Khmer art and architecture in the world.

Journey Pace: Active
Page 1 of 1 : : 100 per page