Hawaii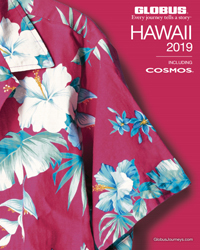 Vacations that included beach time, lush valleys, tour spectacular canyons and volcanic craters. Globus offers a Hawaii vacation for every ones taste. Pack your backs for a delightful vacation in the 50th state.
Page 1 of 1 : : 100 per page
We have at least
3

trips that match this criteria
at the lowest prices, guaranteed.
Tour
Operator
Starting At
Days

Best Of The Hawaiian Islands 2019 - 10 Days From Honolulu To Maui

Globus
$2726
10
Details

Whether you're looking to renew your spirit, explore historic sights, or experience breathtaking natural beauty, this Hawaii tour is sure to delight. Feel the sand in your feet, smell the fresh fragrance of the island flowers, smile as the tranquil ocean waves hit your calves, savor the sumptuous cuisine, taste the aromatic coffee, and just relax as Globus shows you the best of the Hawaiian Islands—Oahu, the Big Island, and Maui.Feel moved by the USS Arizona Memorial, which commemorates the crewman who lost their lives in the historic attack on Pearl Harbor. Stroll through Maui's quaint, historic town of Lahaina, with its many art galleries and shops. Stand in awe as you admire Kilauea Crater in Hawaii Volcanoes National Park. Did you know this prolific volcano produces 250,000-650,000 cubic yards of lava per day? Marvel also at Haleakala National Park, site of the huge volcanic Haleakala Crater. Just imagine the wonderful photos you'll be able to capture and show friends and family back home.To introduce you to Hawaii's hidden gems, your Globus Hawaii tour includes behind-the-scenes Local Favorites [LF], such as a visit to the Kona Coffee Living History Farm, a working coffee and macadamia nut farm, and a sample of Hawaiian sweetbread at a Punalu'u Bake Shop.Stroll the beaches, take a nap by the pool, join in the optional activities, shop for souvenirs, and just relax on this truly memorable Hawaii vacation in paradise!

Cruising Hawaii's Paradise With Outrigger Waikiki Beach Resort 2019 - 11 Days From Honolulu To Honolulu

Globus
$2384
11
Details

Sail through the breathtaking scenery of the Hawaiian Islands on this magical vacation. The highlight of this Hawaii cruise tour is a 7-night cruise around the Hawaiian Islands aboard Norwegian Cruise Line's Pride of America. On this Hawaii cruise, you'll have the opportunity to participate in many activities, or you can do absolutely nothing at all! Maui, one of the stops on this cruise, has been voted the best island in the world, and you'll have a chance to experience its breathtaking scenery, wonderful beaches, cascading waterfalls, and charming Hawaiian towns. The Big Island of Hawaii offers black-sand beaches, curious lava formations, the world's most continuously active volcano, fields of coffee and macadamia nuts, and more. Visit both Hilo and Kona on the Big Island. Kauai, Hawaii's oldest island, offers cascading waterfalls, golden beaches, tropical rainforest, and more.On this Hawaii cruise tour, you'll have a chance to visit and experience these islands plus enjoy three nights in Honolulu in a partial oceanview room at the Sheraton Princess Kaiulani. Globus also includes a sightseeing tour on Oahu featuring Pearl Harbor's famous Battleship Row, home of the USS Arizona, which commemorates the crewman who lost their lives in the historic Pearl Harbor attack. So grab your camera, pack your swimsuit, and be prepared to relax, renew your spirit, and enjoy the laid-back atmosphere in paradise!

Grand Hawaii Vacation 2019 - 13 Days From Honolulu To Maui

Globus
$3464
13
Details

Whether you're snorkeling in Hawaii's tranquil waters, admiring the spectacular beauty of Kauai, or just relaxing on the warm sands of Waikiki Beach, no one brings out Hawaii's best like Globus. From Pearl Harbor's famous Battleship Row to a festive luau with authentic Polynesian dancing, Hawaii's allure to vacationers is powerful indeed and on this Hawaii tour, you'll visit Oahu, the Big Island of Hawaii, Kauai, and Maui—along with their most famous attractions. Feel the sand in your feet as the ocean waves roll over them, and marvel at the black-sand beaches on Hawaii's Big Island. Watch the surfers attempt to master the waves in Waikiki Beach. Be mesmerized by the pineapple and sugar cane fields, and thoroughly savor Kona coffee, some of the best coffee in the world! Revitalize your spirit at Kauai's Waimea Canyon, the "Grand Canyon of the Pacific;" Maui's Haleakala National Park, with its volcanic landscapes and sub-tropical rainforest; and Hawaii Volcanoes National Park, where you'll learn about this active volcano. On this Hawaii tour, Globus has also arranged some out-of-the-ordinary experiences for you. In Kona, sample the famous Hawaiian sweetbread at a Punalu'u Bake Shop. Coffee fans will enjoy visiting the Kona Coffee Living History Farm, where you'll learn about Kona's coffee industry, and Kauai Coffee Company, Hawaii's largest coffee plantation. All of this and more await you in the tropical paradise of the Hawaiian Islands. So let Globus handle all the details on this Hawaii tour while you relax, capture photos, savor the food, and enjoy yourself on this amazing vacation!
Page 1 of 1 : : 100 per page