Remarkable Russia with Trans-Siberian Option (Summer 2019)

Decadence and ornate beauty await you in Russia, the world's largest country. Delve into its fascinating history and colourful culture as you explore old-world St. Petersburg and cosmopolitan Moscow. From taking a trip to the Grand Kremlin Palace's Royal Apartments where you'll learn more about the fascinating history of Russia's tsars, to uncovering the secrets of Moscow's beautiful metro and its elegant architecture, you're sure to be impressed as you travel in style and indulge in world-class fine dining. For eager travellers wishing to extend their journey, more opulence, history and glamour await you as you board your Trans-Siberian Express for another remarkable 13 days exploring Russia.
Price starts at:

$22383

Tour length: 22 Days
Trip Type: Escorted Tour
All Brochure Prices Are Discounted.
We Guarantee Lowest Prices.
Why Pay Retail Prices? Call 1.800.528.9300.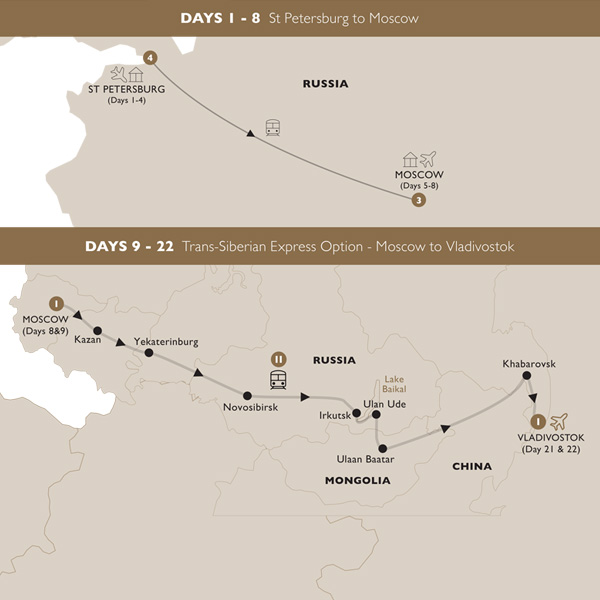 Welcome to St. Petersburg.
Your complimentary, private transfer takes you to your local departure airport. Welcome to St. Petersburg, where decadence and modernity collide. Once you have arrived at Pulkovo airport, a transfer will take you to your luxurious accommodation, the Grand Hotel Europe. This cultural and culinary landmark is situated in the heart of Russia's iconic port city. Positioned adjacent to Arts Square and in the heart of the city's architectural treasures, the hotel is an ode to the country's unique appreciation of the arts. At 19:00, join your Travelling Concierge at Restaurant Legran, located in the true heart of St. Petersburg, minutes from the Winter Palace. Get to know your fellow travellers and experience what is promised to be a glamorous gastronomic journey. Later you'll set off on a private sunset cruise as you take in Russia's White Nights. A unique natural phenomenon caused by St. Petersburg's geographical location, the sky remains bright after midnight.(Dinner with Wine)
Highlights of St. Petersburg.
Delve into St. Petersburg's religious history, with a trip to Saint Peter and Paul Cathedral. Once a prison, but currently used as a museum, this wonderfully ornate building was designed by Domenico Trezzini in the 18th century. Continue your exploration of the city with your Travelling Concierge before enjoying some free time for lunch and shopping. Udelnaya Fair offers eager shoppers a range of one-off antique memorabilia, while those looking for more modern, glamorous pieces, should explore Au Pont Rouge. Why not head back to your hotel for a relaxing evening? It offers a therapeutic sauna, plunge pool and beauty salon for its guests.(Breakfast)
Ornate Russia.
In the morning visit the Church of our Saviour on the Spilled Blood, where Tsar Alexander II was fatally wounded in 1881. Next, move on to the Fabergé Museum, where you'll find the imperial Easter eggs created for the last two Russian tsars, along with the museum's striking collection of other decorative pieces. In the evening you'll head to the esteemed Hermitage Museum where you'll explore the venue with your Local Expert after hours with a glass of champagne in hand.(Breakfast)
Russian Versailles.
Prepare for your visit to Peterhof Palace in style, with a hydrofoil boat ride to the Russian Versailles. A UNESCO World Heritage Site, you'll explore its palaces and gardens in the utmost style. In the evening head for a world class dinner.(Breakfast / Dinner with Wine)
Move on to Moscow.
In the morning, find out more about the history of Matryoshka dolls at a workshop on how the Russian nesting dolls are created. You'll then move on to Moscow. Relax in modern luxury and business-class comfort as you swoop to the founding city of Russia in just a few hours onboard the high-speed Sapsan train. A cultural and political hub, you'll be impressed by its sheer size, as it holds the title of the largest city in Europe. Head to a lecture by a local historian on the KGB, the main spy agency of the former Soviet Union. In the evening you'll enjoy a delicious menu of local specialities at your hotel.(Breakfast / Dinner with Wine)
A Day of Theatre.
Explore Moscow in all its glory, starting with a VIP experience at the Kremlin Royal Apartments, Kremlin Armory and historic Red Square. See St. Basil's Cathedral, a vibrant fusion of colour and patterns. Make sure you have your camera ready for a picture of this aesthetic, symbolic Russian construction. You'll have free time for lunch – your Travelling Concierge can help suggest some local dining options. Famous for its opera and ballet performances, you'll also head to the Bolshoi Theatre where you'll experience a backstage tour of the venue.(Breakfast)
Highlights of Moscow.
Learn more about the city you're in on a Moscow Metro experience with your Local Expert. The afternoon is yours at leisure, why not delve into more of Russia's unique history with a trip to the State Historical Museum? Or check out Tretyakov Gallery, which houses one of the largest collections of Russian art in the world? For outdoorsy types, there is the beautiful Gorky Park, which holds a number of fitness activities in the summer, along with screenings at its open-air movie theatre. In the evening you'll head on a romantic, dinner cruise, where you'll see this beautiful city in a glittering new light.(Breakfast / Dinner with Wine)
Moscow at Leisure.
Your journey continues as you move to the luxe Ritz-Carlton, Moscow, located in the city centre, and within a short walking distance of Red Square and the Bolshoi Theatre. With the afternoon at leisure, discover the hotel's classic and sophisticated ambience and enjoy the rooftop O2 Lounge, with its breathtaking views of Red Square or visit the rejuvenating surroundings of ESPA, the hotel's world class spa. In the evening, you and your new travelling companions will be invited to a champagne drinks reception before an exclusive Welcome Dinner, complete with specially selected international wines.(Breakfast / Dinner with Wine)
Majestic Moscow.
Enjoy a Relaxed Start to your day, another opportunity to make the most of your hotel's fine facilties. Later, you'll have lunch at Café Pushkin, a legendary Moscow restaurant. Its décor revives the atmosphere of an early 19th century mansion, while its menu serves traditional Russian cuisine. Explore Moscow Your Way with the option to either visit the famous State Tretyakov Gallery, Russia's National Museum of Fine Art, or travel out of the city centre to Sergiev Posad, home to one of the most beautiful monasteries in Russia and the historical and spiritual centre of the Russian Orthodox Church.(Breakfast / Lunch with Wine / Dinner with Wine)
All Aboard the Golden Eagle.
In the morning, you'll be transferred to the train station to board the Golden Eagle and settle into your traditional-style train cabin. Undoubtedly the world's greatest railway journey, the Trans-Siberian Railway runs like a steel ribbon across mysterious Russia connecting west and east from Moscow over the Urals, across the magnificent and endless steppe and alongside the shore of the world's largest freshwater lake. Your first stop, situated on the River Volga, is the picturesque and historic city of Kazan, the capital of Tatarstan. Once here you'll have the opportunity to delve into its rich tapestry of history and culture. One of the highlights of this city tour is exploring the Kremlin Fortress, a UNESCO World Heritage Site. Within the walls of this ancient citadel you'll see its stunning mosque and picture-perfect onion-domed cathedral. As Kazan is the birthplace of one of Russia's most famous opera singers, Feodor Chaliapin, you'll honour his memory with a private concert of his music. You will also have time to wander through the main pedestrian area of Kazan and immerse yourself in the atmosphere of the city.(Breakfast / Lunch with Wine / Dinner with Wine)
Welcome to Yekaterinburg.
Founded in 1723 by Peter the Great, Yekaterinburg, is the capital of the Urals. Known as the Great Divide, the Ural Mountains create the natural border between Europe and Asia, creating a fascinating mix of both civilisations. The trip takes you to the poignant site where the Romanov, Tsar Nicholas II of Russia, was executed with his family by the Bolsheviks in 1918. Now a church dedicated to their memory, this site provides a powerful insight into the turmoil of the Russian Revolution. You'll also head to the obelisk, which marks the geographical border between the two continents. You can share champagne with your fellow travellers with one foot in Europe and the other in Asia. Continue to experience Yekaterinburg Your Way, with a choice between a walking tour of the city or a trip to Yekaterinburg Military Museum, where you can learn more about the intriguing history of the Soviet military. The museum also displays fragments of the U2 American spy-plane flown by Gary Powers that was shot down in the area in 1960, during the Cold War.(Breakfast / Lunch with Wine / Dinner with Wine)
Notable Novosibirsk.
A modern Soviet city, you'll experience the life and character of Novosibirsk's rich culture of arts and science. The city is located in the heart of Russia and is situated on both banks of the River Ob. The city tour will take you to Lenin Square where the imposing Opera House is located. An architectural marvel, it houses two permanent ballet and opera companies and is one of the largest opera houses in the world. In front of the Opera House, you'll find an impressive statue of Lenin – a marvellous opportunity to have your photograph taken with this iconic political leader. Experience Novosibirsk Your Way with a visit to the excellent Railway Museum, which displays locomotives and rolling stock from the late 1800s through to the Soviet era. Alternatively, you may choose to go to the Mineralogical Centre with its fine display of Siberian minerals.(Breakfast / Lunch with Wine / Dinner with Wine)
Onboard the Golden Eagle.
Relax onboard your opulant and historical train as you take in the passing scenery. The Trans-Siberian railway was opened in stages between 1891 and 1916 and this extraordinary engineering achievement has become a vital link for all the communities that live in close proximity to the line. To travel along this route is by far the best way to experience the vastness and grandeur of Russia. The official length of the Trans-Siberian line between Moscow and Vladivostok is 9,288 kilometres, making it the longest single-service railway in the world.(Breakfast / Lunch with Wine / Dinner with Wine)
Irkutsk, the Paris of Siberia.
Welcome to the Paris of Siberia, where you'll check out the most significant sites and museums in this fascinating city. You'll visit the Volkonsky House Museum, which is dedicated to the memory of the aristocrats who were exiled to this remote outpost after the failed Decembrists uprising of 1825. You'll recreate the atmosphere of that time with a champagne reception and private concert. Experience Irkutsk Your Way with the chance to learn to cook some traditional Russian dishes with a local chef and prepare your own lunch. Alternatively, you might also wish to visit a traditional Russian Dacha, or summer house, to get an insight into the everyday life of a Russian family.(Breakfast / Lunch with Wine / Dinner with Wine)
Lake Baikal, the Pearl of Siberia.
Few natural sights can surpass the beauty and grandeur of Lake Baikal - a major highlight on your Trans-Siberian journey. Lake Baikal is the deepest lake in the world and holds 20 percent of the world's freshwater. Also known as the Pearl of Siberia, it is home to a unique breed of freshwater seal and over 50 species of fish including omul. For five hours you'll make your way along cliff hugging tracks above the lake as snow-capped peaks along the far shore form the perfect backdrop for your travels. To add to the grandeur of the day the Golden Eagle train will be hauled by a Soviet Era steam locomotive. There will be plenty of opportunities to take photographs as the train winds its way along the lake. This will be an unforgettable part of your journey. Weather permitting, you'll stop in an extremely picturesque location by the lake and for the brave-hearted there is time for a refreshing swim in the crystal clear and ice-cold waters of Baikal. Travelling onwards to the end of the Baikal branch line, you'll leave the train and travel by boat on the lake to Listvyanka, a small Baikal settlement nestling at the base of the surrounding hills. Once here visit the Lake Baikal Museum and Aquarium where you can learn about the lake's flora and fauna. Explore the Chersky Range Your Way with either an included hike or a chair lift ride, both offering spectacular and panoramic hillside views of the lake below. In the evening, enjoy a delicious barbecue of freshly smoked omul fish, in the delightful, covered dining area on the shore of Lake Baikal.(Breakfast / Lunch with Wine / Dinner with Wine)
Heritage and History in Ulan Ude.
The ethnic and cultural diversity of Ulan Ude, the capital of the Buryat Republic, offers a unique insight into its heritage. During an exploration of the Old Believers' Village you'll have the opportunity to learn about the culture and history of these religious people as you are treated to a concert featuring local traditions and folk singing.(Breakfast / Lunch with Wine / Dinner with Wine)
Exploring Ulaan Baatar, Mongolia.
Head on to Mongolia and visit its capital, Ulaan Baatar. Mongolia, once the very centre of an enormous empire led by Genghis Khan, is a country of beautiful landscapes and nomadic people. Famous for its endless green Steppes, grazing livestock and white, nomadic Gers, also known as Yurts, it's a destination rich in history and culture. Start at Gandan Monastery, one of Mongolia's most important Buddhist Monasteries, housing a community of over 500 monks. The full name, Gandantegchinlen, translates as 'the great place of complete joy'. At Chinggis Square, formerly Sukhbaatar Square, you'll see the central monument to Genghis Khan, undoubtedly the most feared and revered Mongol. You'll then drive out of the city to Gorkhi-Terelj National Park and enjoy the beautiful scenery of wild Mongolia. Experience the region Your Way with the opportunity to either visit a traditional Ger and meet a nomadic family or try horse-riding, an intrinsic part of Mongolian life. Alternatively, you can continue to explore the city. After seeing Gandan Monastery and Chinggis Square, you'll visit the National Museum and learn about the country's intriguing history. You will also see Bogd Khan Winter Palace Museum, the winter residences of Bogd Khan, the last Mongolian emperor. Explore the city and enjoy some free time shopping for Mongolian souvenirs, and its specialty cashmere. Later, enjoy a performance of traditional Mongolian throat singing and contortionists.(Breakfast / Lunch with Wine / Dinner with Wine)
Golden Eagle Your Way.
Enjoy a more leisurely pace and relax today as you travel through the beautiful landscape of Far East Russia. Enjoy your Train Journey Your Way as you may wish to attend one of the interesting lectures or Russian language lessons provided on board. Sumptuous meals will be served in the restaurant carriages and include some of Russia's gastronomic specialities such as black sturgeon and red pacific salmon caviar.(Breakfast / Lunch with Wine / Dinner with Wine)
The Golden Eagle at Leisure.
Wake to an exquisite breakfast buffet before enjoying a day relaxing on board your luxury transportation. It's the perfect opportunity to practice your Russian with your new friends or simply relax as you journey along the Shilka and Amur rivers, close to the Chinese border. Enjoy Russia at its most dramatic and remote, as the Golden Eagle approaches the east coast of Russia.(Breakfast / Lunch with Wine / Dinner with Wine)
Approaching the East Coast.
Passing directly north of Seoul, Darwin and Osaka, spend your last full day on board the Golden Eagle as the most easterly point of this mammoth journey is reached passing through Khabarovsk and crossing the River Amur. Tonight we enjoy your final dinner on board the private train that has been our home for the last twelve days as you approach your final destination on this unforgettable journey.(Breakfast / Lunch with Wine / Dinner with Wine)
Vladivostok's Military History.
Vladivostok is a military port, located on the western shores of the Sea of Japan and the home to the Russian Navy's Pacific Fleet. Due to its military importance, the city was closed to foreigners between 1930 and 1992. Vladivostok, which literally translates to Ruler of the East, offers visitors an interesting opportunity to explore its principal military attractions including a visit to a preserved World War Two submarine. You'll also head to the iconic suspension bridge over Golden Horn Bay, one of the largest of its kind worldwide, which opened in 2012 for the APEC conference. In the evening you'll enjoy a farewell Celebration Dinner, offering the chance to toast new friends and reminiscence on your journey of a lifetime.(Breakfast / Lunch with Wine / Dinner with Wine)
Depart Vladivostok.
Your travels come to an end with an included transfer to Vladivostok airport. On arrival at your home airport, your driver will greet and escort you to your waiting car for your private transfer home.(Breakfast)
---
Preparing For Your Trip

Make Sure to Bring All of Your Important Documents: Passport, Foreign visa (if applicable), Itinerary, Trip confirmation, Airline ticket, Drivers license, Credit cards, Travel documents.

Vaccinations Are Required for Entry to Some Countries. The U.S. Centers for Disease Control (CDC) and the World Health Organization (WHO) can provide you their recommendations for vaccinations and other travel health precautions for your trip abroad.

Are You Taking Any Prescriptions or Other Medications? Pack enough to last your entire trip, including some extra in case you are unexpectedly delayed.

Insurance: Purchase travel insurance to cover yourself against unexpected situations. You never know when something might happen, so always be prepared.

While Traveling

Keep an eye on your belongings. Do not leave your belongings unattended in public spaces

Always have local cash. Not every place takes credit cards.

Pavlus Travel Referral Program

How does our referral program work?

How does our referral program work?

It is simple: tell all your friends, family and anyone you meet on vacation about Pavlus Travel and Cruise and when they book their first tour / all-inclusive / cruise vacation with us, you will receive up to $150!*
Let Carol help you find the guaranteed best price on your vacation!
Call direct at 1-800-664-4947
or email at carol@pavlustravel.com

Contact our Travel Planners

800.528.9300
8:00am - 5:30pm MST M-F
9:00am - 4:00pm MST S-S