Trafalgar Tours - Australia & New Zealand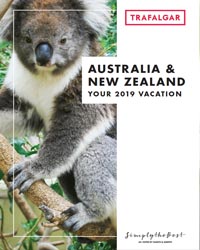 In Australia discover the natural wonders of the vibrant Great Barrier Reef and the vast outback, before exploring cosmopolitan cities such as Sydney, Cairns and Melbourne on your Trafalgar Tours Australia and Trafalgar Tours New Zealand.
Page 1 of 1 : : 100 per page
We have at least
20

trips that match this criteria
at the lowest prices, guaranteed.
Tour
Operator
Starting At
Days

Red Center Sights And Sounds Summer 2019

Trafalgar
$890
3
Details

Rediscover yourself and embrace this soulful encounter with an ancient culture and land. Wander through Walpa Gorge and watch as the Red Centre lights up with the first rays of sunlight.

Cairns And The Great Barrier Reef Summer 2019

Trafalgar
$840
4
Details

Embark on an aerial adventure suspended high above lush canopies, gorges and waterfalls, before you dive the depths of warm Pacific waters to explore an underwater wonderland.

Melbourne And The Great Ocean Road Summer 2019

Trafalgar
$770
4
Details

Combine the Capital of Cool and Australia's Great Ocean Road with a special encounter with the wild, waddling penguins of Phillip Island as they emerge from a hard day's fishing.

Melbournes Food And Wine Discovery Summer 2019

Trafalgar
$805
4
Details

All aboard for a scenic steam train journey through the beautiful forests and lush fern gullies of Victoria's Dandenong Ranges with a Trafalgar Highlight - lunch at Rochford Winery.

Sydney And The Blue Mountains Summer 2019

Trafalgar
$1075
4
Details

The cosmopolitan Sydney cityscape gives way to the glistening cliffs and misty eucalyptus canopies of the Blue Mountains as you journey through little towns and admire iconic natural landscapes.

Sydneys Food And Wine Discovery Summer 2019

Trafalgar
$1030
4
Details

Indulge in the intoxicating bouquets of Shiraz, Semillon and Chardonnay, luscious cheese and decadent chocolate on a flavour-filled culinary journey through the scenic Hunter Valley vineyards.

Southern Capitals City Meets Bush Summer 2019

Trafalgar
$1283
5
Details

Explore the wonder Down Under side by side with high-spirited hosts who'll share their sheep-shearing lifestyle, gold rush heritage and sizzling good fun and food at a real Aussie Barbie.

Northern Discovery Summer 2019

Trafalgar
$2858
8
Details

A soul-stirring encounter with spectacular scenery, from the City of Sails to the Capital of Cool, with visits to the Bay of Islands and legendary 'Hole in the Rock'.

Contrasts Of Australia Summer 2019

Trafalgar
$2723
9
Details

The steady rattle of Melbourne's famed trams kick-off our adventure to the Great Barrier Reef and Bondi's surfer paradise in Sydney, whose iconic skyline we will view from tranquil harbour waters.

Contrasts Of New Zealand Summer 2019

Trafalgar
$3218
9
Details

From the Icy Fingers of Franz Josef Glacier to the warmth of Rotorua's Geothermal wonders, New Zealand will have you in its grip. Explore the magical Milford Sound and indulge in a mouth-watering hangi feast shared with a local Maori Family.

Southern Spectacular Summer 2019

Trafalgar
$3533
10
Details

Journey from the Pancake Rocks of Punakaiki to picture-perfect Lake Te Anau. Tuck into a taste of country life with the Taylors, board the TranzAlpine train and cruise the Milford Sound.

Tastes Of Southern Australia Summer 2019

Trafalgar
$3713
11
Details

Buckle up for the ultimate Aussie road trip, skirting the magnificent Southern Ocean through the rolling vineyard-clad hills of the Barossa, sharing the Twelve Apostles' spectacular coastal views and exploring the tree-lined streets of Australia's oldest German settlement - tastes of Aussie BBQ, bush tucker, premium wines and sumptuous seafood are never far.

Perfect Tasmania Summer 2019

Trafalgar
$4586
12
Details

The calls of currawongs and cockatoos accompany your journey along the Gordon River, exquisite beauty of Wineglass Bay and the pink-hued granite peaks of Tassie's Freycinet coast.

Australian Highlights Summer 2019

Trafalgar
$3803
13
Details

Australia at its best - from the golden beaches of Bondi and shared stories of Aboriginal Dreamtime, to an astounding underwater wonderland and fiery Uluru sunset lighting up the Outback sky.

East Coast Islands And Rainforest Summer 2019

Trafalgar
$4545
13
Details

From the cityscapes of Sydney, Brisbane and Cairns, to the natural splendour of Fraser and Hamilton Islands, with the Great Barrier Reef and Hunter Valley added to the Aussie mix.

Australia And New Zealand Panorama Summer 2019

Trafalgar
$4455
15
Details

The untamed, unspoiled natural splendour, sophisticated cities and bewitching landscapes of Australia and New Zealand take centre stage on this extraordinary discovery of two destinations unlike any other.

Discover Australia And New Zealand Summer 2019

Trafalgar
$4676
15
Details

Embark on an adventure ablaze with colour - meander past ancient totems, modern icons and breathtaking natural wonders, enjoying a bit of 'fair dinkum' fun along the way.

New Zealand Splendour Summer 2019

Trafalgar
$5126
15
Details

Your adventure through New Zealand's soul-stirring natural landscapes will take you past spectacular glaciers and alpine peaks, culminating in a vintage encounter with TSS Earnslaw on Lake Wakatipu.

Best Of New Zealand Summer 2019

Trafalgar
$6075
18
Details

As brilliant as the starry sky, the luminous glow worms of Waitomo light up the dark depths of another world - yours to explore along an epic journey through New Zealand.

Highlights Of Australia And New Zealand Summer 2019

Trafalgar
$6323
21
Details

Connect with the Outback, untamed fiords and fascinating Māori legends, every bit as enchanting as an epic Alpine journey through New Zealand's majestic snow-capped Southern Alps.
Page 1 of 1 : : 100 per page